Podi idli recipe – This is one of the most common idli varieties I make often at home for the breakfast. Making podi idli is super easy if you have the podi ready in your kitchen. However assuming most readers would not have the podi ready, I have shared how to make the podi too here in this post.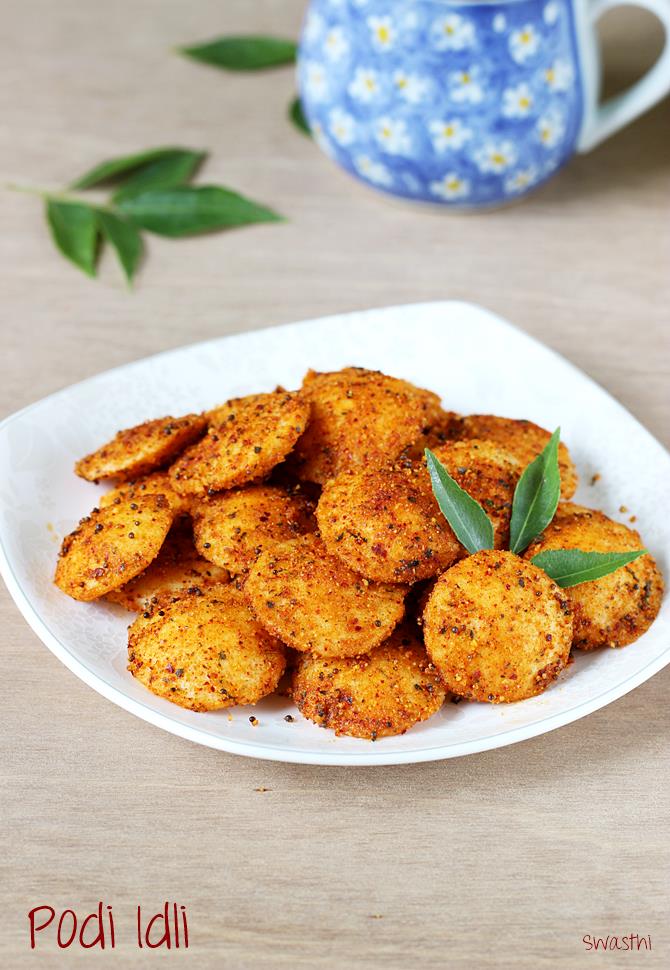 Idli are steamed cakes made from fermented lentil and rice batter. These are one of the most basic breakfast in traditional South Indian homes. Usually these are served with a chutney and/ or tiffin sambar. However there are many ways these can be served and podi idli is one of them.
I make podi idli often for the kids breakfast since it is healthy and quick. I always stock up few kinds of spice powders like idli podi, kobbari karam podi, peanut powder, sesame seeds podi, flax seed podi and curry leaves podi. With so many varieties in stock, I have this quick option of tossing warm idlis in some podi with ghee.
I have shared podi recipe here just enough to make 8 to 10 podi idli. You can also make the podi the previous night. Just steam the idli in the morning and you are done with the breakfast just by tossing them in oil or ghee along with podi. But I have also shown a tempering method here, if you can spend 2 more mins you can try that way too. I have used mini idlis here you can use regular idlis.
I hear that many kids like these in their school box for lunch. But I haven't tried with any kind of idlis in box as roti or rice varieties are more filling than any kind of idli for lunch box.
Podi idli recipe
Podi idli recipe | How to make podi idli | Breakfast recipes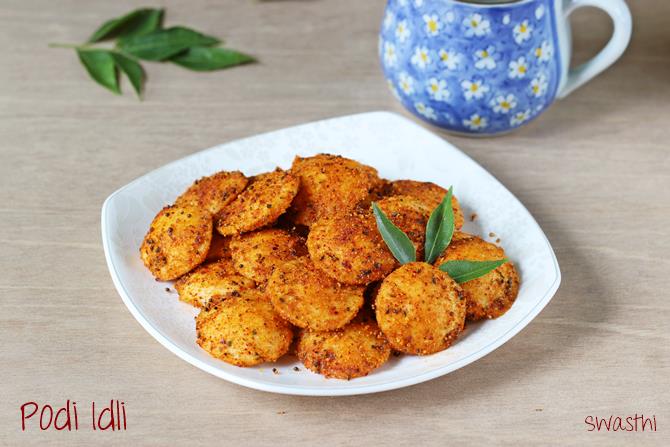 Podi idli is made by tossing steamed lentil cakes in spice powder and ghee.
Ingredients (240 ml cup used)
1 to 2 tbsp peanuts
1 tbsp chana dal
Half to 1 tbsp urad
2 to 3 red chilies (Adjust to suit your spice levels)
1.5 tsp sesame seeds (optional)
1.5 tsp copra / dried coconut or desicatted coconut (optional)
Half tsp cumin / jeera
1 sprig curry leaves (optional)
Cleaned tamarind a small piece (optional) (I do not use)
2 pinches of powdered Jaggery (optional) (I do not use)
Salt as needed
8 to 10 idlis or 3 plates of mini idlis
2 tbsps ghee or sesame oil
How to make the recipe
While the idlis steam, dry roast peanuts along with red chilies until half done.
Add urad dal and chana dal and roast on a medium flame until they turn golden.
Add sesame seeds, coconut, cumin, curry leaves and switch off. Saute until the leaves turn crispy. Cool these and powder finely along with enough salt., tamarind and jaggery if using.
When the idlis are warm, add ghee or oil to a hot pan. Add idlis and then switch off the stove. Sprinkle podi over the idli and toss gently. Add more or less podi & ghee as desired.
Serve podi idli warm.
How to make podi idli recipe
1. Dry roast red chilies and peanuts until half done.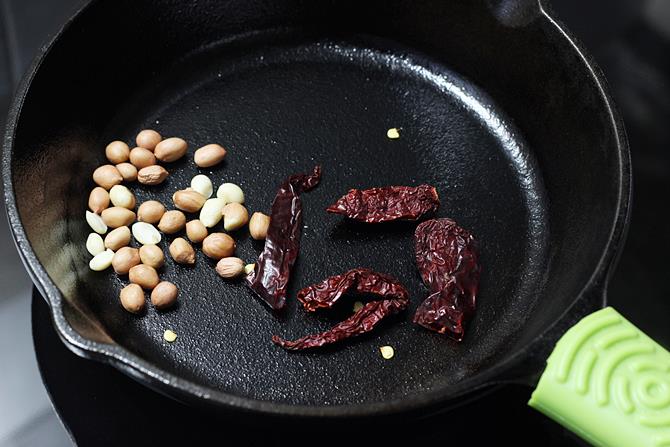 2. Roast dals in the same pan on a low to medium heat until golden. If you like you can also add a small garlic clove.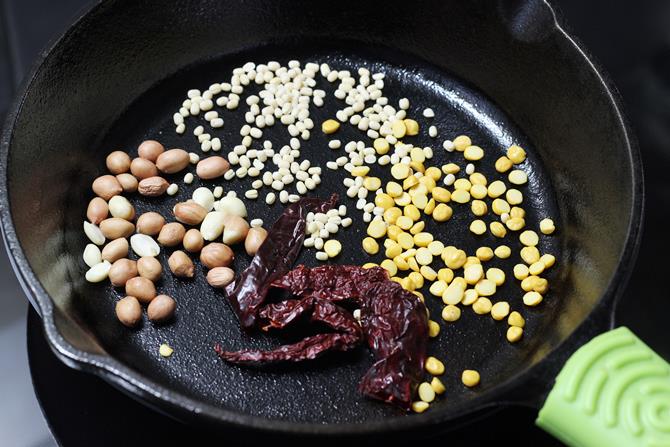 3. Add sesame seeds and copra / desiccated coconut. Copra tastes best. Switch off the stove. I did not have copra so did not use.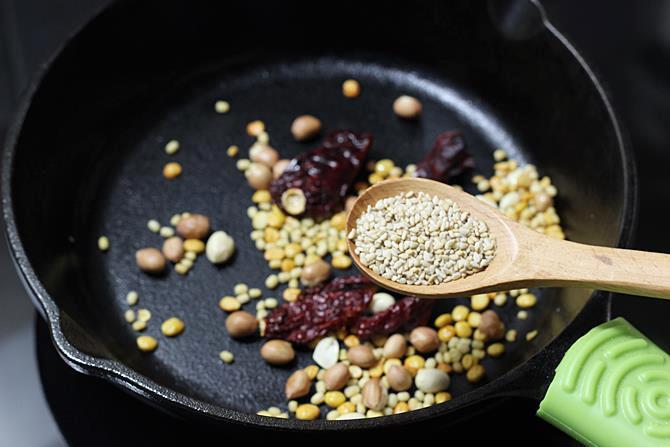 4. Add cumin.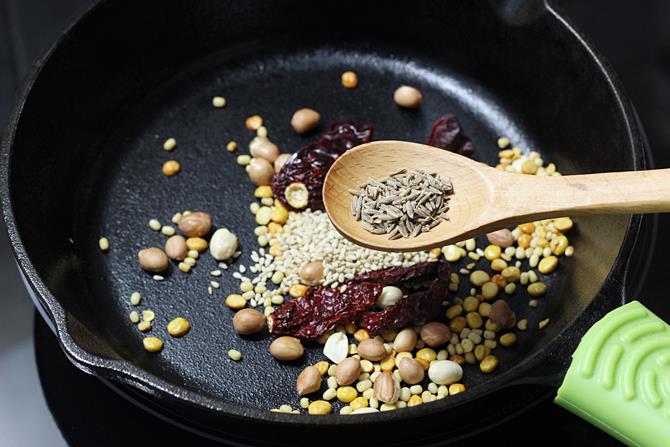 5. Washed and drained curry leaves. I wiped them off with a tissue. Set this aside to cool. The curry leaves turn crisp when cooled if left in the hot pan. Make sure curry leaves turn crisp.


6. Add them along with salt as needed to a blender jar. I do not use tamarind and jaggery but you can use them if you like them.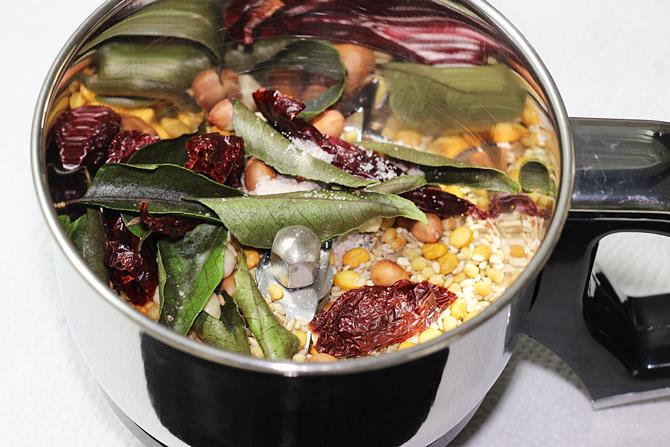 7. Make a fine powder.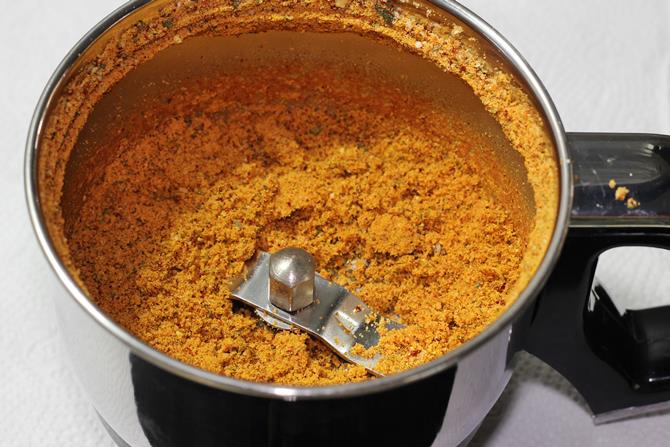 8. Heat ghee or oil in a pan. Add a pinch of hing and pinch of mustard, both are optional.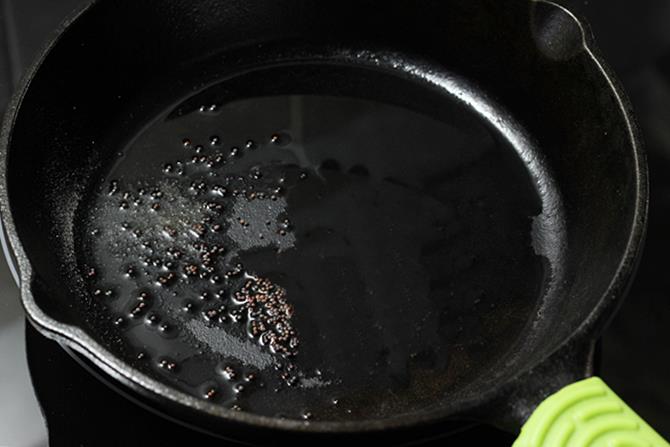 9. When they splutter, switch off the stove. Add the idlis. I used mini idli, you can use the regaular ones.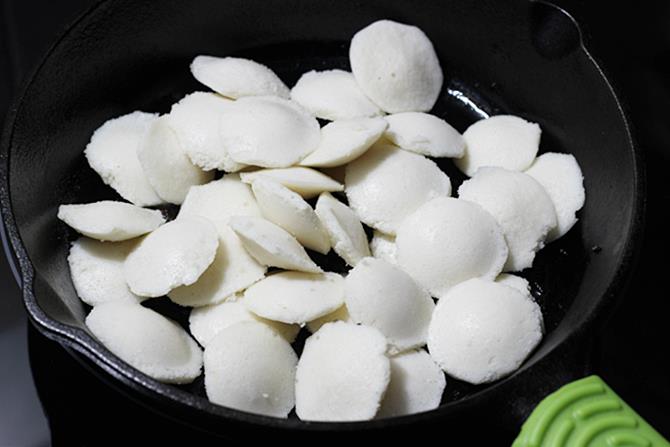 10. Add the podi more or less as desired. Toss the idlis gently in the pan. If needed add more oil or ghee.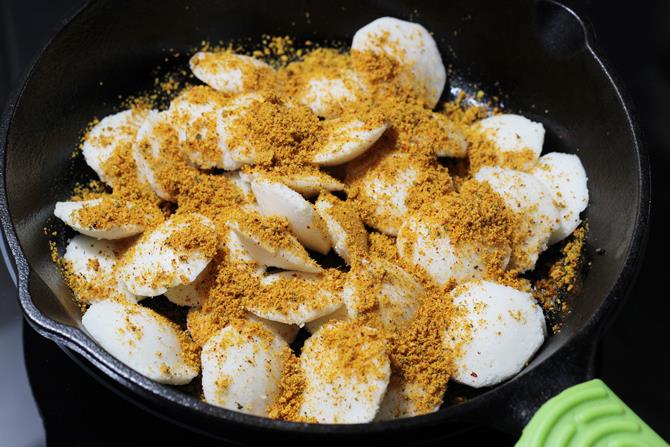 Serve podi idli as breakfast or evening snack.