Poornam boorelu or poornalu are a popular delicacy in andhra cuisine which is commonly prepared during festivals, wedding and other special occasions. These are called as sukhiyan in malayalam , suyam, suzhiyan or sugunta in other parts of the neighboring states. These are prepared for varalakshmi vratam and durga navratri in almost every Telugu speaking home.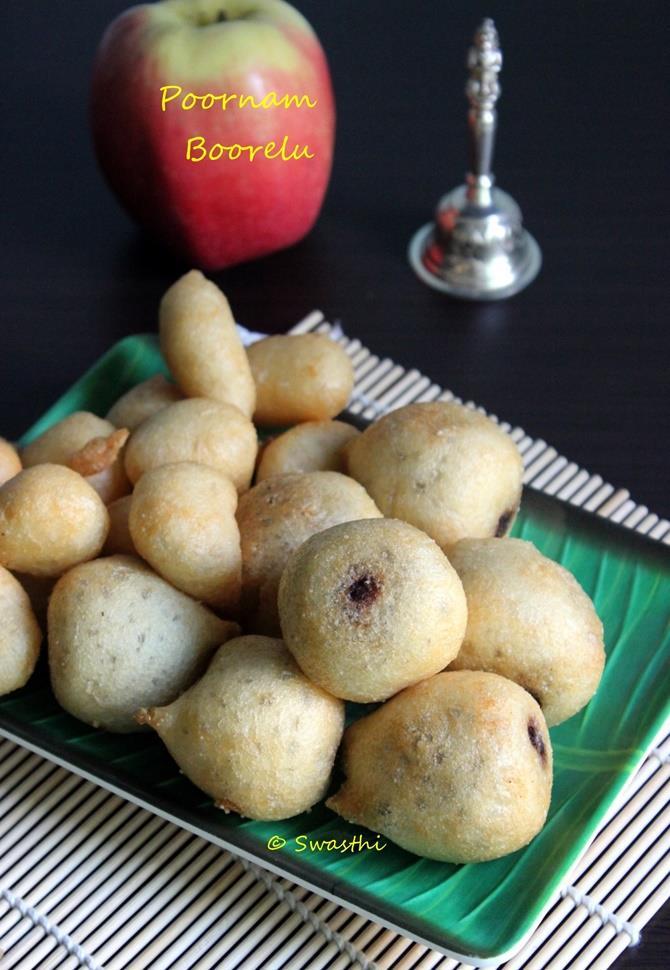 To prepare boorelu, dal jaggery balls are dipped in urad dal batter and deep fried. Its definitely an art to master these boorelu, getting them in the right shape and crust without the outer covering being hard is something that comes by practice.
The first time i made these was for the blog which i posted it during varalakshmi vratam 2 years ago and was very happy to get them right. The recipe i shared was from my singapore telugu friends which was circulating for years among the group of friends.
This time when I visited india, i got to taste my amma's poornalu that tasted the best. I got the recipe which is slightly different from the one i posted earlier. So I made these last week to share with you all.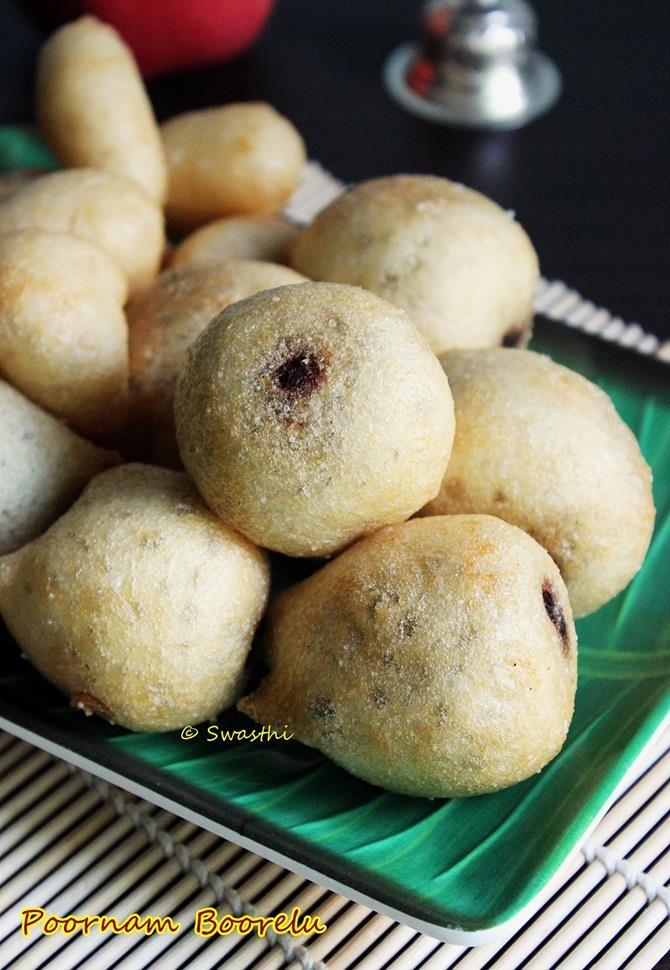 To make these poornam boorelu, i feel a table spoon works better than using our fingers. If you are a first timer, just go ahead using tablespoon.
I have posted another version of the boorelu using pesara pappu. The way i made the outer covering for that recipe is quite simple using store bought rice flour. Its another no fail method to make boorelu. If you are interested you can take a look at pesara poornalu here
I used aged jaggery which is available in ayurvedic stores in India, so it looks very dark. It is believed that aged jaggery contains lower amounts of chemical residue that is used during processing.
Poornam boorelu recipe below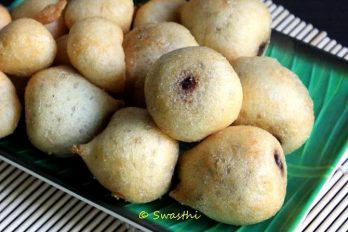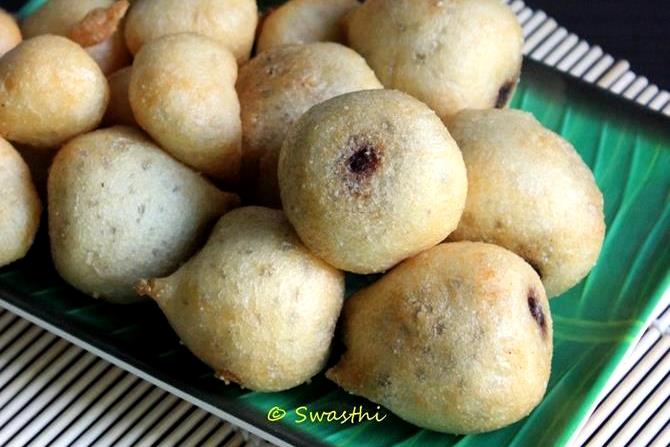 Poornam boorelu recipe | How to make poornalu | Burelu recipe
Sweet stuffed deep fried balls that are offered to Goddess Lakshmi and Durga . These are also prepared during most festivals and special occasions in Andhra pradesh. These are also called as suziyan and sugunta in other parts of south India
Ingredients (240 ml cup used)
240 ml measuring cup used
1

cup

of channa dal / senagapappu

1 3/4

cups

of water

1 1/2

cup

grated jaggery or palm sugar or sugar

2

tbsps.

fresh coconut (optional)

¼

tsp

green cardamom powder

3/4

cup

urad dal

1 1/4

cup

raw rice

Pinch

of salt

Oil for deep frying
How to make the recipe
Wash and Soak seperately urad dal and rice in water for 4 to 5 hours.

To a large bowl, add grated jaggery and 45 ml of water (about 3 tbsps). Melt jaggery by placing this bowl on a low flame or microwave for 1.5 minutes. keep this aside.

Cook channa dal with water until just cooked. Do not overcook and make mushy. The dal must still hold shape and when mashed it must turn soft. Drain off the dal in a colander.

Mash or blend the dal to smooth in a blender.

If using sugar, add it to the mashed dal. If using jaggery , filter the prepared syrup to the mashed dal. Discard the debris. Mix them well. Add fresh coconut and cardamom powder.

Cook till the water evaporates completely and the dal looks dry and comes together like a mass.

When it cools down, make 14 to 16 equal sized balls.

Drain the rice in a colander. There must be no dripping water.

Add urad dal, little salt and little water to a blender,blend till frothy or smooth. Adding too much water will make the batter runny, so use as needed only

Add rice to the batter and repeat blending. Keep the batter slightly coarse , this helps the outer covering to turn crusty. The consistency should be like thick dosa batter

Heat oil for deep frying till hot, drop one ball each time to the batter, take a tablespoon and coat it well and swipe off the excess drippings and drop it in the oil.

Fry till golden.Fry them in batches till you finish off all the balls.

Repeat frying poornam boorelu for a min or two for extra crust.

You can make punugulu with the left over batter.
Recipe Notes
In case your batter becomes runny, you can save it by mixing little rice flour to the batter and bring it to the right consistency. rice flour must be at room temperature. This will make the outer covering slightly hard based on how much flour is used.
How to make poornam boorelu recipe
1. Soak urad dal and raw rice in enough water separately for 4 to 5 hrs.
2. Add grated jaggery and 45 ml of water (3 tbsp.) to a utensil. Heat up and stir till the jaggery melts off completely. Set this aside. You can even heat up in a microwave. You can skip this step if your jaggery is free from stones and debris.



3. In a heavy bottom pan, Cook channa dal with water till just cooked not mushy. To check you can take little dal in between your thumb and forefinger and mash it, you must be able to mash the dal fully and easily.
or you can even take a tablespoon and try to mash few grains of dal against side of the utensil, the dal must get mashed well and easily. If the mentioned water is not enough sprinkle little more water, cover and cook.
4. Drain off the dal in a colander to remove excess water completely



5. Mash the dal to smooth with a potato masher or blend it in a blender (mixer). you can even use the base of a stainless steel glass to mash. I mashed it coarsely because we like it that way.
6. If using sugar, you can just add the sugar to the mashed dal. If using jaggery pour the jaggery syrup through a filter to remove impurities or debris. Do not add jaggery syrup or sugar in under cooked dal. Partially cooked dal turns hard.



7. Mix dal and jaggery syrup well. Add coconut and cardamom powder. i used desiccated coconut since i had no fresh coconut. But if you are preparing for naivedhyam, use fresh coconut or skip, do not use desiccated coconut.
8. Begin to cook on a medium flame till the water evaporates. The mixture looks dry and becomes a mass. cool it.



9. Make small lemon sized balls keep aside. you will be able to make 14 to 16 depending on the size.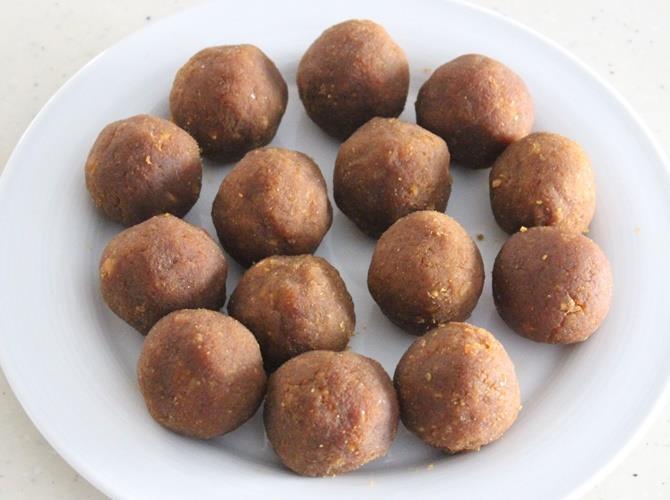 10. Drain off the rice in a colander, make sure there is no water in the rice.
11. Add urad dal, little salt and water just enough to cover the dal to a blender. Grind till smooth or frothy. Do not add too much water.



12. Ensure there is no dripping water in the rice. Add it to the ground dal batter. Grind again without adding any water. We like to blend the rice slightly coarse as you see in the picture, this slight coarse batter gives a nice crust to the poornam boorelu without making the outer shell hard. The consistency must be like a thick dosa batter. If needed sprinkle little water while grinding.



13. Heat oil in a deep fry pan till hot, reduce the flame to medium, add one ball each time to the batter , dip , roll it in the batter with the help of a table spoon.

14. Swipe off the excess dripping batter to the bowl and drop in the hot oil, repeat the process for the other balls. Do not disturb them for few seconds, then stir gently for even frying. Don't be harsh, they might break and the stuffing will come out messing up the oil.



Fry them in batches till golden color.
Once cool, fry them again for a min, this way they stay crisp for longer time and will get the right golden color. The pictures you see were after frying them once. However this step is optional.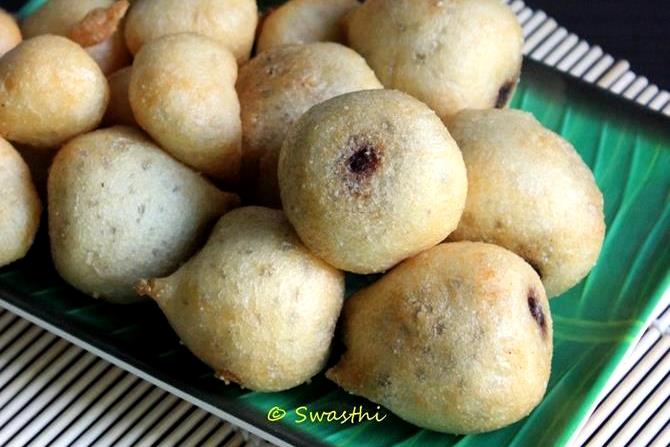 You will be left with little batter, you can use up to make punugulu. If you are looking for more varalakshmi vratam naivedhyam recipes, try
pala munjalu
payasam
chakara pongali with jaggery
easy chakkara pongali with sugar
panakam, chalimidi, vadapappu