Poornam boorelu recipe is a typical one that is followed in almost all houses in andhra pradesh. These are also called as poornalu. They are offered to goddess during the Durga Navratri as Navratri Naivedhyam and varalakshmi puja. These deep fried sweets are said to be goddess durga's favourite and she would be pleased with anyone who offers her these during the 10 auspicious days. So these are offered to the goddess at least on the day of vijayadashami , if not on the other 9 days. These are prepared not only for dasara but also for most festivals including Varalakshmi puja.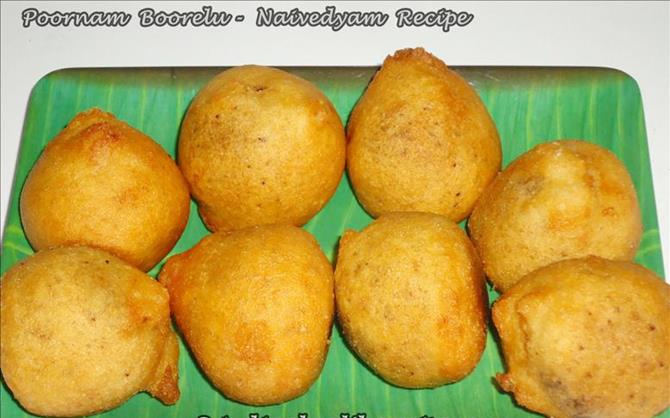 To make good poornam boorelu one needs practice and is quite difficult for beginners.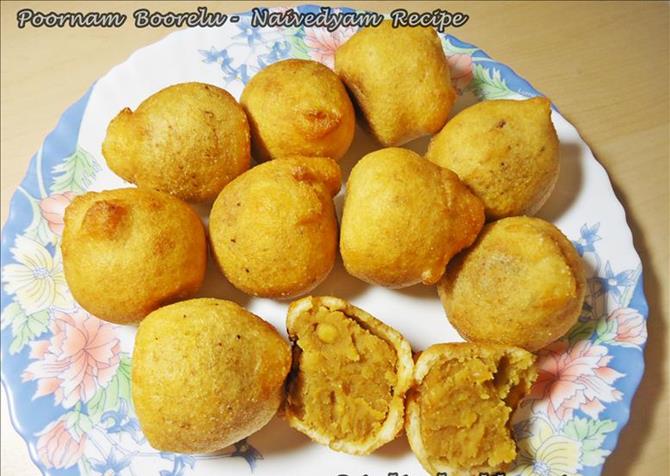 The recipe I am sharing today is the version i learnt from friends, check out my mom's version of poornalu here
 

Boorelu recipe | Poornalu recipe for navratri naivedhyam
Ingredients (240 ml cup used)
1 cup of channa dal / senagapappu
1 ½ cups of water
1 cup of grated jaggery or palm sugar
¼ tsp green cardamom powder
½ cup of urad dal
1 cup of raw rice (I use sona masoori or ponni)
1 to 2 tbsps. rice (optional, if your batter becomes runny )
Pinch of salt
Oil for deep frying
How to make the recipe
Soak urad dal and raw rice in enough water separately for 4 to 5 hrs.
Pressure cook channa dal with 1 ½ cups of water for 1 whistle.
When the pressure goes off, drain the left over water.
Mash the dal smooth and add jaggery or jaggery syrup. If your jaggery has impurities, melt the jaggery with very little water and filter to remove the impurities, 30 ml water would be fine.
Smooth dal is crucial to get a good stuffing. Make sure you mash the dal before you add jaggery. You can even blend if you desire.
Mix dal and jaggery well and begin to cook on a medium flame till the water almost evaporates and the mixture looks dry.
Add cardamom powder, mix well and off the flame. Set aside to cool.
Make small lemon sized balls with this mix and set aside.
Grind urad dal with little salt and water till it becomes smooth or frothy.
Add the rice to this and grind to a smooth paste with very little water. The consistency must be like a thick dosa batter. Refer the pic. In case your batter becomes runny, you can save it by mixing rice flour to the batter and bring it to the right consistency.
Heat oil in a deep fry pan till smoky hot, reduce the flame to medium, take one ball each time with a tablespoon, roll it in the batter and drop in the hot oil, repeat the process for the other balls. Fry them in batches till golden colour.
Once cool, fry them again for a min, this way they stay crisp for longer time.
Notes
If your batter does not stick to the sweet ball properly, it means either your batter is runny or very thick. Perfect batter must cover the ball thoroughly when you roll it in the batter.