Popcorn chicken recipe – how to make crunchy kfc style popcorn chicken at home. – Most Chicken lovers would have not missed the opportunity of tasting these little bits of crispy kfc popcorn chicken. KFC states they use no MSG for their foods, my recipe too does not need any MSG (ajinomoto).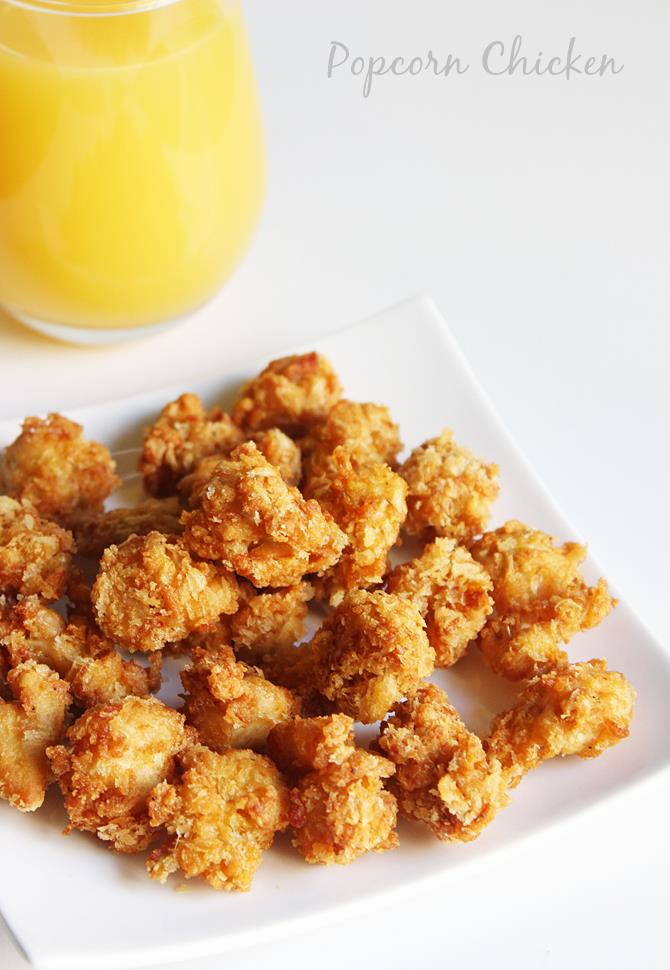 Soaking chicken in butter milk (diluted yogurt) for at least 45 mins to 5 hours makes it tender and juicy. It yields tender bites that are so soft from inside and crusty outside since we will bread them before frying. However it is just an optional step.
If you are wondering why am I sharing a deep fried recipe here on a healthy recipes blog? I personally feel, it is right and healthier to enjoy deep fried foods at home rather than in take away or fast food outlets like KFC, since we can use the fresh and best kind of meat and oil to make these when prepared at home. We really don't know the kind of oil or meat used when we eat out.
For a healthier homemade popcorn chicken recipe, use unbleached flours and whole grain bread crumbs or coarsely powdered cornflakes instead of flour. Many brands sell oil exclusively meant for deep frying and baking, you can choose something like that.
For more Chicken recipes check
Chicken nuggets
Chicken burger
KFC style fried chicken
Chilli chicken
Hot spicy szechuan chicken
Crunchy chicken cutlet
How to make popcorn chicken recipe
1. Drain off the water completely from washed chicken. Chop them to bite sized pieces. Add red chili powder, ginger garlic (paste or powder) onion powder, pepper powder and salt. If you have rosemary & turmeric add that as well now. Mix well so the spice mix is coated evenly.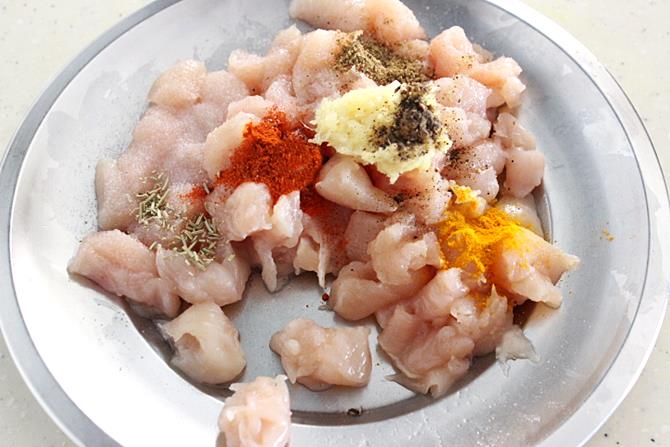 2. Add the egg and corn flour. You can also just use egg whites. Mix well.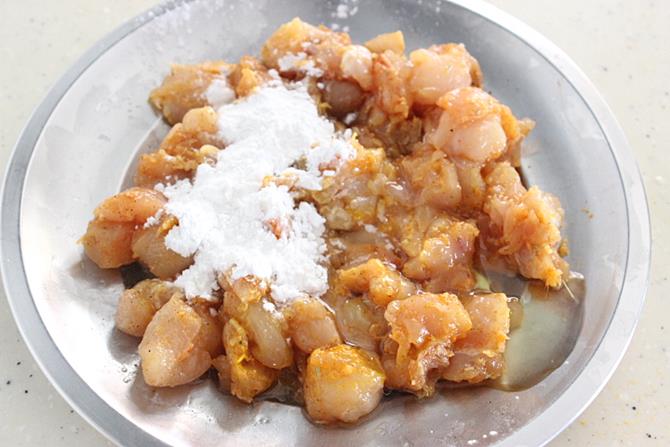 3. Add the breadcrumbs.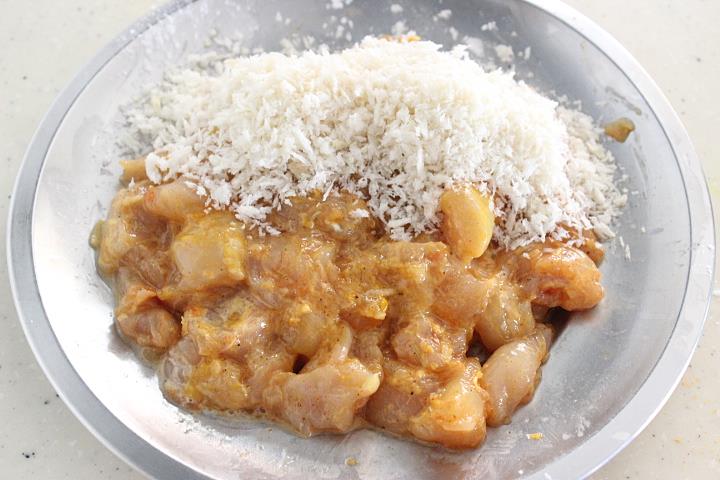 4. Mix well and set aside for about 5 minutes. This helps the bread to stick well to the popcorn.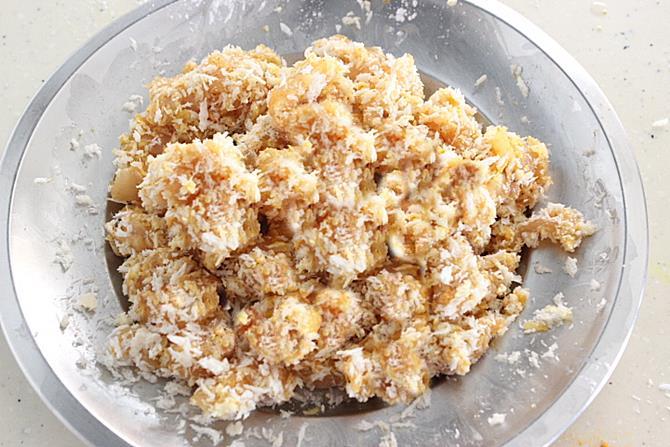 5. Heat oil and drop the chicken bite by bite. Keep stirring while frying for even browning. Fry in batches till you finish. Drain them on a kitchen tissue.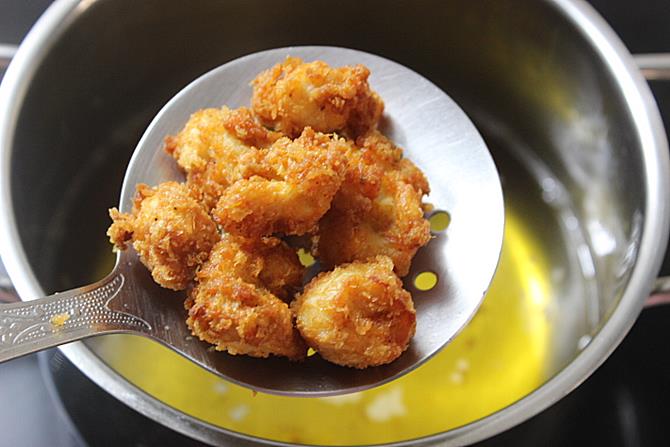 Popcorn chicken is ready
Serve hot with your favorite ketchup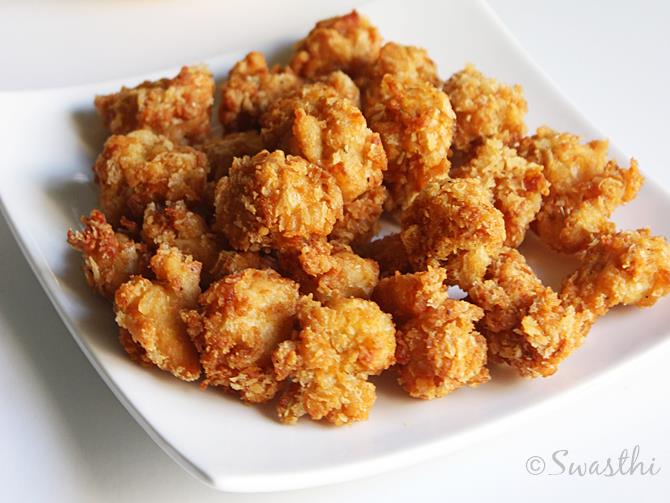 Find popcorn chicken recipe (KFC style) below
Popcorn chicken recipe | Kfc style popcorn chicken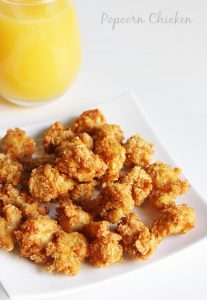 Popcorn chicken recipe that turns out better than the KFC style
Ingredients (240 ml cup used)
½ pound about 250 to 300 grams of boneless chicken fillet
2 tbsps. corn flour / corn starch
1 large egg
1 cup bread crumbs or crumbled corn flakes or coarsely powdered oats or panko crumbs
Salt to taste
¼ tsp. Turmeric (optional, kills germs)
Oil for deep frying
½ tsp. Garlic powder (or ¾ tsp ginger garlic paste)
¼ tsp. black pepper
½ tsp. onion powder
Fat Pinch of rosemary /oregano/ thyme or garam masala
½ tsp. red chili powder or paprika or cayenne pepper
How to make the recipe
Cut meat to tiny bite sized pieces. Wash it under running water and drain off water completely.
Add paprika/red chili powder, pepper powder, ginger garlic or garlic powder, masala or dried herbs, salt and mix well.
Add the egg and corn flour. Mix everything everything well.
Pour the bread crumbs. Mix well and set these aside for about 5 minutes. You can also pick up each piece and roll in bread crumbs. Rest for 10 to15 mins for the bread to stick well.
Heat oil and deep fry evenly till golden. Keep stirring for even frying.
Drain popcorn chicken on a kitchen tissue and serve hot with ketchup.
Nutrition Information
Calories:
399
Fat:
27g
Saturated fat:
4.3g
Unsaturated fat:
21g
Trans fat:
1.3g
Carbohydrates:
23g
Sugar:
1.8g
Sodium:
597mg
Fiber:
1.7g
Protein:
16g
Cholesterol:
89mg