Potato curry recipe for masala dosa, sandwich, roti rolls (wraps) or as a side to variety rice. A quick and easy aloo curry or potato masala recipe that goes good not only with masala dosa but it can also be used as a filling to make sandwich, roti rolls or wraps and can also be packed in lunch box with variety rice like lemon rice, coconut rice, pudina rice, sesame rice.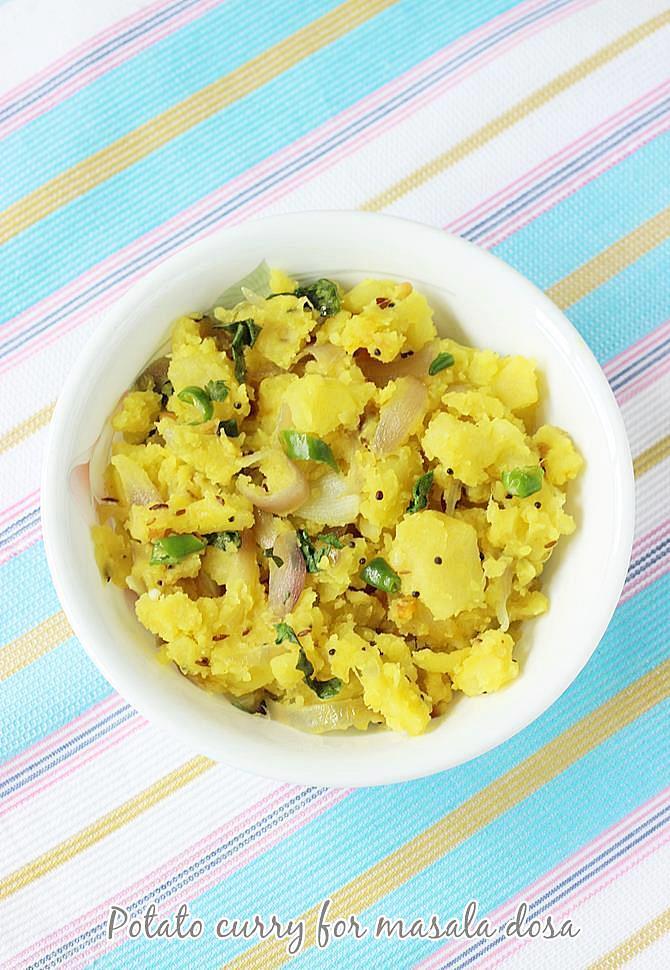 I make this potato curry often to go with the breakfast for dosa or sandwich and the same day i also use it for the kids' lunch box to make rolls. The texture of the curry can be adjusted to suit your liking. I prefer to keep it slightly moist, little dry than the curry served in restaurants. This helps the dosa and sandwich to keep crisp for a little longer.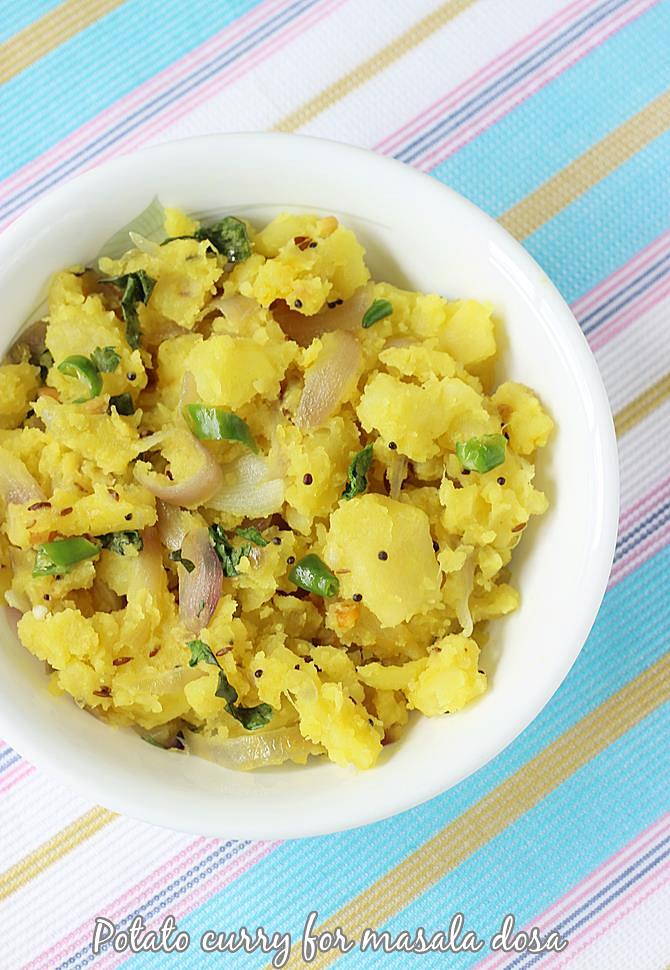 For more Potato recipes,you can check
Potato curry
Potato kurma
Aloo gobi masala
Potato curry for masala dosa
Potato curry recipe for masala dosa | Potato masala recipe for dosa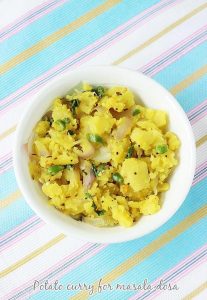 Ingredients (240 ml cup used)
2 cups boiled potatoes
¾ to 1 cup chopped or sliced onions
¾ tsp grated ginger
1 sprig curry leaves
¼ to ½ tsp. mustard
½ tsp. cumin
1 tsp chana dal
1 tsp urad dal
2 green chilies chopped or sliced
Few coriander leaves
2 pinches of turmeric
Pinch of hing
Salt as needed
How to make the recipe
Boil potatoes until just cooked not mushy.
Heat oil in a pan and temper with mustard and cumin. When they begin to splutter add the dals and fry until golden. Add hing.
Add ginger and saute till it smells good.
Add onions, chili and curry leaves.
When the onions turn transparent, add potatoes, turmeric and salt..
Mash gently and add little water or stock.
Cook for one to 2 mins.
Add coriander leaves. Stir. Serve with dosa, bread or rice.
How to make potato curry recipe for masala dosa, sandwich and rolls
1. Cook potatoes until just done in whatever way you like. In the cooker, steamer or directly in a pot. I cook them in a pot with just enough water to cover. If you are a beginner, i suggest cooking in a pot. Potatoes should not turn mushy but fully cooked. You can check by pricking a fork if it is done.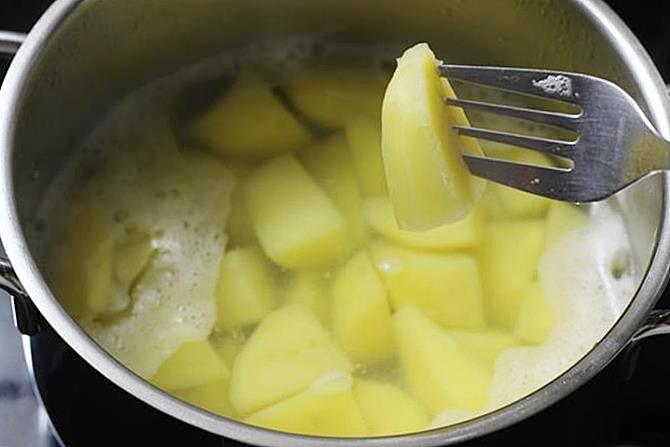 2. Heat oil in a pan, add cumin, mustard, chana dal and urad dal. Fry until the dals turn golden. Add hing.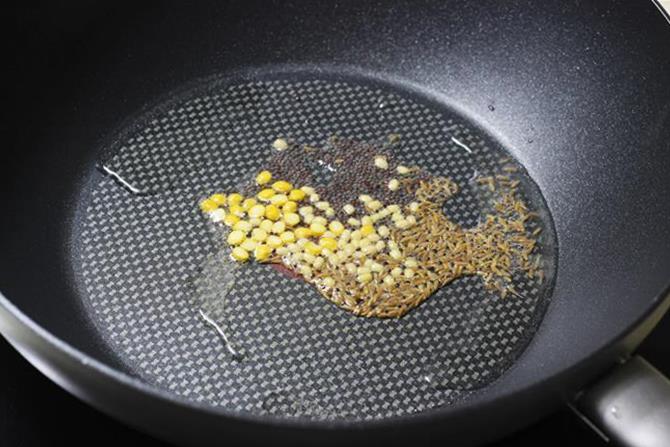 3. Saute grated ginger until it begins to smell good.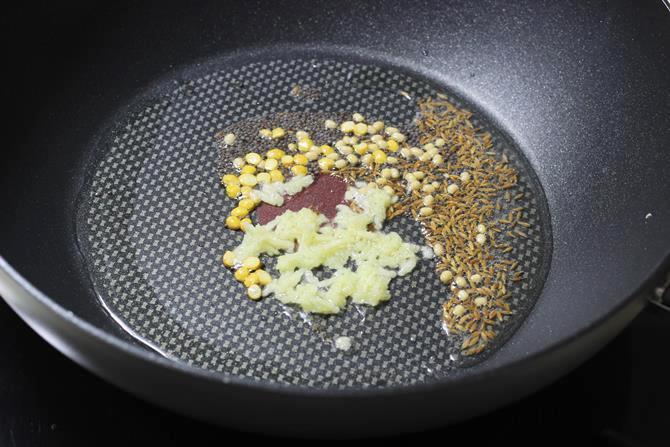 4. Add chopped or sliced onions, curry leaves and chopped or slit green chilies. Sprinkle little salt.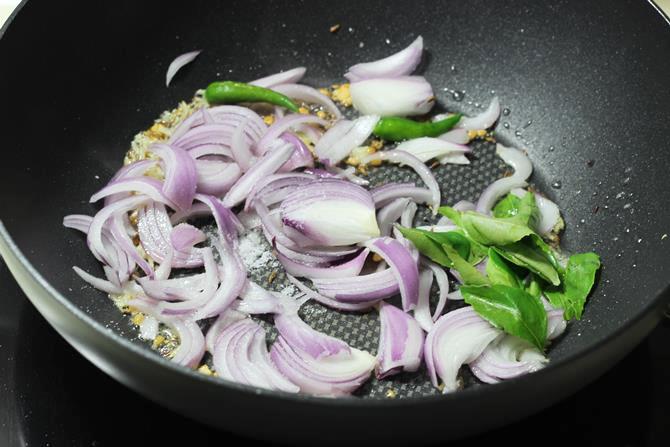 5. Fry until the onions turn pink.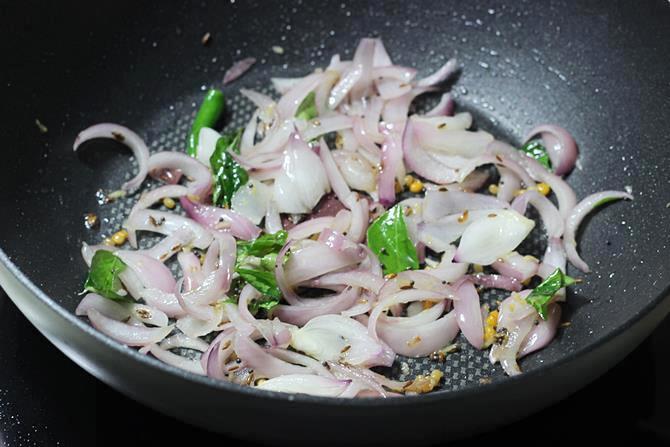 6. Lower the flame, add potato, turmeric and salt. You can add turmeric to the onions to get a good color.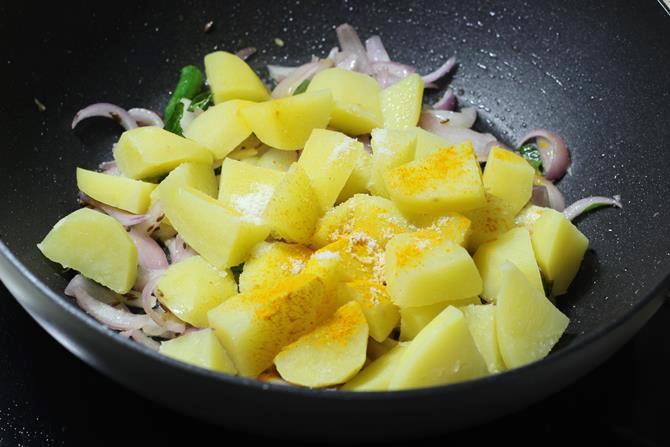 7. Mash them gently. You can also keep small cubes if you like it that way. Add little potato stock or water to bring together the potatoes. It will be fairly dry without the addition of water. I use about 3 to 4 tbsp. potato stock.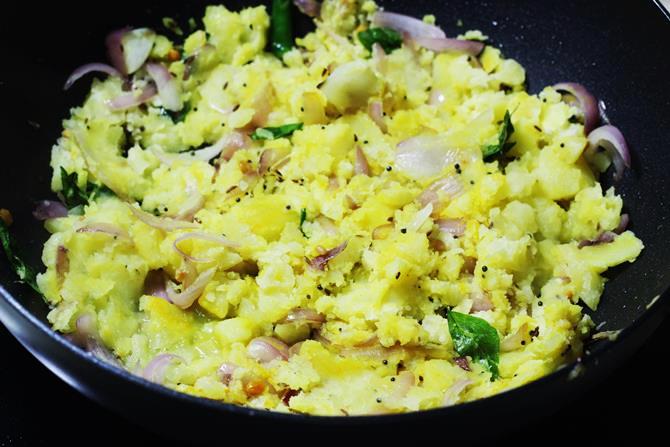 8. Mix everything well. This is the texture we prefer and is good for dosa, sandwiches, rolls and lunch box as well. Sprinkle chopped coriander leaves.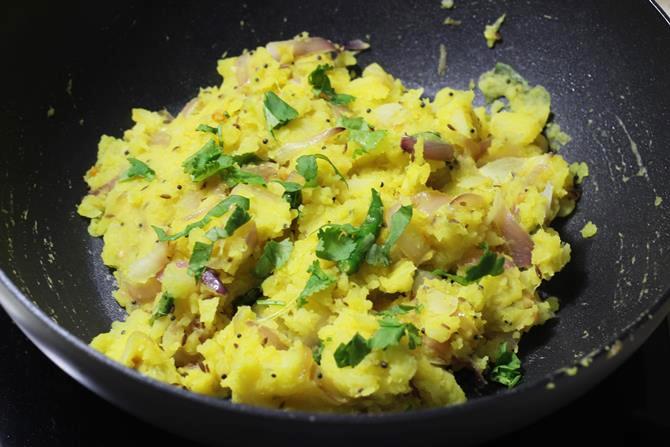 Serve potato curry with dosa. To make sandwich i smear little pudina chutney to the bread first and then stuff this curry.