Indian potato recipes or aloo recipes. Potato is one of the most versatile & easily available root vegetable that is used in regular cooking in Indian as well in world cuisines. Potatoes are naturally gluten free and are a rich source of carbohydrates, antioxidants and vitamin B & C. We use potatoes quite often to make curries, stir fry, snacks, chips, french fries, wedges and many more.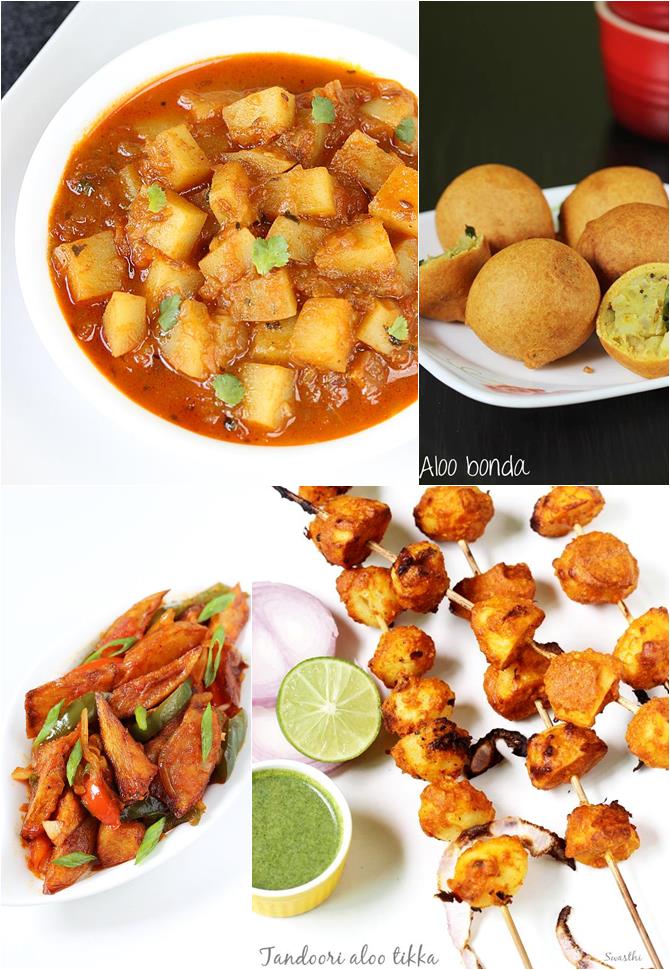 Here are some of the Indian potato recipes on the blog which I have shared earlier. The collection here includes street style snacks, restaurant style curry / gravy, starters , home style stir fry recipes and few healthy recipes. Most of these are kids' friendly and some go well in the kids' school boxes as well.
For more similar vegetable recipes collections, check
Brinjal recipes
Capsicum recipes
Cabbage recipes
Mushroom recipes
Indian Potato recipes or aloo recipes
Popular street foods, snacks – samosa, pakora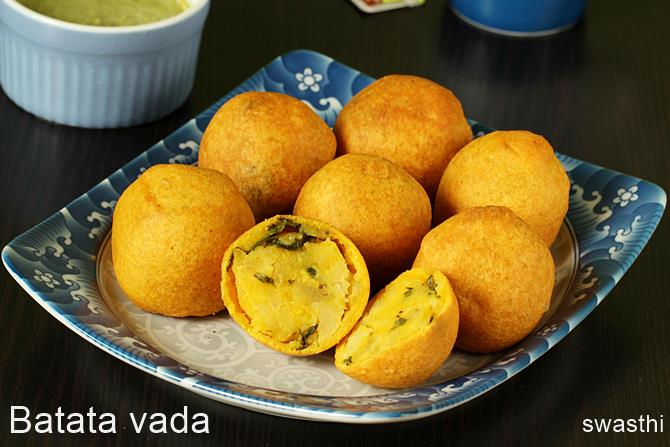 Batata vada: Batata meaning potatoes are spiced and rolled to balls. These balls are dipped in gram flour batter and deep fried. These are usually served with chutney or sandwiched in chutney smeared pav.
Aloo bonda – One of the most popular south Indian snack made with spiced potatoes. This is similar to batata vada but a south Indian version.
Veg bonda – Another popular snack from karanataka cuisine which is served in tiffin centers. Potatoes, carrots, beans and peas are the main ingredients used.
Aloo pakora : Sliced potatoes are dipped in besan batter and deep fried until crisp. These can be made just under 20 mins. Aloo pakora are a tea time snack in tiffin centers and street stalls.
Aloo tikki – Indian style mashed potato patties made with spice powders, coriander leaves, green chilies. These can be deep fried or shallow fried and can be eaten as a snack or as a patty in a burger.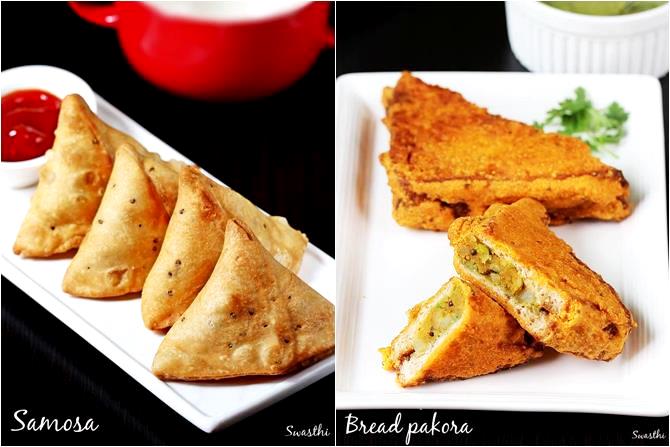 Potato samosa – Samosa is one of the most popular Indian street foods that is loved by all. Spiced potato mixture is stuffed in wheat flour dics and deep fried. You can change the stuffing and also make with egg, chicken or keema.
Chilli potato – A simple Indo-chinese starter or snack food served with hakka noodles or any soup. These can be served as a starter or appetizer in parties or as a tea time snack.
Potato stuffed capsicum – Healthy dish that can be served as a starter or snack. Spiced potato mixture is stuffed in capsicum and pan fried until tender. You can also stuff these with cheese, mixed veggies or meat.
Bread aloo pakora – Another street snack made by sandwiching spiced potatoes in plain bread and deep frying. These are good to make when you have some left over bread.
Bread potato rolls – A quick party snack or evening snack. These can be made by shallow frying, baking or pan frying. These can also be cut to bite sized and served as a bite sized appetizer or snack along with some tea.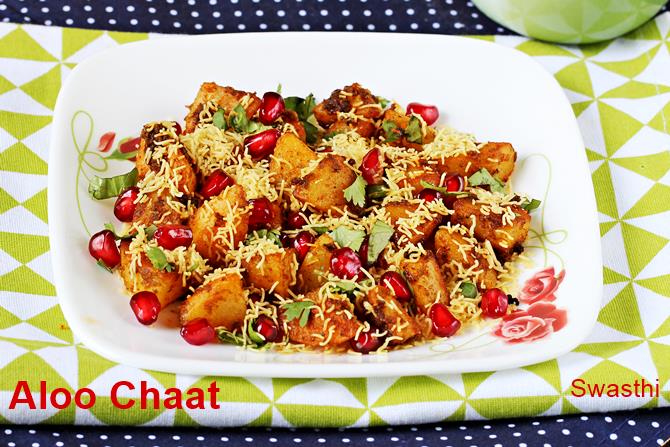 Aloo chaat recipe – Spicy, tangy and crunchy chaat snack made healthy at home. This is a quick dish that can be made for parties or as a evening snack.
Tandoori aloo tikka : Baby potatoes marinated in tandoori masala and grilled. These can be made on tawa or in oven. Serve as a side in a meal or as a snack. These are best served hot.
Potato wedges – Lightly flavored grilled wedges recipe. You can tweak them and make spicy or tandoori wedges by using tandoori masala.
Sabudana vada – Deep fried snack made with tapioca pearls and boiled poatatoes. These are a popular breakfast or snack served mostly during fasting days.
Curry & gravy – potato recipes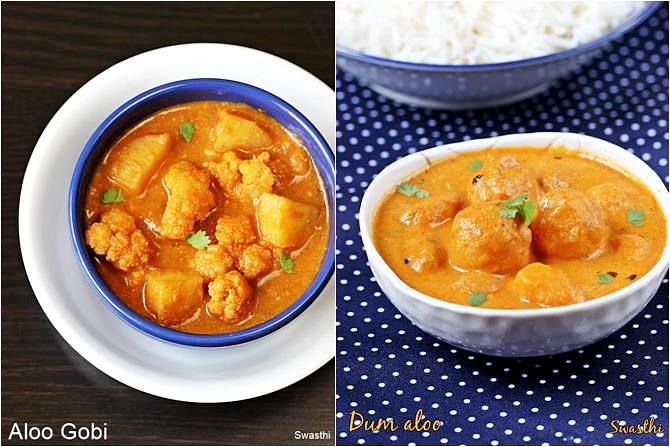 Potato curry – Simple basic home style Indian curry made with basic ingredients to go with rice, roti, bread. This is a beginners recipe and can be made tweaked easily to suit your taste.
Potato kurma – South Indian style kurma curry made freshly ground spices and basic kurma ingredients. This goes great as a side with pulav, biryani, ghee rice, jeera rice, plain white rice, roti, chapathi or even with puri.
Aloo egg curry – Potatoes & boiled eggs go wonderfully well making this curry taste delicious. A beginners recipe, it is good to enjoy this with plain rice and ghee.
Aloo gobi masala – One of the popular restaurant dish from North Indian cuisine. But the recipe shared here is in a simple home style but tastes like the one in restaurants. This can be enjoyed with naan, paratha, jeera rice, plain basmathi rice or roti.
Aloo matar recipe: Simple home style North Indian recipe of aloo with green peas. Hot, spicy and delicious curry that can be served with plain rice, roti, bread or naan.
Dum aloo Restaurant style – Punjabi dish made by slow cooking baby potatoes in a creamy and rich gravy. This is apt to make for a special meal, weekend meal or when you have guest home.
Simple dum aloo – Simple recipe made without onions and ginger. Goes well with rice, puri or roti. Quick to make and can be packed in tiffin box as well.
Potato curry for dosa – One of the best curry to serve with South Indian popular masala dosa and even with puri. This can also be packed in the tiffin box to serve with rice, variety rice like jeera rice, ghee rice or even with bread , puri, chapati.
Aloo baingan : North Indian style dish made by slow cooking with basic ingredients.
Potato cabbage recipe : A dry curry or sabzi that goes well with roti or rice. Healthy, home style dish can be prepared even by beginners.
Potato sagu : Sagu is a simple gravy served with puri. This is one of the Karnataka style side dishes to serve with puri. There are so many ways a sagu is made, this one uses fried gram to make a quick curry.
Stir fry & sabzi
These potato recipes go well in the lunch box along with plain rice or with roti or can even be served for quick dinner. They can also be used as stuffing in wraps.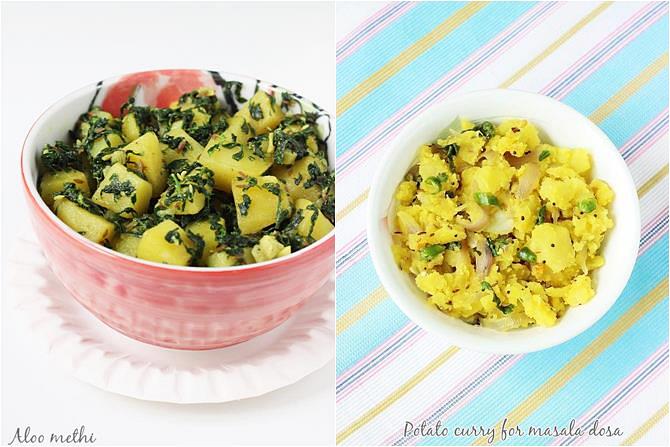 Dry aloo gobi recipe – This popular everyday sabji from the North Indian cuisine goes great with rice, roti or bread. It can be made for a meal and can also be packed in lunch box.
Aloo methi – Simple stir fry made with fenugreek leaves known as methi in Indian language. This sabzi goes well with rice, rasam, sambar or even with roti.
Aloo capsicum – Healthy and delicious stir fry made with capsicum or bell peppers to serve with rice or roti.
Potato fry – Simple hot and spicy andhra style vepudu to go with rasam rice or sambar rice.
Baby potato fry – Hot and spicy roast made on tawa. This can be had as a starter or a side in a meal.
Aloo palak – Simple stir fry made with spinach and sesame seeds.
Aloo paneer sabzi – Kids' friendly recipe that goes very well in school box.
Sandwiches & cutlets & tikkis

Aloo grilled sandwich – Easy sandwich recipe that can be made in minutes for a quick breakfast or evening snack.
Potato sandwich on tawa & toaster – Simple sandwich to make on tawa or griller.
Veg cutlet – Simple vegetable patties shallow fried to serve as snack.
Mumbai pav bhaji – One of the popular street foods from mumbai made with mixed potato & mixed veggies. This is served with pav an Indian bread.
Rice & paratha
Potato rice – Simple tawa pulao style rice made just in 15 minutes.
Aloo dum biryani – Dum cooked hyderabadi style biryani recipe.
Batata poha – One of the basic breakfast & snack recipes from Maharashtrian cuisine made with flattened rice or rice flakes.
Aloo methi paratha – Whole wheat paratha made with fenugreek leaves. These are very good to pack in the kids' school box.