Prawn biryani recipe – A quick and easy dum biryani recipe using prawns. A simple salan or gravy and a bowl of fresh veggie salad goes well with this biryani. To keep the recipe simple, i have not used saffron, milk or yogurt. It has been made using fresh black tiger prawns, any variety of fresh or frozen prawns or shrimps can be used.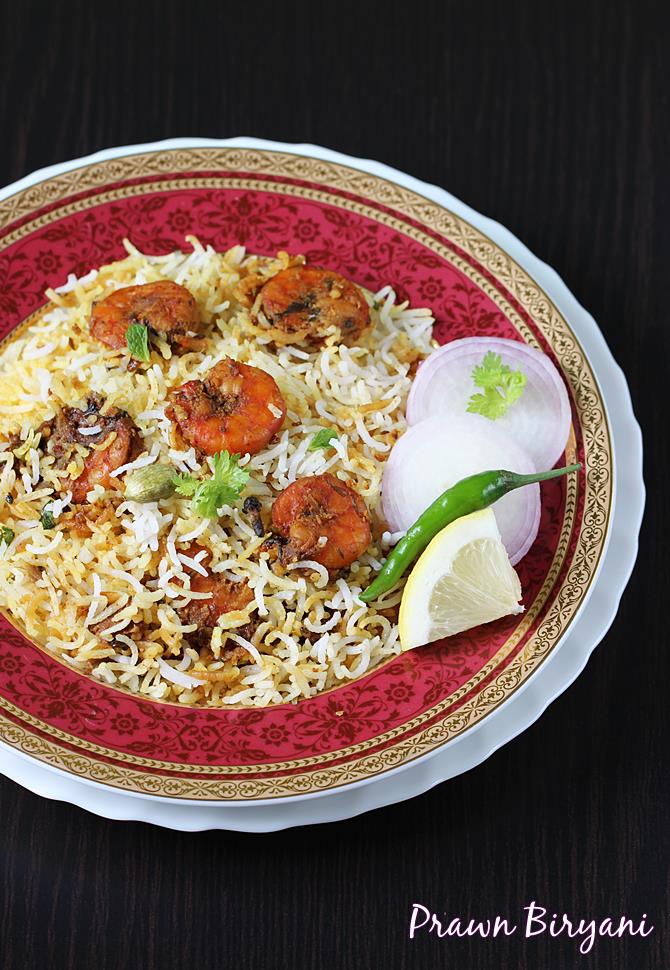 If you are using frozen prawns or one that is not very fresh, i suggest soaking them in vinegar for a while and rinsing. To prepare the gravy i used little coconut milk, packed or fresh homemade coconut milk can be used. I do not like to use yogurt for prawn biryani, hence i have used coconut milk. Using coconut milk for sea food lends a good taste and flavor, this prawn biryani recipe works good with yogurt as well.
You may like to check more prawn recipes
Prawn pakoda
Prawn curry
Prawn stir fry
Andhra style prawn curry

Prawn biryani recipe
Prawn biryani recipe | Prawn dum biryani | Prawn recipes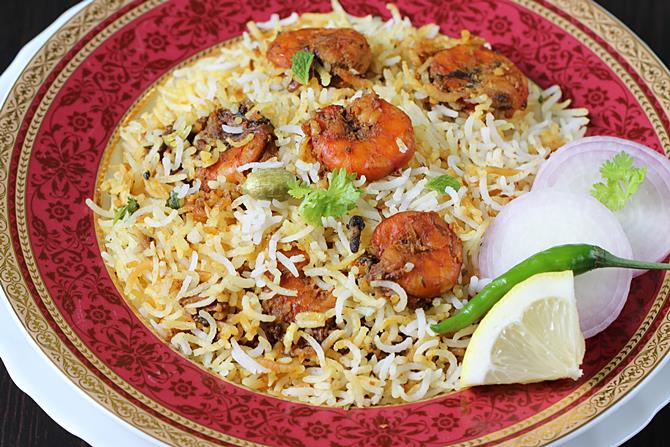 Prawn biryani made in dum style, delicious and flavorful.
Ingredients (240 ml cup used)
1 ½ cups basmathi rice
1 small bay leaf
2 to 3 green cardamoms
½ tsp shahi jeera
marination ingredients
250 grams (cleaned prawns)
1 tsp ginger garlic paste
⅛ tsp turmeric
½ tsp biryani masala
½ tsp red chili powder
1 ½ tsp lemon juice
very little salt
Biryani gravy ingredients
2 to 2.5 tbsp. oil
1 bay leaf
1 inch cinammon stick
1 small star anise
2 green cardamoms / elaichi
4 to 5 cloves
½ tsp shahi jeera
1 large onion sliced thinly
1 tsp ginger garlic paste
1 medium tomato
handful of coriander and pudina leaves chopped
1 tsp biryani masala
½ tsp red chili powder
salt as needed
¼ cup thick coconut milk or fresh curd (do not use sour)
How to make the recipe
Marinate prawns with ingredients under marination. Keep it aside for 30 minutes.
Soak rice for 30 minutes and Drain completely. Bring 3 to 4 cups of water to a boil along with bay leaf, cardamoms, shahi jeera, 1 tsp oil and salt. Cook the rice until fully cooked, firm & al dente but not mushy. Drain the rice to a colander.
Saute cloves, cinnamon, bayleaf, shahi jeera and star anise in hot oil.
Fry onions until brown. Fry ginger garlic paste until the raw smell goes away.
Saute tomatoes and mint, coriander leaves in the same pan.
When the tomatoes turn mushy, add chili powder, biryani masala, salt and turmeric. Cook until the oil begins to ooze out.
Add the prawns and fry until the raw smell is gone
Cover and cook for 3 minutes.
Pour coconut milk and stir. Cook until the gravy thickens.
Grease a pot for making biryani, add half of the rice to the pot.
Add the prawn garvy and level it.
Add the rest of the rice.
Seal with a foil or tight lid and cook on a hot tawa for 20 minutes.
Allow prawn biryani to rest for 15 minutes. Serve.
How to make prawn biryani recipe with step by step photos
1. Drain the water completely from prawns, add chili powder, turmeric, salt, masala powder and little lemon juice.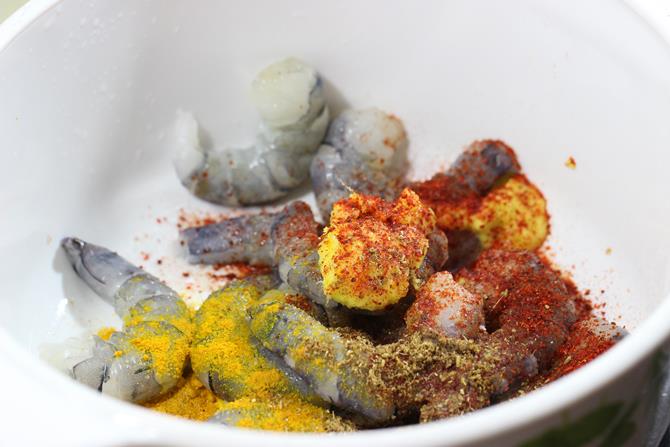 2. Marinate and rub them gently for a while with the marinade. Set aside for at least 30 minutes. You can also do this the previous night and refrigerate.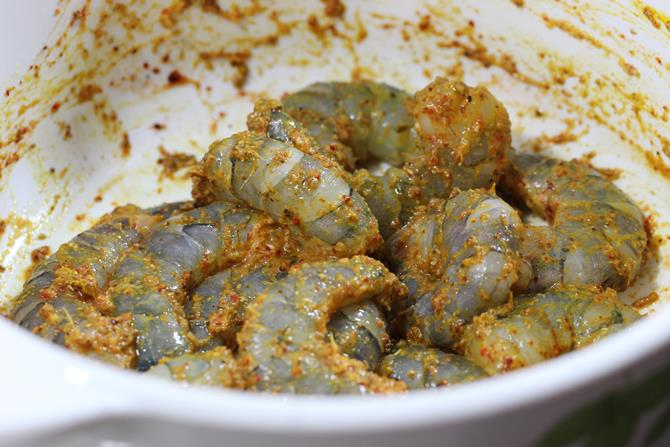 3. Wash and soak rice for about 30 minutes. Drain off. Bring 3 to 4 cups of water to a boil with salt, a bay leaf, 4 green cardamoms, 1/2 tsp shahi jeera. Add rice to the pot and cook until fully done but al dente. It should remain grainy, firm and not mushy.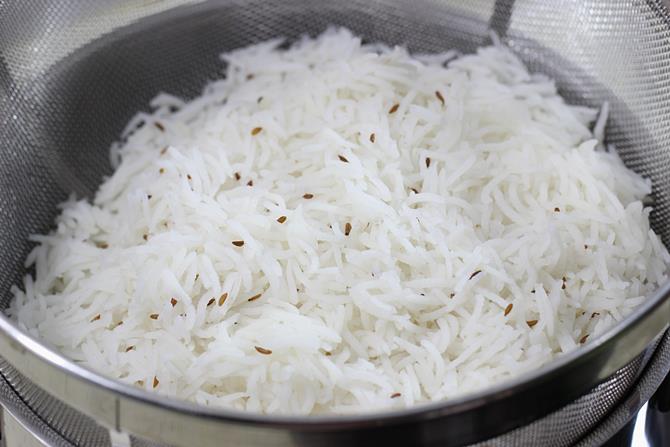 4. Heat oil in a pan, Add bay leaf, shahi jeera, cloves, cardamom, star anise and cinnamon. Use just an inch of cinnamon, i used ceylon cinnamon hence used a bit more. This biryani needs a little more oil than the other non-veg biryani recipes since prawns do not release much fats when cooked. Stick on to the quantity mentioned in the recipe else biryani may turn dry.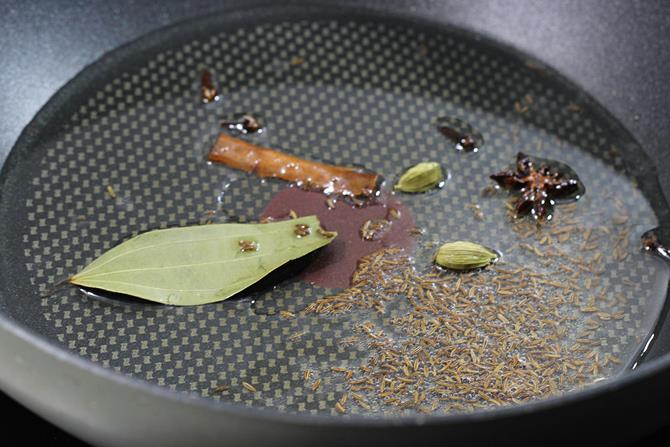 5. When they begin to splutter, add sliced onions. Separate the layers of onions before adding. Fry until brown or golden.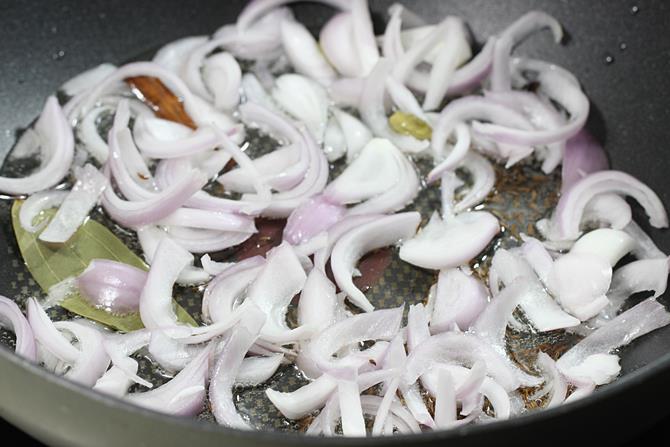 6. Browned onions lend a good flavor, so don't skip this. You can set aside a few for garnishing. Add ginger garlic paste and saute till the raw smell goes off.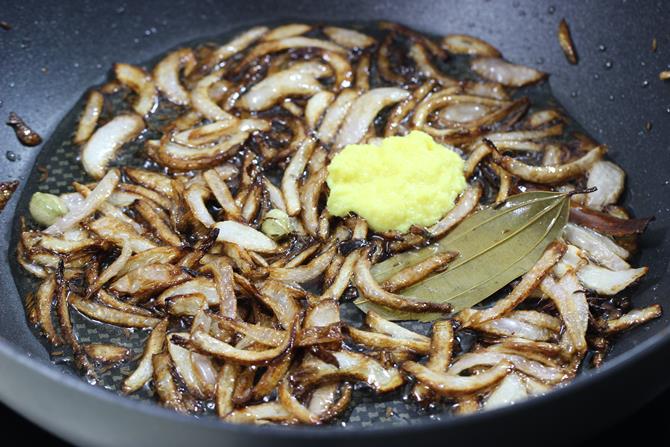 7. Add chopped tomatoes, mint and coriander leaves. Cook until the tomatoes turn soft.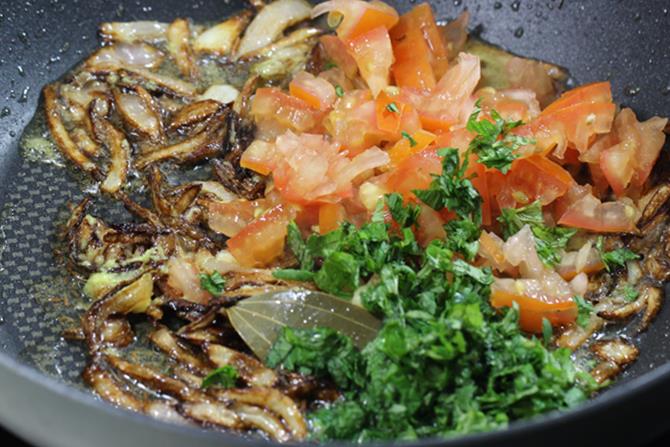 8. Add turmeric, red chili powder, biryani masala powder . I also added a bit of coriander powder since my masala powder was very strong.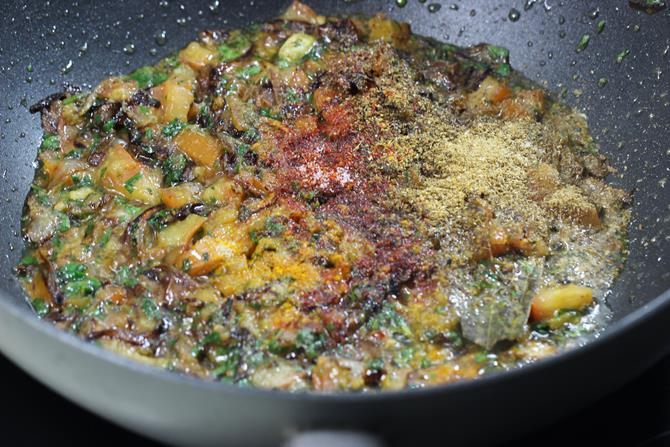 9. Cook until the oil begins to separate.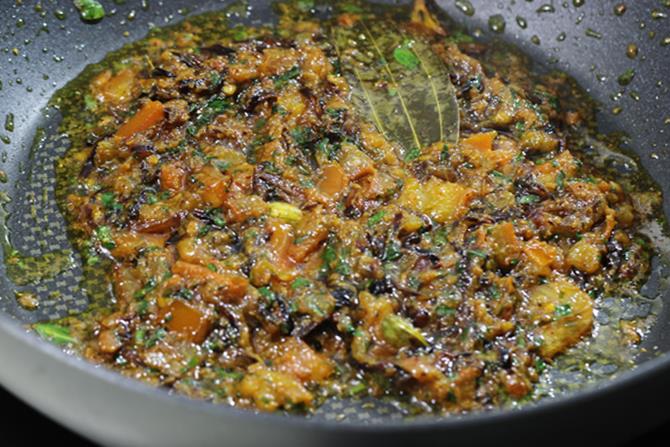 10. Add marinated prawns.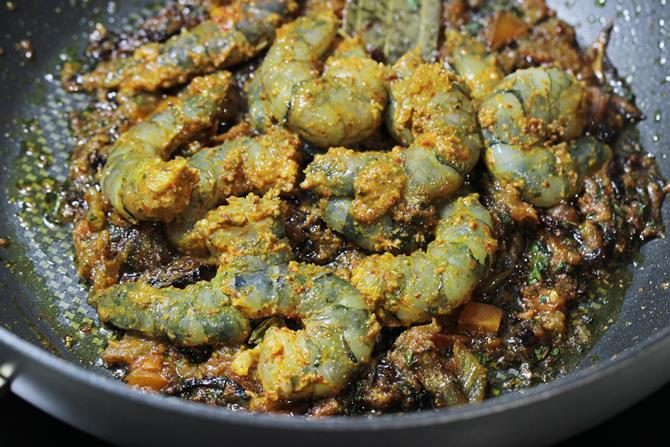 11. Fry till they turn white and the raw smell goes away.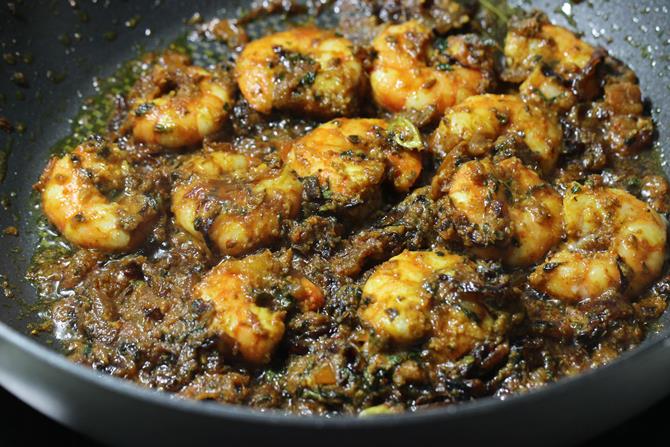 12. Cover and cook on a low flame for 3 minutes.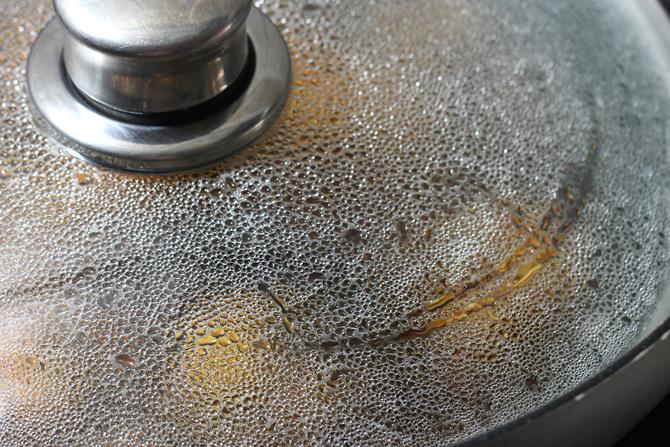 13. Let the flame remain low. Pour slightly thick coconut milk and stir. If you do not follow any food combining rules of compatibility you can use yogurt/curd as well instead of coconut milk.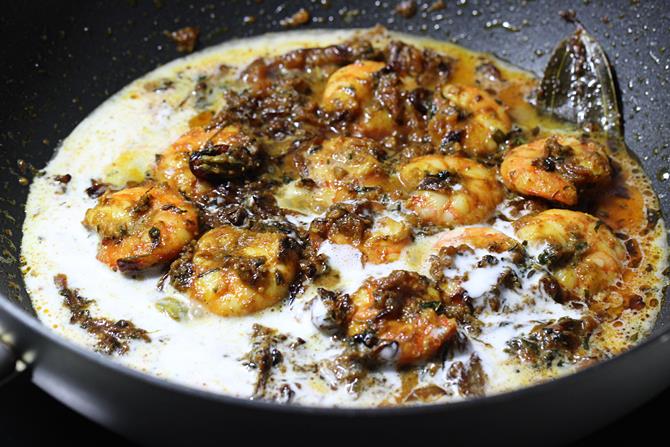 14. Cook until the gravy thickens. Off the stove and set the pan aside. The color of the gravy is dark due to the brown onions.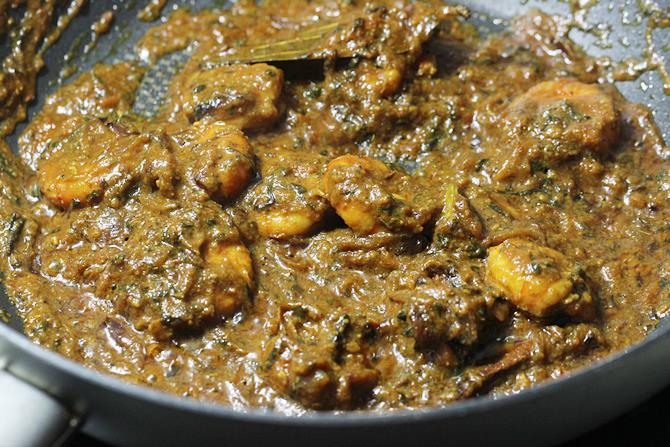 15. Grease a pot for dum process / slow steam process. Layer half of the rice.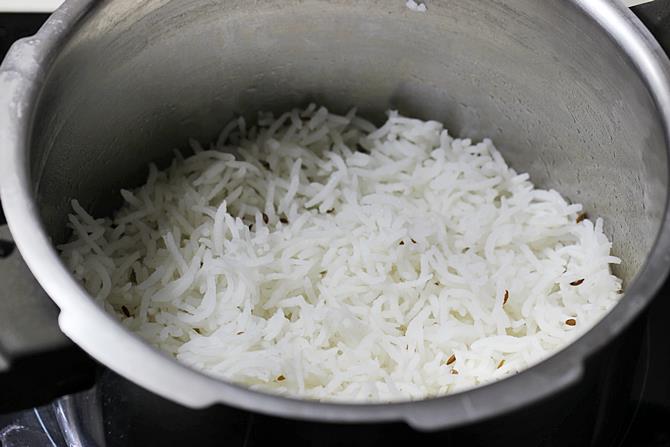 16. Layer the gravy.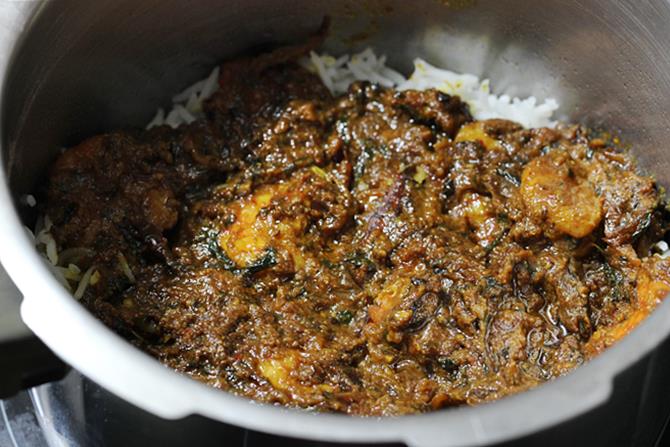 17. Layer the rice. You can add 1/4 cup rice to the pan (used for cooking prawns), stir and add back the rice to the biryani pot. This makes the top layer colorful and flavorful without the use of saffron. Add coriander and mint leaves.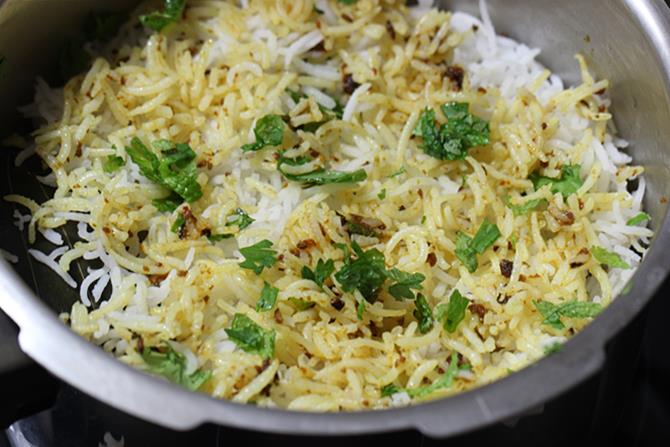 18. Cover with a foil or tight lid. Heat a griddle or tawa until hot enough. Place the biryani pot on the hot griddle / pan or tawa and dum / slow cook for 15 to 20 minutes on a very low flame. Dum is a slow cooking method where steam is trapped in a pot by sealing the rim to prevent the steam from escaping. The food gets cooked due to trapped steam which makes the food flavorful and delicious.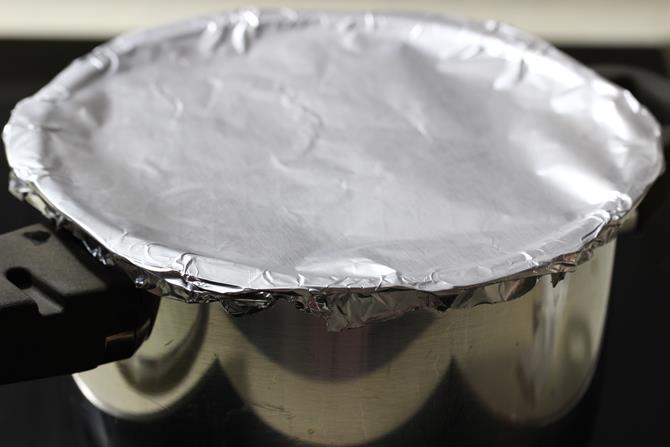 Allow it to rest for at least 15 minutes after the dum.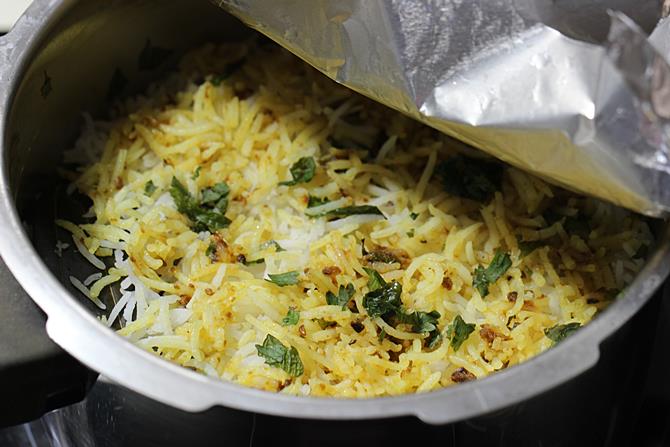 Serve prawn biryani with onion and lemon wedges.