Pudina rice recipe – South Indian style recipe made with fresh pudina or mint leaves. It pairs wonderfully well with any simple curry like bagara baingan or chicken curry or chicken kurma and is very easy to make. Mint also called as pudina in various Indian languages is often used to flavor chutney, Indian curries and biryani.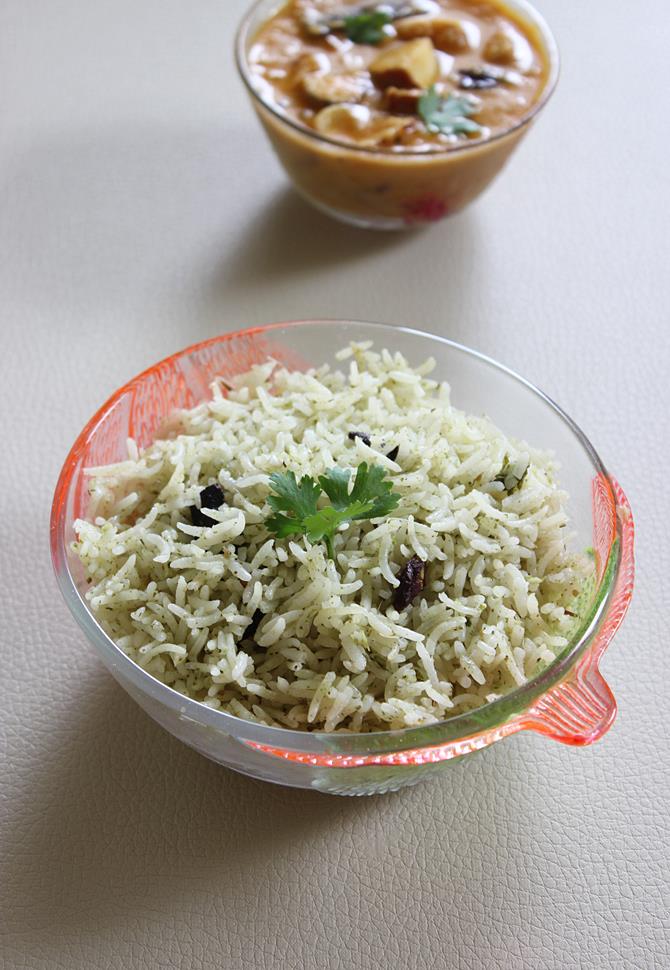 Pudina rice can be packed for the lunch box too with nuts or veggies added or with a simple vegetable stir fry. It is always a winner when I want to prepare a special meal during the weekends or on lazy days. It is super easy to make, much easier than any biryani or any other rice item.
 
To make pudina rice, pudina, coriander leaves, green chilies, ginger garlic and onion or coconut are ground together and then roasted well to bring out the flavours and then rice is cooked in this mixture.
 
I have used coconut, you can replace it with onions too, both yield good pudina rice, with different flavors. You can serve this even with a simple onion raita or can even add vegetables like potato, peas, mushroom or baby corn too while frying the paste to make your meal complete.
 
Find complete pudina rice or pudina pulao recipe below
Pudina rice recipe | Mint rice | Pudina pulao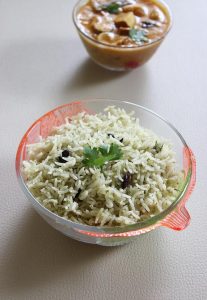 Pudina pulao or pudina rice is mint rice made of fragrant basmathi rice. It is cooked in mint or pudina paste to yield a flavorful dish that pairs great with any veg or chicken curry.
Ingredients (240 ml cup used)
1.5 cups rice
1 cup lightly measured mint / pudina
Fistful of coriander leaves (optional)
2 to 3 green chilies
1 inch ginger
3 to 4 small pods or 1 to 2 large pods of garlic
1 large onion or ¼ cup chopped coconut pieces
Salt as needed
Oil or ghee as needed
2.5 cups water (adjust to suit your rice variety)
1 to 2 tbsp. lemon juice(optional)
Seasoning
1 bay leaf
1 star anise
1 strand mace
½ tsp shahi jeera or cumin
6 cloves
2 inch cinnamon stick
3 to 4 green cardamoms
How to make the recipe
Wash rice and soak it for about 15 minutes. Pluck and wash mint and coriander leaves, drain them completely
Grind mint, coriander, green chilies, ginger garlic, onion or chopped coconut to as smooth as possible without adding water.
Heat a pan with oil, add the dry spices and saute till they sizzle.
Add the ground paste and fry on a medium to low flame for about 2 to 3 minutes.
Pour water and salt. Bring it to a boil. Add washed rice and cook in your preferred way.
Pressure cooker: Cook the rice till the water almost evaporates. When there is very little water left in the cooker, close the lid. Cook it for about 5 minutes on a low flame and switch off. Do not allow to whistle. If making with normal rice, let it whistle once.
Open pan method: cook the rice till very little water is left in the pot. Cover and cook on low flame till the rice is cooked.
When the pressure goes away, open the lid and mix well. You will see a layer of the min mixture on top, Add lemon juice evenly and mix it gently .
Serve pudina rice with a simple onion raita or a potato kurma.
Notes
Tips for bachelors or those who don't own a blender.
finely chop onions, pudina, green chilies, coriander leaves,ginger garlic. finely mince everything well on the chopping board, with the help of the bottom of a steel glass crush,mash for a while, you will get a good paste. Make sure the mixture is roasted for a while before you add water, the raw smell should disappear.
Nutrition Information
Serving size:
1.25 cups
Calories:
452
Fat:
7 grams
Carbohydrates:
88 grams
Sugar:
1 gram
Sodium:
505 mg
Fiber:
7 grams
Protein:
7 grams
Cholesterol:
2 mg
For more simple
rice recipes
, check out
Veg biryani in pressure cooker
Green peas pulao
Tawa pulao
Potato pulao
How to make pudina rice recipe – step by step pictures
1. Add ginger garlic, pudina, green chilies, coriander leaves, onions or coconut to a blender jar and make a fine paste, as fine as possible.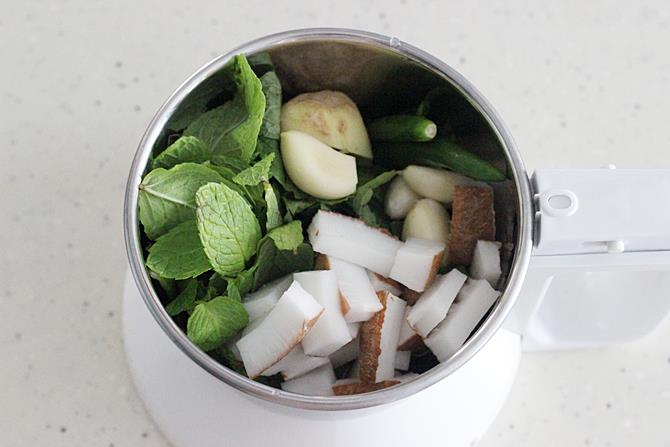 2.Add oil to a pressure pan or cooker and heat it. Saute the dry spices till they begin to sizzle. you can even add nuts at this stage or fry and keep them aside for garnishing.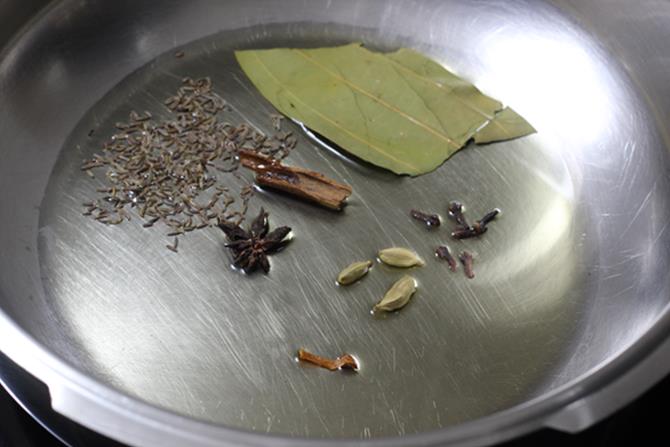 3. Add the paste and fry for 2 to 4 minutes, depending on the kind of your utensil. This is done to bring out the flavor of the mixture. Do not burn, stir well, it sticks too quickly.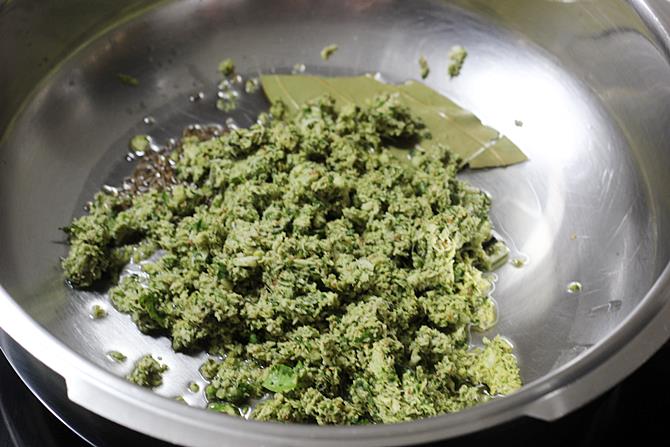 4.Pour water and stir in the salt. bring it to a boil.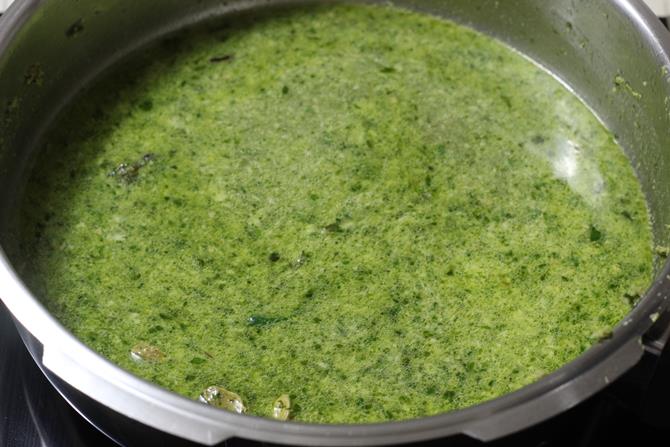 5. Add washed and soaked rice. Stir and cook until the water almost evaporates.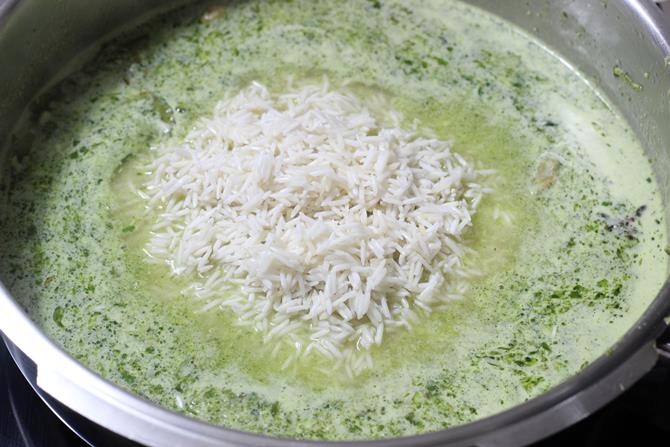 6. Close the lid when there is very little water left. Put on the flame to low.Cook for just 5 minutes and switch off. do not let the cooker whistle if using basmathi rice. if using regular rice, allow it to whistle once.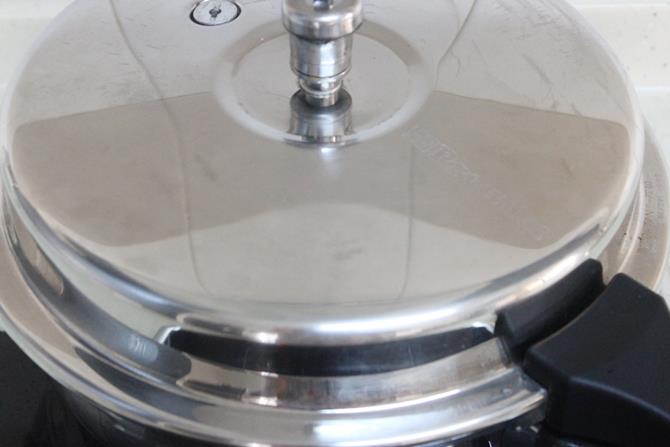 7. open the lid when the pressure goes down, a layer of mint and coconut is visible on top, you can sprinkle lemon juice and fluff up the rice gently.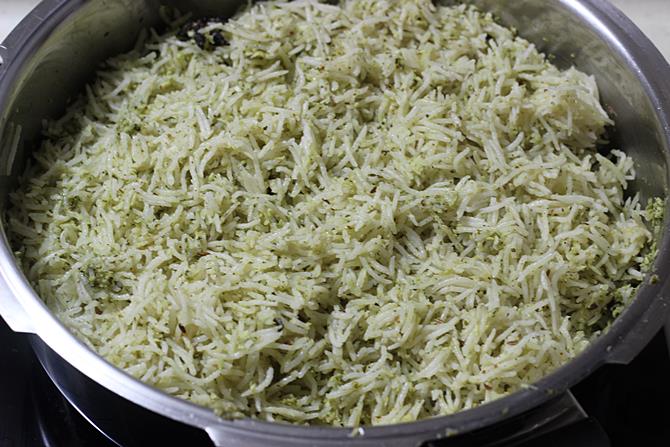 Serve with onion raita or potato kurma or egg masala curry.