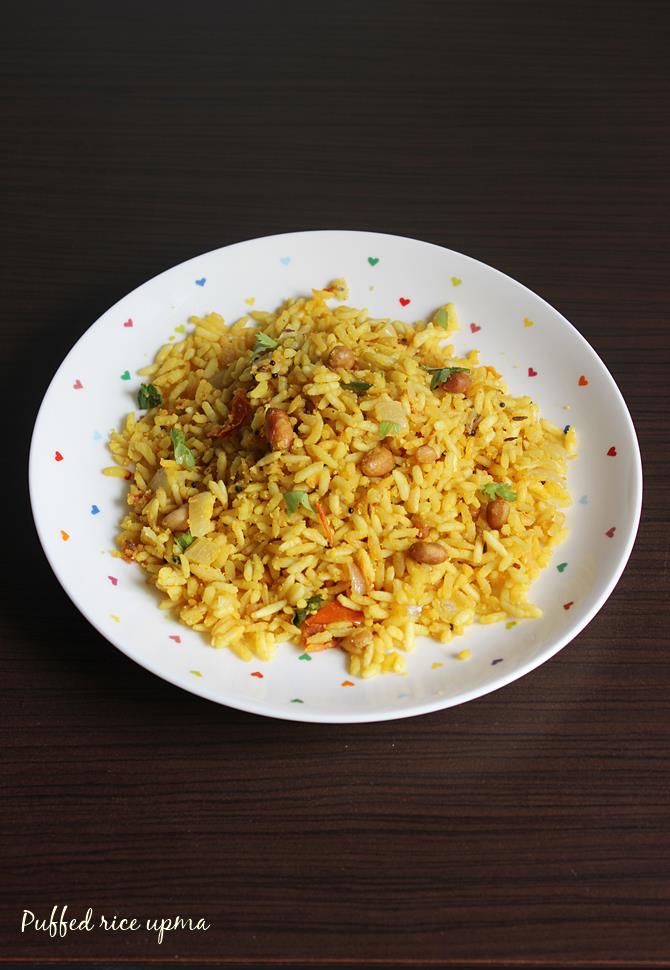 puffed rice upma also called as borugula upma or uggani in telugu, mandakki oggarne in kannada, pori upma in tamil and also known as murmura upma is a south Indian breakfast, snack or brunch food. This dish originated from north Karnataka where it is served with mirch bajji or stuffed bajji and yogurt cream.
 
It is the kids' favorite in my home, so I make it at least twice a month. It is perfect for a weekend brunch or late morning breakfast.
 
There are few optional steps in this recipe, like using fried gram and fresh coconut and their quantity. It can be prepared without them or the quanity can be altered to suit ones tastes.
 
Tamarind paste is used usually but somehow I don't like the color and taste of tamarind, not a big fan of it, so I use lemon juice that gives the best color and taste, adjusting the sourness is easy.
 
more upma recipes on blog,
aval upma
semiya upma
 
how to make puffed rice upma / borugula upma / uggani with step by step photos
1. Powder the fried gram and set aside



2. Wash puffed rice in lot of water. If you are using the thicker variety, then soak it for 5 minutes to soften. The airy variety just needs a quick wash otherwise they turn mushy.Squeeze off the water from with both your palms. After squeezing they should be just moist and no excess water.



3. Season with all the seasoning ingredients and fry peanuts and dals till golden. Add green chilies, onions and fry till lightly pink



4.Add tomatoes, turmeric and salt. cook till the tomatoes turn mushy and then fry till the oil begins to leave the sides of the pan.



5.Add puffed rice and mix and heat up. The pot can be covered for just 2 minutes and heated up. Do not do it for longer it will get burnt. Add fried gram powder and coriander leaves. mix well.


find puffed rice upma recipe below, (borugula upma or pori upma)
puffed rice upma recipe| borugula upma | pori upma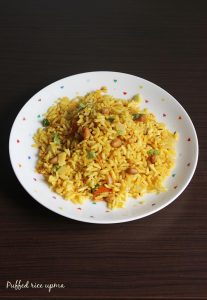 Puffed rice upma, a street food of north karnataka and rayalaseema
Recipe type:
Breakfast, brunch
Ingredients (240 ml cup used)
Ingredients
250 Gms cleaned puffed rice
1 large onion chopped to cubes
1 medium tomato
4 tbsps. Or ¼ cup of fried gram powder (optional, you can reduce to 2 tbsps.)
Lemon juice or tamarind paste as needed (refer notes for tamarind)
few coriander leaves chopped
Salt to taste
Seasoning ingredients
3 green chilies
1 sprig curry leaves
2 to 3 tbsp. oil
½ tsp. mustard
½ tsp. jeera
3 tbsp. peanuts
1 tbsp. channa dal
1 tbsp. urad dal
grated coconut
Vegetables (optional)(refer notes)
capsicum chopped
carrots chopped
green peas (can skip if using peanuts)
boiled potatoes
How to make the recipe
Wash puffed rice in lot of water. Use a very big pail or something of that sort to rinse them. If you are using thicker variety, leave it in water for around 5 mins.if you are using the very airy variety, just dunk them in water and squeeze up the water immediately else they turn mushy.
Squeeze away the water from the puffed rice fully and transfer to a wide plate.
Heat a wide and deep pan with oil, add mustard, cumin, dals and peanuts (if using) when they turn golden, add green chilies and curry leaves. Saute for a minute.
Add onions and fry for 2 to 3 mins, add tomatoes, turmeric and salt. Fry till the tomatoes turn mushy. If needed sprinkle little water, cover and cook. Fry the mix till it begins to leave the sides.
Add the puffed rice and heat up well. You could cover and heat up to do it quickly
Add fried gram powder, coriander leaves, mix well.
Notes
if using vegetables, add the after frying tomatoes and fry for 2 to 3 minutes
If using tamarind, soak it in hot water and extract a thick paste and filter it. Pour this to the seasoning after step 5. Let it bubble and thicken. Then add puffed rice
Picture of the upma made with vegetables