Puliyogare recipe with video – South Indian tamarind rice is known by different names in different states like puliyodarai, pulihora, puliyogare. Each of these are specific to a state and are made with little variations. This is commonly made in South Indian homes and even served as prasadam not only in temples but also in places where religious ceremonies like puja are held.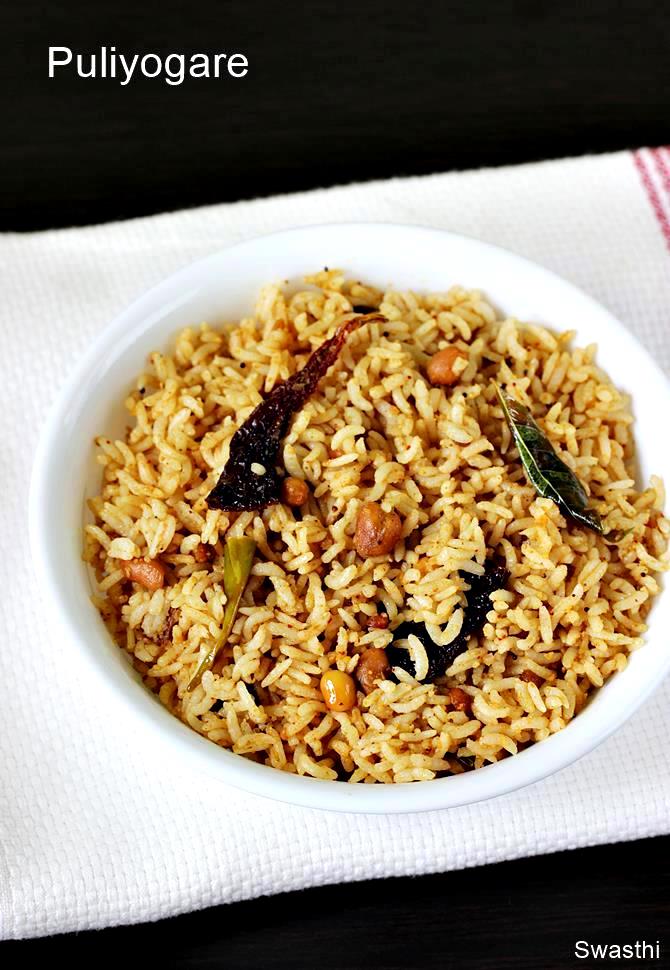 Puliyogare is a Karnataka style tamarind rice which can be made in a jiffy if you have precooked rice. It can be served alone or with some happla, sandige, curd or fresh kosambari. To make your meal complete, you can also have some curd rice along with it.
For more Karantaka style recipes you may check
Bisi bele bath
Vangi bath
Akki roti
Mysore masala dosa
Ragi mudde
Video of puliyogare recipe
Puliyogare recipe card below
Puliyogare recipe | Tamarind rice recipe in Karnataka style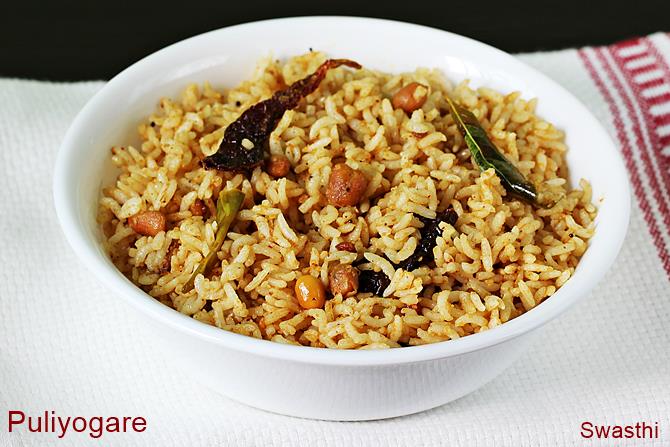 Puliyogare is a simple tamarind rice made on occasions to serve as a main meal.
Ingredients (240 ml cup used)
1 cup rice (preferably short grain like sona masuri, ponni etc)
Lemon sized ball of tamarind (use as needed, more or less)
2 tbsp grated jaggery (you can use as needed)
salt as needed
For seasoning
½ tsp mustard
2 to 3 tbsp peanuts
½ to ¾ tbsp. chana dal
½ to ¾ tbsp. urad dal
Salt as needed
1 to 2 green chilies slit
1 red chili broken
2 to 3 tbsp oil
1 sprig curry leaves
⅛ tsp hing/ asafoetida
To roast and powder
¾ tbsp. chana dal
¾ tbsp. urad dal
2 to 3 broken red chilies (preferably byadgi)
1 tbsp coriander seeds
½ tbsp. cumin
½ tsp. mustard
¼ tsp methi seeds
¼ tsp pepper
⅛ tsp hing/ asafoetida
1 ½ tbsp sesame seeds
2 to 3 tbsp dried coconut (preferably copra)
How to make the recipe
Wash rice a few times and cook to keep the rice grainy. Mushy rice doesn't go well to make puliyogare. Cool this completely.
Soak tamarind in ½ to ¾ cup water. Add jaggery and stir until it dissolves. When the tamarind turns soft, squeeze it well with your fingers and extract juice. Set this aside.
Heat a pan on a low to medium flame. Dry roast chana dal, urad dal and red chilies until lightly golden.
Add pepper corn. methi seeds and coriander seeds. Continue to roast stirring often until methi begins to smell good.
Add cumin, mustard, sesame seeds and coconut. Continue to roast stirring continuously. When the coconut begins to smell good. Add hing. Switch off the stove and cool this completely.
Powder this as finely as possible in a blender. Set this aside.
Making puliyogare
Heat the same pan with oil and add mustard seeds.
When they begin to crackle, add chana dal, urad dal and peanuts. Roast them until lightly golden. Then add curry leaves, green chilies and red chilies.
When the peanuts and dal turn completely golden, add hing.
Pour the tamarind and jaggery water and stir.
Add turmeric and salt. Stir and begin to cook until slightly thick.
Then add the powder little by little and mix.
If the mixture becomes too thick, then add some more water to the tamarind and squeeze. Pour this water back to the pan.
Stir and cook on a medium heat until it thickens.
You can add 1 tbsp oil at this moment.
Cook on a low heat until the mixture turns thick and begins to leave oil. Add more salt if needed.
Add this to the cooled rice and mix. Do not add the entire mixture at one time. Add little by little as needed and mix to prevent too much of puliyogare gojju in your rice. You may be left with some extra puliyogare mix, which you can use up the next few days.
Allow puliyogare to absorb the flavors for about 30 mins then serve.
Notes
To quicken the process, you can soak tamarind in hot water.