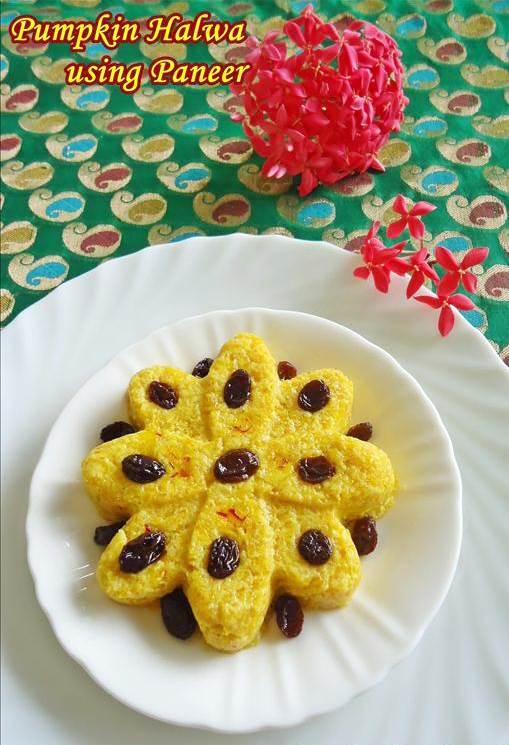 pumpkin halwa – kaddu ka halwa is often prepared with milk or condensed milk. But using paneer to prepare the same instead of milk or condensed milk makes the sweet taste great. Quick and easy to prepare if you have paneer in hand. It takes only 30 mins to prepare this sweet.

pumpkin is often a symbol of festivity not only in india, but also in other countries. pumpkin is often used to make pies, cakes and desserts. In india it is used widely to make pumpkin halwa (kaddu ka halwa), kaddu ka kheer or pumpkin curry.

Our festivals are incomplete without sweets dishes that please our family and friends. This pumpkin halwa is a slight variation to the regular halwa that is made only with milk and sugar. If you are a paneer lover, you will enjoy this.

I have used saffron to add flavor and color to the halwa and is optional. if you do not like to use paneer, you can just eliminate and use some milk in place of it with reduced sugar.

ingredients
2 cups of grated yellow pumpkin
½ to 1 cup of crumbled paneer
¼ tsp saffron strands (optional)
1 tsp rose essence
¼ tsp cardamom powder
3 tbsps. Ghee
Raisins & nuts for garnishing

method
Heat 1 tbsp ghee in a pan and fry the grated pumpkin for 2 to 3 mins.
Cover and cook till smooth
Meanwhile blend paneer with 45 ml water till smooth
Add sugar to the pumpkin and simmer for 2 mins.
Add paneer, cardamom powder and essence and crushed saffron
Add in 2 tbsps. ghee
Cook till the mix begins to leave the sides of the pan, if you have a mould, you can use to give a shape to the halwa.
Fry nuts and raisins in 1 tsp ghee and garnish
Do not attempt to prepare this, if you do not intend to use rose essence.
This stores good for 2 days if refrigerated. Just warm up and consume, it can be consumed chilled.