chole recipe – punjabi chole masala, served with leavened bread Bhatura is a favourite among many Indians. The popular North Indian combo of chole bathura is irresistible and delicious. Chole served with bhatura is slightly different from the chana masala that is served in North Indian Thali or with kulcha, naan, puri or any other dish. Chole that is served with Bhatura is spicier and more flavourful than the other variety of chana masala.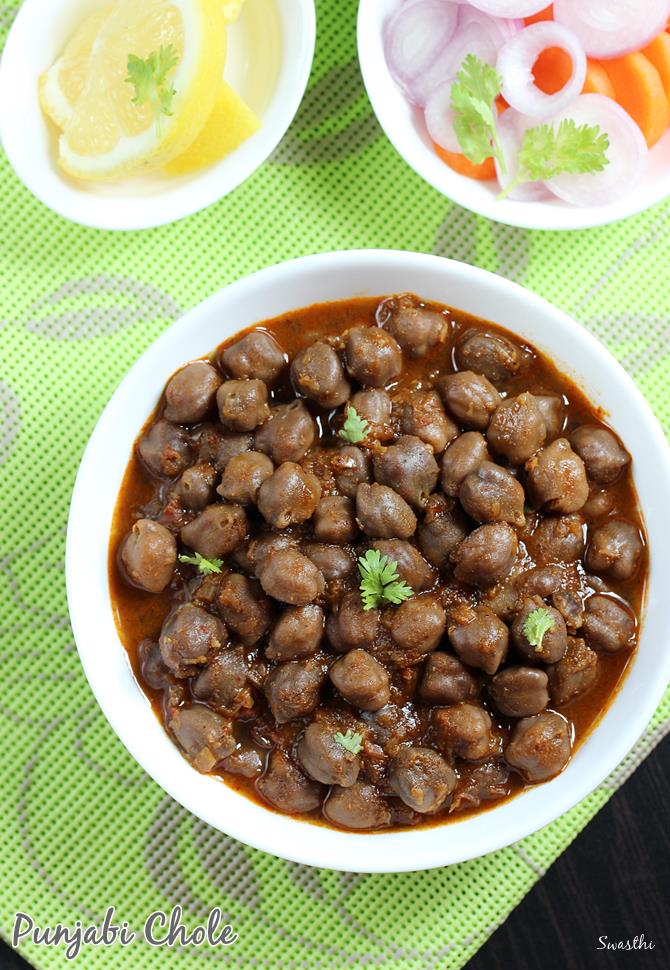 After making punjabi chole recipe for few years, I have finally liked this one which has gone through a series of updations and is one of the best for a home preparation. It is flavorful but not overpowering or pungent with the flavors of  black cardamom. This tastes similar to the one we get with bhatura in any good dhaba or a Standard North Indian restaurant.
 
The unique aroma and taste comes from the masala powder that I have shared here. But can also use a readymade powder if you have.
 
A small note about the black cardamom, i suggest using only a small black cardamom for this chole recipe, using a larger one or more number can make the dish very pungent and overpowering. If you do not have a small one, use 3/4 of a large one. You can use a large black cardamom if you like its overpowering fragrance.
 
To give dark color or black color to chole, we will have to soak chana in tea decoction (black tea) overnight. Next morning cook the chickpeas in the same water. You will be surprised at the color of the chole, dark in color. Use them in the recipe as mentioned below. My kids are too young, So i do not make it this way too often. Since chana may end up absorbing the caffeine from tea.
 
step by step photos on punjabi chole masala recipe
1. Simmer 1 tsp tea powder or 2 black tea bags in 3 cups water for a while. Wash chana thoroughly. Filter the tea decoction to the pot of chana and soak for at least 6 to 8 hrs. Soaking for longer helps in better digestion and chana turn out to be soft too.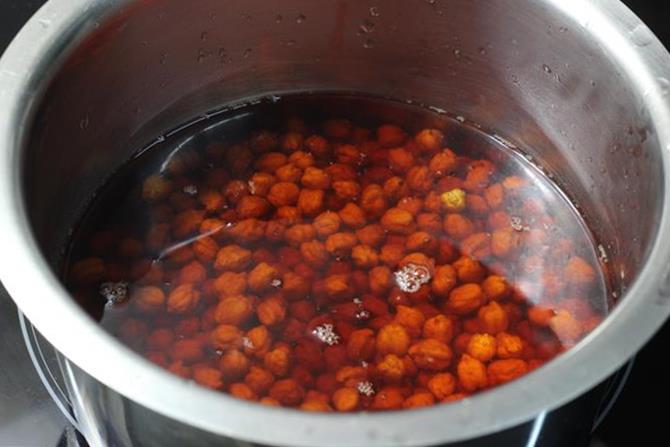 2. After soaking Chana will absorb much of this tea and turn darker in color.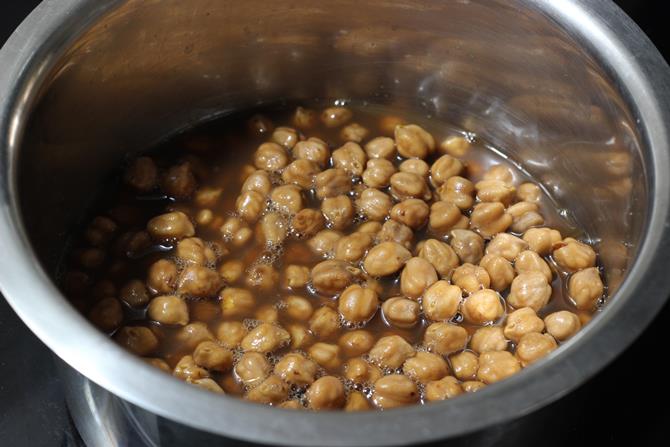 3. Transfer chana along with tea to a pot or pressure cooker and add a generous pinch of baking soda. Using soda helps to cook them soft and they turn mouth melting.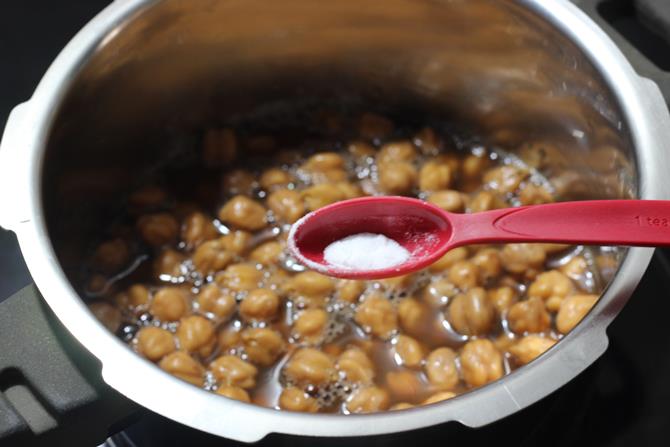 4. Cook till soft cooked not mushy. If cooking in pressure cooker, cook on a medium flame for 1 whistle. Once done the chana looks darker in color.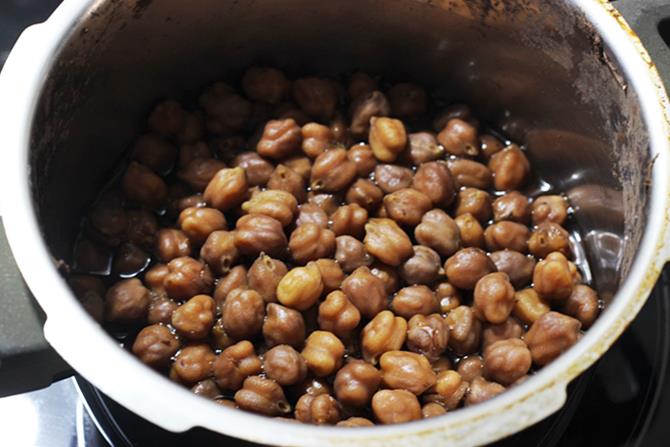 5. While the chana cooks, dry roast bay leaf, red chili, coriander, cloves, cinnamon, a small black cardamom, green cardamom, pepper corn. Off the stove and add cumin and fennel seeds.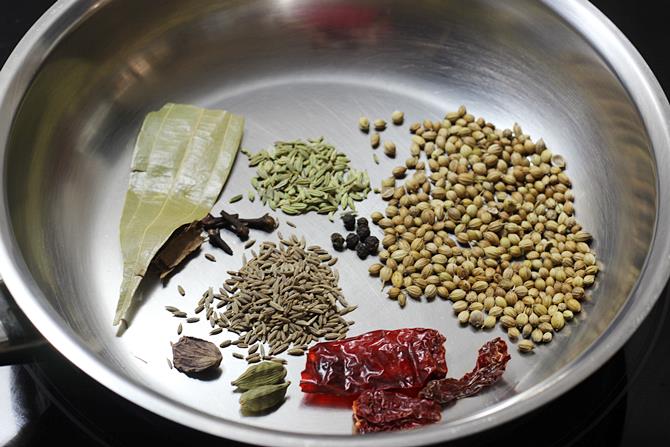 6. Cool them and add them to a blender.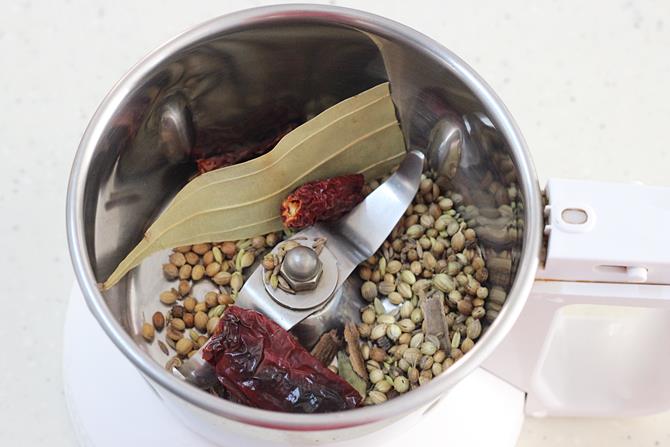 7. Make a fine powder. Set this aside.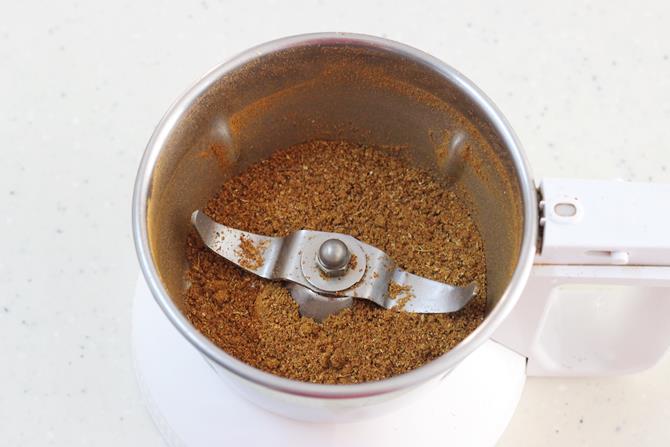 8. Add oil to a hot and add cinnamon, cardamom, a small piece of bay leaf and a clove. All these spices are optional but they do lend a flavor that is different from the masala powder.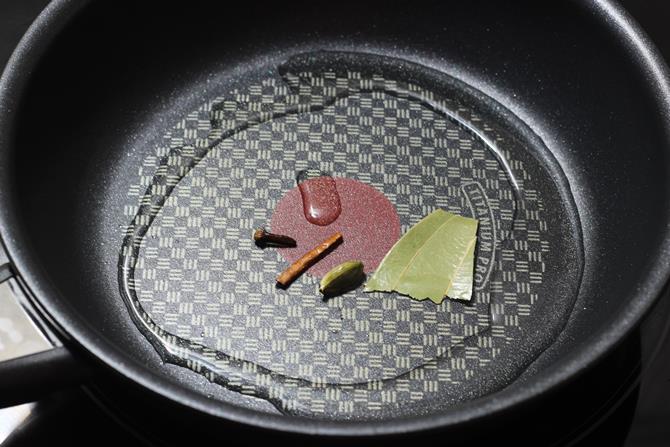 9. Add ginger garlic paste or ginger. Saute until the raw smell has gone completely.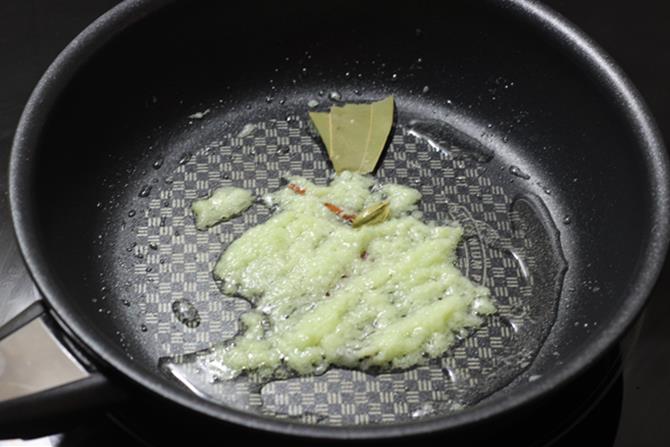 10. Add finely chopped onions. I prefer to fine process the onions in my processor and use.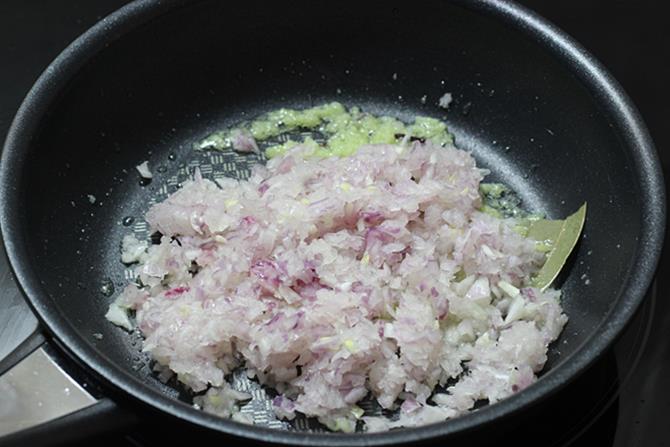 11. Fry until the onions turn transparent and the raw smell has gone completely.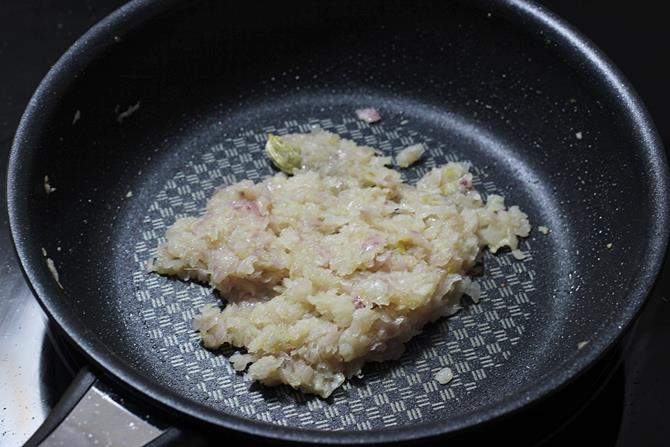 12. Add tomatoes and salt. If you follow the ayurvedic food principles then add a bit of turmeric.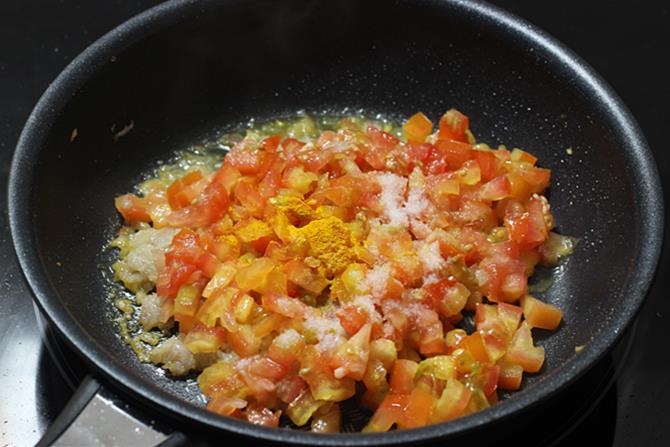 13. Saute the entire mixture until the tomatoes turn fully mushy and the raw smell has gone.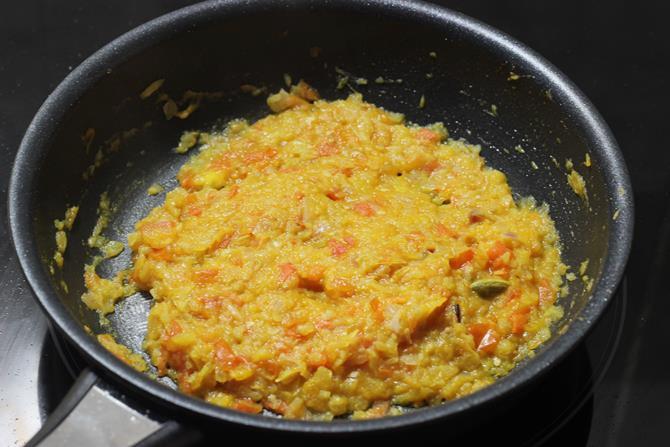 14. Add the masala powder we made earlier for this chole recipe, amchur powder and then a bit of red chili powder for the color. You can also add amchur towards the end. An addition of red chili powder is just to adjust the heat levels and color. so you may skip it as well.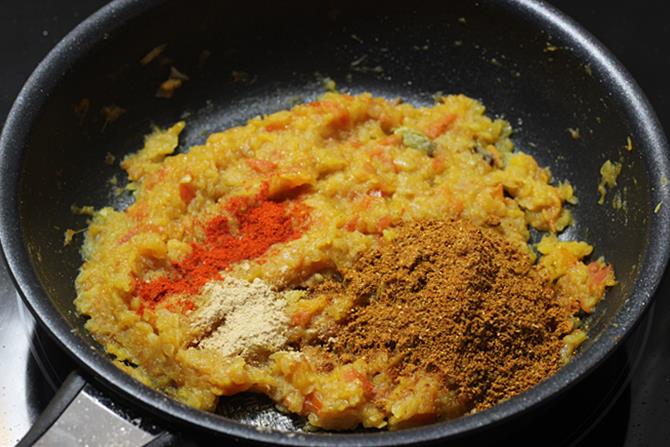 15. Mix everything well and saute for another 2 to 3 minutes. Make sure the raw smell of the onion, tomatoes has gone by now.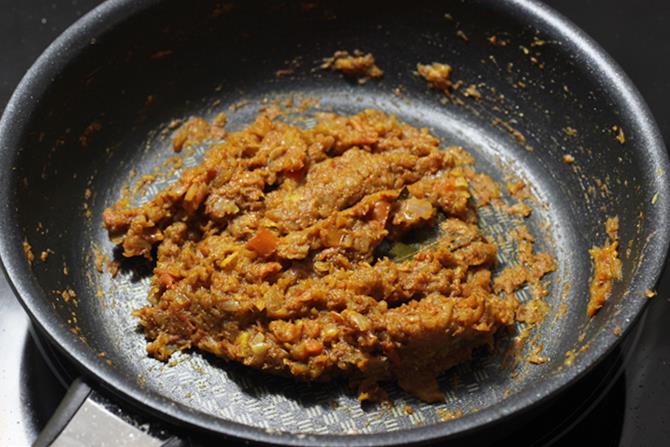 16. Add cooked chickpeas, water as needed. I added 1 cup water. You can also use 2 tbsp of the stock if you like the dark color or use fresh water. Note that using the entire tea may vary the taste. So i suggest not to use more than 2 tbsp of the stock. You will need to adjust the quantity if water as desired.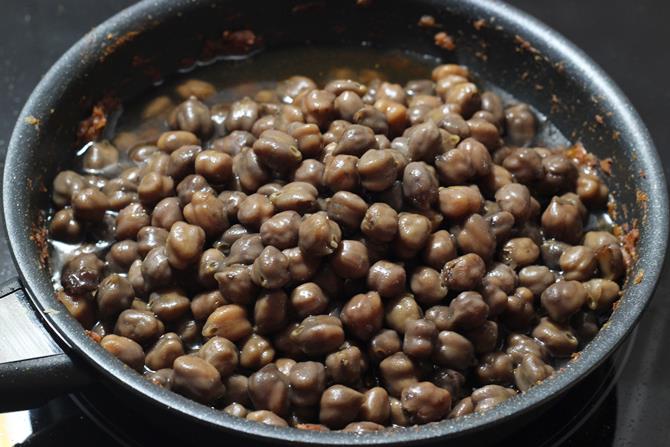 17. Simmer for 5 minutes until the gravy thickens or reaches a desired consistency. You can add amchur powder now if you have not added before. Add finely chopped coriander leaves. Switch off the stove.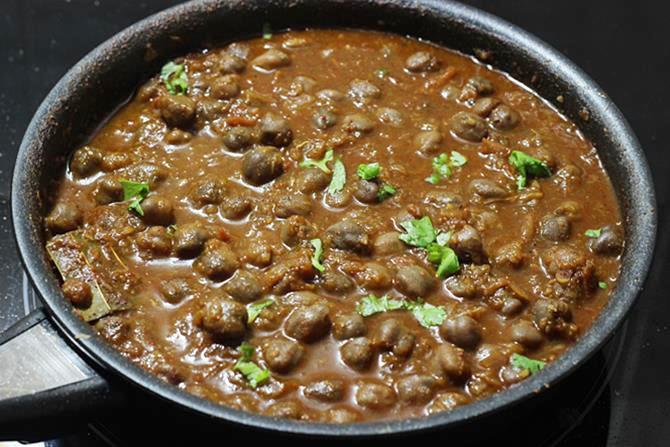 punjabi chole recipe to serve with bhatura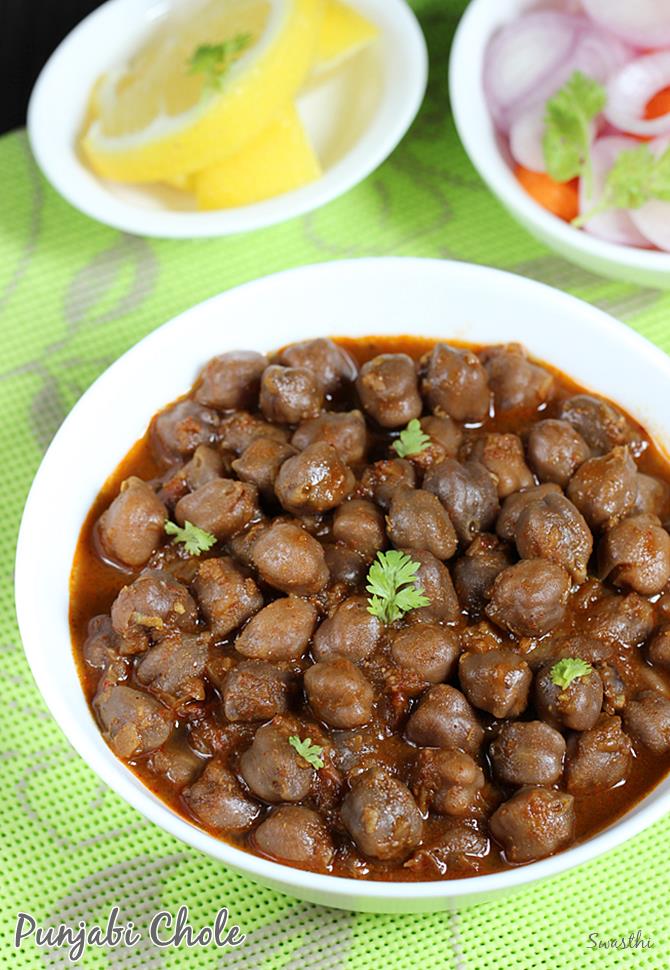 chole recipe | how to make punjabi chole masala recipe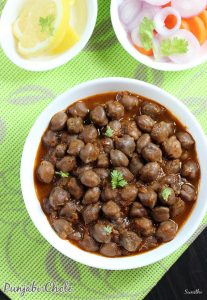 Ingredients (240 ml cup used)
chole masala powder or use ready made
2 red chilies
1 small bay leaf
1 tbsp coriander seeds
1 tsp cumin/ jeera
½ tsp fennel seeds/ saunf
3 to 4 cloves / laung
1 small cinnamon / dalchini
1 small black cardamom
few pepper corn
other ingredients
1 cup kabuli chana/ chickpeas
Pinch of soda
2 dark tea bag or 1 tsp tea powder(optional, to get dark chole)
1.5 tbsp oil or as needed
1 small piece of cinnamon (optional)
1 to 2 cloves (optional)
1 small bay leaf (optional)
1 green cardamon (optional)
1 tsp ginger garlic paste or grated ginger
1 cup onions finely chopped or ¾ cup processed
1 cup chopped ripe tomatoes
salt as needed
turmeric a pinch optional
generous pinch red chili powder (adjust just for the color)
¼ to ½ tsp amchur powder (adjust to suit your taste)
½ cup water (adjust as needed)
How to make the recipe
Rinse chickpeas in lot of water. Boil 1 tsp tea powder or 2 tea bags in 3 cups of water. Filter the tea to chana and soak for 6 hours to overnight.
Pressure cook them for one whistle with the tea decocotion if desired with a generous pinch of soda.
Add oil to a hot pan, add cinnamon, clove, cardamom and bay leaf.
When they begin to crackle, add ginger garlic paste and saute until the raw smell goes off.
Add finely chopped onions and saute until the onions lose the raw smell and get lightly golden or pink.
Add tomatoes, salt and turmeric if using. Cook until the mixture turns mushy and soft.
Add the masala powder, red chili powder and amchur powder.
Stir and fry again for 1 to 2 minutes till the masala flavours come out.
Add the pressure cooked chana and 1 cup water or as needed to make a gravy. If desired you can also use 2 tbsp of the stock got from cooking chickpeas.
Mix everything well and simmer for about 5 minutes until the chickpeas get the flavour of masala.
When the gravy thickens, Switch off and add coriander leaves.
Serve with Bhatura.