Garam masala recipe – Learn how to make garam masala powder at home with step by step photos. The choice of a good garam masala powder is a matter of personal taste and liking, some like it hot, strong and pungent, while some like the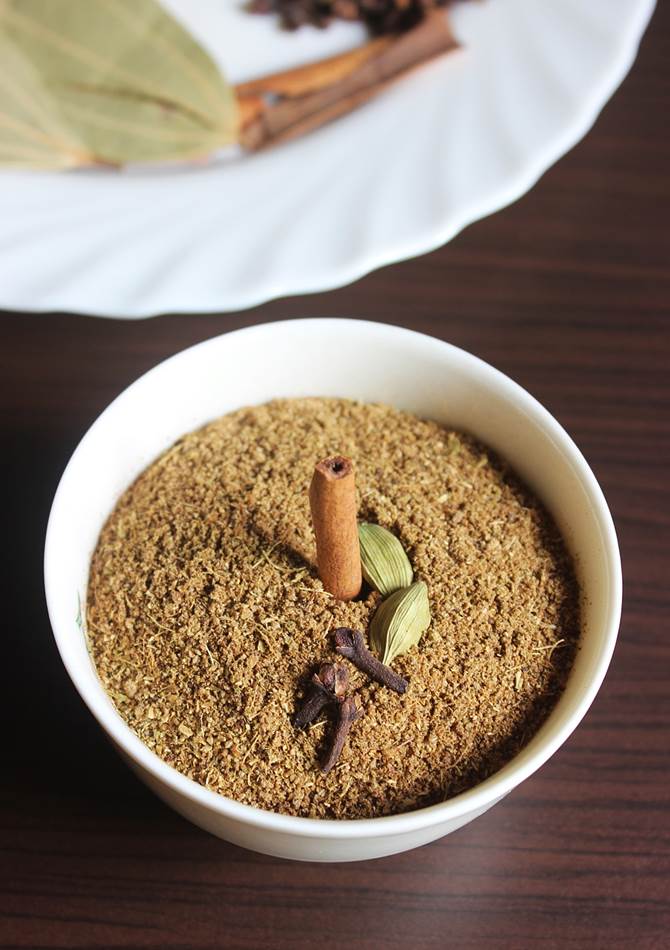 Ready made, packed garam masala powders are preferred by most working women, but these are fairly simple to make at home and could only take 10 minutes apart from the sun drying or roasting. We do not know what actually goes into the ready made packets. There are days when iam so busy with my kids (parenting 2 kids without any help is no easy task), I barely have any personal time, even then I prefer to make all my spice powders at home. I just pick up the best quality spices, most times it is the organic spices to make a garam masala, roughly scan them for debris, measure and make a powder.
Please read the complete post on how to clean spices and make garam masala powder.
Garam masala recipe below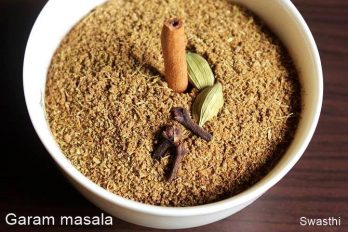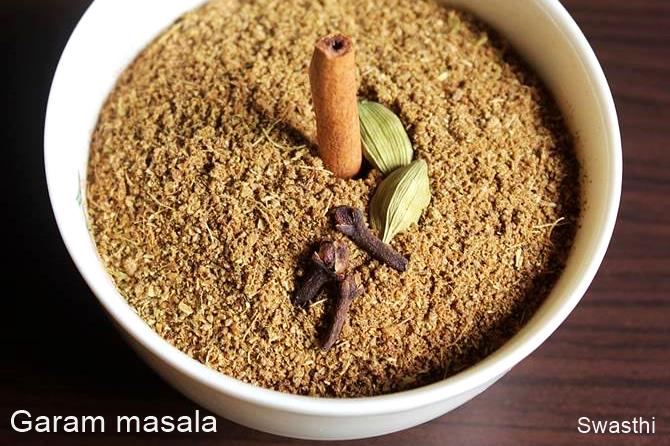 Garam masala recipe (spice blend) | How to make garam masala powder
Indian spice powder called as garam masala powder used for vegetarian and chicken recipes
Ingredients (240 ml cup used)
1/2

cup

coriander seeds / daniya

1/4

cup

cumin seeds / jeera

2

tablespoons

small green cardamoms/ elaichi

2 to 4

black cardamoms(refer notes)

2

tablespoons

cloves

1

tablespoon

pepper corns

6 to 8

sticks of cinnamon, approx. 2 inch (prefer ceylon cinnamon)

4

medium sized bay leaves

1

small nutmeg

1

star anise

3

strands of mace

1

tablespoon

fennel / saunf
Instructions
Clean the bay leaf and inner part of cinnamon stick with a dry or damp cloth to remove dirt and larvae.

Break open the nutmeg and check for worms.

Pick and discard stones and debris from all the spices.

Sun dry them in hot sun for a day or dry roast them one after the other without burning till you get a nice aroma.

Transfer to a wide plate and cool thoroughly.

Powder finely in a blender.

Sieve and powder the coarse spices again and repeat the sieve. Discard or add the coarse particles of spices to your tea powder.

Store this garam masala powder in an air tight, sun dried glass jar.
Recipe Notes
The color of the garam masala may differ depending on the kind and quality of spices
Black cardamoms give a very pungent flavor and taste, if you are not used to the strong flavor it can be reduced to 2.
Nutrition Facts
Garam masala recipe (spice blend) | How to make garam masala powder
Amount Per Serving
Calories 7
* Percent Daily Values are based on a 2000 calorie diet.

Punjabi garam masala powder goes great to make everyday veg and non-veg curries including all south Indian foods and North Indian foods too. We can also use this to make punjabi chole masala, paneer tikka masala, paneer butter masala and non-veg as well like butter chicken recipe, chicken tikka masala and tandoori chicken.
The spices you see in the picture below is the right quantity that has to be used for this garam masala powder recipe. Black cardamoms can be reduced to 2 since they really give a strong flavor. Refer notes on the recipe card for more info on it.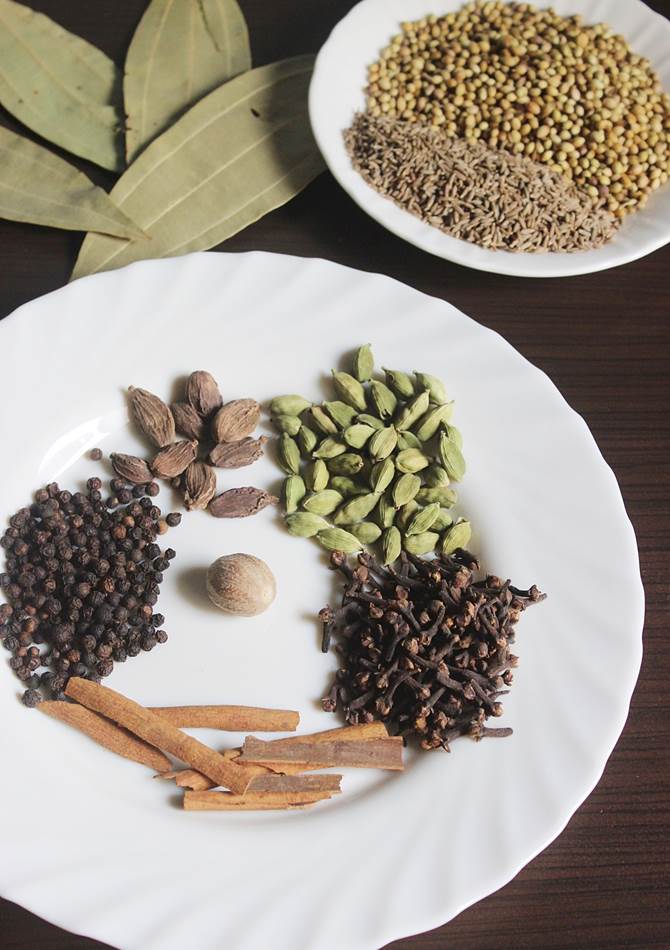 One can even add a star anise and 3 to 4 strands of mace to make this a bit more stronger. As i said it is again a matter of choice.
This garam masala powder recipe yields quite flavorful powder and an addition of even a small quantity brings in good flavors to any dish. Though i have earlier shared spice powders like rasam powder, simple garam masala powder recipe, biryani masala powder and pav bhaji masala, i have never wrote a detailed post on how we generally clean the spices at home.
Cleaning the spices thoroughly and sun drying or roasting is very important for hygienic reasons even if you are using organic spices. In fact organic spices are more prone to infestations which are not chemically treated to meet the organic food standards.
For more spice powders, you can check
Biryani masala
Sambar masala powder
Korma masala
Chai masala
Rasam powder
Pav bhaji masala
How to clean the spices for garam masala powder recipe
1. Stones and debris have to be picked from all the spices first.
2. We generally crush few coriander seeds to check if there are worms inside. Yes many a times we can find them even if picked up from the cold storage.
3. Break open the nutmeg and check for worms. Sometimes, nutmeg turns hallow inside after being eaten up by the worms
4. The most important spice cinnamon comes in 2 varieties. We have to use real or ceylon cinnamon and not cassia cinnamon which is bad for our health. You can read more about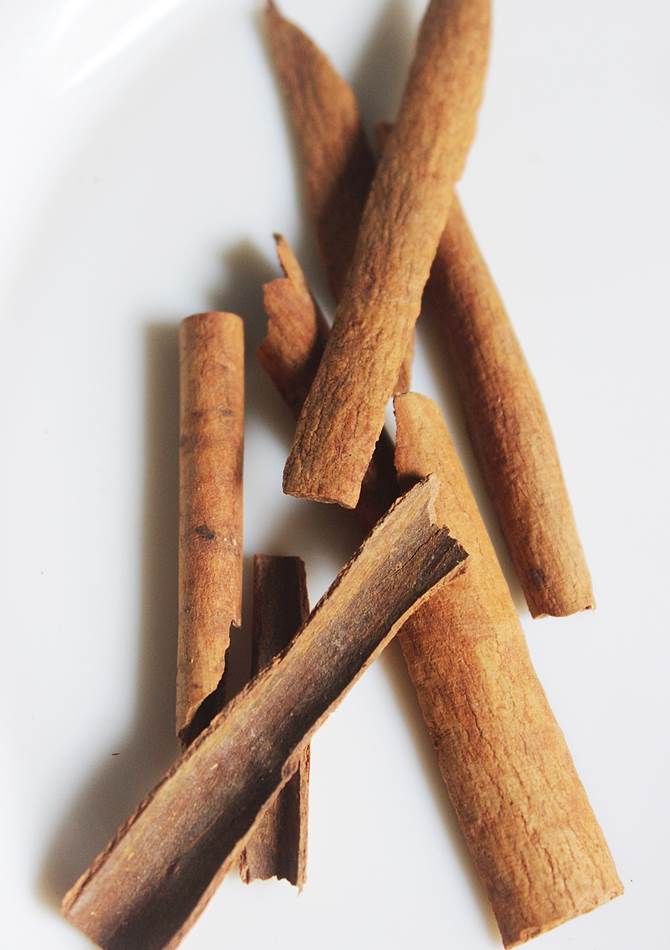 5. Bay leaf too could have deposits of mud or larvae behind the leaves. wipe off with dry or damp cloth.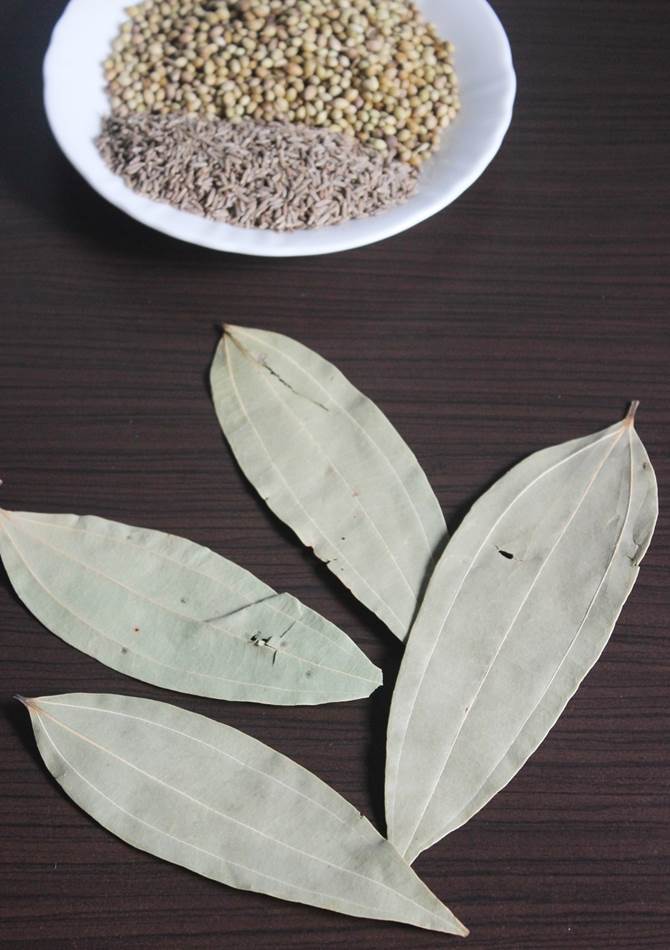 How to make the punjabi garam masala powder recipe
1.Clean up all the spices as mentioned above.
2.Spread the spices on a clean thick cloth or multilayered cloth and sundry for a day, preferably in the hot sun. For those who do not like or do not have the option to sundry, you can roast them lightly. If roasting, roast one after the other all the spices. Do not roast together, spices like cumin could get burnt.
3.Cool them thoroughly. To know what I did check the tip below.
4.Add all your spices to a jar and make a fine powder. Sieve and then powder the coarse particles again. Repeat the sieve and then set your coarse particles aside to mix in your tea powder if you like else discard.
5.Store it on an airtight glass jar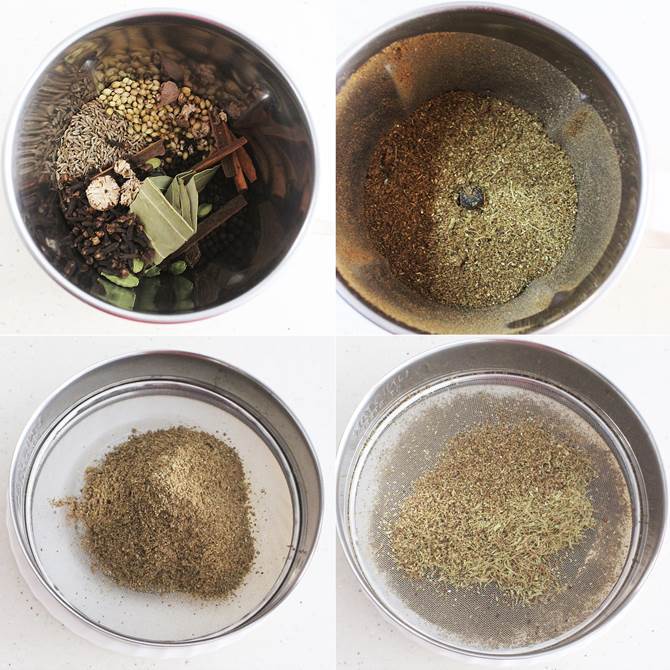 Tip: May be this is not the right way to blend a spice mix but I love this method to speed up the process. If I have time, i roast the spices on a pan or if iam in a hurry, I just go ahead without roasting. Cool them. Whether roasted or not, just duck them into the freezer for few hours to chill them. Transfer them to the blender jar and powder it. You will be surprised at how fast the powder gets done.
The color of the garam masala powder could slightly vary depending on the kind and quality of spices used. This is the sieved powder made from 2 batches. The day i made this there was a bright sun light all over house, hence you see different shades.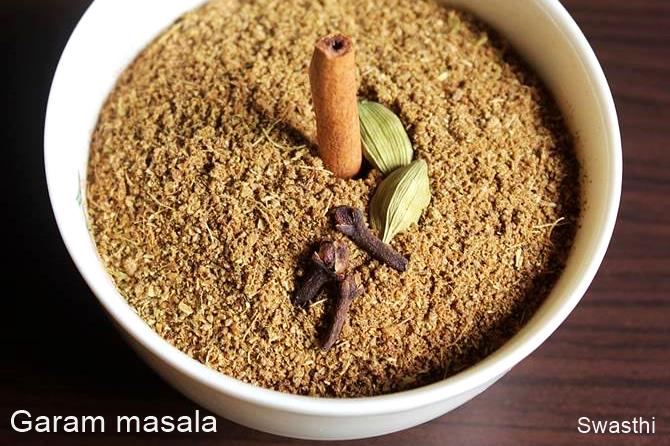 update: Recently I have also started to use saunf in this recipe as it balances the heat and pungent flavor, also makes it more aromatic.
How to use garam masala in your food
AS i mentioned, even a pinch of this makes any food flavorful, But if you are using to make any spicy curries, biryanis, veg curries, paneer recipes or meat curries, then half to 3/4 tsp of this with an equal amount of coriander powder goes right for a 3 to 4 serving dish. If you do not have the habit of keeping coriander powder separate, then you may make it together just by increasing the quantity of coriander seeds in this recipe by another 1/4 to 1/2 cup.