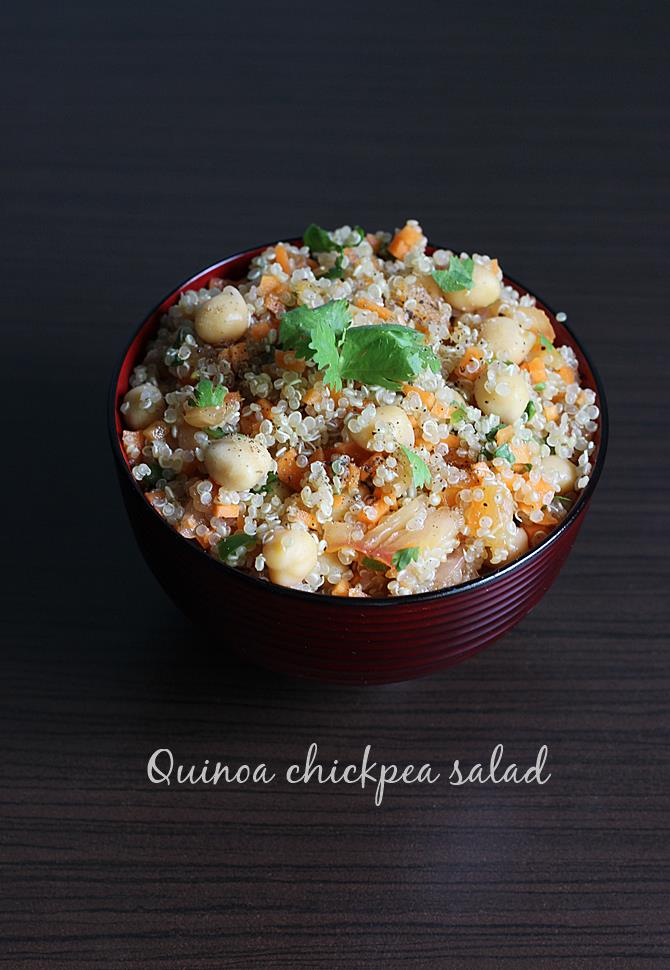 Quinoa pronounced as "kheen-wah" is a seed that is gluten free and is much used like a grain in various dishes. Though they are high in carbs, considered as a super food  due to their high nutritional profile like amino acids, protein, minerals, antioxidants and are low in glycemic index. Hence suitable for diabetics and can help us to prevent metabolic disorders and prevent obesity too.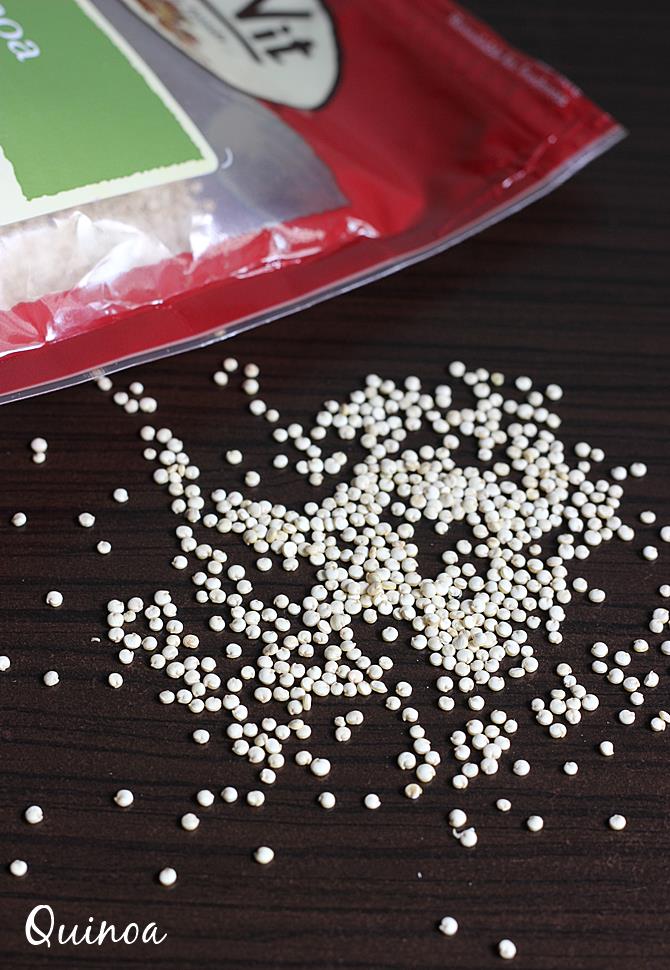 Quinoa can be used to make Indian dishes like upma, kheer, pulao or chats. I have tried a few which i will share with you sometime later. But a quinoa chickpea salad is something we love at home, simple to prepare and healthy. This salad is diabetic friendly since both chickpeas and quinoa are low in glycemic index.
 
how to make quinoa salad
1. Wash quinoa in water and let them soak for about 10 to 15 minutes. Most quinoa are ready to cook, they are processed to remove the bitter saponins before they are marketed. I however find them slightly bitter when eaten raw, so i soak and then rub them, wash to remove the bitterness.
2. Add 1/4 cup quinoa to a cooking pan with 3/4 cup of water and cook till they turn transparent. Evaporate if more water is left by cooking on a high flame.
3. Soak chickpeas / chana overnight and boil them till soft.
4. Mix all the ingredients and toss.
 
quinoa chickpea salad recipe below
quinoa chickpea salad, how to make quinoa salad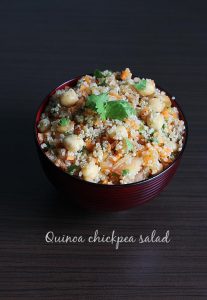 Diabetic friendly Quinoa chickpea salad
Ingredients (240 ml cup used)
¼ cup quinoa
½ cup soaked chickpeas/ chana / chole
½ small tomato chopped or 1 tsp. lemon juice
few mint leaves (optional)
few coriander leaves or celery
pinch of pepper powder
1 tbsp carrots minced
2 tbsp cucumber
1 green chili deseeded and minced
virgin olive oil or virgin coconut oil
salt as needed
How to make the recipe
Wash quinoa well and soak them for about 15 minutes. Drain off the water.
Cook them with ¾ cup water. If there is extra water left, you can just evaporate them by cooking on a high heat. When they are thoroughly cooked , they turn opaque.
Make sure there is no water left in the cooked quinoa. Let them cool.
soak chickpeas overnight and boil them till soft.
Add all the ingredients to a bowl and toss.
Serve fresh.
Notes
If you are not on vegan or low fat diet, you can include few chunks of roasted paneer and nuts.
To cook one cup of quinoa, 2 to 2½ cups of water is good enough. You can refer the instructions on the pack
more healthy recipes,
how to make mung bean sprouts
corn chat
beetroot salad