Ragi malt recipe – A healthy finger millet porridge. Learn how to make ragi porridge or ragi java with step by step photos. Though it is made widely in south India, there are people across the world who still do not know what these wonder grains are. If you are new and trying to include ragi in your diet, then do check these 18 healthy ragi recipes which I shared earlier on the blog.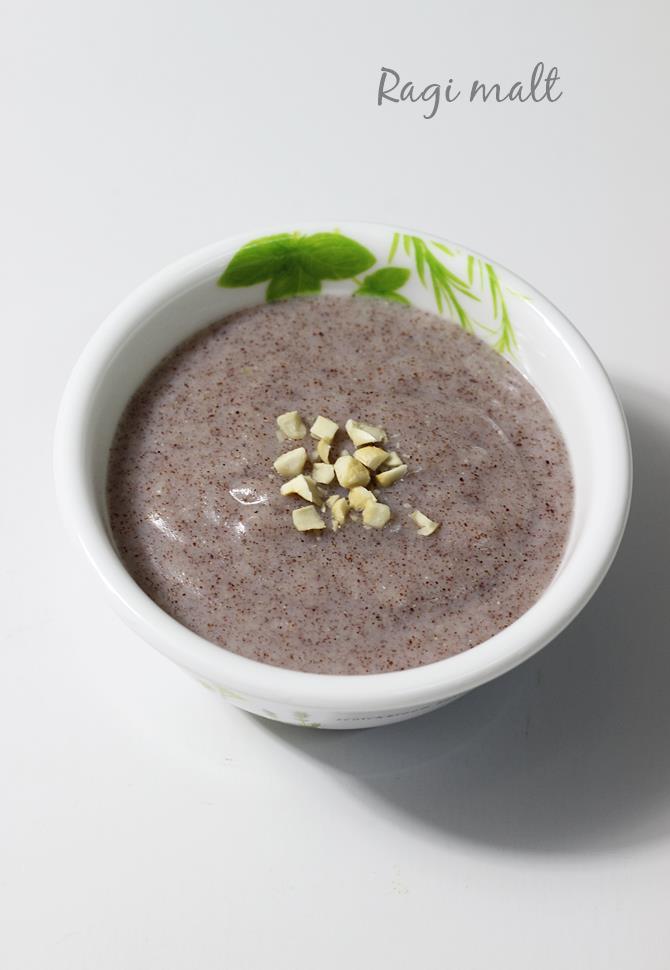 If you are looking for ideas on how to introduce finger millet to your baby, then this detailed post on how to make sprouted ragi flour for babies porridge and how to introduce ragi to babies will help you.
Here is some basic Info for the newbies.
What is ragi (ragulu)?
Finger Millet is called as ragi in kannada, ragulu in telugu, kezhvaragu or keppai in tamil, Marwa in Bengali & Nepali, Nachani in Marthi & Gujarati and mandika in Hindi. While there are many kinds of millets available in the market today, finger Millet has been a rave in India among the others mainly for 2 reasons.
Firstly the affordable Price. Secondly high nutritional values that include calcium, iron and vitamins b1 to b3. The nutrients in these millets are easily absorbable making them superior from their counterparts.
These grains are milled and the flour is used to make various dishes like cookies, dosa, ladoo, roti etc. With the health awareness in the recent times, today's markets are flooded with many products like ladoos, ragi biscuits, Muruku,Semiya (vermicelli) and flour too for making roti or instant dosas. But many women like my mom sprout these grains at home and shade dry them and mill them to flour. It is also believed that the consumption of these grains regularly help women to combat osteoporosis and to keep the bones strong. It can help babies and kids to have stronger bones and maintain the iron levels too.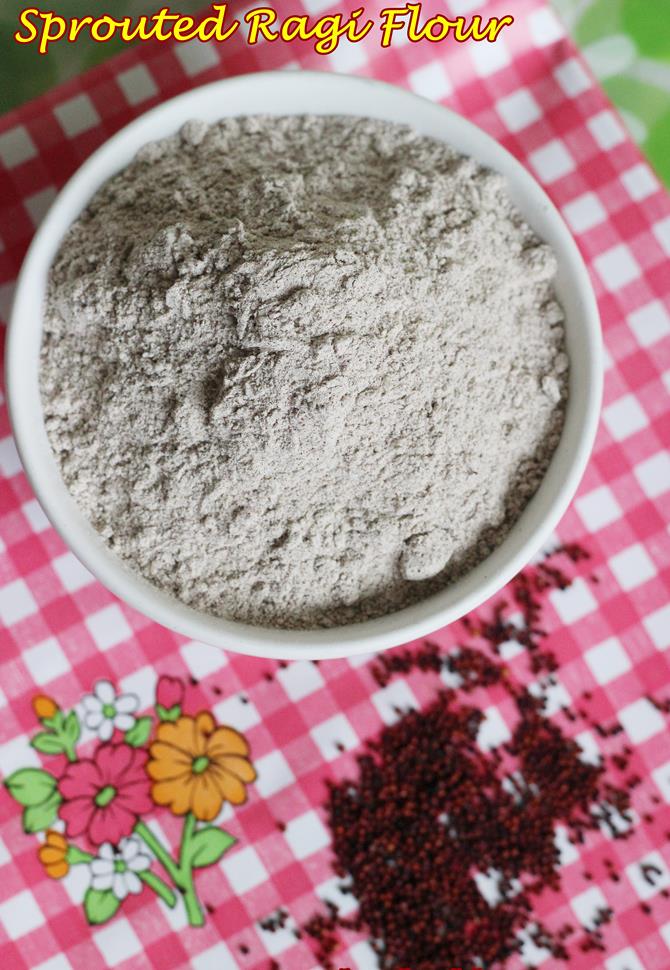 ragi java or ragi malt (porridge) is suitable to everyone from babies to aged, though there can be exceptional cases where it might cause loose stools or constipation too, especially in babies due to the high fiber. So to increase the digestibility, the grains are soaked for 24 hours and optionally sprouted, then dried and milled. It is usually consumed in the form of this malt or porridge which I am sharing today.
Note: For sweet version, this can be cooked in milk too instead of water. I feel cooking in milk makes it too heavy for the stomach. So I use water to cook and later add up milk to bring it to the consistency.
For many folks malt is milk based and porridge is savory version. However the terms are used interchangeably.
Ragi java or ragi malt or porridge recipe below
Ragi malt | Ragi porridge or java | Ragi kanji | Ragi recipes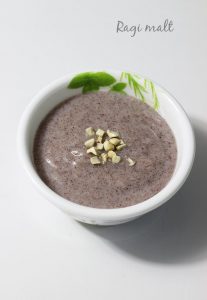 Finger millet porridge, sweet and savory versions
Ingredients (240 ml cup used)
For sweet malt
4 tbsp. (¼ cup) Ragi flour / finger millet flour
1 ½ tbsp. sugar or jaggery or any other sweetener (optional)
1 ½ cups Water
1 ½ cups Milk (add more if needed to make it runny)
Few drops of ghee (optional, if making for babies do use, it helps to swallow the porridge easily)
Pinch of cardamom powder (optional)
nuts as desired (optional)
Ingredients for salted java or porridge
4 tbsp. (¼ cup) Ragi flour / finger millet
Salt to taste
1 cup Water
Buttermilk as needed
Seasoning for salted version(avoid if making for babies)
Oil or ghee as needed
pinch of Cumin
Few Curry leaves
Coriander leaves few chopped finely
Green chili if desired
How to make the recipe
For sweet ragi porridge
Mix water,milk and flour thoroughly. Break up lumps if any.
Begin to cook this on a low to medium flame, stirring constantly to prevent burning and lumps.
After few minutes, you can see a glossy thick consistency. You can switch off the heat.
Add sugar/ jaggery and pour more milk if needed to bring it to the consistency.
For salted ragi java
Mix water and flour in a pan and cook until the mixture looks thick and glossy. Cool this completely.
Then add salt and buttermilk.
If you do not prefer to season it can be consumed by just adding salt & buttermilk.
For seasoning, heat a pan with oil or ghee. Add curry leaves and cumin, when they splutter, off the heat. Add coriander leaves and pour this to the ragi. Stir and consume it.
How to make ragi java or malt or porridge with step by step pictures
Mix flour with water in a utensil and cook it till it looks smooth and glossy. Switch off the stove and add milk and sweetener. For salted version. Cool it completely and season it or add butter milk to bring it to the desired consistency and season it. You can find the detailed recipe in the recipe card below.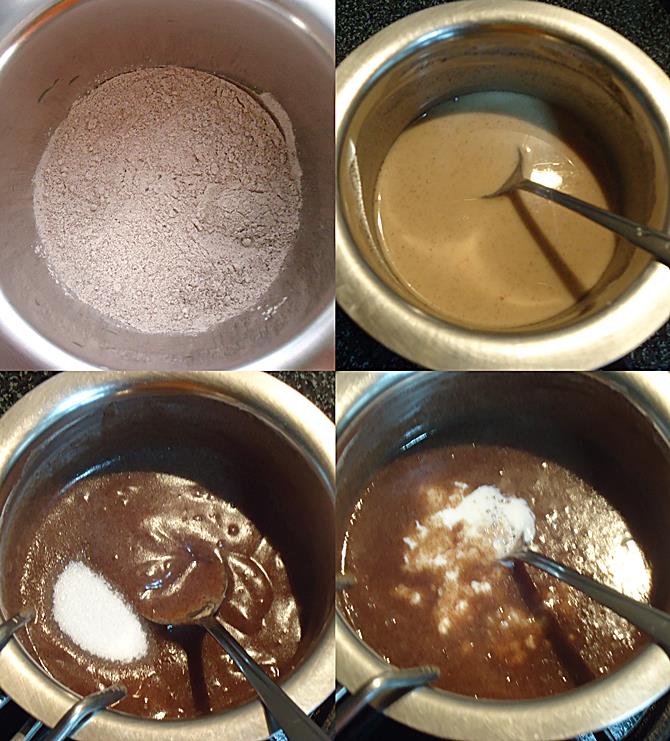 How to make Ragi Malt for Babies
Usually the sweet version is fed to babies in our home. This way they get to consume a bit of more milk. I had fed malt to my babies only after 8 months since early introduction to solids can lead to digestive problems. You can follow the above sweet version recipe for babies malt. Always serve warm and not cold, for better digestion. I have been told by my pediatrician that using 1/2 tsp sugar to the malt may prevent constipation that is caused due to eating high fiber foods like ragi. It is up to an individual's choice whether to include or not to since i would not like to argue on it. You can even use 1/2 tsp. powdered almonds for babies above one year.