Ragi roti recipe – Learn to make ragi rotti with step by step pictures. Ragi or finger millet is a staple grain in our parts of Karnataka. They are often used to make malt, ladoo, dosa and healthy biscuit. Sharing 2 variations of ragi roti or rotti recipe. Both are easy and can be prepared under 30 minutes for a family of 4. It can be served with any chutney, simple dal, sambar or gravy curry.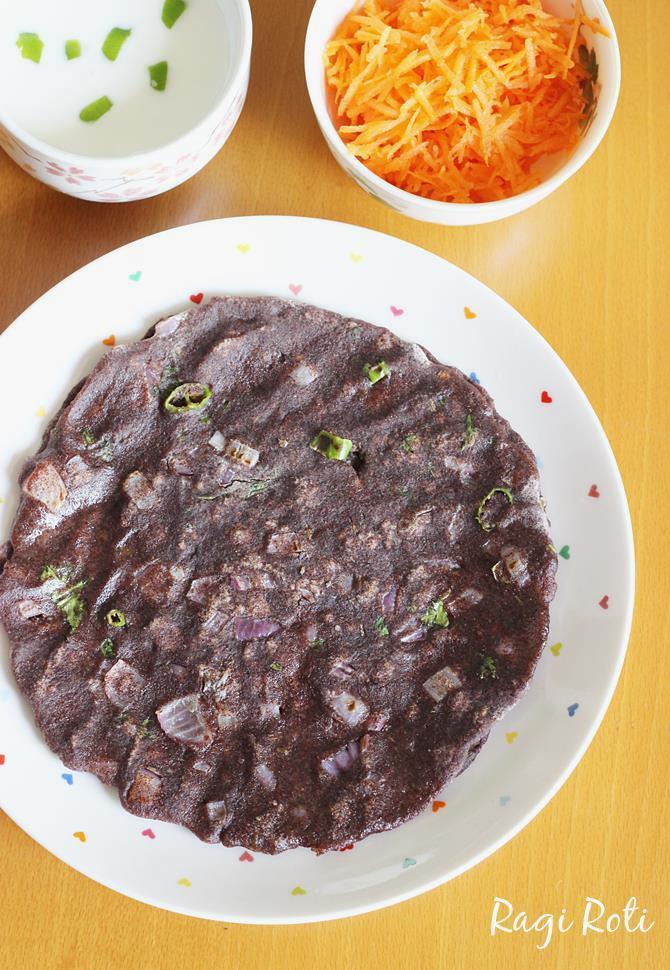 I love both the versions and they taste different. Rotti made using the second method is called as nachni bakri or ragi bakhri in some parts of Karnataka and Maharashtra. You can serve this roti with easy side dishes like cucumber or onion raita.
You may also like to check these 18 healthy ragi recipes,
ragi laddu
ragi mudde
crunchy cookies
eggless biscuit
ragi malt
ragiflour dosa
sprouted raagi flour
Ragi roti or rotti recipe below
Ragi roti recipe | Ragi rotti | How to make ragi roti | Ragi recipes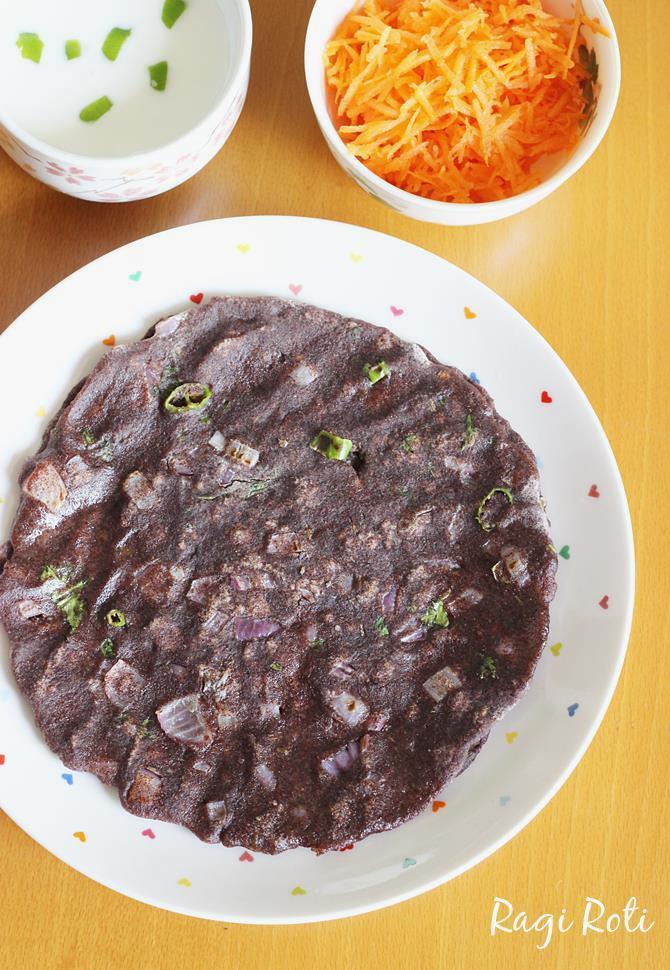 Ragi roti is a breakfast food from karnataka cuisine. It is eaten with a chutney or dal for breakfast or lunch.
Ingredients (240 ml cup used)
1 cup ragi flour / finger millet flour
¼ tsp. cumin
1 very small onion chopped
1 green chili chopped
1 tsp coconut grated or 2 tbsps carrots (optional)
handful of chopped coriander leaves
Water as needed
salt as needed
How to make the recipe
To a mixing bowl, add ragi flour, onions, green chilies, cumin, coriander leaves and salt. You can also add some grated carrots or coconut if you like.
Pour water little by little as needed and make a soft dough.
Divide the dough to 5 balls.
You can lightly grease the tawa with few drops of oil.
Place a ball of dough on the cool pan. Spread the dough to a round roti with your fingers. If the dough doesn't move, dip your fingers in water or oil and spread the dough.
The roti must be neither too thin nor too thick.
Place the tawa on the stove and cover the roti. Cook for few mins till you can see the dough dries up.
Flip it and cook on the other side. This way make sure the roti is well cooked on both sides.
Set the ragi roti aside and cover with a cloth or a lid.
To make the next roti, you will need to use another cool pan or wait until the used pan cools down completely.
If you try to spread the dough for next roti on the hot tawa it will stick up and will be unable to spread.
So use a cool pan, grease if needed and make the next one as described above.
Stack ragi roti to keep them soft.
Serve with chutney or dal.
Ragi rotti recipe – method 1 below
ingredients needed: 1 cup ragi flour, 1/4 tsp. cumin, 1 very small onion chopped, 1 green chili chopped, 1 tsp coconut (optional), coriander leaves, salt and water as needed.
1. Add flour, onions, chilies, cumin and salt to a bowl.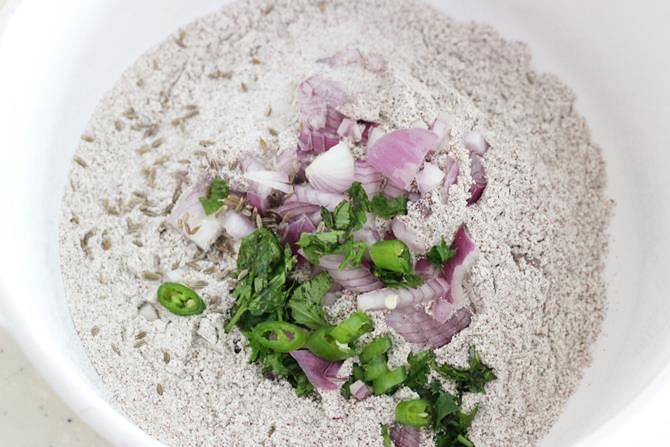 2. Add water as needed and make a soft dough that is spreadable.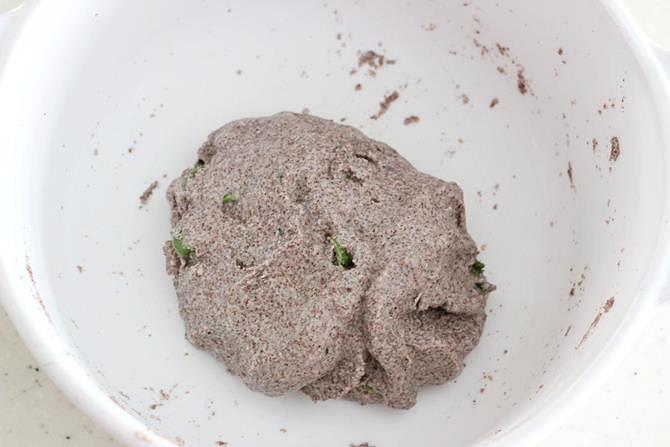 3. Make 5 equal sized balls. Place a ball of dough on the pan, grease your fingers or moisten them by dipping in a bowl of water. Spread the dough gently to a thin roti.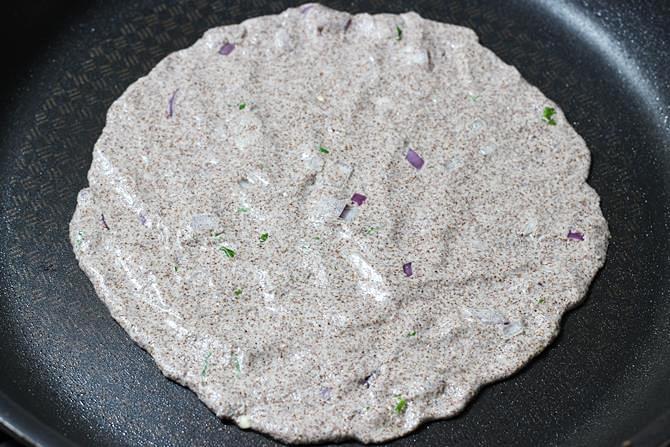 4. Place it on the stove and cook covered until you see the color of the roti changes to a darker shade.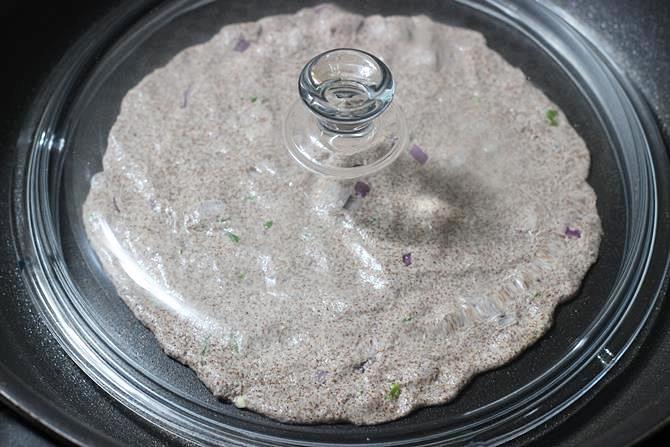 5. If you have not greased your fingers, then it turns white in color.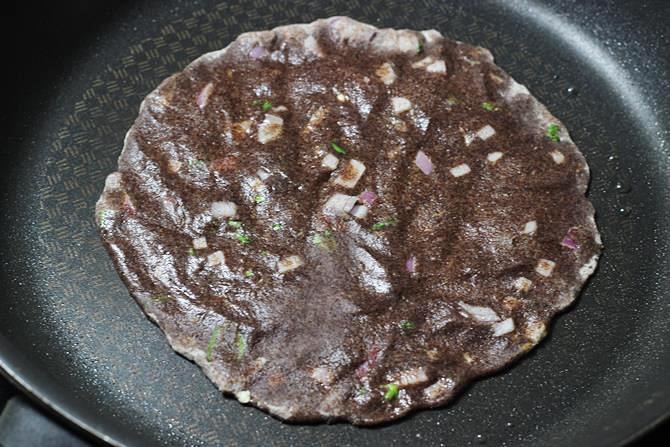 6. Flip the roti and fry on the other side too until done.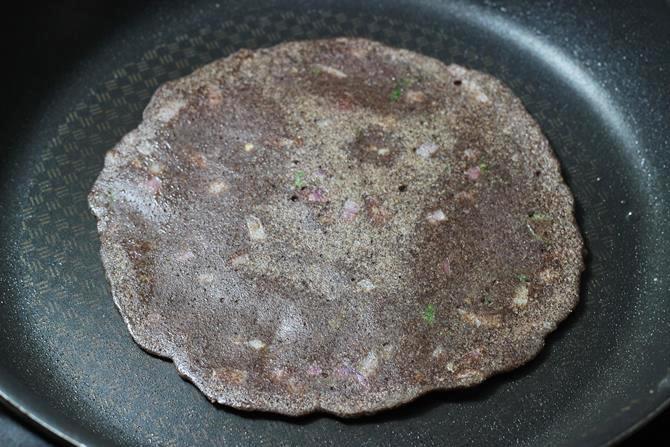 You will need 2 pans or tawas or there will be a waiting time until the tawa cools. To make the next roti either make it on another tawa or wait till the tawa cools. If you try to make the roti on the hot tawa, it will not spread.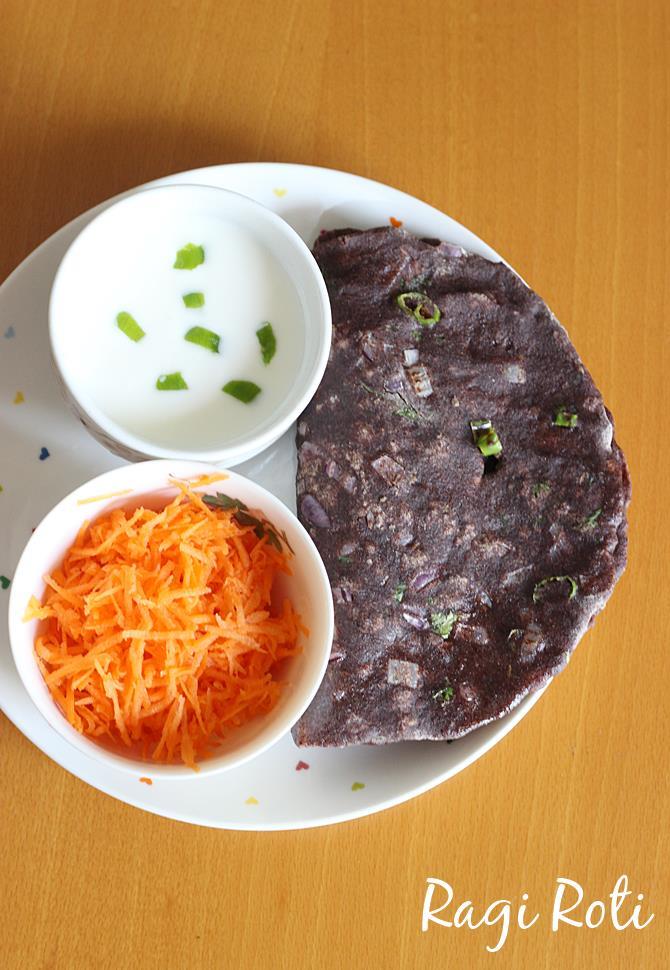 Method 2 – how to make ragi roti
These rotti or bhakri are made the same way i made the multigrain roti  earlier and even the jonna roti or jowar roti is done the same way. If you have to make the roti for more people then this is the preferred way , since there is no waiting time.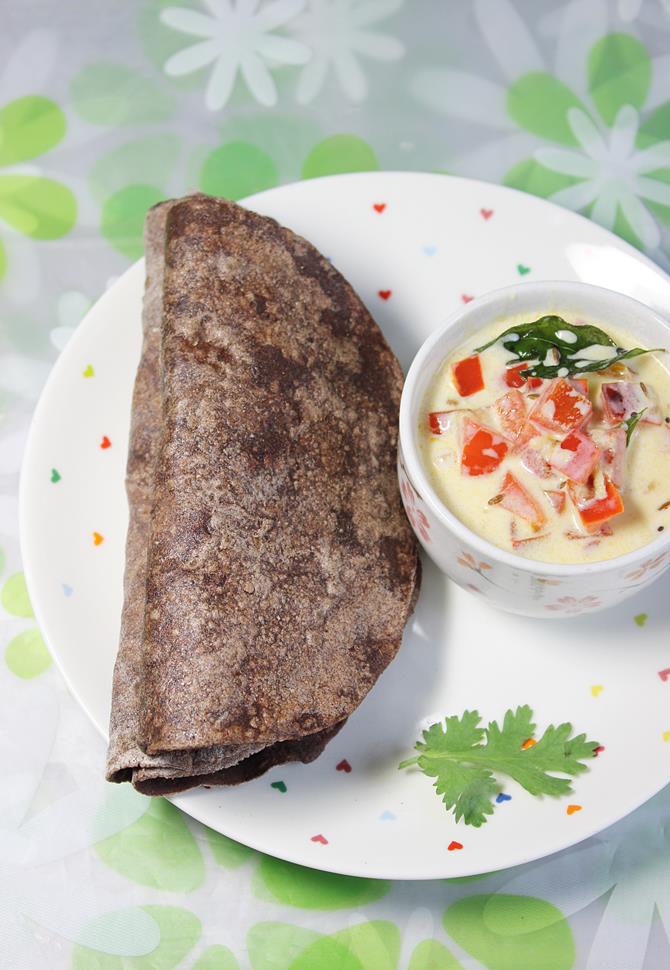 1. Add salt to 1 to 1 1/2 cups water and bring it to a rolling boil.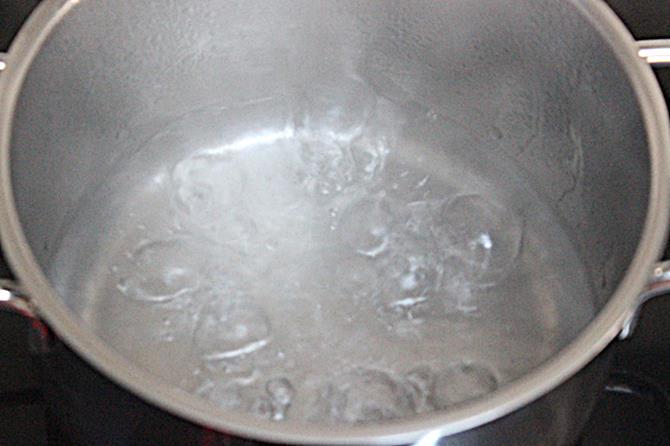 2. Add 1 cup flour to a bowl, pour hot water as needed and mix it to a soft dough using a laddle. You can also add little wheat flour if you prefer.


3. If needed you can sprinkle little flour and mix to get the dough right.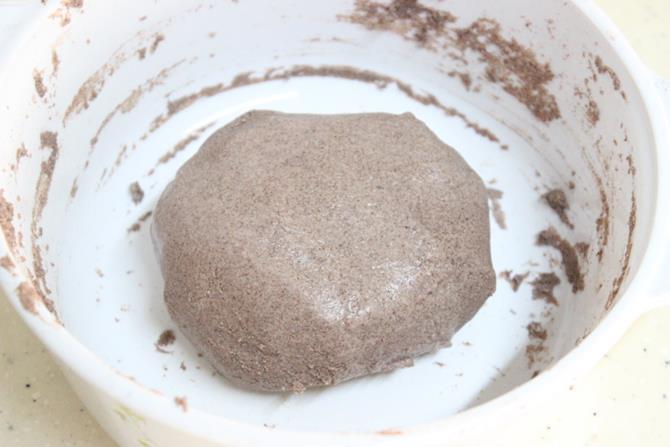 4. To make the roti, dough should be non sticky and not soggy like you see in the picture below.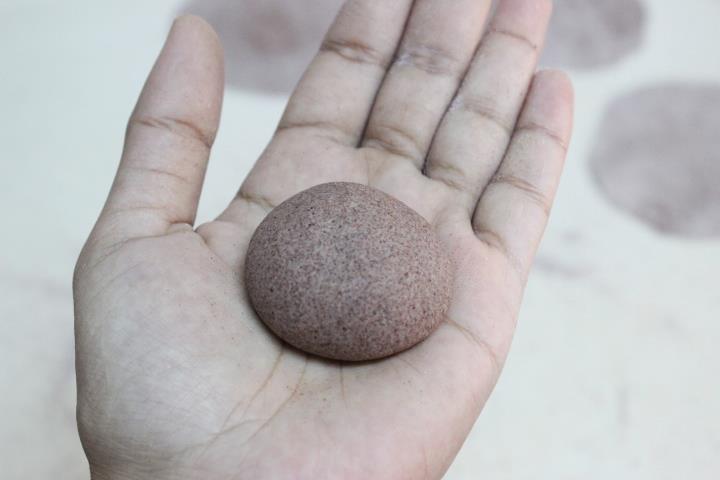 5. Flour the rolling area, place a ball and begin to pat with your fingers or use a rolling pin which ever is comfortable.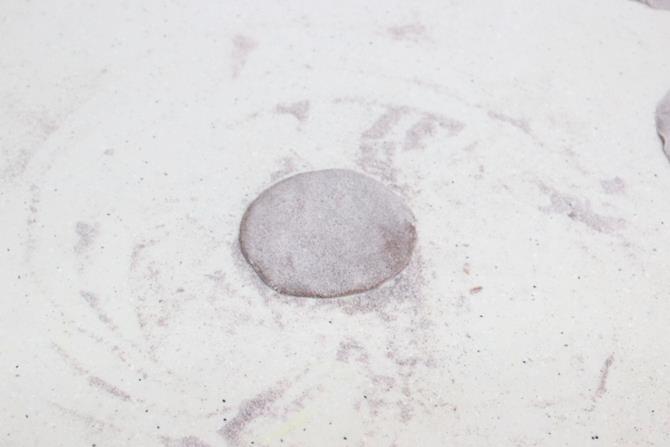 6. I prefer patting them, as the dough spreads easily. If using a rolling pin, roll it lightly. If you are a first timer, after you make a few, you will begin to get them in a perfect round shape.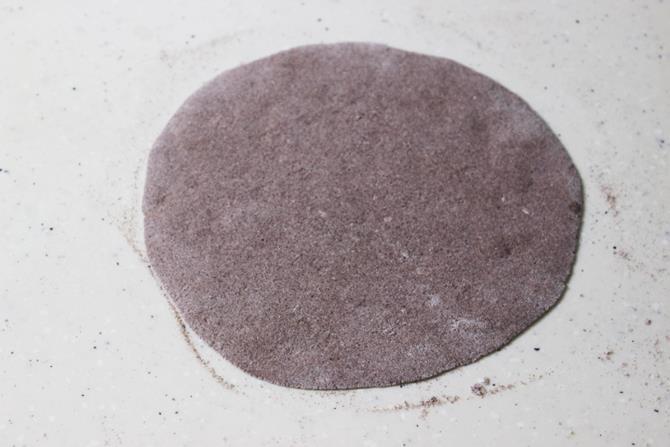 5. Heat a pan. Keep aside a bowl filled with water along with a clean cloth dipped in it. Add the roti to the hot pan, squeeze off the excess water from the cloth and dampen the roti. when cooked, flip it to the other side and cook. If you feel the roti is turning hard, then cover and cook on both the sides. This depends on the flour you use. I use the store bought flour and didn't cover, yet they turned good. Once they are cooked stack and cover them to keep soft.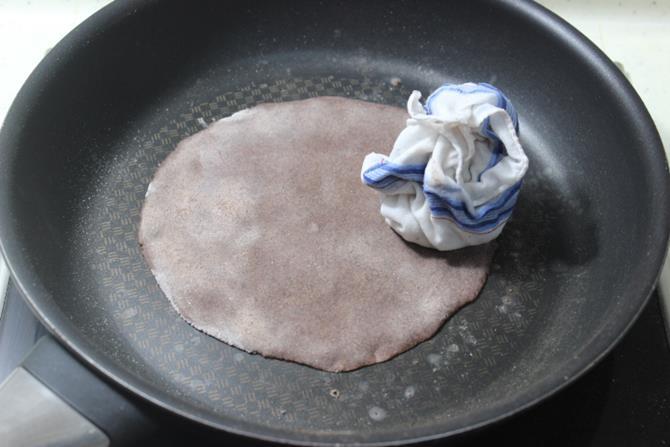 Serve with any chutney, yogurt or curry.