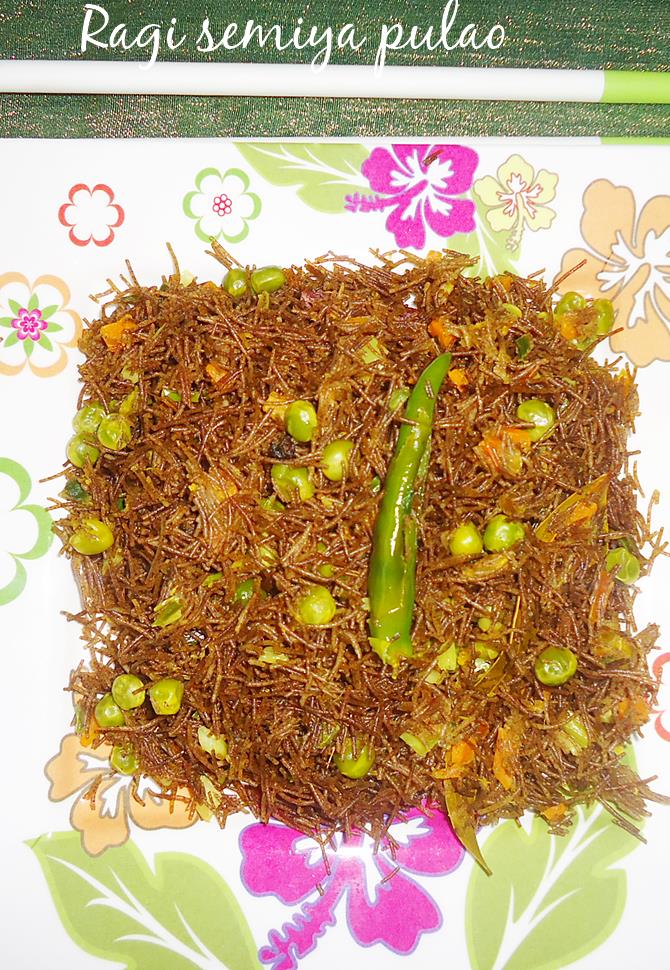 Ragi semiya has been used in some parts of Karnataka for several years. But it has been popular in the recent years since it has become a commercial product. During my childhood days, I had seen many of my friend's moms doing these ragi semiya in their backyards and dry them in the hot sun. My mom never made these since she was not a ragi fanatic. Ragi semiya can be used to make a semiya upma or a vegetable semiya biryani or even a pulao.
 
This recipe is suitable to cook any brand of ragi semiya (even if it is homemade and sun dried). I never follow the instructions given on the packets. I love to do it my way, since it does not turn the semiya mushy.
 
ragi semiya vegetable pulao recipe below
Ragi Semiya Veggie Pulao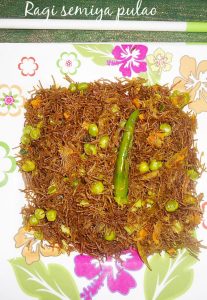 Ragi semiya vegetable pulao
Ingredients (240 ml cup used)
150 gms Ragi semiya
2 green chilies slit
1 medium tomato or lemon juice
Fistful of green peas
½ Carrot chopped very small
1 chopped onion or few spring onions
3 tsps. Oil
1 bay leaf or curry leaves
½ tsp shahi jeera
3 cloves
2 thin 1 inch cinnamon sticks
1 cardamom
Few pepper corn (optional)
½ tsp ginger garlic paste
How to make the recipe
Keep all the veggies and spices ready. Set aside.
Stir in 1 tsp of oil to 5 glasses of water at room temperature.
Pour ragi semiya, gently stir the semiya twice with your hand. Do not squeeze or break them. After 30 secs to 1 min drain the water away.
Spread the semiya on a colander.
Heat oil in a deep non-stick pan, add all the spices and fry till you get a good aroma, and add ginger garlic paste. Sauté till the raw smell goes off.
Add onions, peas & carrot. Fry for a min, add tomatoes, turmeric and salt. Fry till the tomatoes turn mushy.
Check your semiya now; they would be moist but not wet. They absorb the water and become soft yet they look non sticky.
Add the semiya and salt to the pan. Mix well. Cover & cook it on a low flame till the semiya is fully cooked. Occasionally keep mixing. This takes around 7 to 8 mins. If you are new to this recipe try tasting the semiya every 2mins, to know the right cooked texture. Initially you will feel raw and floury; next- cooked but still raw smelling. Finally you will know the cooked texture when it is fully done. If you overcook the semiya, nothing happens expect they turn crunchy.
Serve warm with fresh yogurt or yogurt cream.
for more ragi semiya recipes, check
ragi semiya payasam
ragi semiya curd bath