Rajma recipe – a delicious and easy rajma masala recipe good to serve with naan, roti, chapathi, plain rice or Jeera rice. Red kidney beans are known as Rajma in Indian language and are used to make North Indian rajma masala, a onion tomato based gravy that is either made to thick or thin consistency to suit ones taste or liking.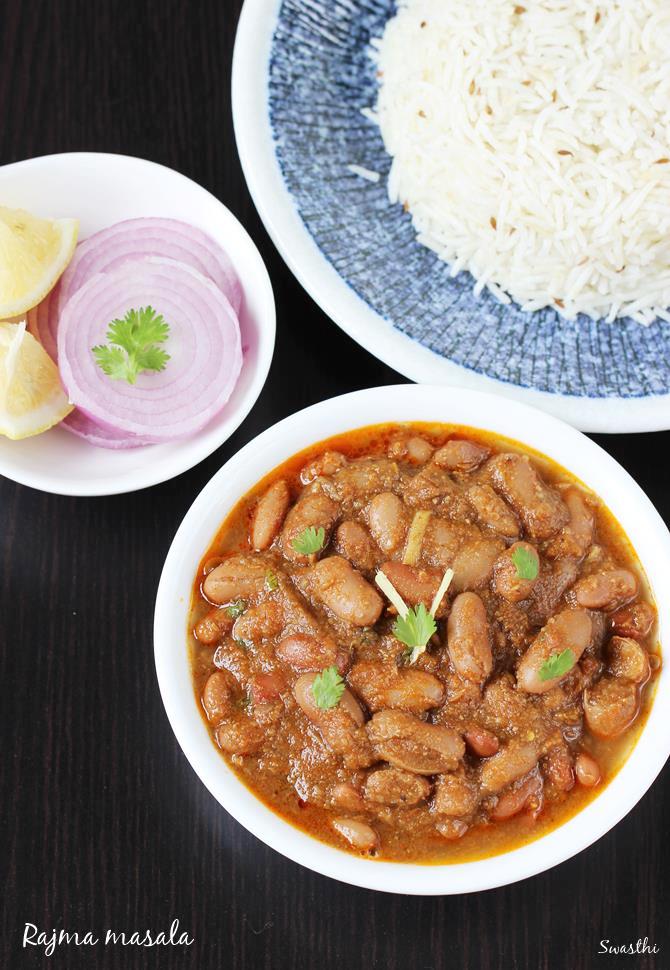 Rajma are fat free and has many health benefits due to its high fiber content, folate and magnesium. High fiber promotes digestive tract health, folate & magnesium makes them a heart healthy food. It is a great food for those with diabetes , gestational diabetes or hypoglycemia since they stabilize the blood sugar levels by releasing the sugars slowly.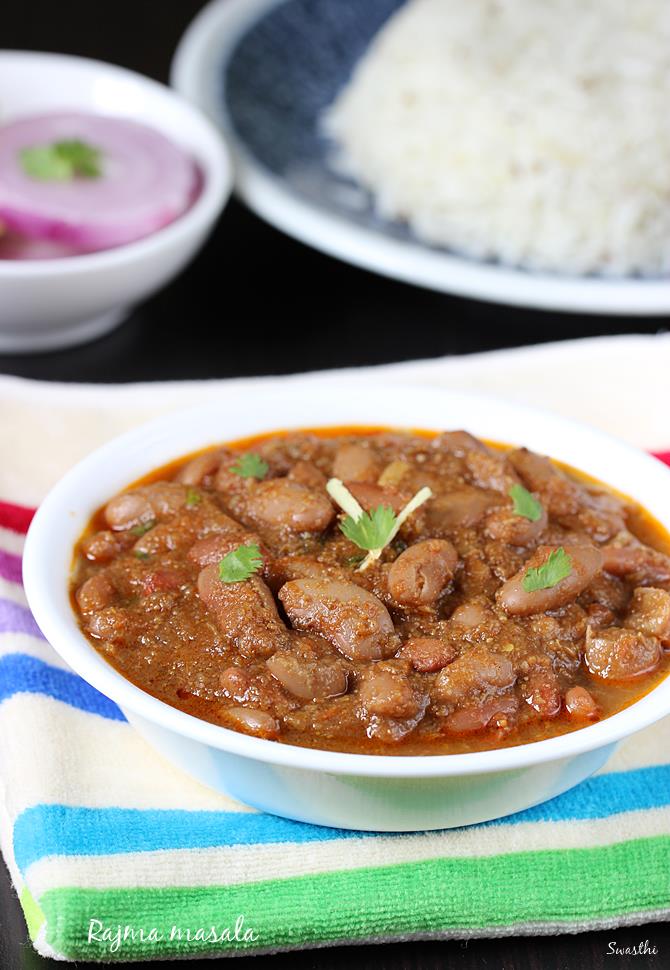 It is also good for those with low levels of iron including kids and pregnant women. With so many health benefits, it is still not eaten much by the elderly folks as they are high in vata and tend to increase the muscular pains.
Using a good dose of garam masala, ginger and ample soaking balances the vata dosha that is induced by rajma. Soaking and cooking properly will enhance the bio availability of nutrients as well.
This rajma recipe calls for slow cooking on a medium to low flame to yield a good tasty and thick curry.
You may like these similar recipes
Resaturant style chana masala
Restaurant style dum aloo
Punjabi chole
Easy Dum aloo
Easy rajma recipe below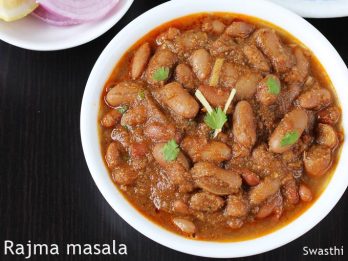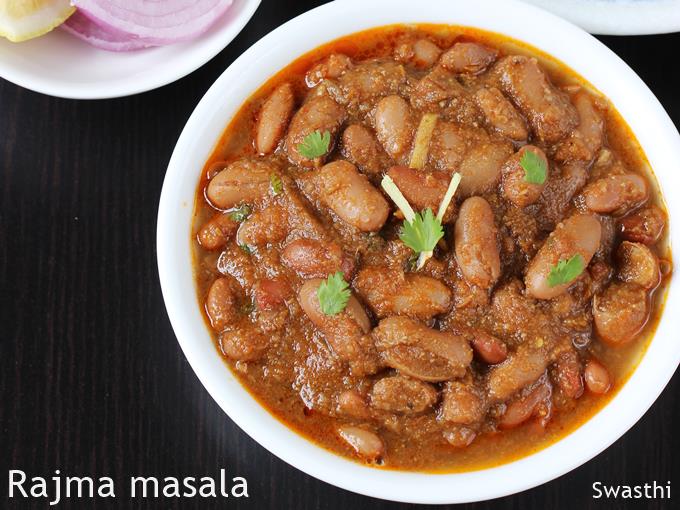 Rajma recipe | Easy rajma masala recipe | Rajma curry recipe
Rajma masala is a everyday common curry made with red kidney beans. It is served with mostly plain rice, jeera rice or roti.
Ingredients (240 ml cup used)
1.5

tbsp

ghee or oil

½

tsp

cumin or jeera

1

tsp

ginger garlic paste

¾

cup

onions chopped

(1 large or ½ cup puree)

¾

cup

tomato chopped

(2 medium or ½ to ¾ cup puree without seeds)

½

cup

Rajma or kidney beans

(or soaked 1 cup plus 1/3 cup)

1½

cup

water

½

tsp

red chilli powder

turmeric or haldi

(as needed)

1

tsp

coriander powder (optional)

¼

tsp

cumin powder (optional)

½ to ¾

tsp

garam masala

¾

tsp

red chilli powder

Few julienne of ginger

1

green chili slit

coriander leaves for garnish

salt as needed
How to make the recipe
Wash and soak rajma for 8 to 10 hours in ample water.

If you prefer to pressure cook them first, then you can. Cook for 3 to 4 whistles on a medium flame with 2 cups of water.

Heat a pan with oil and saute cumin until it sizzles.

Saute ginger garlic paste until a nice aroma comes out.

Add onions or paste and saute until it turns golden.

Saute tomatoes or puree until the raw smell vanishes.

Add all the spice powders and salt. Saute until oil begins to leave.

Add kidney beans and pour water.

Pressure cook on a medium flame for 1 whistle. Reduce the flame to low and pressure cook for 2 whistles. When the pressure goes off, open the lid and stir.

If you have pressure cooked them already in the first step, then you can add them here along with left over stock. Simmer for 10 to 15 mins.

Check if they are done completely. When you mash the rajma it must be soft.

Sprinkle some coriander leaves. Serve rajma masala with onion and lemon wedges.
Recipe Notes
If you prefer to use onion paste, then add them to hot water. Boil for 3 to 4 mins. Cool and make a paste.
If beans are not soft cooked, you can add more water and cook for 2 more whistles. This may happen if you are using a very old stock of the beans or they are not soaked well.
Nutrition Facts
Rajma recipe | Easy rajma masala recipe | Rajma curry recipe
Amount Per Serving
Calories 135
Calories from Fat 63
% Daily Value*
Total Fat 7g 11%
Cholesterol 19mg 6%
Sodium 114mg 5%
Potassium 303mg 9%
Total Carbohydrates 13g 4%
Protein 3g 6%
* Percent Daily Values are based on a 2000 calorie diet.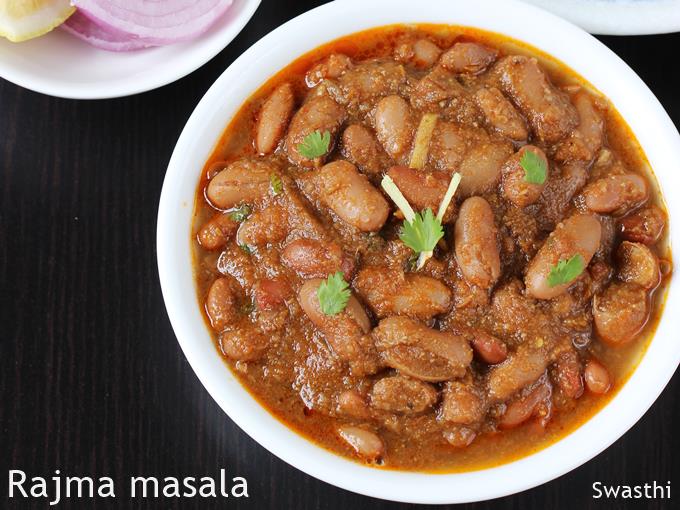 Step by step – How to make rajma recipe
1. Wash and soak rajma in lot of water for at least 8 to 10 hours. Soaking helps to soft cook them well. While you soak them , do not cover the pot completely. There must be a circulation of air to the soaked ingredients especially during hot summer days as it can make the beans sticky. Wash them thoroughly and set aside.
2. There are 2 methods of cooking rajma here. Choose which ever you are comfortable with.
First method: You can pressure cook them first with 2 cups of water for 3 to 4 whistles on a medium flame. Then add them to the gravy. While the beans pressure cook, on a different burner you can make the onion tomato gravy. It may save some time.
Second method This method does not need to pressure cook the beans first. Just make the gravy and then add the uncooked rajma. Pressure cook as mentioned below. To follow this method, Measure the soaked rajma in cups. We will have to add an equal amount of water to soft cook them in the gravy.
3. Heat ghee or oil in a pot, saute cumin until they begin to splutter. Add ginger garlic or ginger paste and saute until the raw smell goes off. You can also add hing.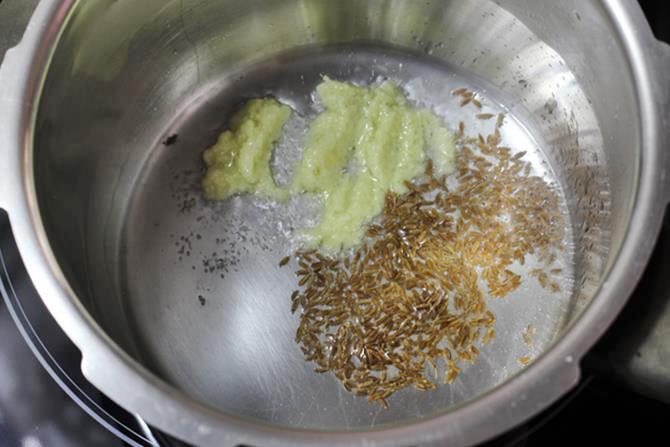 4. Add chopped onions or onion paste. If you like a smooth gravy, then use onion paste. You can also make a paste of onion and tomatoes together, but i prefer separately as this tastes better.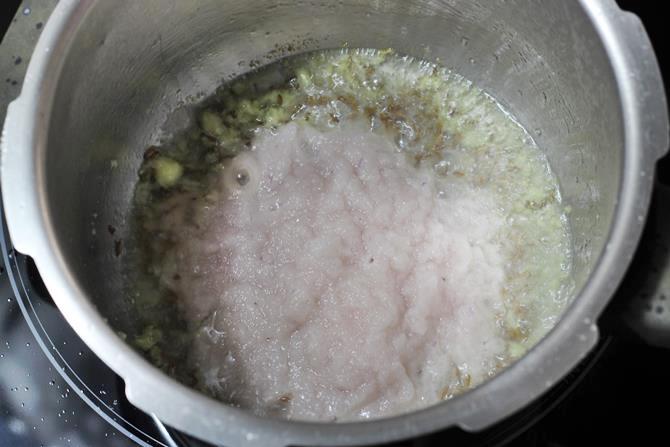 5. Saute until the paste or onions turn golden.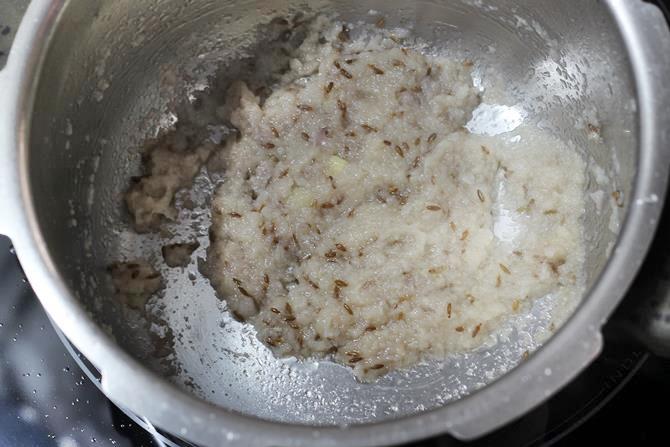 6. Add tomato puree or chopped tomatoes.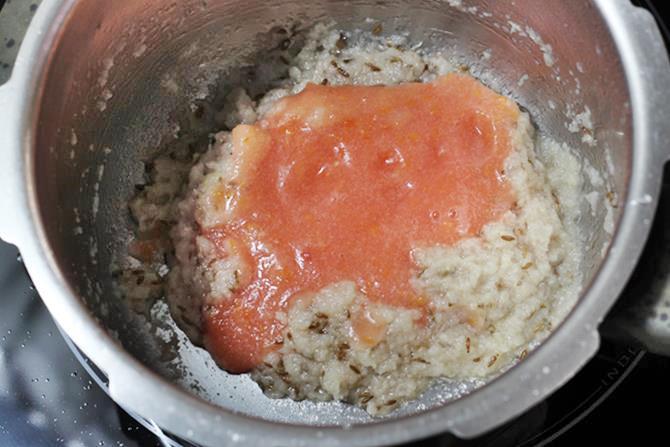 7. Cook until the raw smell of tomatoes is gone.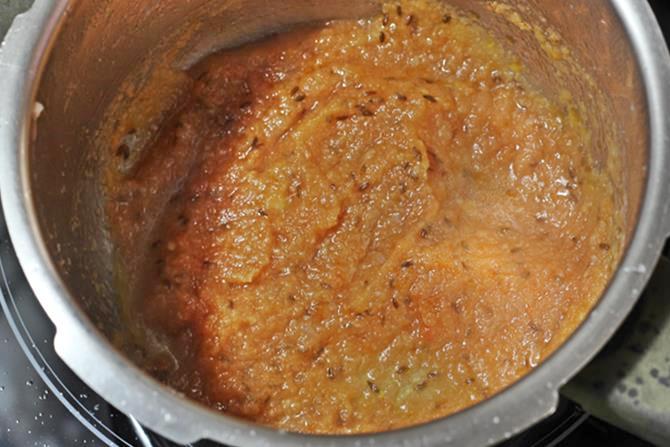 8. Add red chili powder, coriander powder, garam masala, turmeric, salt and cumin powder. Coriander powder and cumin are optional.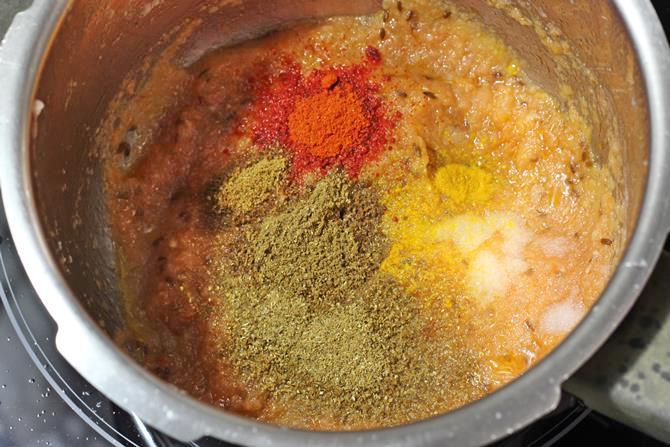 9. Saute and cook until the mixture begins to leave the sides or the raw smell of the onion and tomato is gone.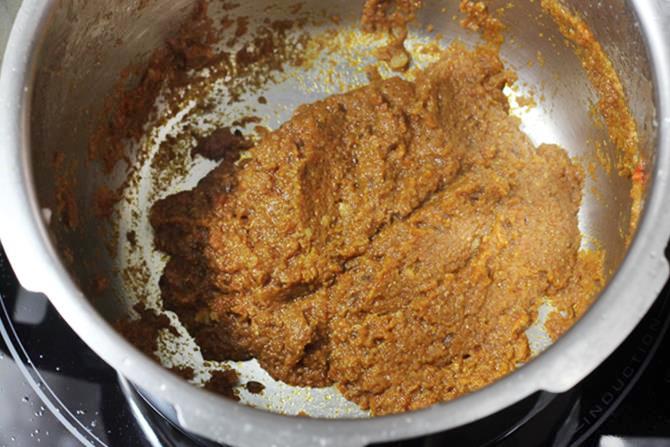 10. Add rajma. I have added uncooked ones here.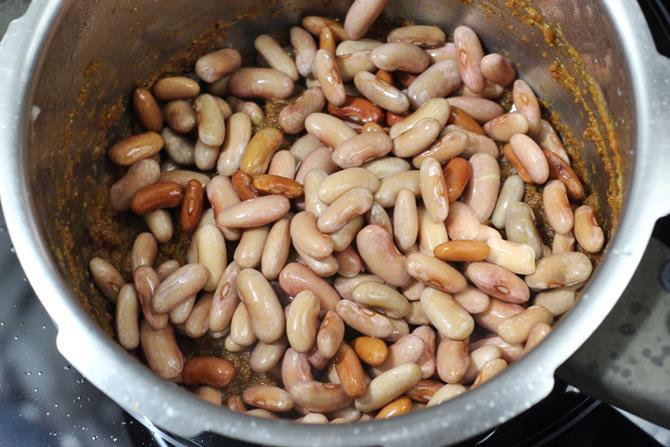 11. Add same amount of water equal to the soaked rajma. For half cup rajma, you will get about 1 and 1/3 cup after soaking them for 8 hours. So i added the same amount of water to get the right consistency. You can also add little more water, if you like a thinner gravy.
or
If you have already pressure rajma, then just add the stock from the along with the cooked beans. If needed you can also add little more to make a thick or thin gravy.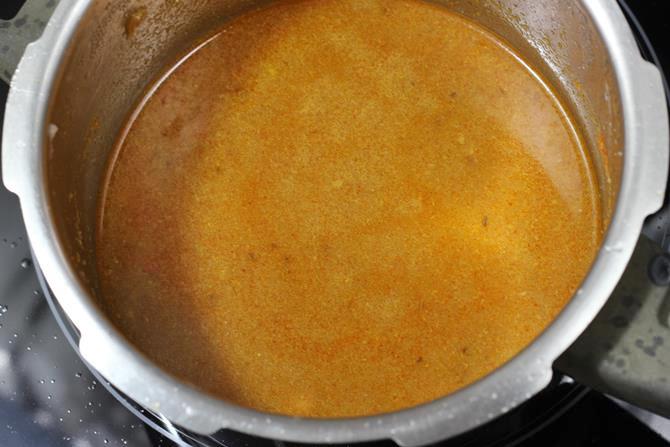 12. Add ginger slices and 1 slit green chili.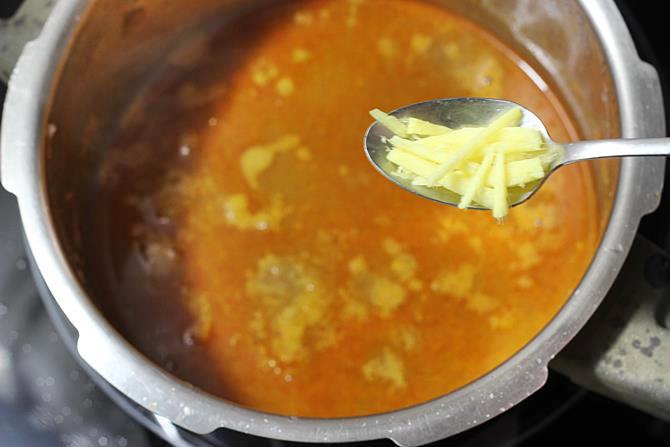 13. Cover and pressure cook on a medium flame for 1 whistle. Lower the flame and cook for 2 more whistles. It took around 25 mins for me to get the last 2 whistles. However the timing may vary depending on the size or the base of your cooker.
or
If you have used pressure cooked rajma, then simmer for 10 to 15 mins. You don't need to pressure cook any more.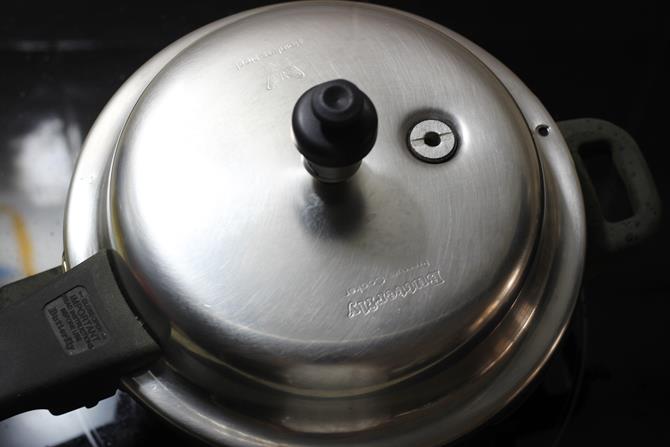 14. When the pressure goes off completely, open the lid. This is the consistency i get to see.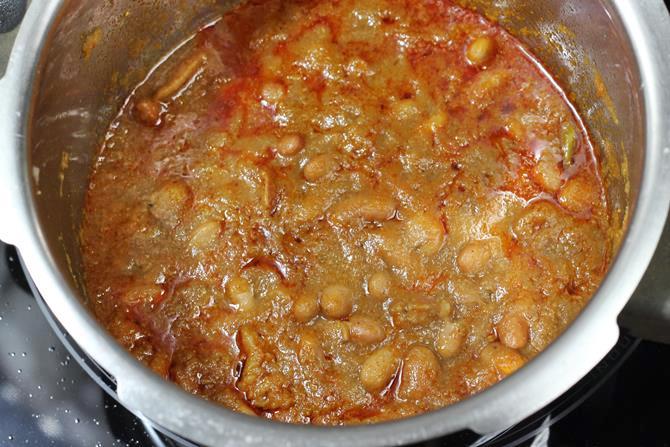 15. Beans are completely soft cooked.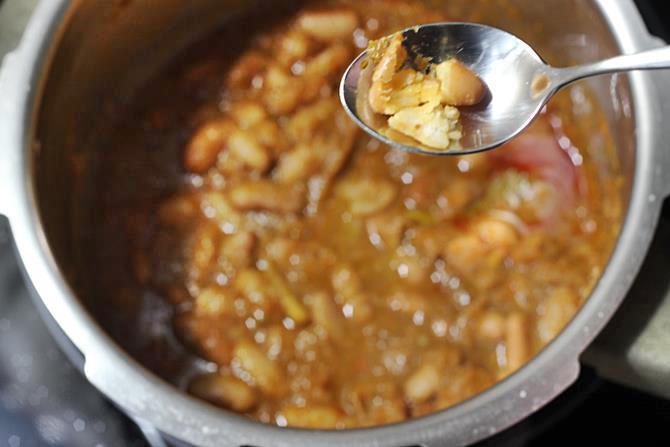 16. A thick restaurant style gravy is ready. You can garnish with coriander leaves.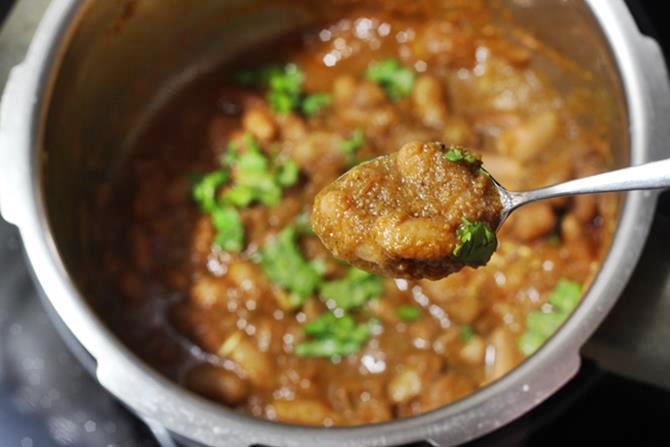 Ways to fix uncooked kidney beans.
This method has always yielded me soft cooked beans, but beans that is of a very old stock doesn't get cooked faster, in that case you can pressure cook first for 2 to 3 whistles and add to the gravy.
or after the last step check if they are under cooked, then add more water and continue to pressure cook for another 2 whistles on a medium flame.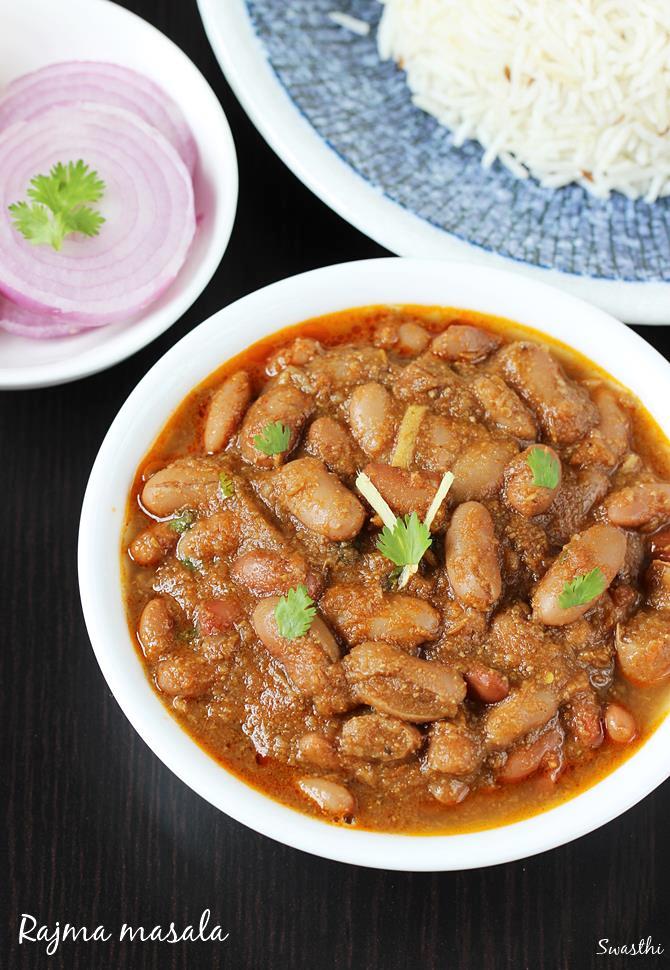 Serve with roti, plain rice, jeera rice, onion & lemon wedges .