Rasam powder recipe – Learn how to make rasam powder at home, a flavorful spice powder to make tomato rasam. Rasam is made in so many ways with almost similar ingredients, same is with rasam powder too. It is made with almost same ingredients but the the ratio might differ slightly in each recipe. Iam sharing a rasam powder recipe that you can easily customise to suit your taste or to give a flavour you like.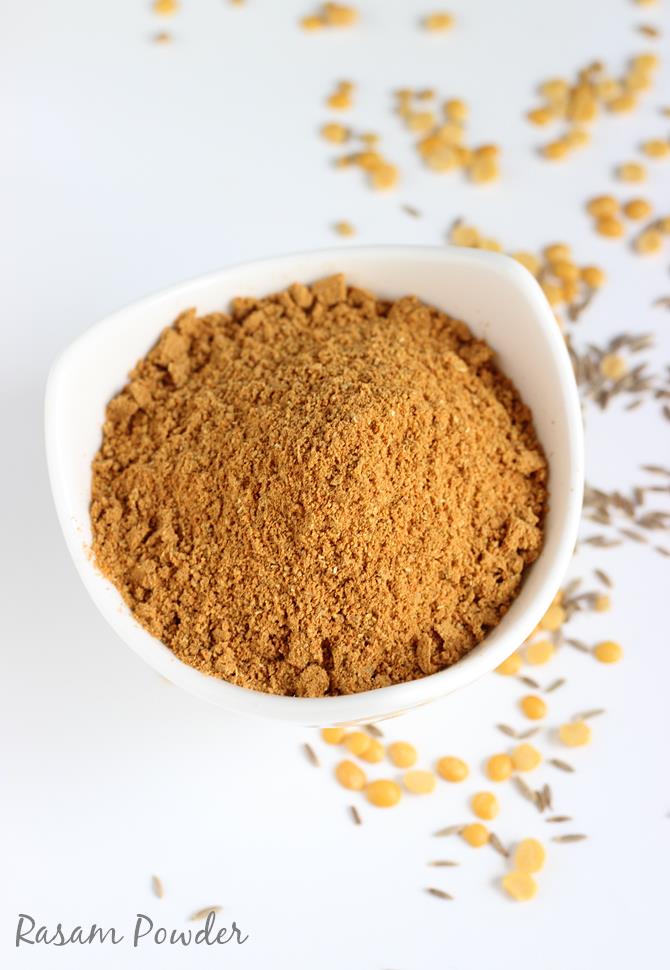 This rasam powder can be used to make Tomato rasam, lemon rasam or mysore rasam or any other south indian rasam recipes.
Basic rasam powder is just made with toor dal, pepper, coriander, jeera, red chilies and hing. To make it flavourful and tasty, one can use the following ingredients:
Roasted Channa dal lends a unique aroma and slightly thickens the rasam.
Fenugreek seeds or methi seeds add a unique aroma and is also healthy. But you can skip this if using whole methi seeds for the rasam during tempering.
Roasted Curry leaves also add flavour that is different from the fresh curry leaves. This is another healthy ingredient. But this one too can be skipped, if you do not have.
The color of the rasam powder can differ based on the type and amount of red chilies used. To make rasam for kids, do add less or skip red chilies from the recipe. Pepper alone yields a good amount of spice and heat to the rasam.
For more masala powder recipes, you can check
Sambar powder
Bisi bele bath powder
Garam masala
Biryani masala
Find rasam powder recipe below
Rasam powder recipe | How to make rasam powder recipe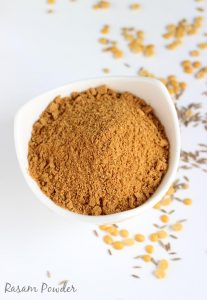 Flavorful rasam powder recipe that can be used to make tomato rasam
Ingredients (240 ml cup used)
1 cup of Coriander seeds / Daniya / Daniyalu
¼ cup toor dal / split pigeon peas / kandhi pappu
¼ cup Channa dal / Bengal gram / senaga pappu (optional)
2 tbsp Cumin / Jeera
1 to 2 tsp Pepper corn (adjust to suit your spice levels)
4 to 6 broken red chilies (adjust to suit your spice levels)
optional
½ tsp. hing
¼ to ½ tbsp. Fenugreek seeds / Methi / menthulu
Handful of fresh curry leaves
How to make the recipe
Wash curry leaves and spread them on a cloth for the water to dry off completely otherwise the water splutters while frying them.
Clean all the ingredients, one after the other.
Heat a pan, add channa dal and toor dal and fry till a nice aroma comes. Transfer this to a plate.
Lower the flame, to the same pan, add coriander seeds, red chilies and fry till they turn crunchy. Switch off the stove. Transfer them to the plate.
To the pan, add pepper, cumin and methi. Stir for 2 minutes till the cumin and methi smell good. Move this to the plate as well.
Add the curry leaves to the pan and fry till crisp. Using few drops of oil to fry them, helps to bring out the aroma of the curry leaves. Do not use more.
Cool the fried ingredients completely. Powder them in a blender jar. If you do not have a powerful blender, sieve the rasam powder. Powder the coarse grains again.
Store the rasam powder in a clean and dry jar.
Dry roast all the ingredients one after the other as mentioned in the recipe below.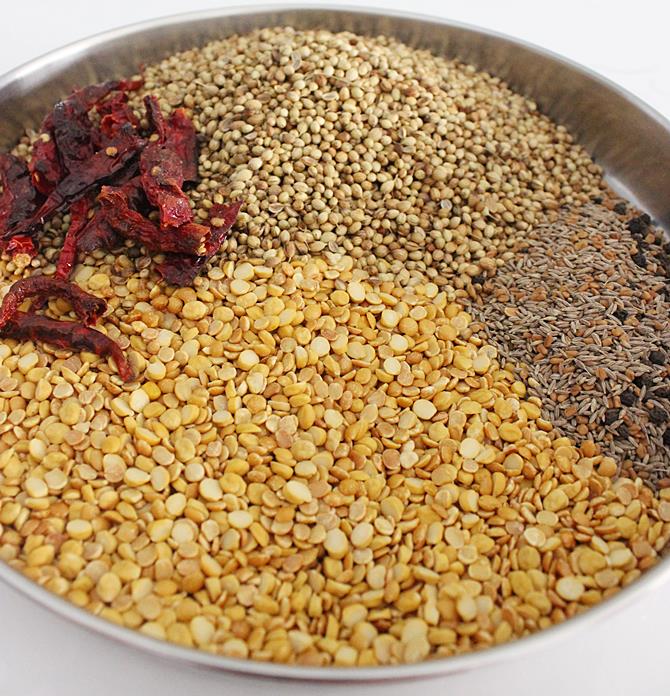 Store it in a clean and airtight steel or glass jar.