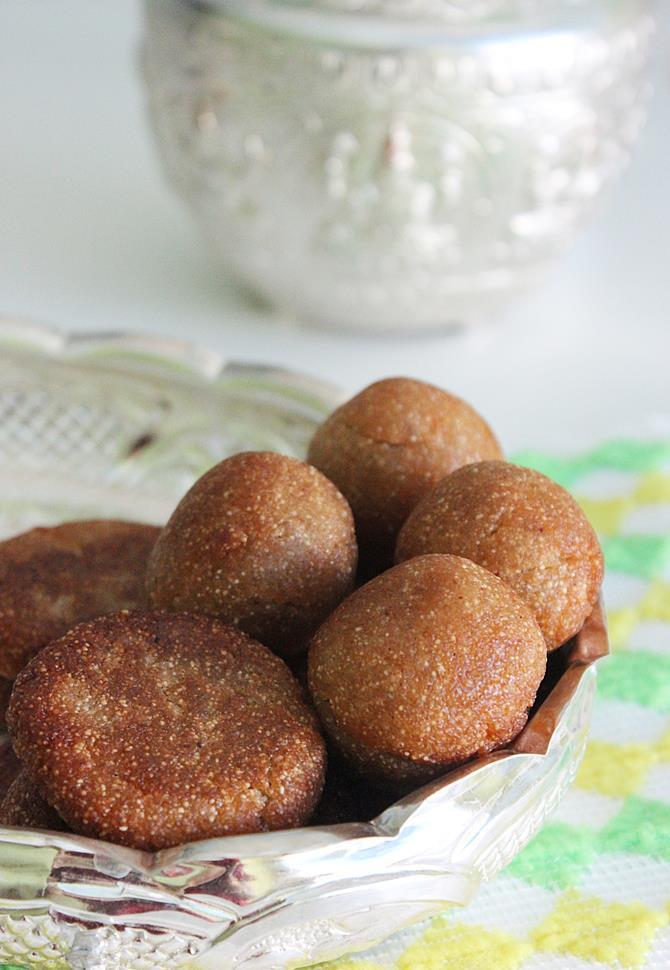 rava appalu recipe
Appalu are deep fried sweets that are prepared to offer as naivedhyam during festivals. Traditionally, Appalu are made of homemade rice flour and jaggery. Rava appalu is just a variation of the traditional appalu and are made using sooji/ suji / semolina and no other flours are used.
 
We make these usually during varalakshmi vratam and dasara navaratri to offer as naivedhyams. These are quite easy to make and taste very delicious.
 
Following this recipe, you can get crusty rava appalu that remain the same for few hours. In the past I tried these with jaggery and failed to make them right. So I would not suggest replacing sugar with Jaggery.
 
I like to deep fry or shallow fry these in ghee to get the best taste. But not much of ghee is absorbed. You can use oil to fry instead of ghee.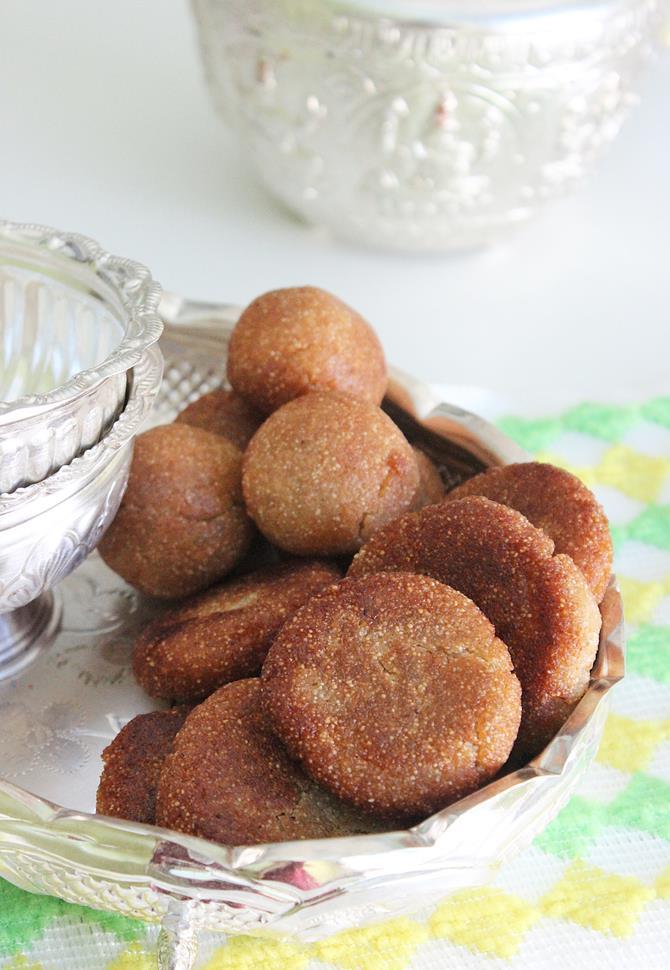 how to make andhra rava appalu
1. Bring water to a boil in a heavy bottom pot / pan, add 1 tsp. ghee and stir.
2. Add rava slowly in a stream to the boiling water, stirring constantly to prevent lumps. Immediately switch off the stove.



3. Within few seconds you see that the entire water gets absorbed. Keep covered for about 5 minutes, for the rava to cook completely.



4. Add sugar, cardamom powder. Do not switch on the stove at this moment.
5. Stir well, allow the sugar to melt off. You can see the halwa at this stage lumpy. Break the lumps, Keep stirring and breaking the lumps completely.



6. Switch on the stove on a low flame, heat up for about 2 minutes with the pot covered. Take care not to burn. Stir well once more. Leave the halwa covered for about 5 minutes.
7. Transfer to a plate, allow it to cool down. Grease your palms and knead while the mixture is still warm.



8. Make 12 equal sized balls,roll them well to minimize the cracks. Flatten them to make flat appalu. You can as well go ahead with the balls too. Do not allow these to dry up
9. Heat ghee or oil in a pan. Add these and deep fry or shallow fry till golden



10. Drain them on a paper towel. 1 and a 1/2 tbsps. ghee was left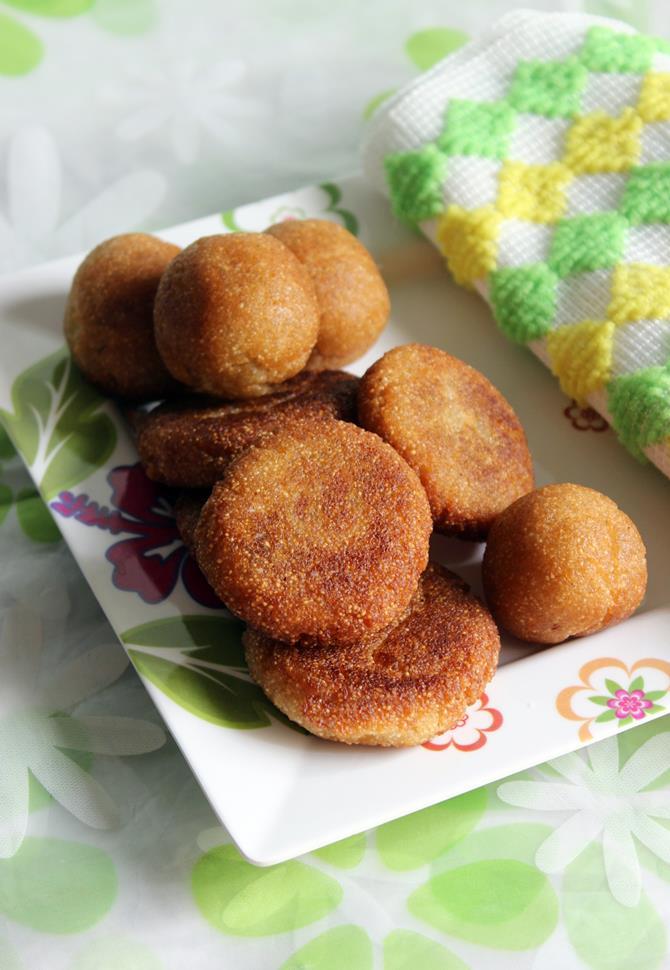 If you are looking for more naivedhyam recipes for varalakshmi vratam try, poornam boorelu, payasam , chakkara pongali with jaggery, quick and easy chakkara pongali with sugar, chalimidi, vadapappu , panakam , pesara poornalu
 
rava appalu recipe below
rava appalu recipe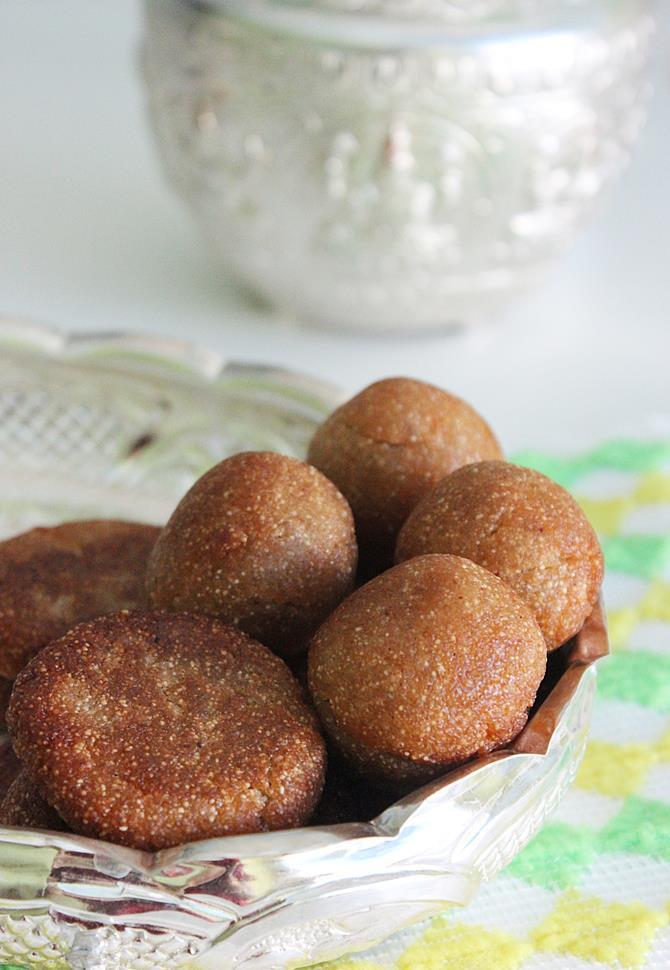 Rava appalu are festive sweets that are prepared to offer as naivedhyam .
Ingredients (240 ml cup used)
1 cup semolina / sooji / rava
¾ cup sugar
3 green cardamoms powdered
4 to 5 tbsps. Ghee or oil
1 cup + 2 tbsps water
How to make the recipe
Add water to a heavy bottom pot and bring it to a boil, add 1 tsp. ghee and stir.
Pour sooji / rava slowly in a stream to the boiling water, while stirring the water with the other hand to avoid lumps. Switch off the stove. Barely in few seconds all the water gets absorbed by rava.
Cover the pot for about 5 minutes, to finish cooking the rava thoroughly.
Add sugar and cardamom powder. Do not cook now
Mix well, let the sugar to melt fully. The mixture looks lumpy. Break the lumps with a ladle or masher to remove all the lumps.
On the stove on a low flame. Cover the pot and cook for about 2 minutes. Mix everything once more and keep the pot covered for at least 5 minutes
Cool the mixture completely. Grease the palms and knead while the mixture is warm.
Roll to 12 equal sized balls, ensure there are no cracks on the balls. If you desire you can flatten them.
These need to be fried immediately, otherwise they will lose moisture
Heat ghee or oil in a pan. Add appalu and deep fry or shallow fry till golden
Notes
Adding more water to the halwa, may not give the right crust to the appalu.
you can use white sugar as well