Instant rava uttapam recipe – Instant uttapam made with semolina, a quick breakfast recipe. I usually make Oats uthappam and onion uthappam with dosa batter or with wheat flour for breakfast. This rava uttapam is made at my mom's home whenever they prefer to have light dinner. It is served with pickle & podi. These turn out very tasty with a unique aroma that comes from curd or buttermilk.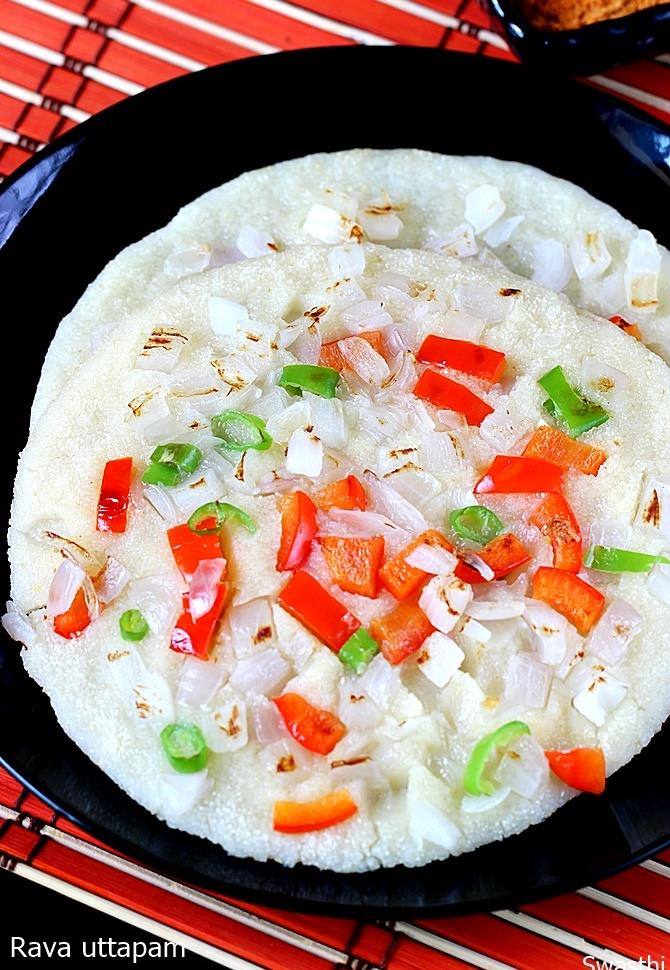 I made these sometime back when I was alone home for lunch. These can be made for breakfast, brunch, lunch or anytime you wish to make something quick. These can be served alone with a cup of masala chai or with chutney or pickle.
You can serve these instant rava uttapam with a Chutney or Pickle.
You can check here for more Indian Breakfast recipes. Some of the quick ones are
Bread upma
Poha recipe
Instant wheat dosa
Upma
Instant rava uttapam recipe below
Instant rava uttapam recipe | Instant suji uttapam | Breakfast recipes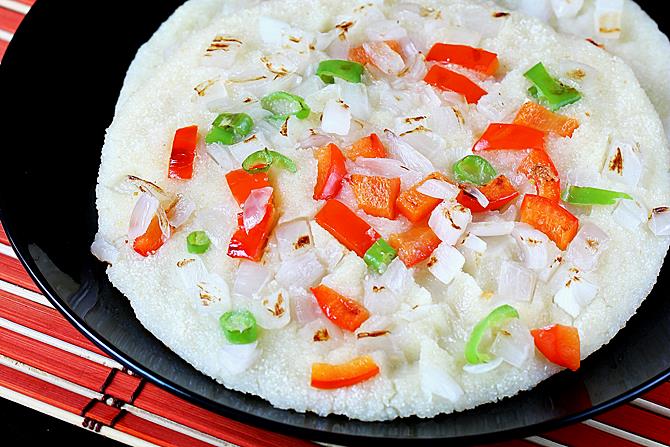 Rava uttapam is made with semolina, onion, chili and curd. It makes a good breakfast or snack.
Recipe type:
Breakfast, snack
Ingredients (240 ml cup used)
½ cup rava / semolina/ suji
½ cup + 2 to 3 tbsp water
2 tbsp curd / plain yogurt/ dahi
salt as needed
1 medium onion chopped
1 medium to small tomato chopped (optional)
2 tbsps chopped capsicum (optional)
1 to 2 green chilies chopped
few coriander leaves finely chopped
2 tbsps grated carrot (optional)
1 to 2 tsps oil or butter
How to make the recipe
Soak rava in half cup water. Set this aside for 10 mins.
Meanwhile chop the veggies and season the pan/ tawa.
Add curd, salt and 2 tbsps water. Mix the batter. It must be not too thin or too thick. If needed add 1 tbsp more water to bring it to a consistency.
Grease and heat the pan.
Pour half of the batter and spread a bit gently.
Sprinkle the veggies and press with a spatula.
Add oil around the edges and cook until done on a medium heat.
Flip it when you see the edges leaving the pan.
Cook until the veggies are cooked. Flip back and cook until the rava uttapam turns lightly Crisp.
Serve hot or warm with chutney or alone.
For more quick
rava recipes
, you can check
Rava ladoo
Suji halwa
Upma recipe
Tomato upma recipe
How to make suji uttapam
1. Add half cup rava / suji to a mixing bowl.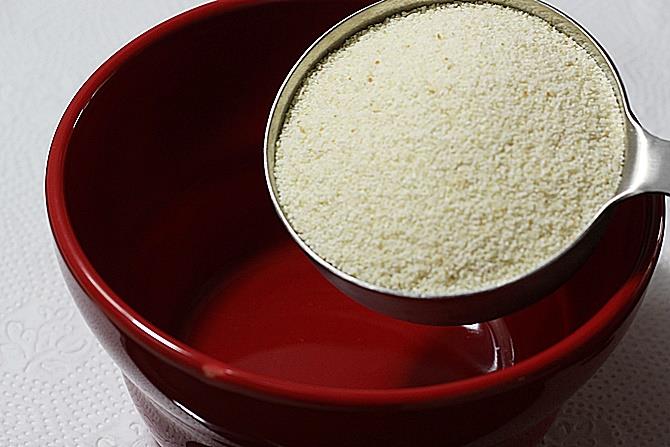 2. Add half cup water.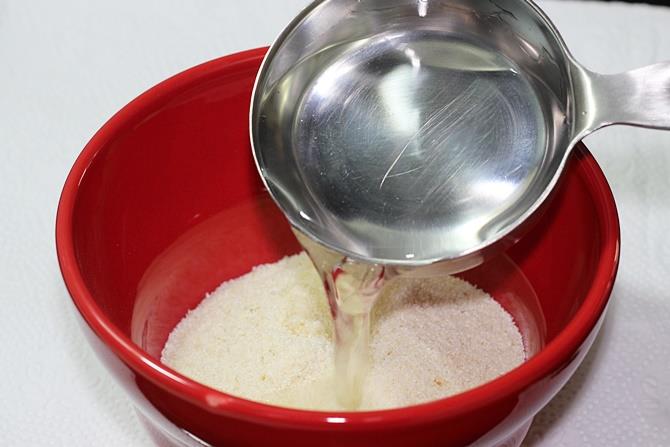 3. Mix it well. Set this aside for 10 mins.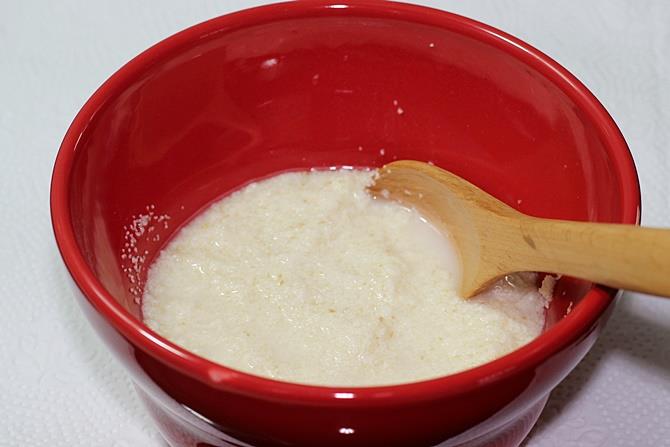 4. Meanwhile chop the veggies like onions, chilies, tomatoes, bell pepper. You can also use grated carrot & coriander leaves.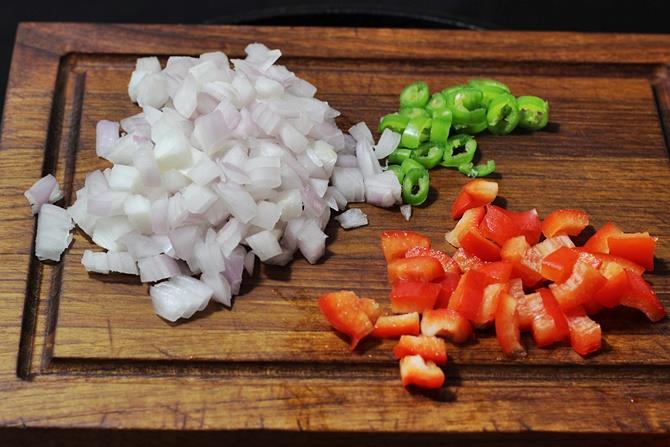 5. Add 2 tbsp yogurt.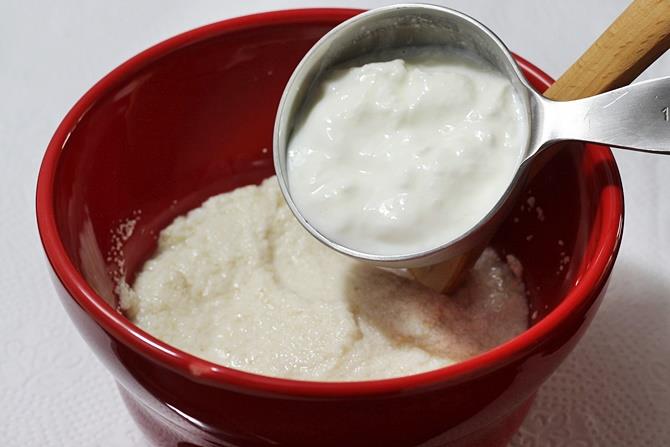 6. Salt as needed.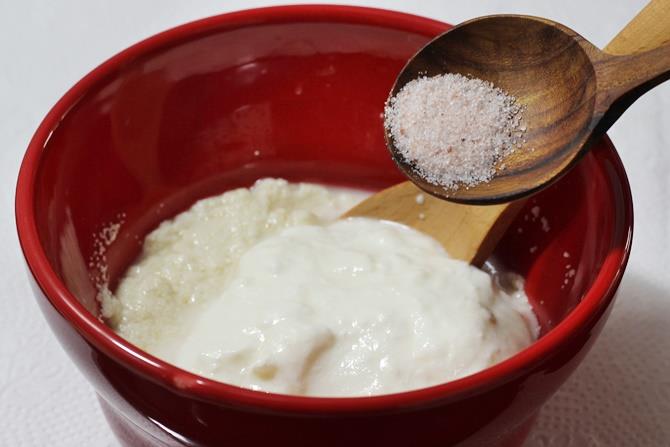 7. Add 2 tbsp more water. I used about 3 tbsps.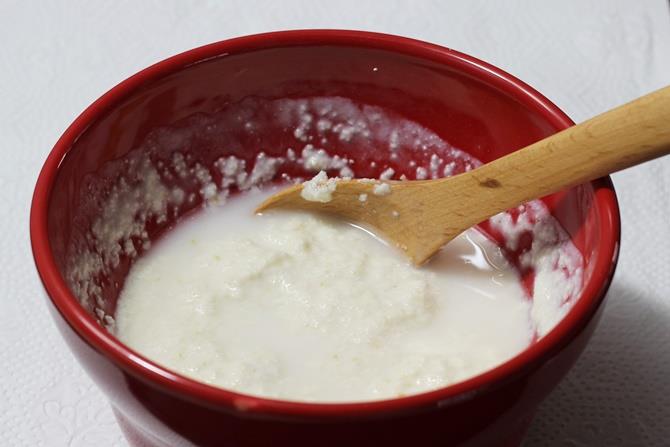 8. The batter should be neither thin or too thick, but must be of spreading consistency. Set this aside.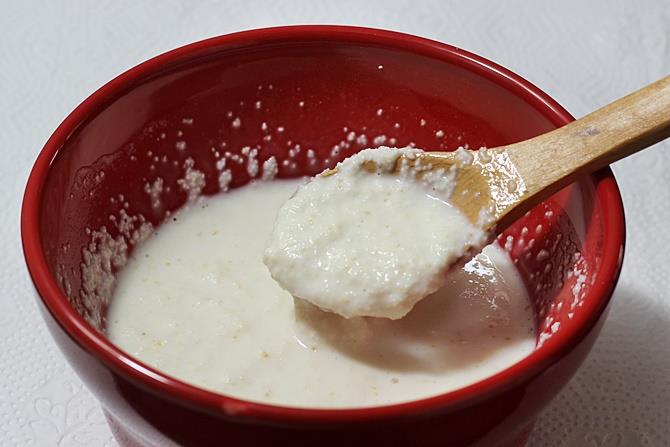 9. Grease or season your tawa well with few drops of oil. Rub with a sliced onion or kitchen tissue. I season my cast iron pan after every wash and wipe off the excess oil before storing it. I grease it again before use.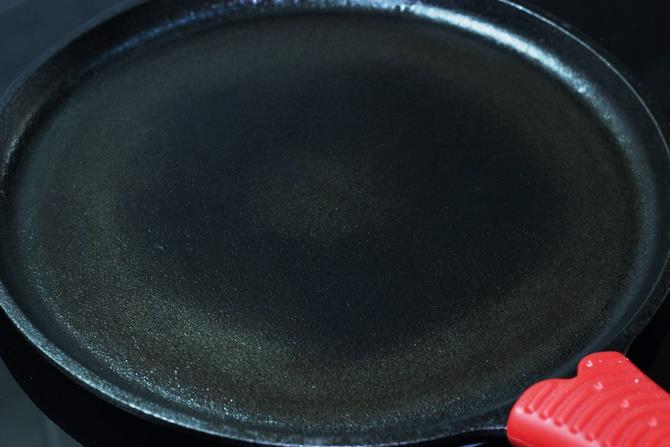 10. When the pan turns hot, pour half of the prepared batter.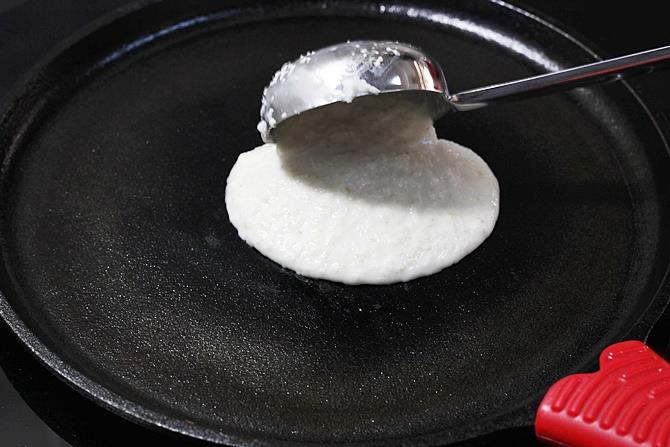 11. Spread it gently only a little.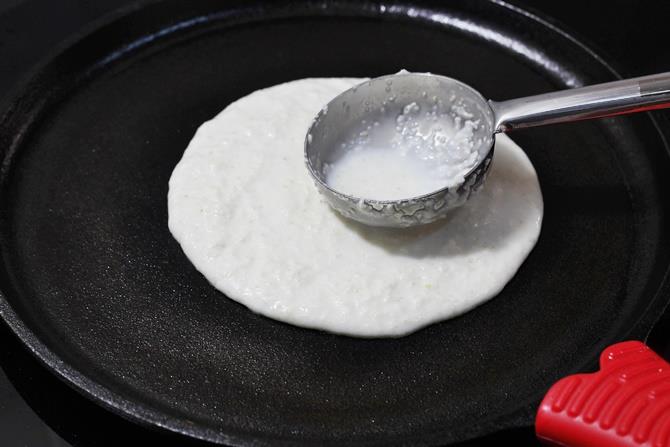 12. Immediately add cut veggies.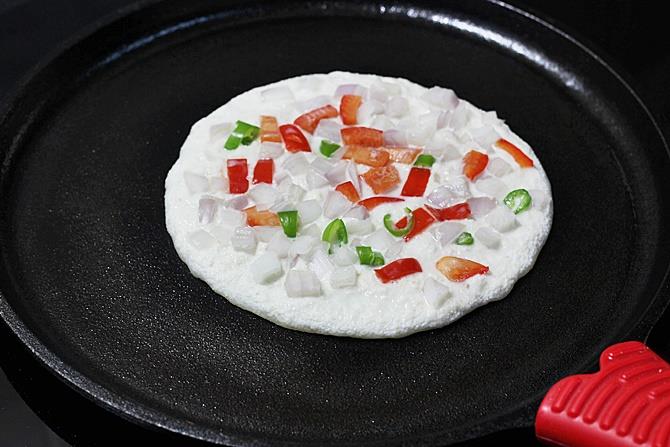 13. Press down with a wooden spatula. If you do not do this, veggies will come out when you flip it.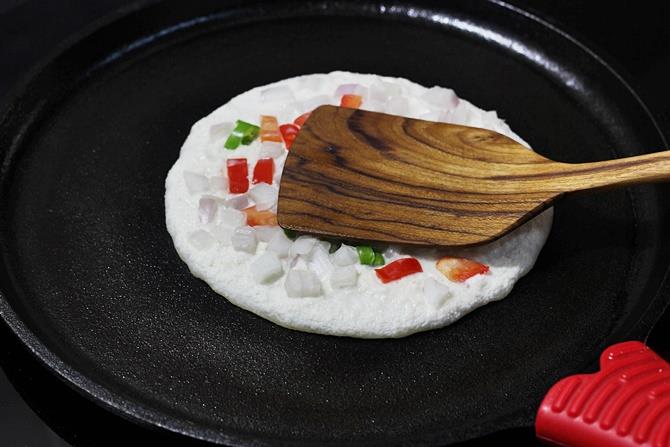 14. Add oil and cook on a medium heat.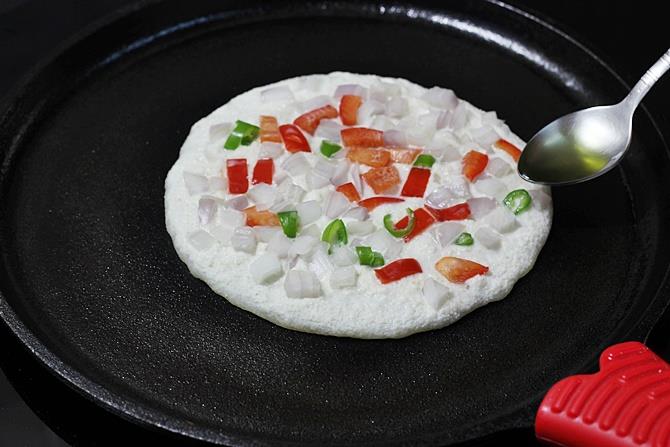 15. After a while you will see the edges leave the pan, gently lift it with a spatula and flip it.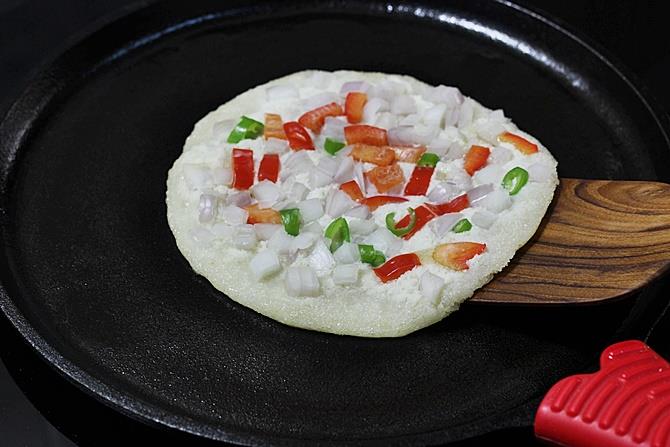 16. Cook on both the sides till fully done.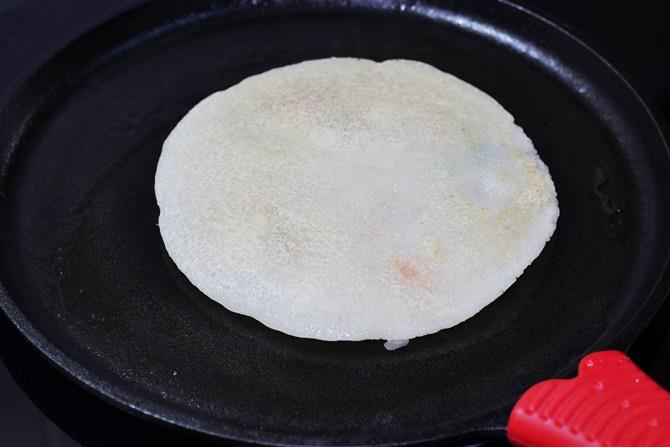 Serve rava uttapam hot or warm.