Raw banana fry recipe with step by step pictures – one of the easiest and delicious raw banana recipes. Raw banana or plantain is used as a vegetable in south India for making banana bajji, chips, curry, stew, kofta and stir fry or roast. They are a good source of protein and vitamins and are low in sodium and calories, the reasons why they are termed nutritious.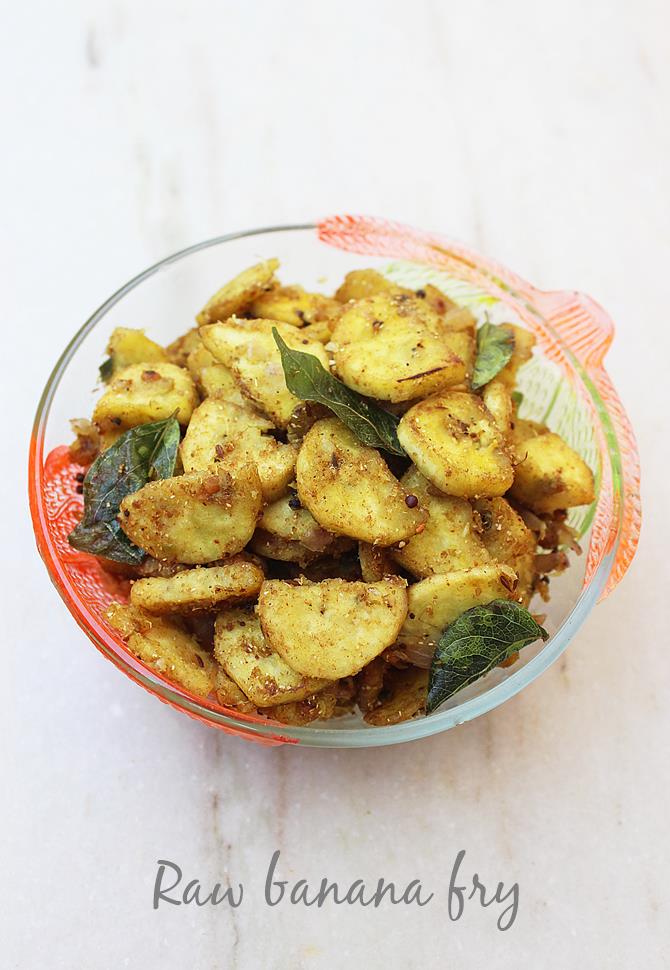 You can find more raw banana recipes on the blog,
Aratikaya bajji
Raw banana masala curry
Dry banana curry recipe
Andhra style banana fry
Banana pepper ghee roast
 
Raw banana fry can be made in so many ways, the recipe I am sharing today is different from the aratikaya vepudu shared earlier. This is a family recipe from my mum and we all love it. To make this delicious mildly hot and spicy raw banana fry, we don't need any special ingredients but the method of frying them is a bit unique which lends a great flavor and taste to the raw banana.
 
This recipe works well with green chilies, but can be replaced with red chili powder too and must be added along with the garam masala. Young or tender raw bananas are not suitable to prepare this dish. They must be firm and not about to ripe.
 
Raw banana fry recipe below
Raw banana fry recipe | raw banana recipes | aratikaya recipes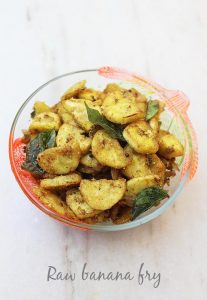 Ingredients (240 ml cup used)
3 Raw banana not tender
Generous pinch of turmeric
Pinch of mustard
½ tip. Cumin/ jeera
1 tsp. Urad dal
2 to 3 Green chilies or red chilli powder
½ inch ginger, 4 garlic
1 large onion sliced
1 sprig curry leaves
Gram masala powder as needed
Oil 2 tbsps.
How to make the recipe
Wash and peel the skin of banana. Half it vertically. Slice and add them to a bowl of water
In a blender, make a fine paste of ginger, garlic and chillis. keep it aside for later use.
To the same jar add, onions and coarsely pulse and set this aside separately.
Add oil to a heavy bottom pan and heat it.
Add mustard, cumin, and dal, when the dal turns golden, add chili ginger garlic paste. Fry until the ginger garlic turns slightly golden.
Add drained raw banana slices to the pan and sprinkle turmeric.
On a high flame, fry till they are almost cooked. To prevent burning, stir constantly.
Reduce the flame to medium and sprinkle salt, fry till soft, cooked and tender.
Add the crushed chilli onions. Fry on high till the onions begin to caramelize or brown. Stir constantly.
Sprinkle gram masala, red chili powder if using. Fry on a low flame till they firm up.
Serve hot with rice and rasam or sambar.
How to make raw banana fry with step by step pictures
1. Peel raw banana. Cut to half vertically. Slice and transfer them to a bowl full of water. The pieces should not be too thin or too thick.
2. Make a paste of green chilli, ginger and garlic. Set this aside.
3. Coarsely crush or pulse onions in a blender.
4. Heat a deep Kadai or pan with oil.
5. Add urad dal, mustard and cumin. Let the dal fry till lightly golden without burning.
6. Add ginger garlic and chili paste. Fry till you begin to get a nice aroma. It should begin to turn slightly golden.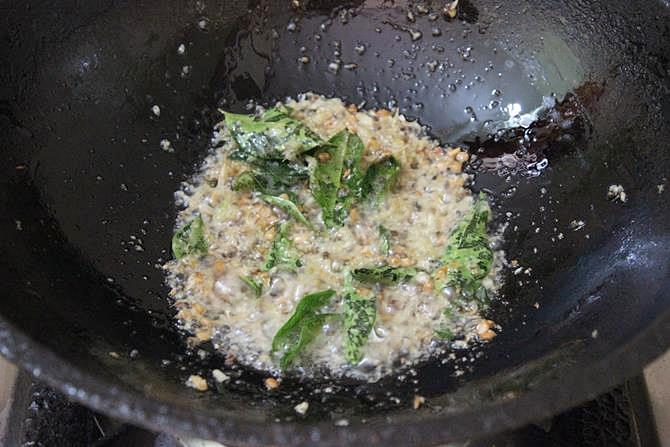 7. Drain the water from raw banana and add them to the Kadai. Add turmeric.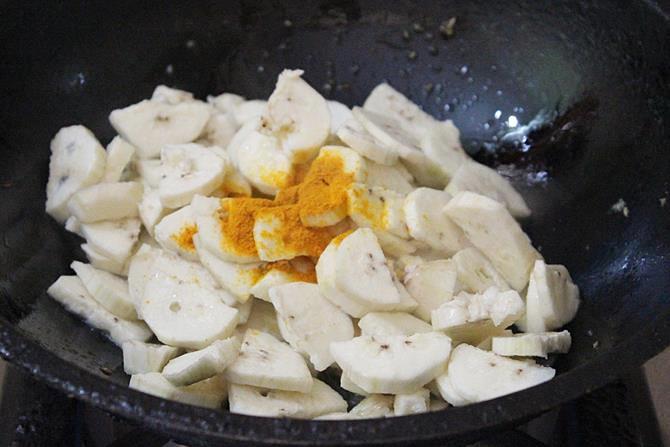 8. Mix and fry on medium flame till they are almost cooked. Stirring constantly to prevent burning.
9. Sprinkle salt evenly and fry on a medium flame till they turn soft, cooked and tender. Do not add salt until the banana is almost cooked, otherwise it will not get cooked further.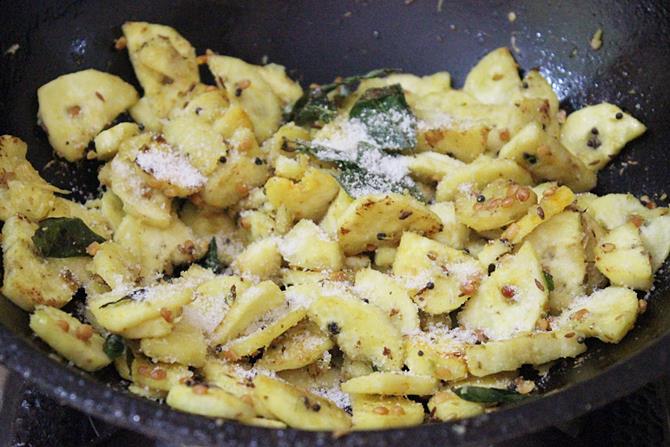 10. Add the coarsely crushed (pulsed) chili onions paste. Fry on high till the onions begin to caramelize. Before adding onions make sure the banana is cooked well.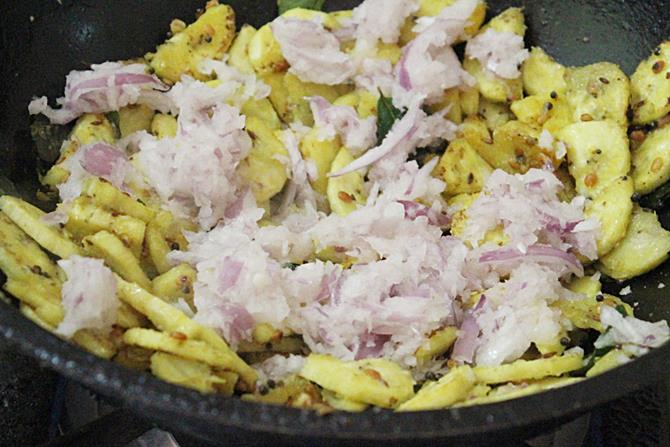 11. Add garam masala, red chili powder (optional) and fry on a low flame till they firm up. Since there is green chili used you can use very little red chili powder for the color. But I haven't used since we like the flavor of green chili in this.