Rice kheer recipe video – Chawal ki kheer or rice kheer is one of the most made sweet dishes in many Indian homes. Kheer and payasam are the terms used interchangeably and both are derived from the sanskrit terms "ksheer" & "payasa" both meaning milk. Rice kheer is made with full fat milk, rice, sugar and cardamom powder.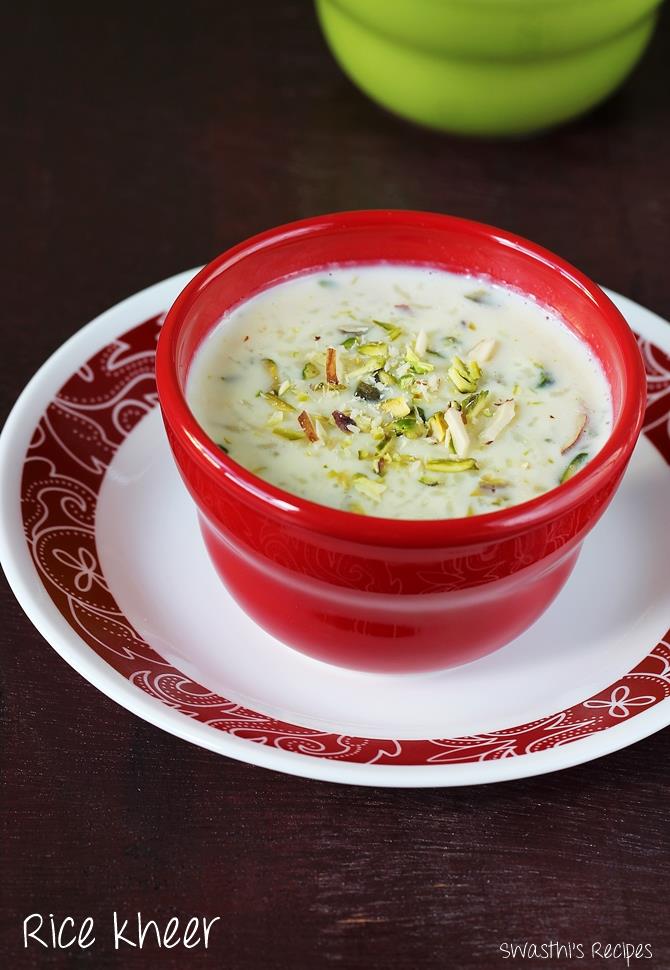 Though there are many kinds of kheer, the one made with rice is most common one. This is similar to the rice payasam made with jaggery in the south.
To make chawal ki kheer, many people prefer basmati rice since it makes the dish very flavorful. The rich, creamy and delicious taste comes from simmering the kheer on a low heat for long time.
For more kheer recipes, you may like to check
Badam kheer
Sabudana kheer
Carrot kheer
Mong dal kheer
Video of rice kheer recipe
Rice kheer recipe below
Rice kheer recipe | Chawal ki kheer | How to make rice kheer recipe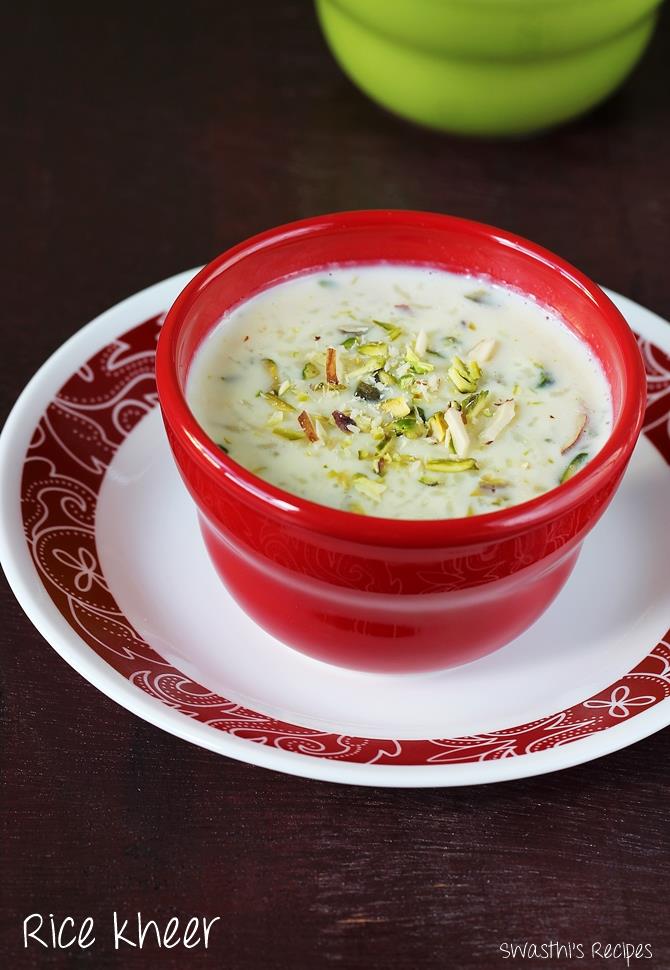 Rice kheer recipe - Indian rice pudding made with milk and sugar.
Recipe type:
Dessert / Sweet
Ingredients (240 ml cup used)
4 cups or 1 liter full fat milk
¼ cup basmati rice or any other rice
⅓ to ½ half sugar (prefer organic) (1/3 cup for moderate sweetness)
2 to 3 green cardamoms / elaichi powdered
¼ cup blanched and chopped badam and pista
How to make the recipe
Preparation
Wash rice and soak in water for about 30 mins. This helps to cook the rice quickly. Bring 1 cup water to a boil, add nuts and soak for about 10 mins. Peel off the skin and pat dry. Chop them as desired.
Making rice kheer
While the rice soaks, bring milk to a boil in a large heavy bottom pot.
Add drained rice and begin to cook on a medium flame until the rice is soft, completely cooked and lightly mushy.
Add sugar, stir and continue to cook until the kheer turns thick. Keep stirring in between to prevent burning.
Add cardamom powder and nuts. Stir and continue to cook for 5 minutes.
Switch off when the rice kheer reaches a desired consistency. It is good to switch off when it is of a runny consistency. It thickens once it cools down.
Garnish rice kheer with more nuts and serve.
How to make rice kheer recipe
1. Keep your ingredients ready. We will need about 4 cups or 1 liter of full fat milk. 1/3 to ½ cup of sugar, ¼ tsp cardamom powder, ¼ cup basmathi rice, you can also use any other rice. Nuts as desired. You can also use sweet raisins.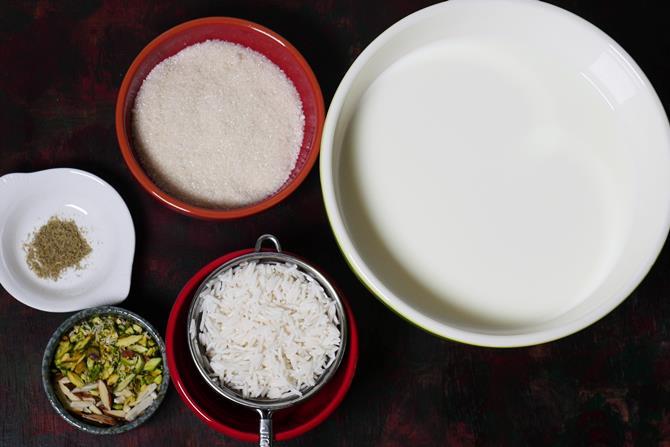 2. Wash and soak rice for about 30 mins. This helps to cook the rice quickly. Drain and set aside.
3. While the rice soaks, you can blanch the nuts in hot water and peel off the skin. Chop them and set aside.
4. Add milk to a heavy bottom pot and bring it to a boil on a medium flame. You can also grease your pot with ghee or rinse it before use. This prevents the milk fats from sticking up to the bottom.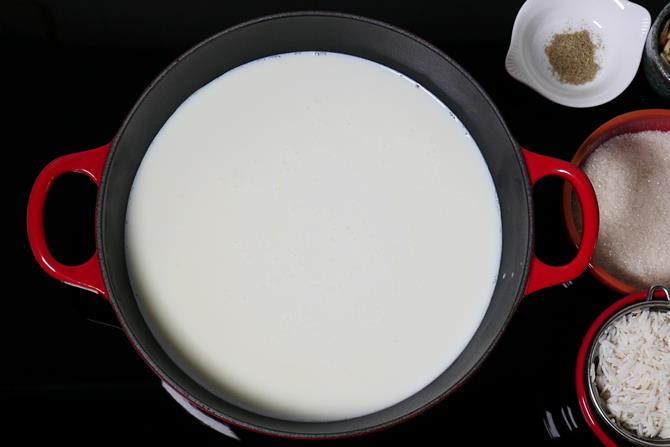 5. When it turns hot or comes to a boil. Add drained rice.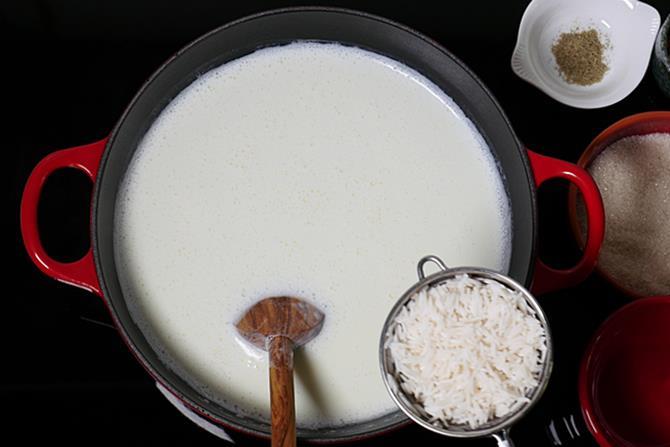 6. Keep stirring often to prevent burning. Keep the flame on low to medium.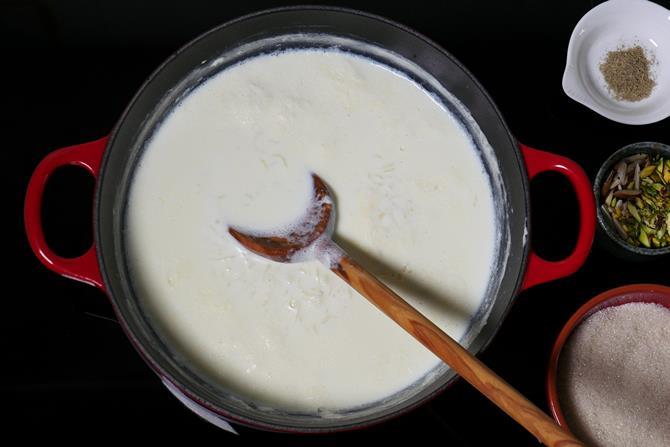 7. Cook until rice is soft and slightly mushy. You can mash it with a spoon and check.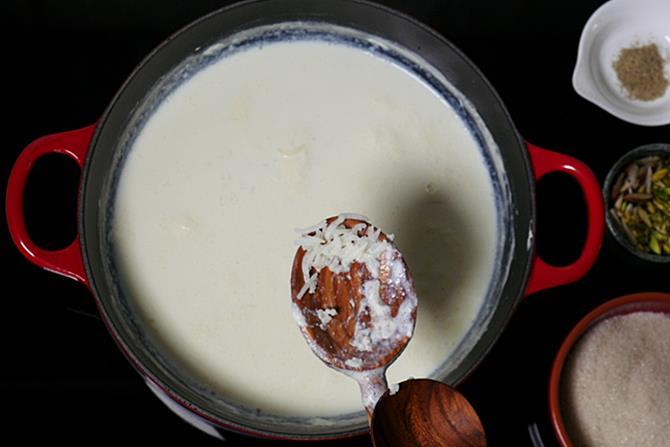 8. Add Sugar. You can add more or less to suit your taste.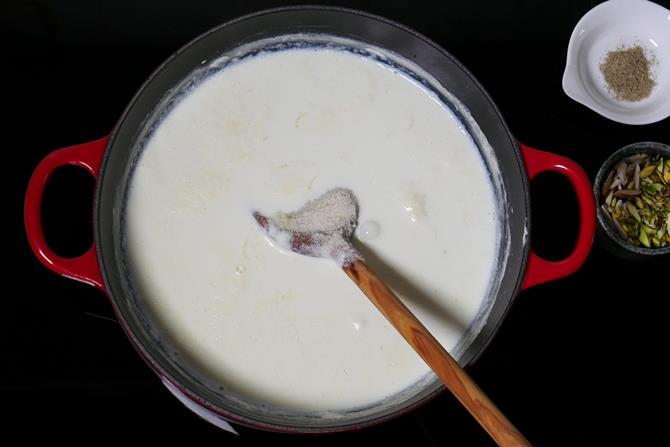 9. Lower the flame and cook until the kheer thickens. You will have to scrape the sides and stir often.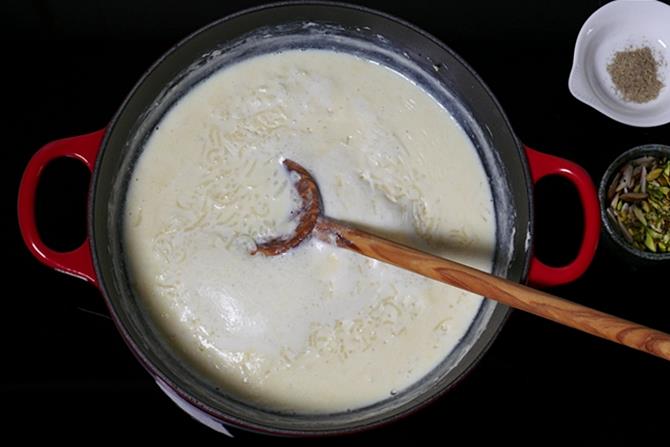 10. Add nuts and cardamom powder. Stir and cook for 5 mins. If adding raisins just do it towards the end. Do not cook after adding them.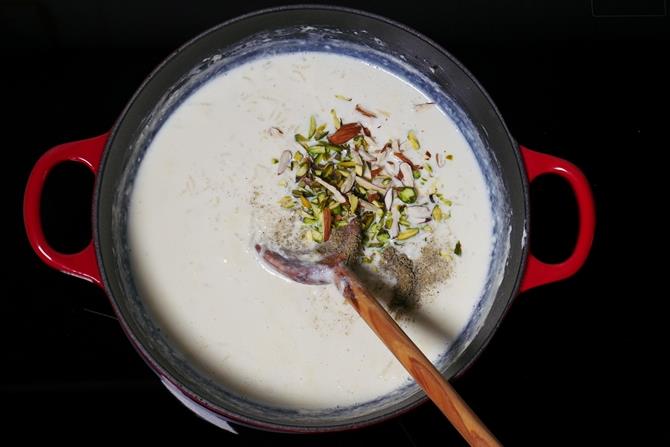 11. When it reaches a thick but of runny consistency switch off the stove. It thickens upon cooling down.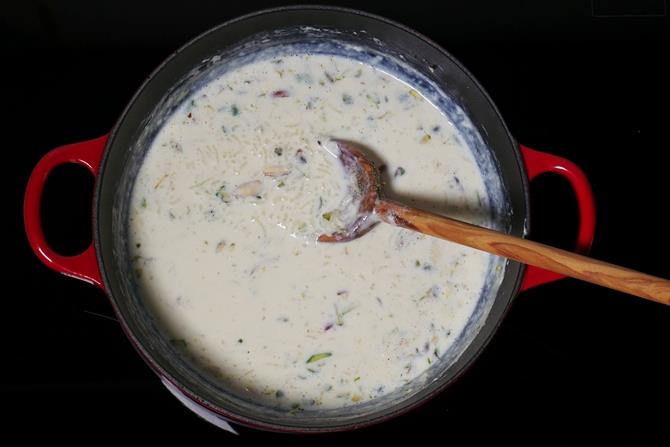 Garnish rice kheer with nuts before serving.