Sambar rice also known as sambar sadam is one of the everyday foods from the Tamil cuisine. Sambar and rice cooked together as a quick fix to a meal. There are so many ways sambar rice can be made, this may not be a authentic style of making sambar sadam. But definitely yields one of the delicious sambar rice. It is similar to the Bisi bele bath from karnataka cuisine.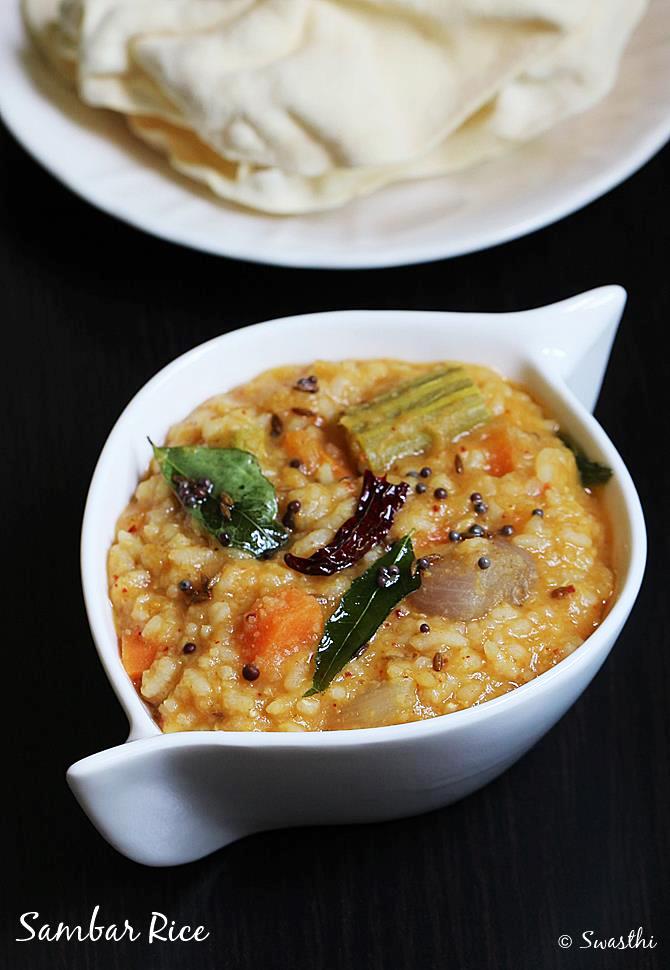 To make this sambar rice, i have used brown rice and a small quantity of white rice along with dal. This is the way I make this recipe at home and sometimes like to replace brown rice with soaked fox tail millets – thinai arisi in tamil / korra biyyam in telugu / navanakki in kannada.
However you can also make this only with white rice. But those who are looking for ideas to add brown rice or millets to your diet but do not like the taste, may like this sambar sadam.
 
You may like to check more rice recipes
Curd rice
Dal khichdi
Tomato rice
Ghee rice
Venn pongal
South Indian sambar rice or sambar sadam recipe
Sambar rice recipe | Sambar sadam recipe | How to make sambar rice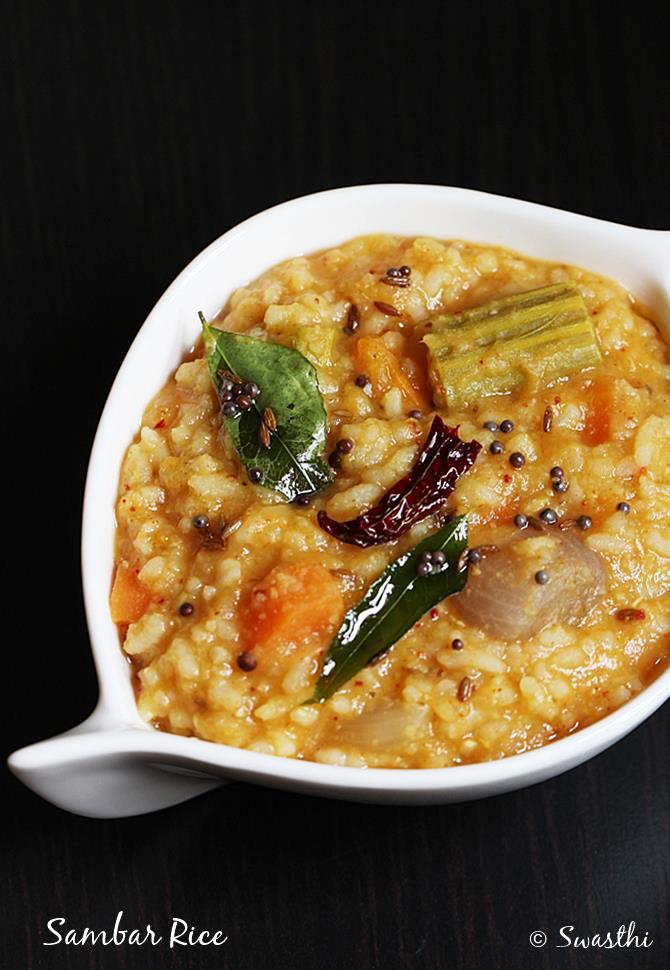 Ingredients (240 ml cup used)
¼ cup plus 2 tbsps toor dal or 6 tbsp (can use little moong dal)
½ cup rice (brown rice white rice or millet)
2 cups water
1 sprig curry leaves
1.5 tbsp. ghee or oil as needed
2 generous pinches of turmeric
Shallots 8 to 10 or 1 medium onion
1 small or half drumstick
1 carrot
1 medium tomato
Small lemon sized tamarind
Sambar powder
half tsp chana dal
half tsp urad dal
1 red chilies
¼ tsp plus one pinch cumin/ jeera
1 tsp coriander seeds
¾ tbsp coconut fresh or dry
How to make the recipe
Wash and pressure cook rice dal together with 2 cups of water for 1 to 2 whistles.
Meanwhile, make the sambar powder by roasting ingredients one after the other.
Cool and powder.
Heat ghee in a pan and season with cumin, mustard, red chilli, curry leaves and hing.
Add veggies and saute for 2 minutes. Saute tomatoes along with turmeric for 3 minutes.
Pour 1 cup water and cook veggies until soft.
Add tamarind, salt and sambar powder. Cook until the sambar powder begins to smell good.
Add mashed rice and dal.
Stir well to blend the rice dal in cooked veggies.
If needed add more water to bring to consistency.
Serve sambar rice hot with papad or pickle.
How to make sambar rice – step by step photos
1. Add ½ cup rice and ¼ cup plus 2 tbsp dal to a pressure cooker. I have used a mix of toor and moong dal. Wash and soak for about 15 minutes. Cook with 2 cups water for 1 to 2 whistles on a medium flame. You can use a combination of white and brown rice or white rice and fox tail millet. If using millets, soak at least for 2 hours.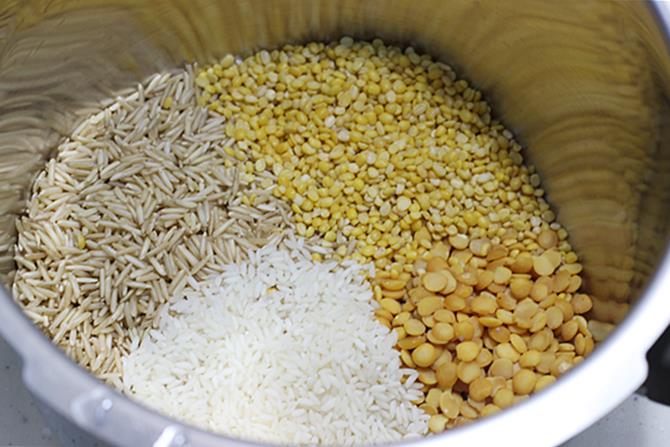 2. If using brown rice, the texture turns out perfect even when the dal and rice are cooked together. Since brown rice doesn't turn very mushy but the dal turns very soft and hence adds a smooth texture to the sambar rice. Mash the dal and rice. Dal must become soft and blend well with rice.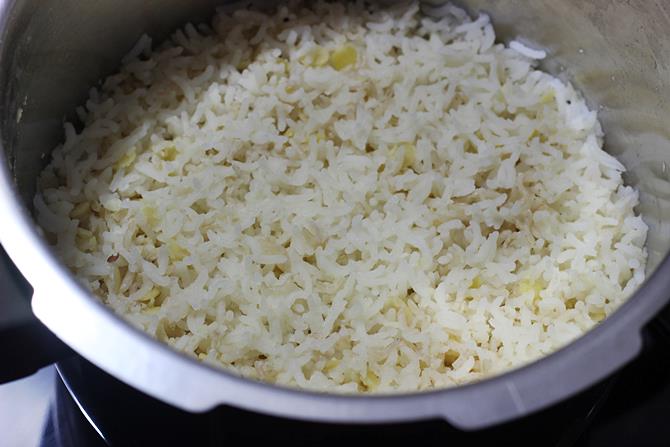 3. If you have ready sambar powder, skip this one and the next 2 steps. But i suggest making this powder to get a very flavorful dish. Dry roast the ingredients for making sambar powder. You will find double the quantity of ingredients as i doubled it to make this recipe twice. First roast dals with red chilies until lightly golden, add coriander seeds. When they get roasted, add methi, cumin. Switch off the stove when you begin to smell the methi good.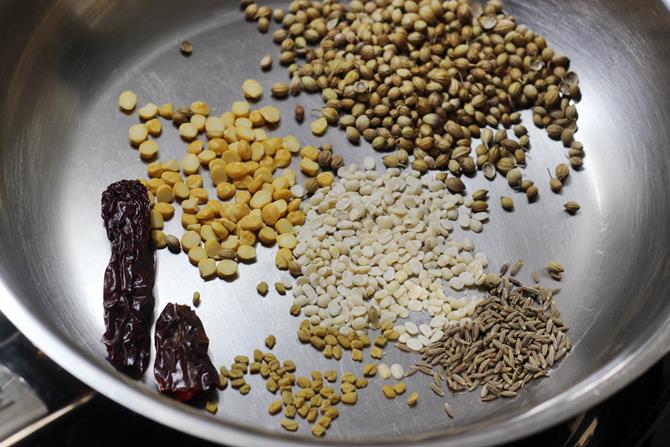 4. Add coconut and toss in the hot pan for a while. You can also skip coconut if you do not have.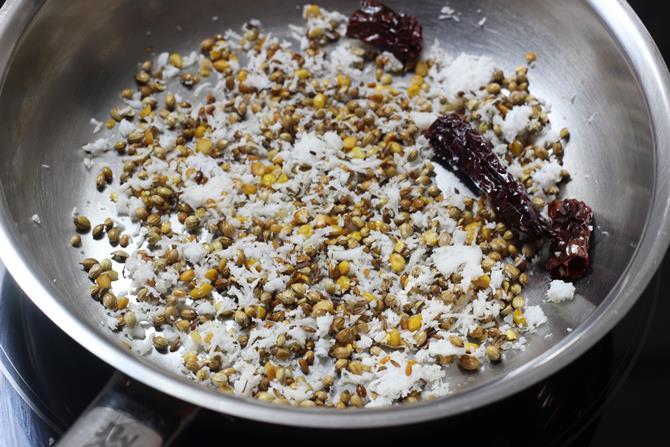 5. Cool these and powder finely.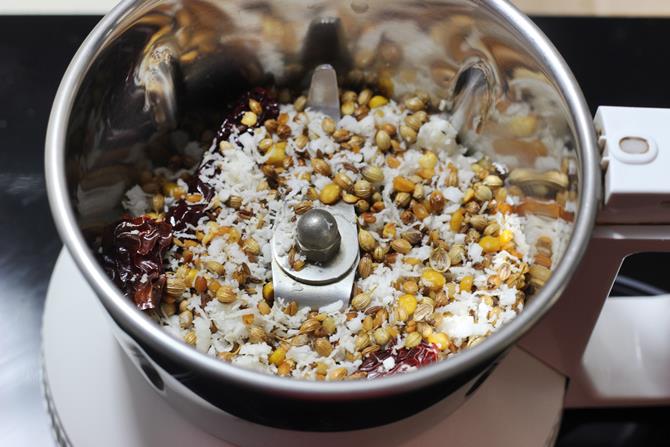 6. Heat ghee or oil in a pan. Add red chili, mustard and cumin. When they splutter add curry leaves and hing. When the curry leaves turn crisp, i set aside half of this seasoning to use at the last step.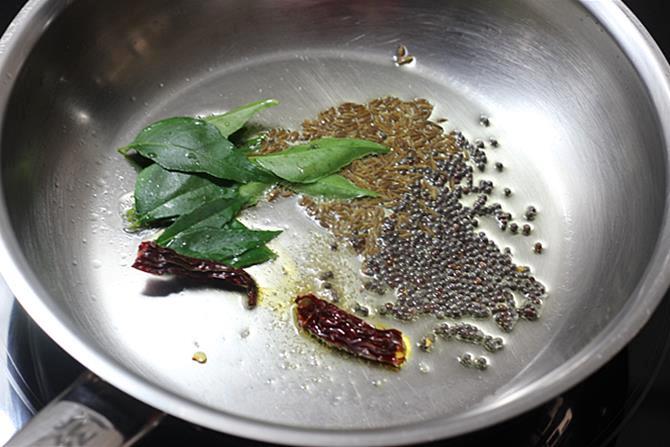 7. Add shallots, carrots, beans and drumsticks. If you are short of time skip drumsticks since they lot of time to cook. Chayote/ chow chow or mullangi can also be used.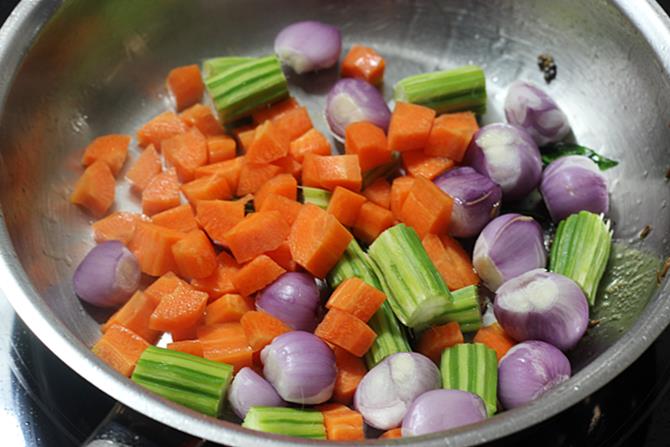 8. Saute well for 2 to 3 minutes. Add tomatoes and turmeric. You can also skip tomatoes. Saute for 3 to 4 minutes.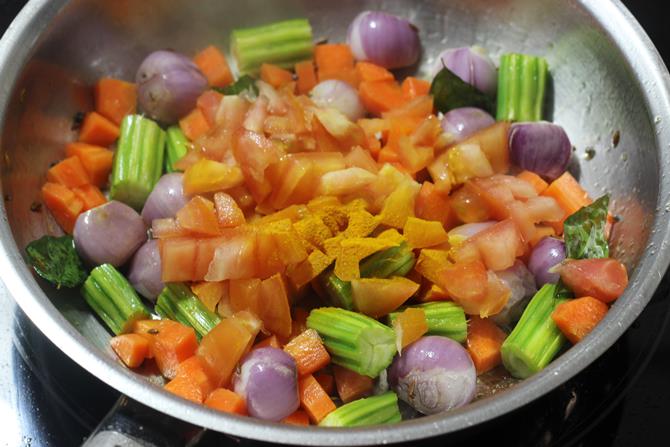 9. Add 1 cup water and cook until the veggies are soft cooked.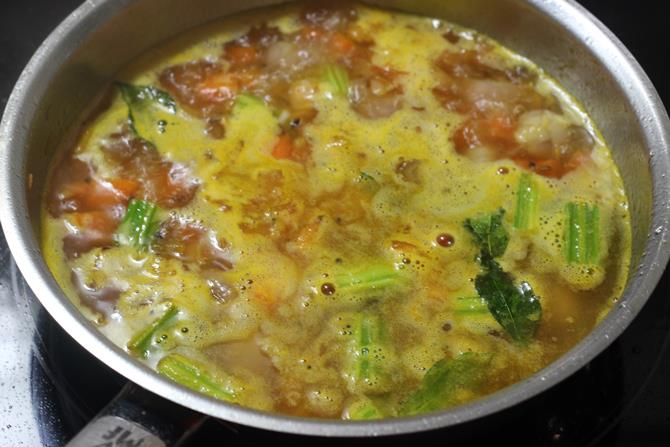 10. Make sure the veggies are cooked completely before adding tamarind.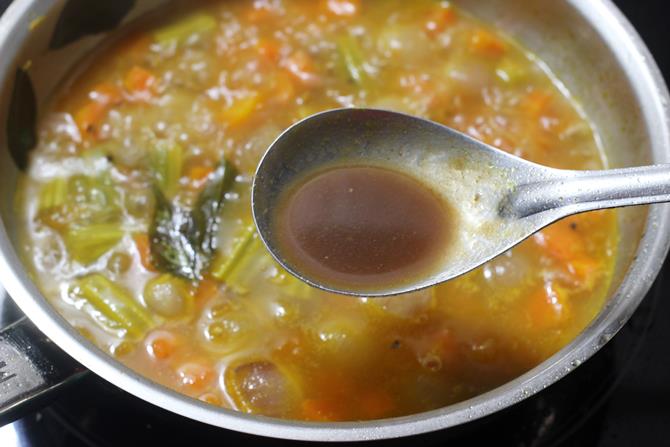 11. Add salt.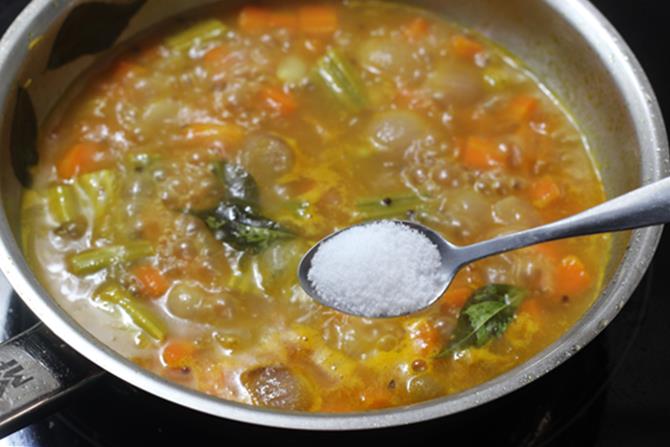 12. Add the sambar powder.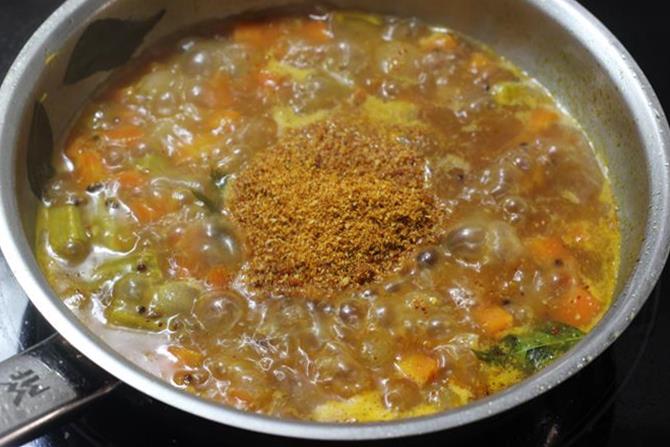 13. Simmer well for few minutes until the spice powder begins to smell good. Check if there is enough sour, salt and spice. You can adjust now.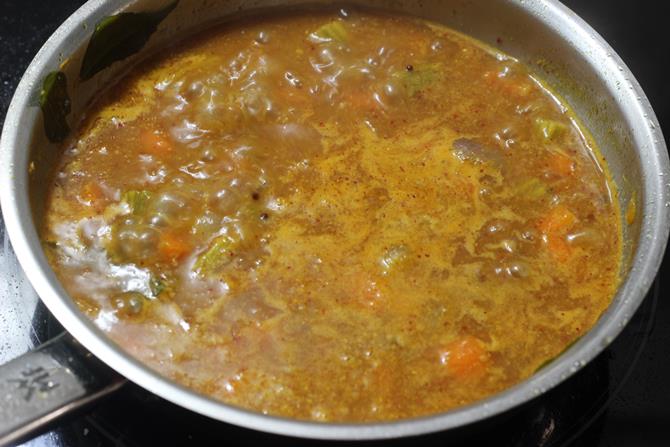 14. Add the mashed rice.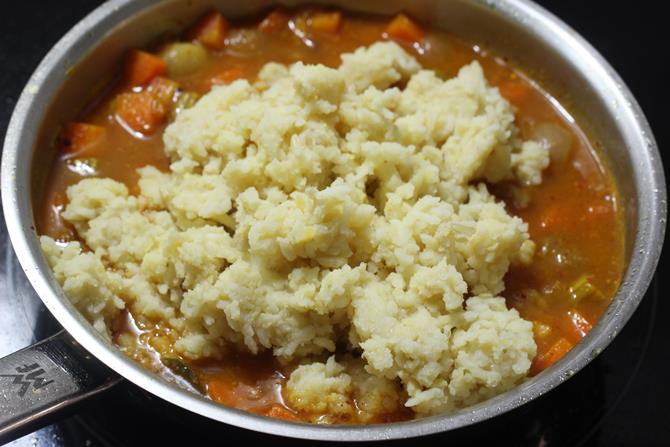 15. Stir well and simmer until dal rice blends with the sambar masala. Add more hot water if needed to bring it to a consistency.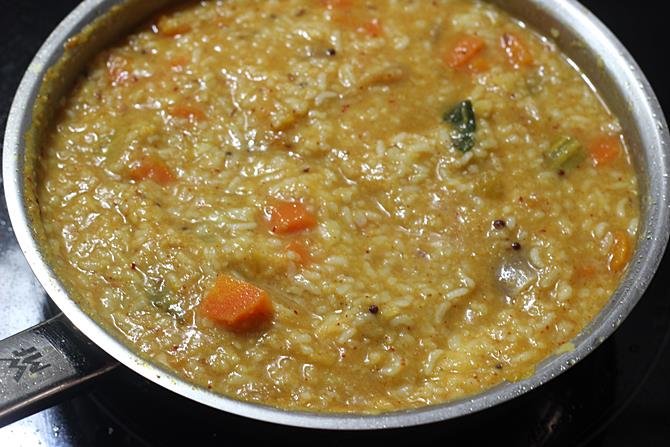 16. Add the tempering that was set aside. This doesn't give any special tadka flavor but i still prefer.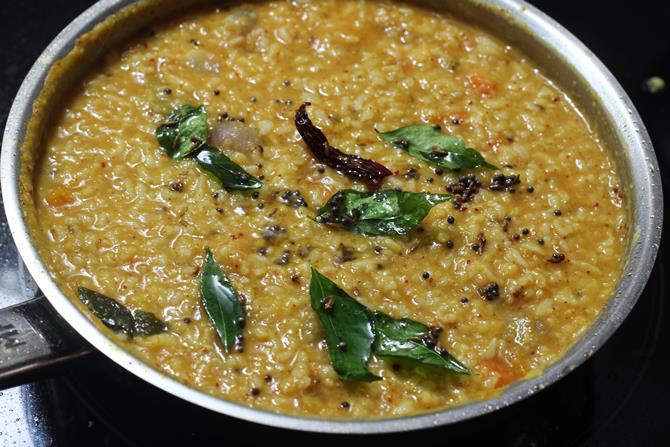 Serve sambar rice with papad and ghee.