sandesh recipe – sondesh is a delicious bengali sweet, popular all over India and abroad. It is often made for festive and special occasions, more importantly for Durga puja during Navratri.
 
There are so many variations of making sandesh recipe and are quite simple as much as just kneading up the three basic ingredients sugar, chena (paneer) and cardamom powder. Refrigerate for few hours and enjoy it.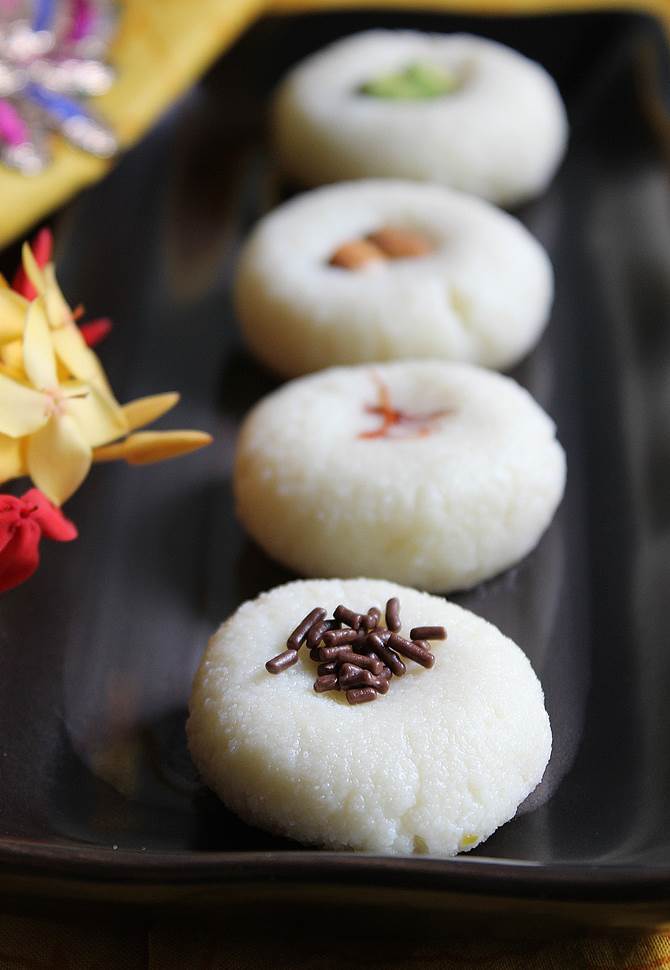 To make sandesh, it is always good to use fresh chena or paneer that is still moist. Instead of sugar, even palm jaggery or a mix of sugar and palm jaggery are used. You can make these cheesy delights more attractive by decorating with whatever you like.
 
Decorate with Choco chips or Choco sprinkles.
 
Nutty decoration using pista and badam.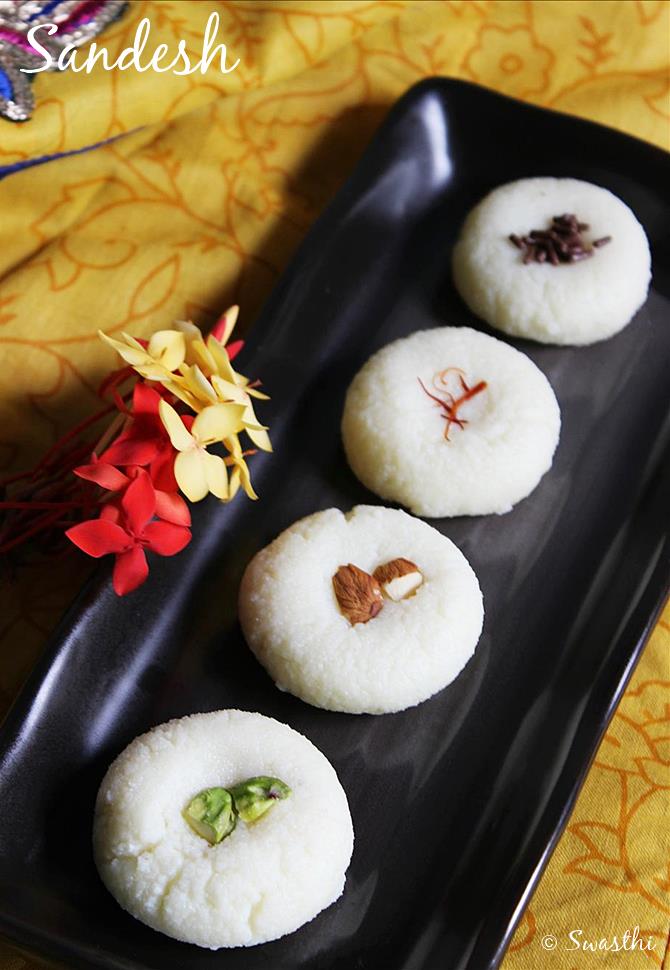 you can even garnish with Tutti Frutti.
 
Apart from the 3 main ingredients, I haven't used anything else to make this. You can add 1 tsp. pista almond powder to the mix while kneading, however the color of the sandesh turns pale if added.
 
how to make bengali sandesh recipe with step by step photos
1. If you are a beginner and making paneer the first time i suggest reading my detailed post of how to make soft paneer, which i shared on my rasgulla or paneer posts. However iam also sharing briefly here.
2. Bring 3 cups full fat milk to a boil.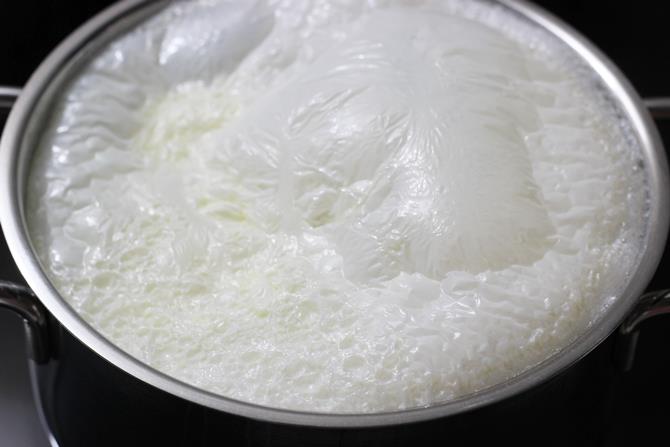 3. Add 4 to 5 tbsp curd or lemon juice diluted with water to the milk. Stir well. When you see the milk begins to curdle, switch off the heat. Make sure it is curdled well. Allow to settle just for a minute.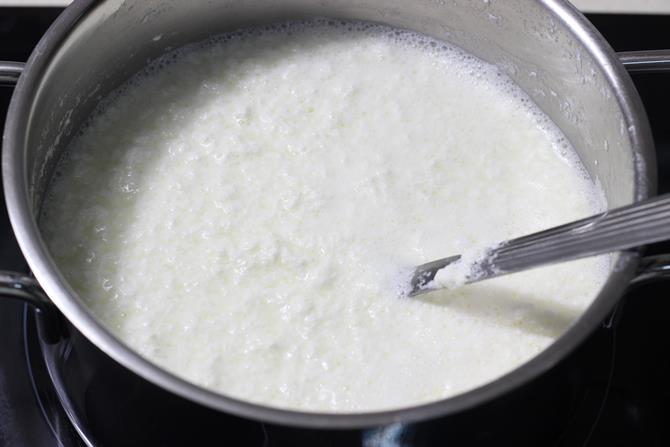 4. Place a muslin cloth on a colander. Drain off the paneer. If you have used lemon juice, Rinse the paneer under running water. If you have used curd, you can just skip rinsing.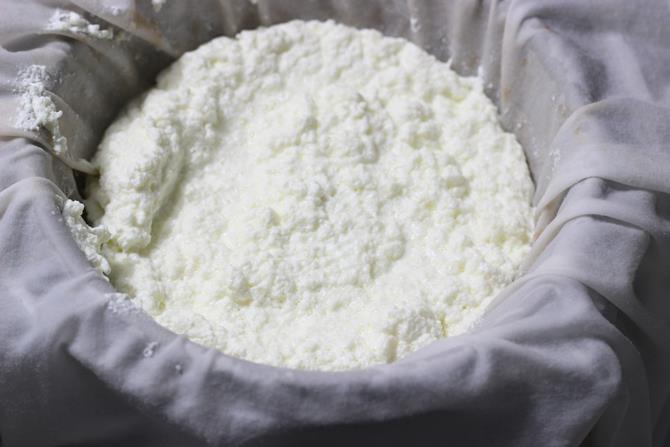 5. Squeeze off the excess water from paneer. Make a knot of the cloth, hang it for sometime to drain up excess dripping whey. We just need moist paneer, so make sure there is no dripping whey or water from paneer otherwise sandesh will turn grainy.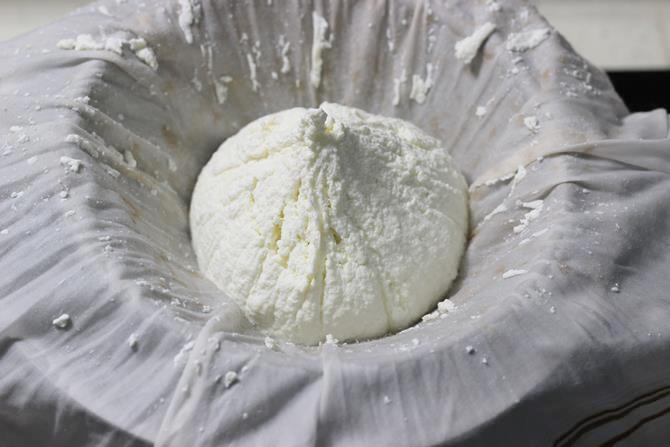 6. Add moist paneer, sugar (powdered) and rose water or cardamom powder to a nonstick pan, begin to heat on a low flame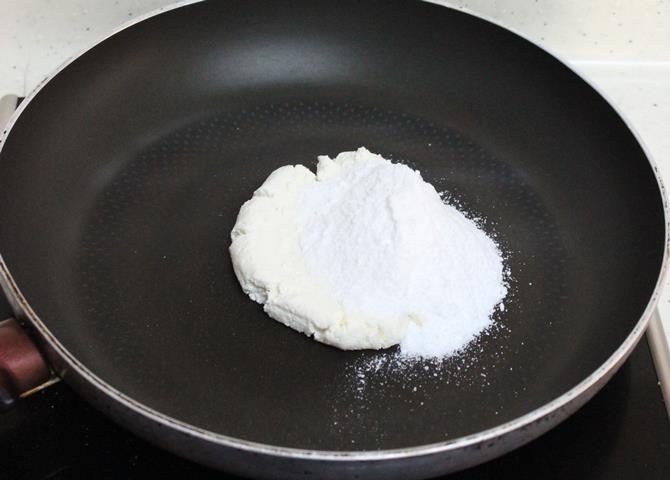 7. Sugar melts and becomes gooey, continue to cook on a low flame till it reaches a thick consistency. It also begins to leave the sides and looks crumbly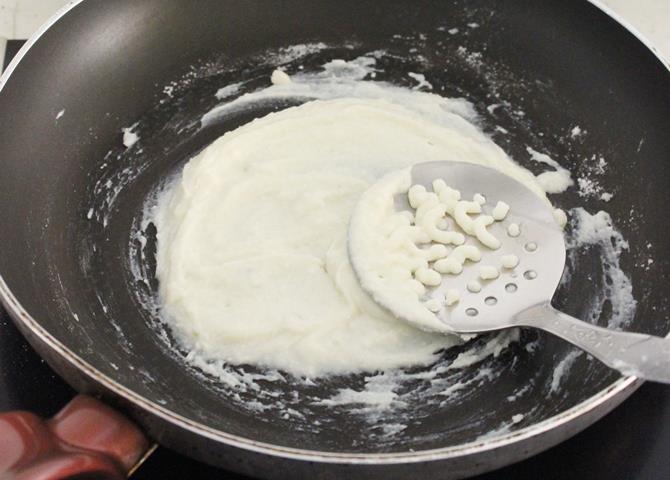 8. When it cools down. knead lightly. If you desire to add pista almond flour , you can add and knead it till everything blends well. I haven't added any thing.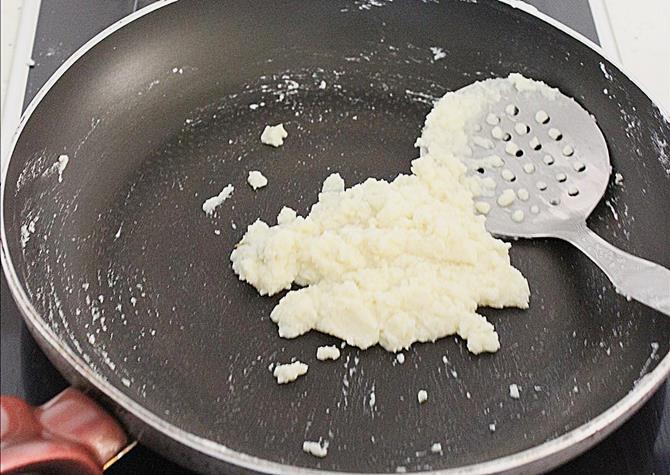 9. Roll them to balls and flatten a bit. Tuck whatever you wish to garnish in the centre. Refrigerate for 2 hours and serve.
Tuck in Nuts or few strands of Kesar for a traditional look.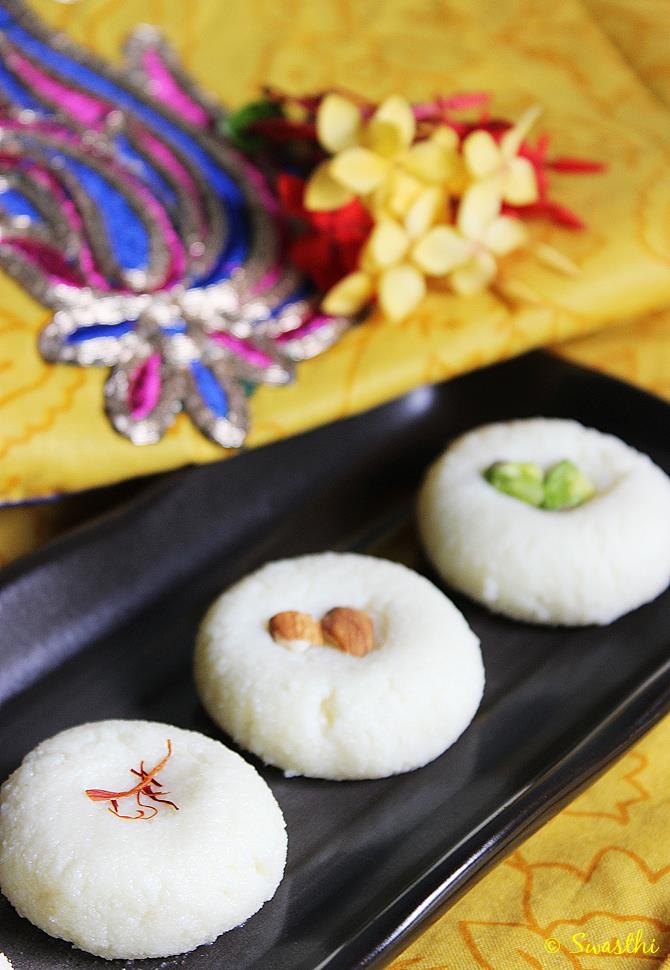 Shelf life is short. Refrigerate and finish sandesh within 2 to 3 days
 
for more easy bengali sweets, check
rasmalai in 10 minutes
kalakand in 10 minutes
paneer kheer in 10 minutes
 
find complete bengali sandesh recipe below
sandesh recipe - how to make bengali sandesh at home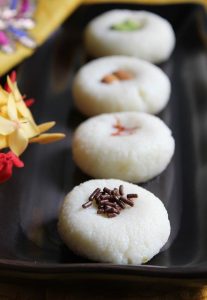 Popular bengali sweet, Sandesh made using paneer
Ingredients (240 ml cup used)
½ cup moist paneer / Indian cottage cheese
2 ½ tbsp. Powdered sugar
Pinch of cardamom powder or rose water
Garnishing as desired
Pista, almonds, saffron, Choco sprinkles or tutti fruit
How to make the recipe
To a nonstick pan, add moist paneer, powdered sugar and rose water or cardamom powder . Mix well and cook on a low flame
The mixture melts off and becomes gooey, cook until you get a thick consistency and the mix leave the sides of the pan
Cool down, Kead lightly and roll to balls and flatten slightly. pista or almond flour can be added while kneading.
Garnish with nuts or saffron.
Refrigerate and consume sandesh within 2 days