schezwan noodles recipe – Indo chinese spicy veg noodles flavored with sauces and sichuan pepper. This recipe includes making instant schezwan sauce for the noodles. The recipe shared here makes 2 servings, please do not gauge the quantity of ingredients in the step by step photos since i had doubled the recipe when i made it.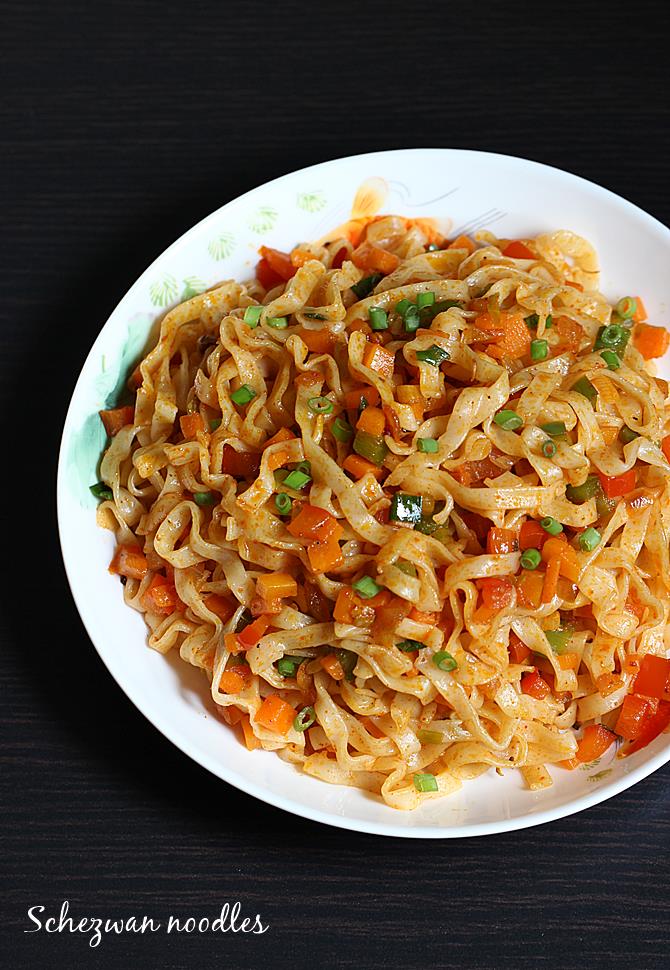 You can use any kind of noodles like soba, udon or rice noodles. Just follow the instructions on the pack for cooking time.
 
how to make veg schezwan noodles
1. Chop the veggies you desire to use along with garlic and onions. Set these aside.
2. Bring water to a rolling boil in a large pot. Add the noodles and cook until al dente.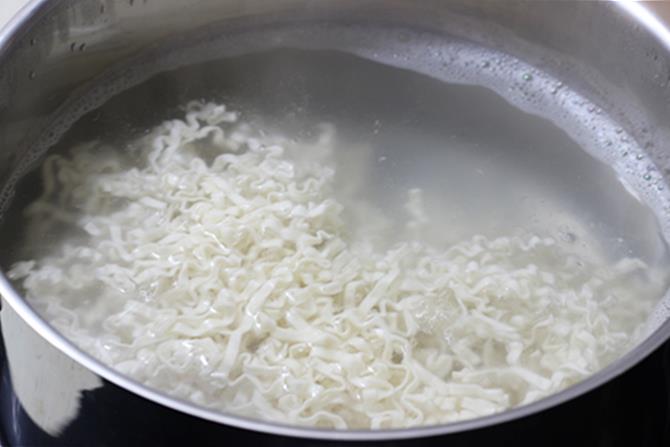 3. Drain to a colander and rinse. Add a tsp of oil and toss well. Set aside.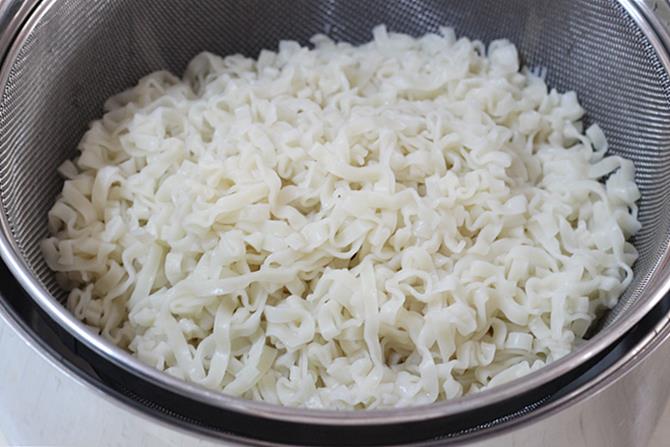 4. Make a red chili paste by adding red chili powder to a small bowl. Add few tsps of water to make a thick chilli paste. Please note that the red chili powder must be of good quality and less hot. You can also soak deseeded kashmiri red chilies and blend them to a paste.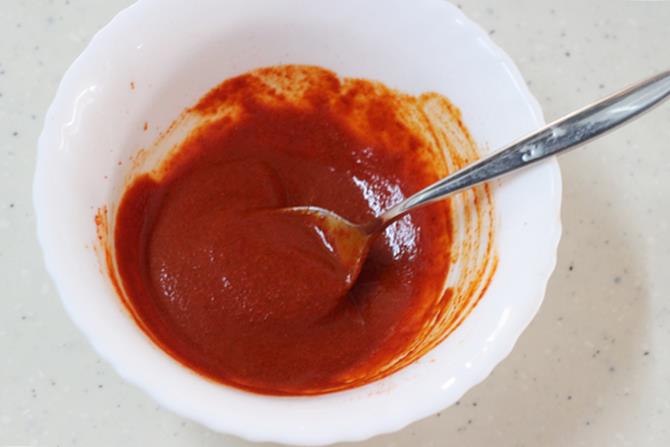 5. Heat a pan with oil, Saute ginger, garlic until they turn aromatic. In restaurants, one can find broken red chilies in schezwan noodles or fried rice. If you like that, you can saute them until crisp and set aside. Add them to the pan along with noodles at the end.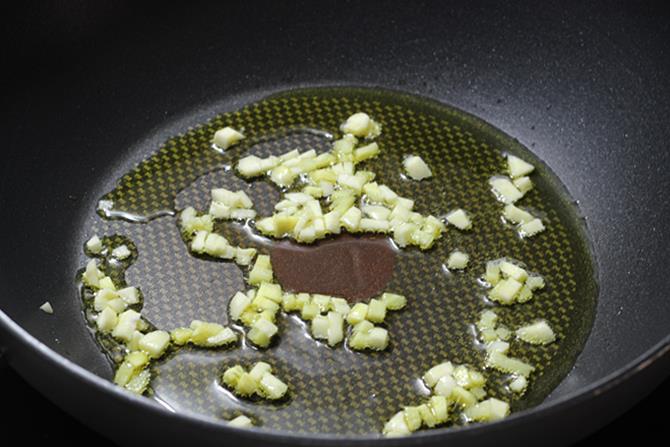 6. Add finely chopped onions. Saute until they turn golden.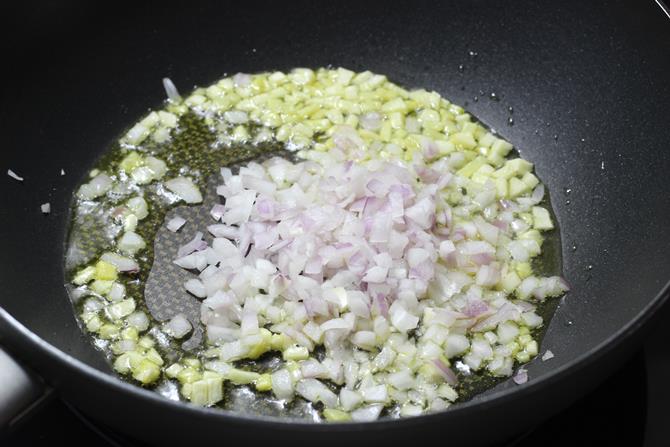 7. Add the red chili paste and very little salt.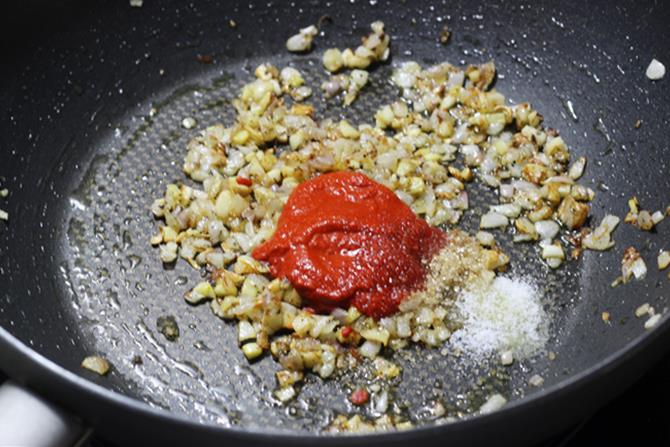 8. Then add soya sauce and sugar.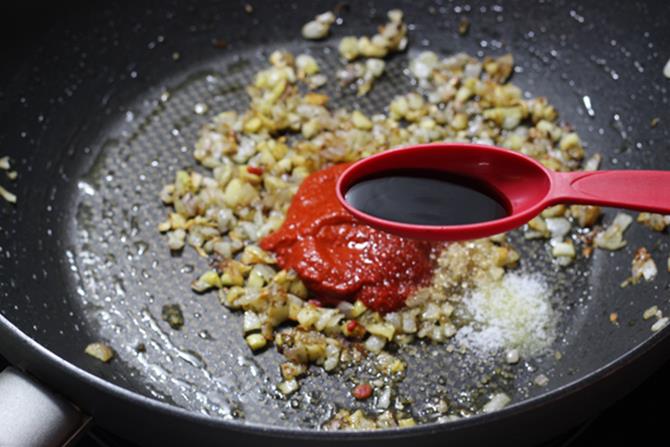 9. Add Vinegar.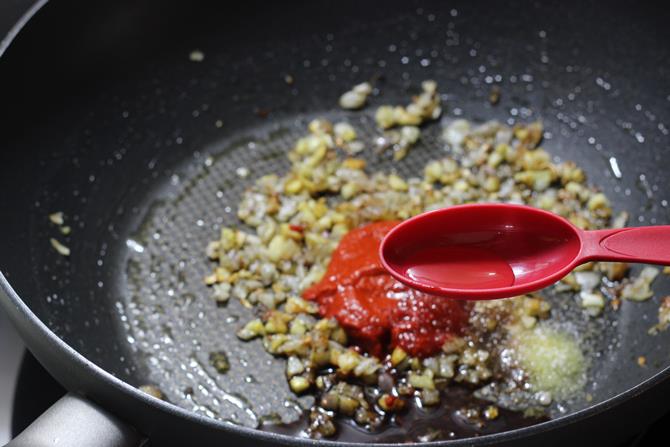 10. Add 1 tbsp water. Mix well. Add crushed sichuan pepper, you can replace it with pepper.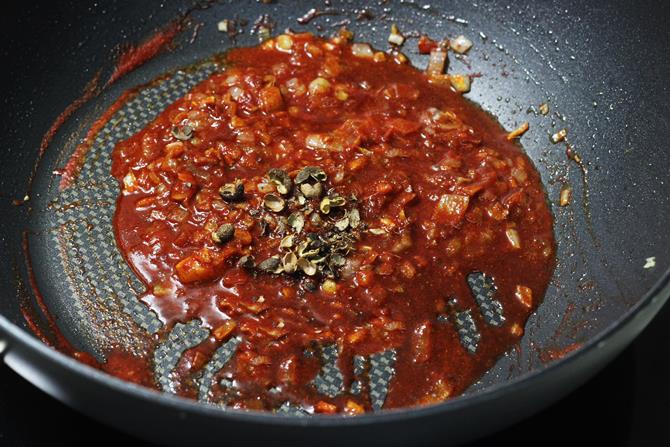 11. Cook until the oil begins to separate. Set this aside.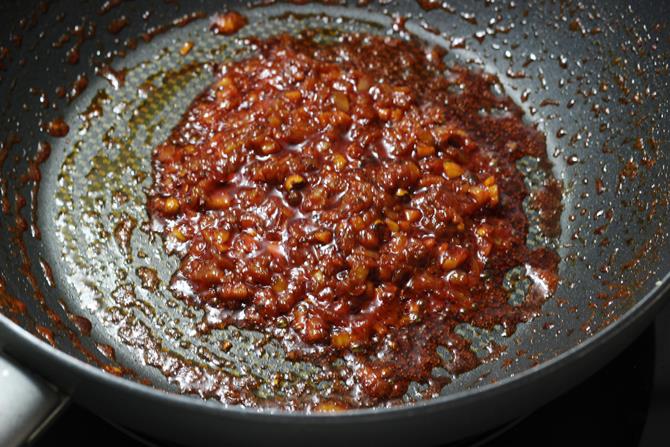 12. Add chopped veggies to the empty pan and saute until they are half cooked.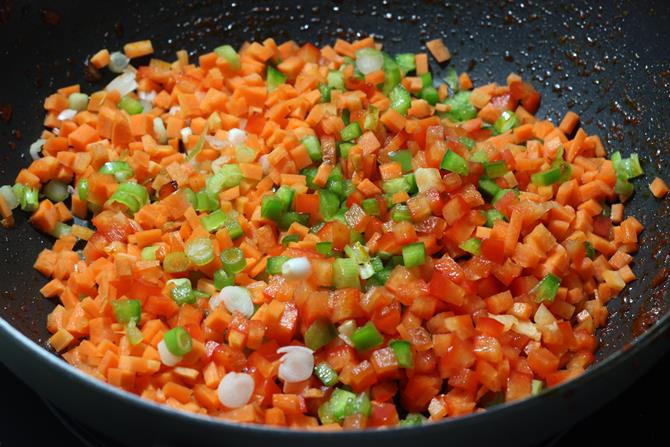 13. Add the sauce we kept aside, noodles and spring onion greens. Fried red chilies can be added now if you have kept it aside from step 5.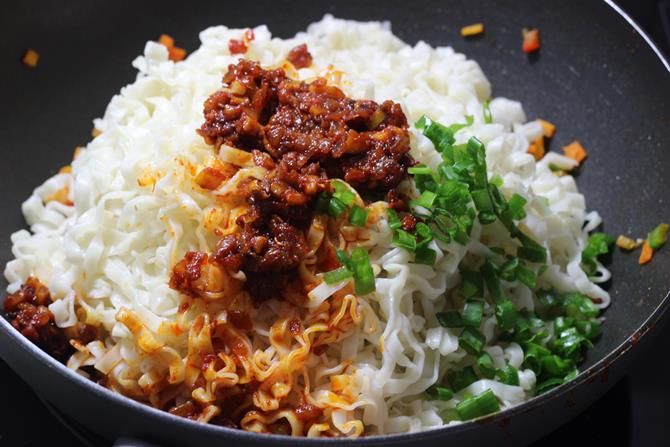 14. Add more oil and salt if needed. Fry on a high flame for 2 to 3 mins.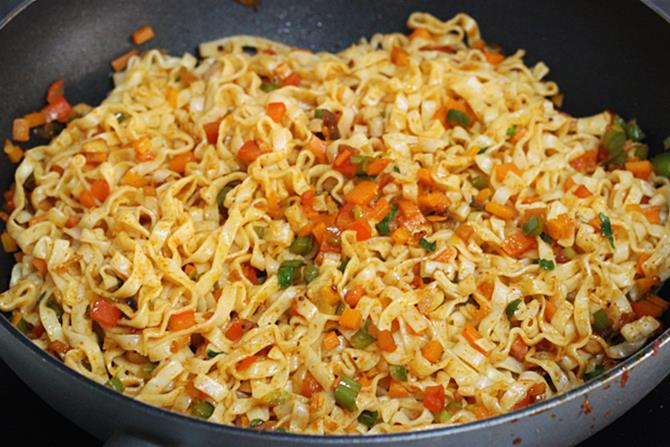 Serve hot.
 
veg schezwan noodles recipe below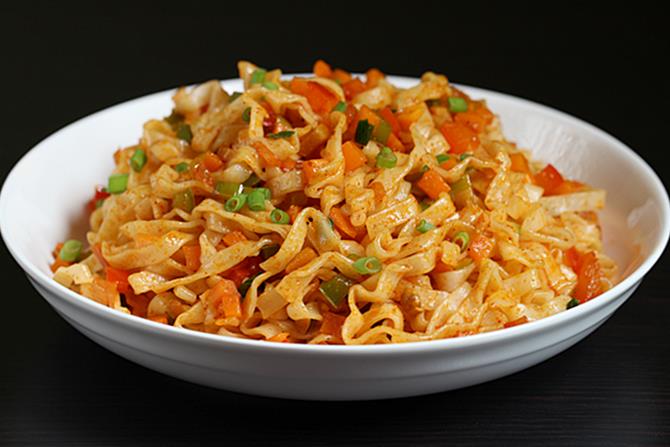 This recipe can also be used to make spicy egg noodles, just beat an egg and pour it to the pan once the veggies are fried. Fry until the egg is cooked completely. You can use little more of the sauce, vinegar and chilli if using egg. You can also use boiled egg in this recipe after step 11.

schezwan noodles recipe, how to make spicy veg noodles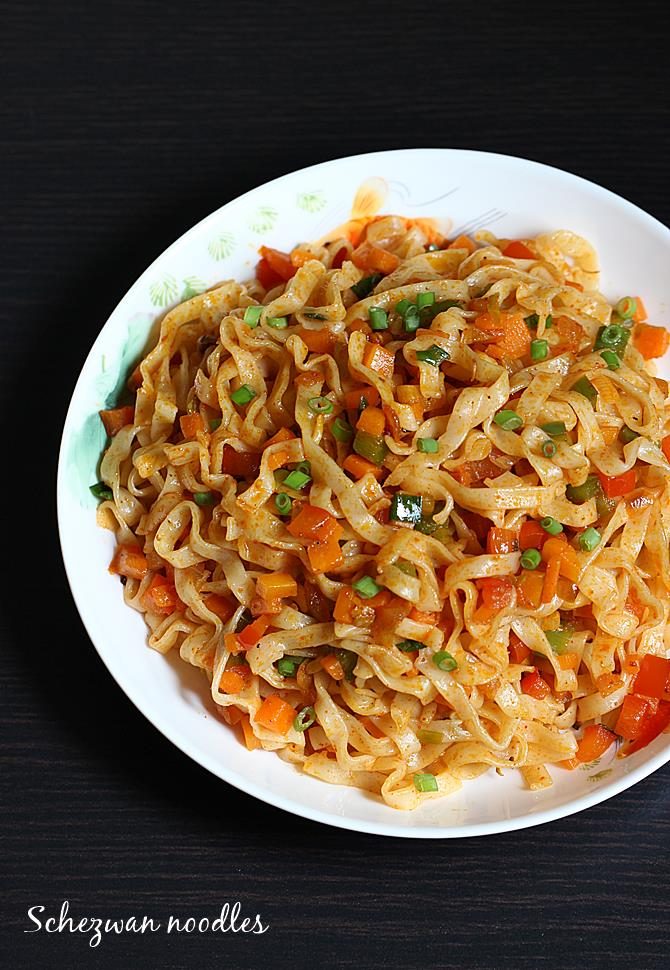 Ingredients (240 ml cup used)
2 cakes of noodles (or 2 serving size)
2 to 3 tbsp. olive oil
¾ to 1 ¼ tsp red chili powder or red chili paste (adjust as needed)
1 tsp garlic cloves chopped finely
1 tsp garlic cloves chopped finely
1 medium sized onion chopped finely
salt as needed
½ tsp sugar
1 to 1 ½ tsp soya sauce (naturally brewed)
½ to ¾ tsp vinegar
½ tsp gently crushed sichuan pepper or regular pepper corn crushed
1 ¼ cup mixed veggies chopped ( carrots, capsicum,beans, mushrooms)
2 sprigs spring onions ( separate greens and whites)
How to make the recipe
Add noodles in boiling water and cook until aldente. Do not over cook. Drain and rinse them well.
Add little oil and toss them. While the noodles cook make red chili paste. Mix chili powder with little water to make a thick paste.
Saute ginger and garlic in oil. Fry onions until golden. Add red chili paste, salt, sugar, soya sauce and vinegar.
Add 1 tbsp water and pepper. mix well. Fry until the oil separates. Keep this aside in a plate.
Add little more oil and fry veggies along with spring onion whites in the same pan until half cooked but crunchy.
Add the noodles, sauce and spring onion greens..
Mix and Fry for 2 to 3 mins. Add more oil and salt if needed.
Serve hot.