Chicken curry recipe without coconut – Learn to make simple chicken curry with gravy using basic ingredients. It tastes delicious, chicken turns out soft, tender and juicy. This can fairly be made in less than 50 minutes.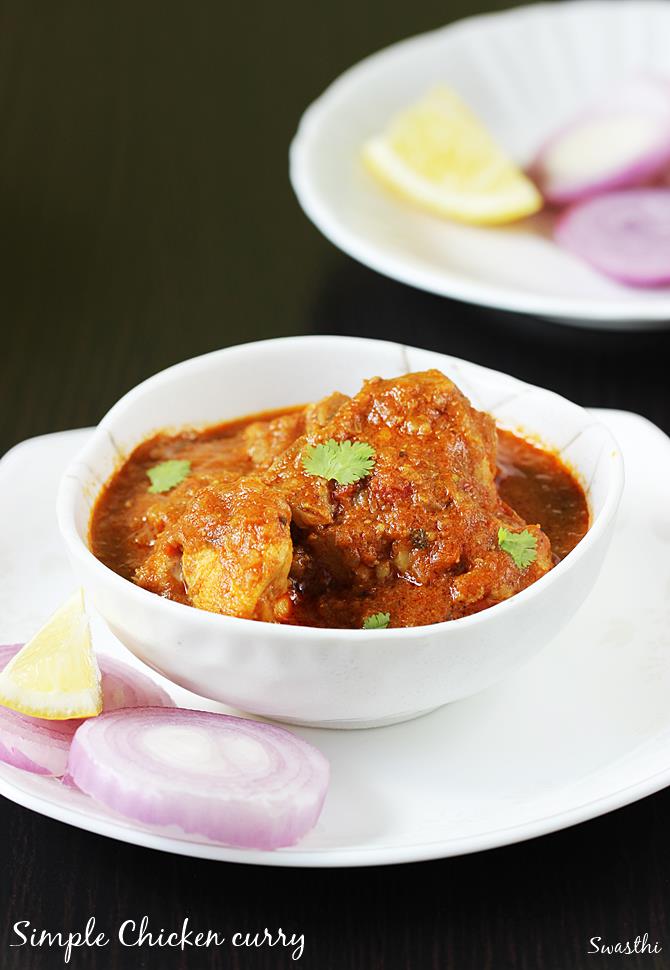 This chicken curry recipe is one of the easiest that even a novice cook or bachelor can follow. There is no marination needed or grinding any masala. It can be prepared with any readymade garam masala or biryani masala, whatever is available. I have mentioned some substitutes for certain ingredients, you can use whatever you like.
Any chicken curry tastes best when made with bone-in chicken, however boneless also can be used.
You may like to take a look at the Top 10 Indian chicken curry recipes.
This simple chicken curry goes very well with plain rice or any Indian flat breads like roti / chapathi, butter naan or flavoured rice like pulao, jeera rice or ghee rice. Any variety of raita too go great in this meal.
Simple chicken curry recipe below
Chicken curry recipe | How to make Indian chicken curry without coconut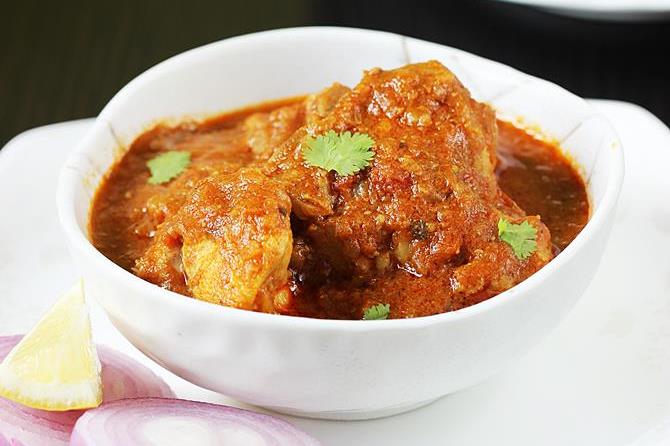 Simple chicken gravy made with basic ingredients. Pairs great with rice, roti or paratha
Ingredients (240 ml cup used)
½ kg chicken (preferably bone-in)
2 to 3 tbsp. Oil
1 small bay leaf / tej patta
4 cloves / laung
2 inch thin cinnamon stick / dalchini
3 green cardamom / elaichi
½ tsp. cumin/jeera or shahi jeera (optional)
2 green chilies slit
1 cup finely chopped onions or grated or paste (3 medium onions)
1 tbsp. ginger garlic paste
½ cup finely chopped ripe tomatoes or puree (deseeded)(2 medium tomatoes)
¼ tsp turmeric powder / haldi
salt as needed
¾ to 1 tsp red chili powder (adjust as needed)
1½ tsp. garam masala powder (adjust to suit your taste)
Fistful of chopped coriander leaves or mint/pudina
½ to 1 cup hot water
For taste (optional)
2 tbsp. yogurt/Curd or 10 cashews or 3 tbsp poppy seeds (ground to smooth paste)
How to make the recipe
Preparation
Wash chicken thoroughly and drain off the water completely.
Chop onions and tomatoes finely. Make ginger garlic paste.
Making chicken curry
Heat oil in a deep pan, add all the dry spices and fry till you get an aroma, just for a min.
Add onions, chilies and fry evenly till golden. Add ginger garlic paste and fry till the raw smell goes off.
Add mashed tomatoes or puree, turmeric and salt. Mix well and cook until the tomatoes turn soft.
Add curd or cashew paste and red chili powder. On a low heat cook until the mixture smells good and the raw smell goes away.
Add chicken, garam masala and coriander or mint leaves. Fry till the meat turns white .Takes around 3 mins.
Cover and cook on a low flame for 3 to 5 mins. In a separate pot, heat up 1 cup water. Sometimes chicken lets out lot of moisture. Pour hot water just enough to make a thick gravy. Do not add too much water, curry will become runny. Cover and cook on a medium flame till it is cooked soft. Check and adjust the salt
Add coriander leaves, cover and off the heat.
Serve chicken gravy with rice, chapathi or jeera rice, ghee rice or pulao.
Nutrition Information
Calories:
384
Fat:
22g
Saturated fat:
4g
Carbohydrates:
32g
Sugar:
10g
Sodium:
287mg
Fiber:
2g
Protein:
18g
Cholesterol:
60mg
If you are using naatu kodi / kozhi (country chicken) you can make this chicken gravy in a pressure cooker and cook for 4 whistles on a medium flame.
For more similar recipes, you may check
Chettinad chicken gravy
Kerala chicken
Butter chicken
Kadai chicken
Pepper chicken
Chicken kurma
How to make chicken curry without coconut
1. Heat 2 tbsps of oil in a kadai or heavy bottom or nonstick pan. Saute cinnamon, small bay leaf, 4 cloves, 3 cardamoms in hot oil just for a min to turn them fragrant. You can also use shahi jeera or cumin if you like.


2. Add 1 cup very finely chopped onions and slit green chilies. You can also use onion paste or grated onions. Stir well and fry until the onions turn golden.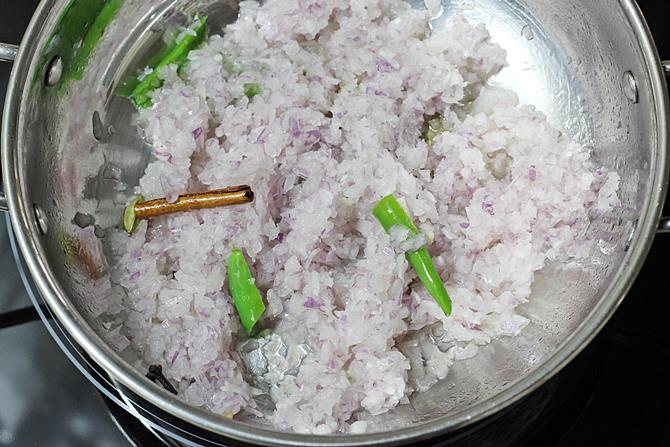 3. Make sure the onions turn golden before adding 1 tbsp ginger garlic paste. At this stage i used another tbsp of oil and this is optional.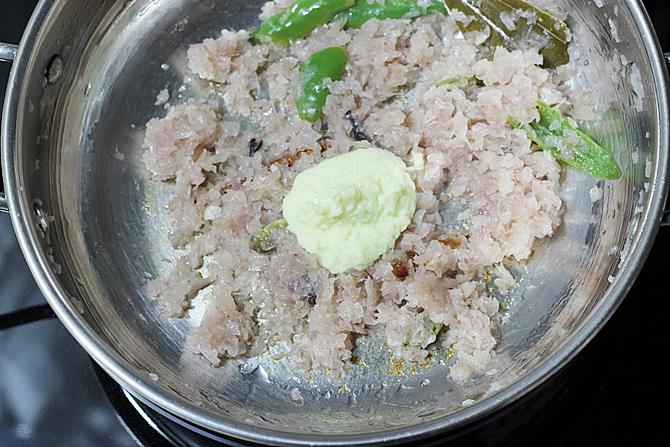 4. Saute ginger garlic until the raw smell disappears completely.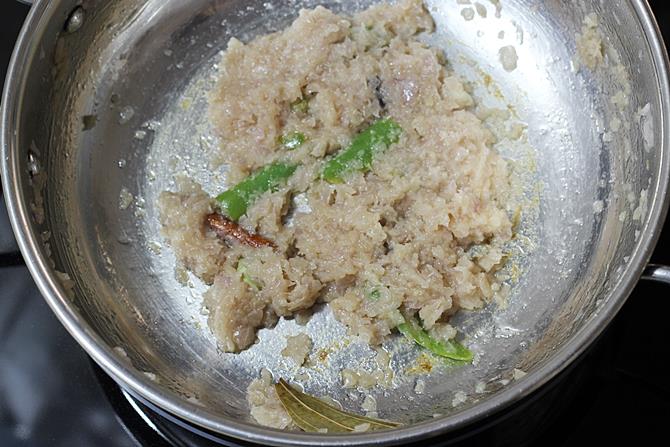 5. Add deseeded finely chopped and mashed tomatoes along with turmeric and salt. You can also use tomato puree or grated tomatoes.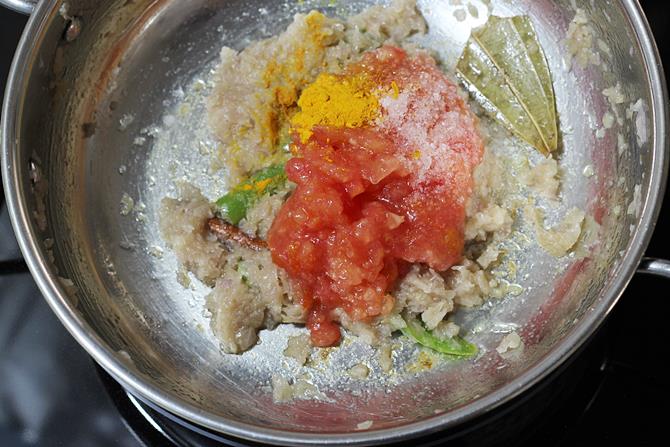 6. Fry until the tomatoes turn completely mushy and the raw smell has gone.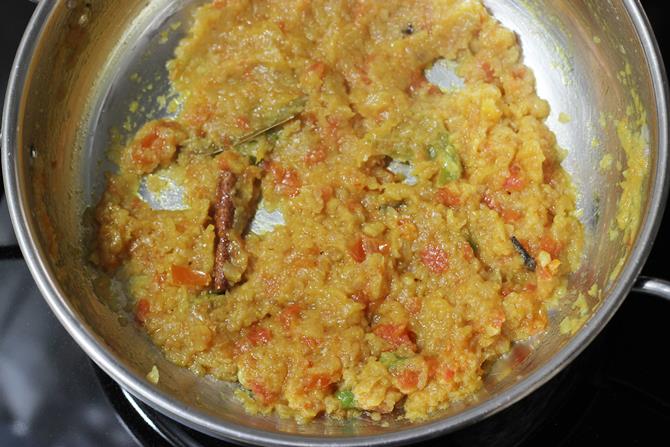 7. Add ¾ to 1 tsp red chili powder and 2 tbsps thick curd (yogurt) or cashew paste from 10 cashew nuts. There are a few readers who mentioned in the comments section below they made without yogurt or cashew paste yet it turned out delicious. So you may want to skip it. This time I have used cashew paste.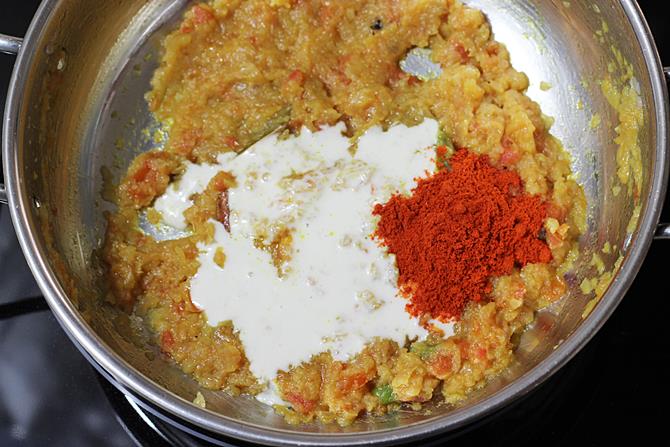 8. Saute on a medium flame until the mixture begins to leave the sides of the pan. Take care not to burn the mixture. At this stage the raw smell of the onion, tomato and ginger garlic must go away completely.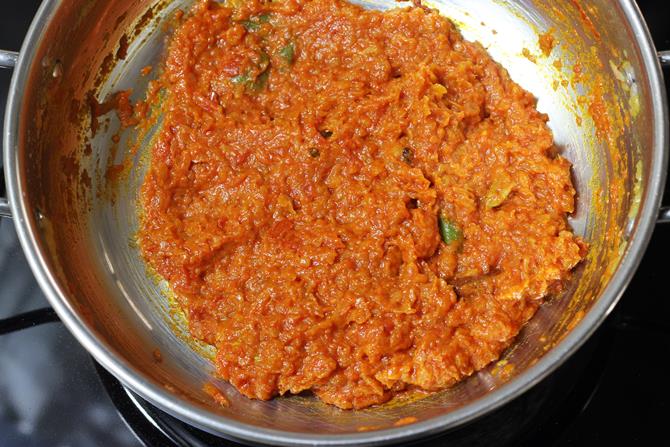 9. Add ½ kg chicken (about 1 lb), 1½ tsp garam masala powder and handful of coriander or pudina leaves. I have used 1 tsp of this biryani masala and ½ tsp of this simple garam masala. You can use any readymade good masala.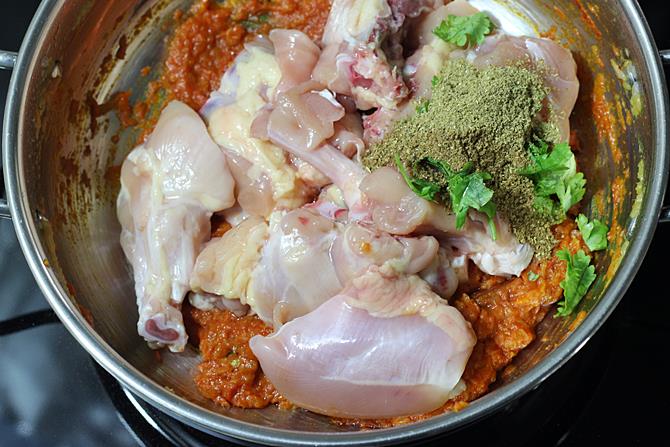 10. Saute for 3 mins or until the chicken turns pale.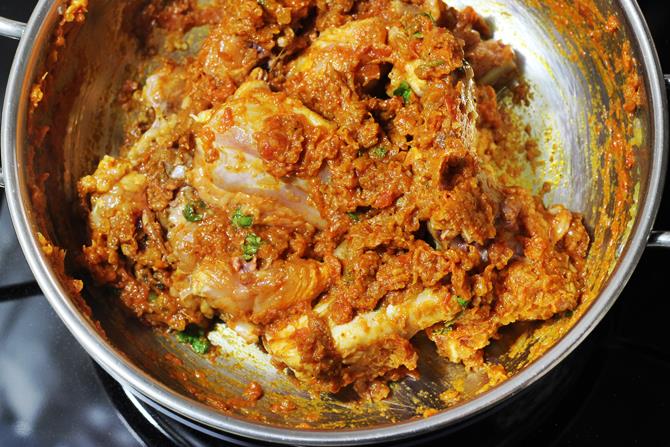 11. Cover and cook on a low flame for about 3 to 5 mins for the chicken to let out moisture. While it gets cooked, heat 1 cup water in a separate pot. You can also microwave the water in a cup for 1 min.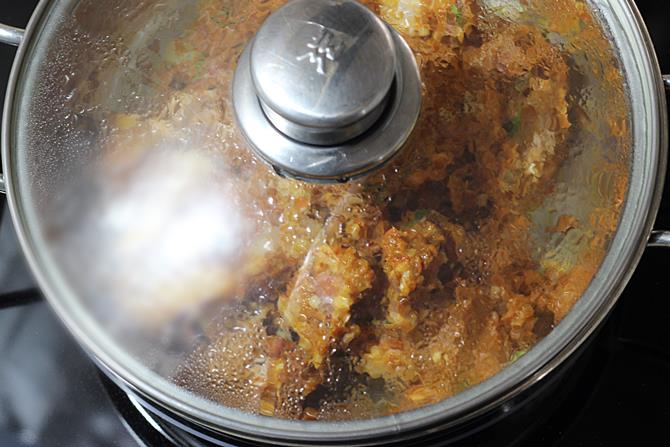 12. Pour hot water as needed. Using cold water may turn the meat tough or hard.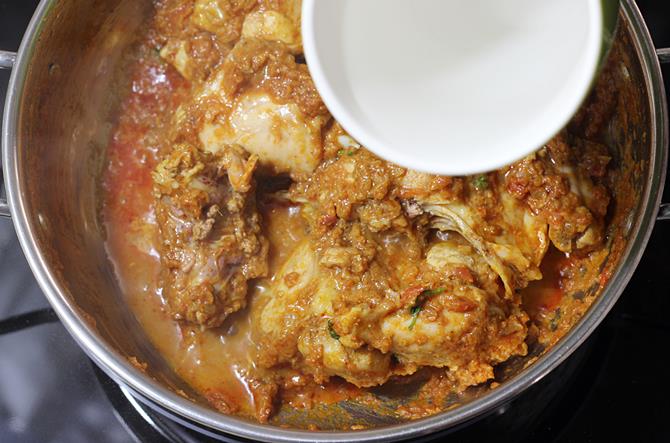 13. Make sure you use just enough water to partially cover the chicken. Cover and cook on a medium heat until soft tender. It took about 10 mins for me. This may vary depending on the age of the chickn or the size of the pieces. Avoid cooking at high temperature. If using country chicken i.e naatu kozhi / kodi then add a small piece of betel nut. Pressure cook on a medium heat for 4 whistles.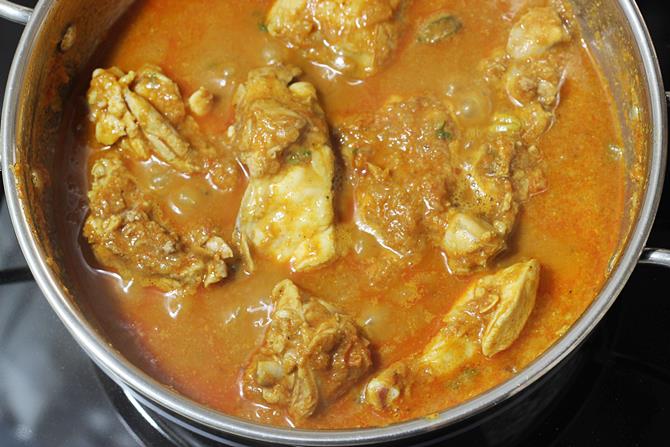 14. Check whether the chicken is done by pricking it with a fork. It must be soft and should come off from the bone easily. Taste the gravy and adjust the salt. When the gravy reaches a desired consistency switch off the stove. Add some coriander leaves. Keep covered until you serve.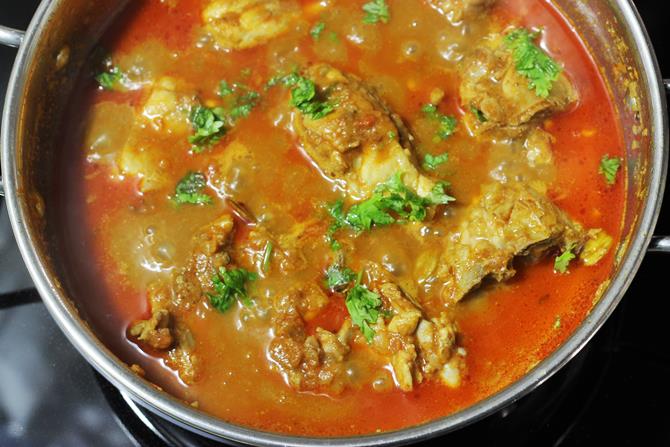 Serve chicken curry with rice, jeera rice, ghee rice or chapathi. Also have a simple raita or onion wedges to go on the side.