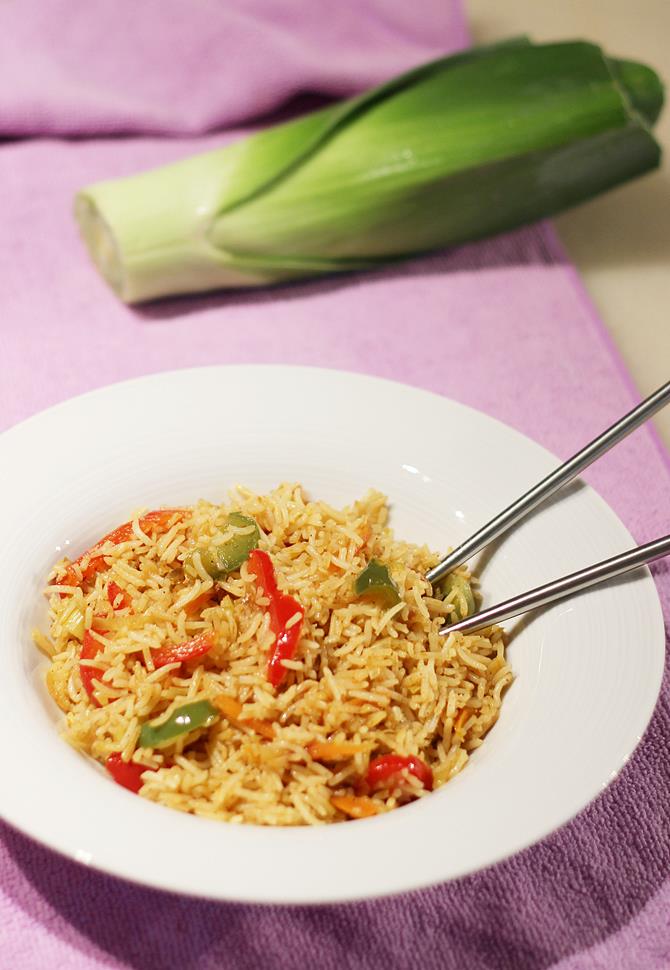 singapore fried rice recipe – Having stayed for almost a decade in Singapore, I haven't found any fried rice that is specific to be Singapore style. We do get a variety of fried rice just like the Chinese fried rice , schezwan fried rice, chicken fried rice and few other variations.
 
This recipe title, singapore fried rice is just a name given by us to differentiate with the regular fried rice.
 



 
To make singapore fried rice, we need a hot spicy sauce like a hot red chilli sauce or peri peri sauce. Peri peri is one of Asia's hottest sauces available and is used for a variety of dishes from pasta, noodles to grilled chicken recipes. Since we got to know of this hot peri peri sauce only after moving to Singapore, that's another reason for the recipe title singapore veg fried rice. This rice is on the spicier side and may not be suitable for kids.
 
Here is the singapore fried rice recipe
singapore fried rice recipe| spicy singapore fried rice recipe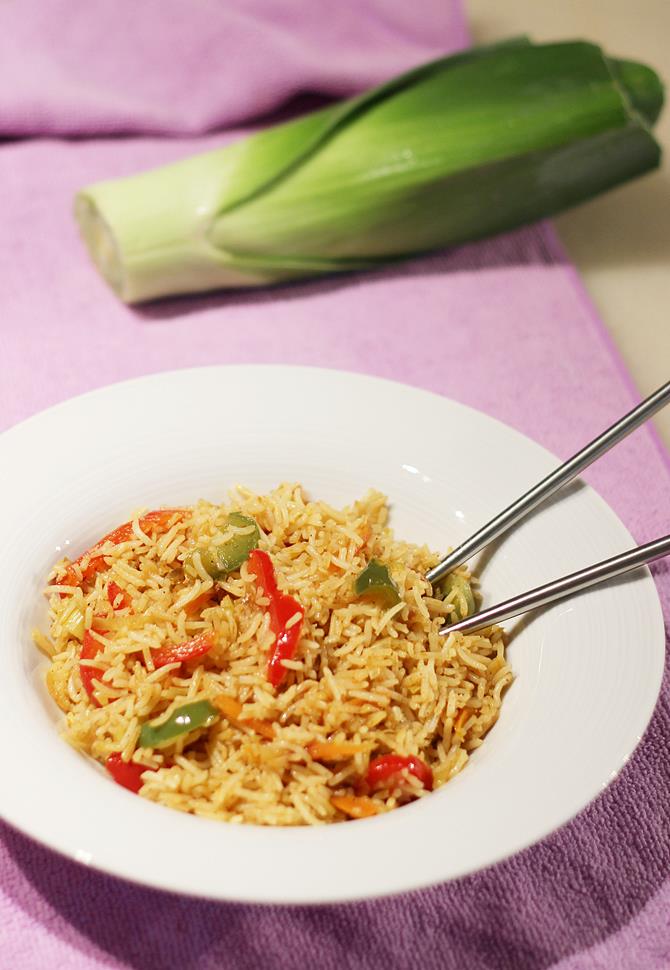 Ingredients (240 ml cup used)
1 cup long grain rice (cook to keep the rice grainy)
1 tbsp. garlic chopped small
2 tbsp. olive or sesame oil
⅛ tsp pepper
veggies (you can use broccoli and mushrooms too)
½ cup leeks or spring onions
½ cup of bell peppers (red, green and yellow)
¼ cup of carrots coarsely shredded
1 green chilies slit or chopped
sauces
½ tbsp. vinegar
2 tbsp. hot red chilli sauce or peri peri sauce
1 tbsp. Light Soya sauce
1 tbsp. chili garlic sauce
How to make the recipe
Wash and soak rice for about 15 minutes. Cook rice in lot of water till al dente and drain off the water. Cool the rice completely.
Heat oil in a wok on a high flame, add garlic and sauté to get an aroma.
Add the leeks or spring onions, chili and carrots, toss for 2 mins.
Add capsicums, drizzle some salt and continue frying till they are half done, do not fry for long as they tend to turn soggy soon.
Add in the rice evenly.
Mix all the sauces and pour on the rice evenly. Add pepper powder and toss on a high flame for 2 to 3 minutes
singapore fried rice is ready to serve.
Notes
Adjust sauces to suit your taste. Different brands give different level of spice and taste.