Stir fried cabbage recipe – Quick, easy and delicious chinese style cabbage stir fry recipe. Apart from some chopping time, this recipe takes just 10 to 15 minutes to prepare. It can be served with roti, chapathi or plain rice. I make this sometimes to go with the roti for the lunch box. Simple, full of flavors from olive oil and fresh veggies, anyone would just love this.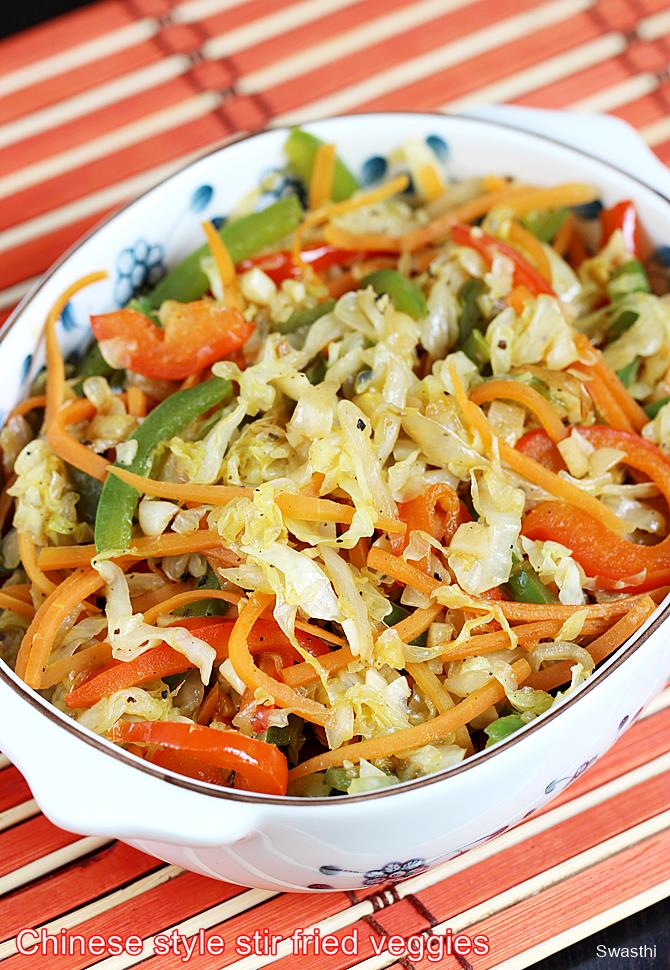 This stir fried cabbage recipe is one of our favorites at home and love to have it in wraps and kathi rolls too. Along with cabbage any other veggies like carrots, broccoli, beans & bell pepers can be used. If you eat eggs, you can also include the beaten egg to perk up the nutrition. I have not used egg here and just made with cabbage, carrots & bell peppers.
Like most other Indo chinese recipes, this one too is prepared on a high flame which brings out the aroma of oil & garlic. If you have a wide cast Iron pan or wok, do use it. Cast iron pans lend a very good smoky aroma to this stir fry cabbage. This recipe may not work if you increase the quantities unless you use a large wok & a stove with very large burner.
For more cabbage recipes, you can check this cabbage curry, simple cabbage fried rice, steamed simple cabbage curry.
Chinese style stir fried cabbage recipe
Stir fried cabbage recipe | Chinese style cabbage stir fry recipe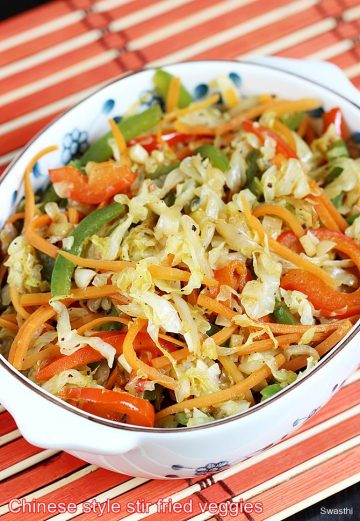 Stir fried cabbage recipe to serve with rice or chapathi. It can also be eaten with plain noodles or any soup.
Ingredients (240 ml cup used)
3 cups shredded cabbage
1 cup shredded carrots
1 cup shredded bell peppers (capsicum)
2 green chilies slit (skip if making for kids)
2 garlic cloves chopped finely
2 tbsps olive oil/ sesame oil
1 tsp coarse crushed pepper
Salt as needed
optional (I don't use)
½ tsp soya sauce
½ tsp vinegar
How to make the recipe
Wash and clean cabbage, carrots & bell peppers. Drain well and shred.
Heat a pan with oil on a high heat.
Saute garlic and green chilies until nice aroma comes out.
Add all the veggies and stir fry for 2 to 3 mins until they are partially cooked. Do not over cook to retain the crunch. Make sure the heat is set to highest possible setting.
Add salt, pepper, sauce and vinegar.
Saute for another 1 to 2 mins.
Transfer stir fried cabbage to a serving bowl.
How to make stir fry cabbage recipe
1. Wash and drain the veggies thoroughly. Shred them and set aside. Make sure they are drained well other wise they may turn mushy while frying.
2. Heat olive oil in a pan on a high flame. Fry garlic and green chilies. You can skip chilies if you have young kids at home. But this recipe tastes bland with out enough heat or spice, so add a good amount of crushed pepper corn.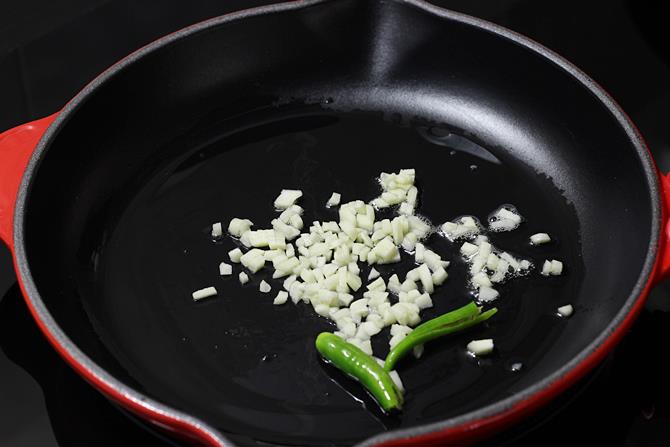 3. Add all the veggies now.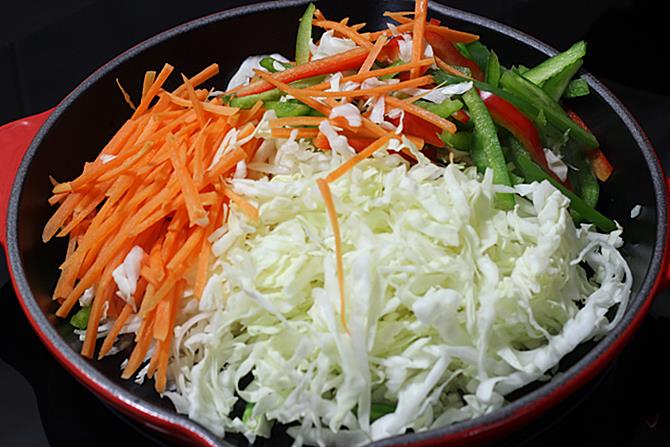 4. Begin to stir fry on the highest flame only for 2 to 3 mins. Keep tossing well to prevent burning.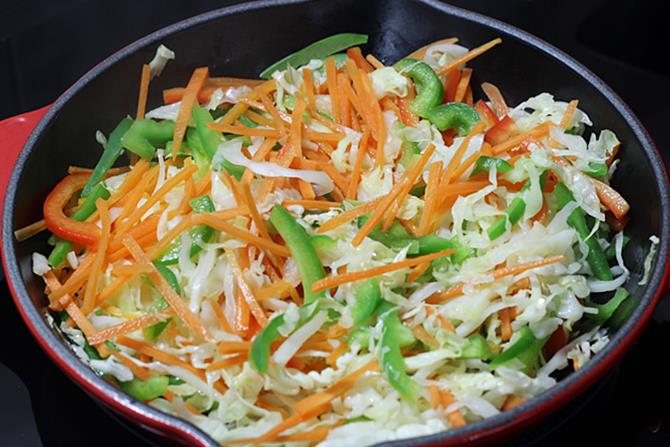 5. Add crushed pepper.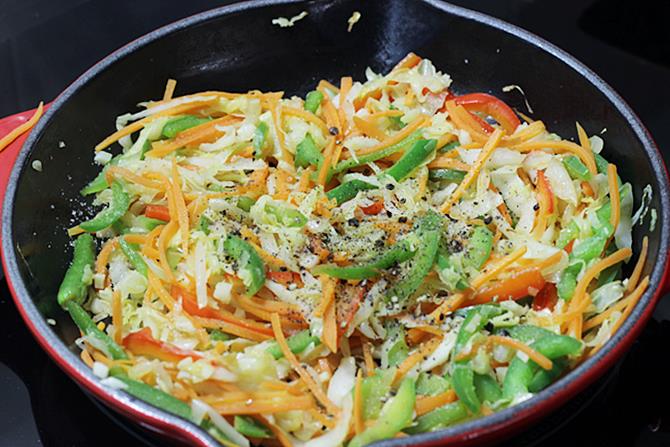 6. Add salt. If adding soya sauce and vinegar add them now. Allow to evaporate. Make sure the veggies are not over cooked. We need to cook only for 2 to 3 mins to keep them crunchy.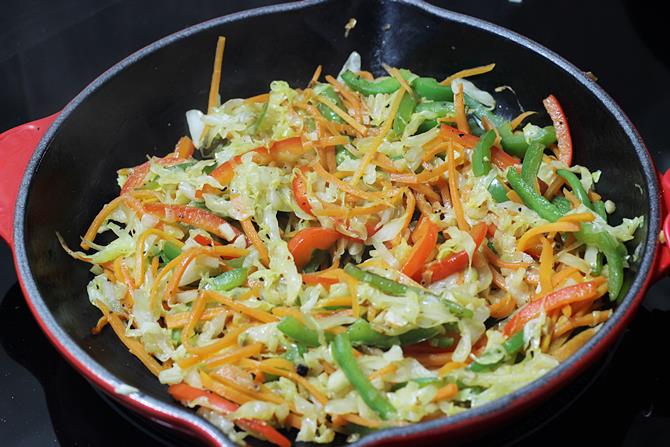 Transfer cabbage stir fry to a serving bowl.