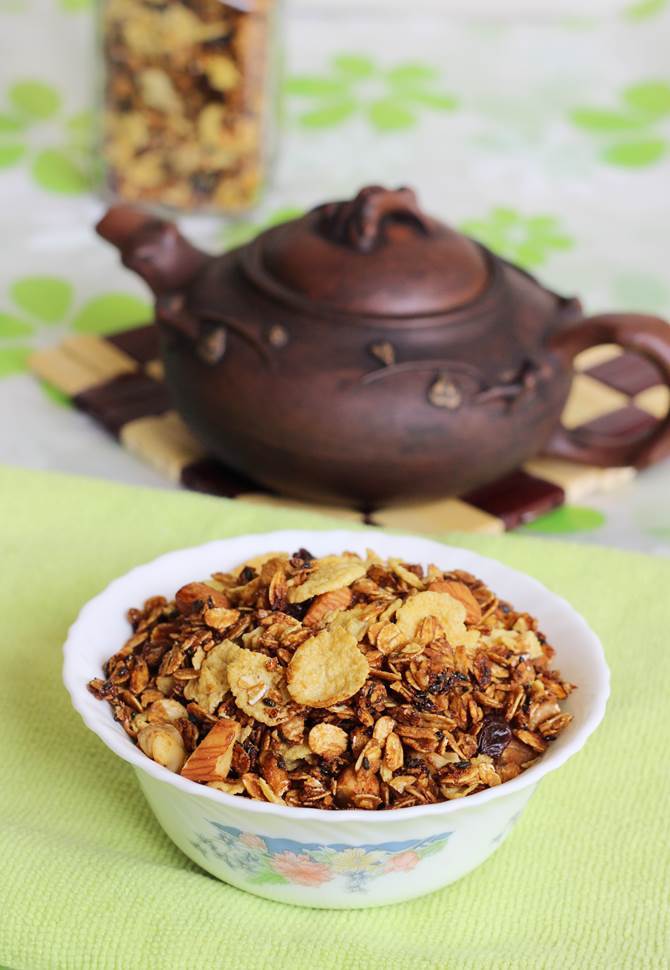 stovetop granola recipe using jaggery
I wonder if there could be someone who doesn't like to munch on some crunchy granola with a cup of milk for morning breakfast or for a mid-morning snack. Granola is a mixture of oats, nuts, and seeds. It is often prepared using honey, agave syrup, molasses, maple syrup or some liquid sweetener. But I make my granola either with date palm sugar (karupati) or coconut palm sugar or sometimes with just jaggery. All come out fine & very well can be made on a stovetop.
 
Stovetop method is much easier than the oven baked method. Try this once, iam sure you will kick out the store bought granola out of your grocery shopping list next time.
 
If you are using Date palm sugar (karupati) that has a strong smell, use 1 tsp of vanilla extract to mask the strong smell. Use good quality jaggery that is free from sediments or debris.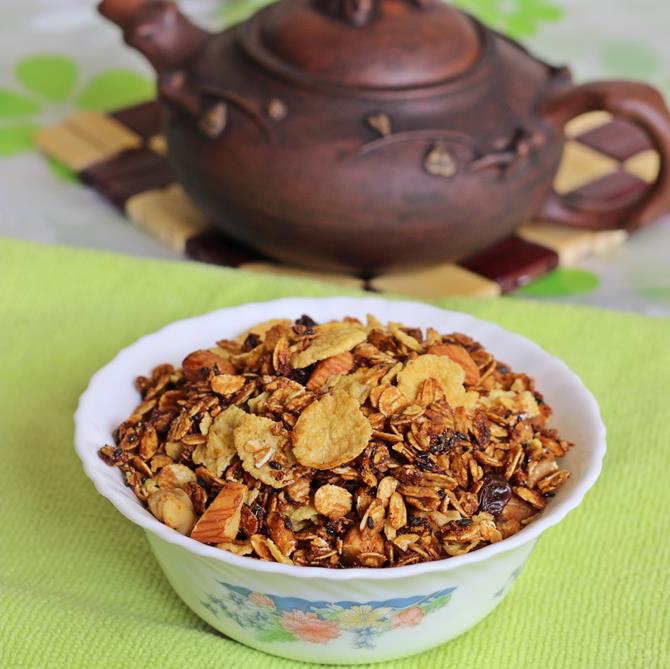 stovetop granola recipe - easy granola recipe using jaggery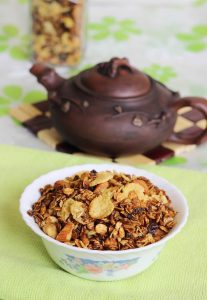 Ingredients (240 ml cup used)
1 cup rolled oats
¼ cup of chopped nuts and seeds (almonds, sesame seeds, shredded coconut, flax seeds, and sunflower seeds pumpkin seeds)
2 tbsp. raisins
½ cup jaggery powdered
1 tsp of vanilla extract (optional)
1 tbsp. coconut oil or ghee
½ cup cornflakes crushed
How to make the recipe
Dry roast oats in a wide pan till you get an aroma. Set aside.
Fry nuts, seeds and raisins each separately in 1 tbsp. oil or ghee. Set aside.
Add jaggery to a wide pan and heat on a very low flame till it melts completely
Add oats mix well and roast till they turn brown. Keep stirring well to prevent burning.
Add nuts, raisins and seeds. Mix well and continue to roast till you begin to get a caramelized flavor of the jaggery & granola turns dark golden brown. Take care not to burn. Low flame and constant stirring to prevent burning are important.
Add Corn flakes and mix. Off the heat and set the pan aside and keep tossing them for a min or 2 as it still continues to roast for a while.
Cool granola completely and transfer to an airtight jar.