Sweet poha recipe – Sweet aval is an easy snack that can be made in just 10 minutes. Beaten rice is called as aval, poha or atukulu in Indian regional languages. It is used to make poha chivda, aval upma or dosa.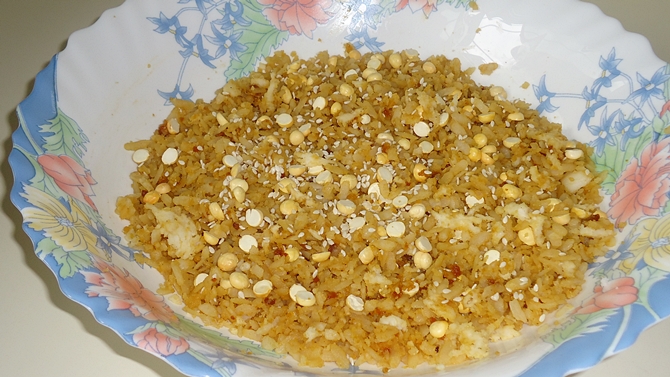 To make sweet poha, beaten rice is sweetened and relished. It is very simple and easy and can be served as a kids' after school snack.
 
Different states have different versions of making this sweet aval. In Karnataka, this is a dish that is offered to Lord Shri Krishna during Janma ashtami puja. There are again so many ways to make this. Iam sharing the recipe that we follow at home. There are 3 basic kinds of aval available in the market: Paper (also called disco), Medium (thin) and Thick.
 
Using aval without rinsing will give a hard chewy texture which many prefer, but I like to make them moist and soft so that my toddler can enjoy it. sweet poha also makes a good breakfast for Toddlers and kids, if served with milk.
 
Make sure you use clean jaggery since we don't filter it in the recipe. Alternately, brown sugar can also be used.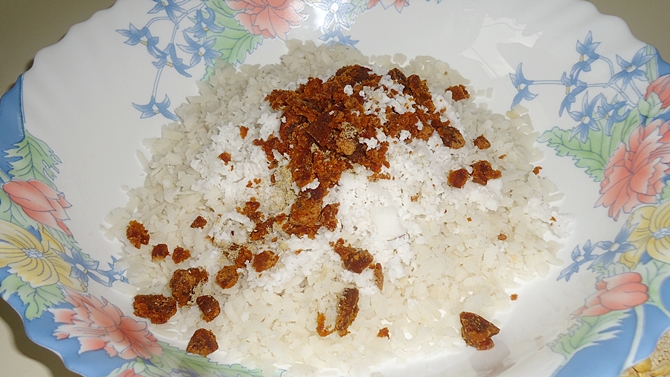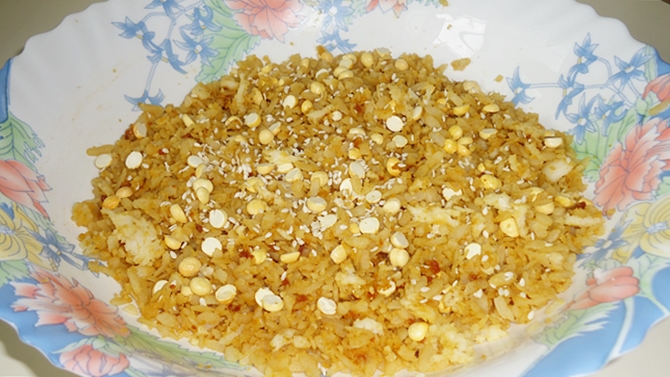 For more poha recipes, you can check
Milk poha
Batata poha recipe
Chivda
Poha ladoo
Aval upma
Sweet poha or sweet aval below
Sweet poha recipe | sweet aval | sweet attukulu (beaten rice) recipe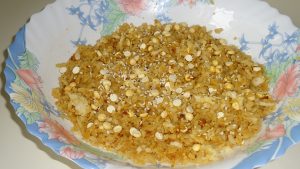 Ingredients (240 ml cup used)
1 ½ cups Medium aval (avalakki, poha, attukulu) (refer notes)
¼ cup grated fresh coconut
¼ cup grated Jaggery (palm sugar) or brown sugar
¼ tsp. cardamom powder
2 tbsps. Fried gram (putani/ putnalu)
1 tbsp. white sesame seeds
How to make the recipe
Wash the aval/poha in enough water and drain it in a colander.
Spread it on a clean cloth or plate and let it dry for 15 mins.
Add coconut, jaggery & cardamom. Mix well.
Set aside for 10 to 15 mins.
Add the fried gram and sesame seeds just before you serve to keep them crunchy.
Notes
If using paper variety aval, skip rinsing and just directly add coconut and jaggery and set aside for about 2o to 30 minutes. Sweet aval will soften on its own due to the moisture from coconut and jaggery.