sweet potato puran poli recipe – puran poli is or bobbatlu is a sweetened flat bread that is mostly prepared during festivals and special occasions. These are called as obbattu or holige in kannada and bobbatlu in telugu. The stuffing is usually prepared with lentils, jaggery and coconut. Today's sweet potato puran poli is made using sweet potatoes instead of lentils or coconut. The poli in the pictures were made on the next day of Diwali. I had some free time in the evening and had some fresh sweet potatoes, so I made these and they turned out great.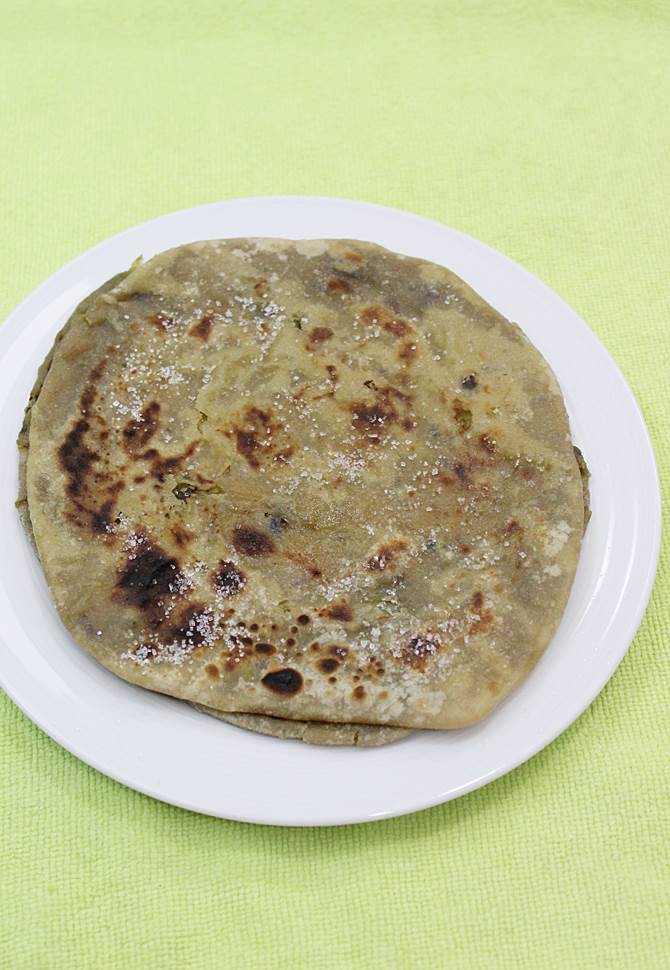 sweet potato puran poli cannot be prepared quickly, took more than an hour but the results were worth and my kids loved them a lot. These can be packed in kid's lunch box, if you have enough time in the morning to prepare.
 
My son leaves home by 7.45 am and I cannot get myself to prepare these so early. You can make these easily on the weekends and refrigerate, they stay good for 2 days.
 
The way I roll my poli is a bit different, one might feel it is lengthy but for a beginner it is a good one, since the stuffing doesn't come out. I have used coconut palm sugar called as Gula Melaka locally in Singapore.
 
You can use sugar or jaggery or palm jaggery (karupati). But choose something which is free from impurities.
 
related recipe: coconut ladoo
 

sweet potato puran poli recipe (bobbatlu recipe)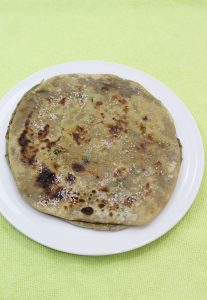 Ingredients (240 ml cup used)
Outer cover (layer)
1 ½ cups whole wheat flour
1 ½ cups plain flour (Maida)
1 tbsp. chiroti sooji or holige rava (optional)
Water as needed
2 tbsp. Oil
Flour for rolling
Stuffing
½ kg sweet potatoes
200 grams jaggery or palm sugar (adjust to suit your sweetness levels)
¼ tsp cardamom powder
1 tbsp. ghee for stuffing
Ghee or oil for roasting as needed
How to make the recipe
Mix flour, chiroti sooji and knead to soft dough using enough water. Add oil and knead to make it pliable. Cover this in a moist cloth and set aside till your stuffing is ready. I made it in a food processor, you can even knead it with hand too.
Wash and peel the sweet potato skin. I just scraped off the skin partially since we don't mind eating with skin. If you intend to eat with skin, soak the potatoes for 20 mins in water and then brush off the skin to remove mud.
Boil sweet potatoes in water till they are cooked fully. Set them aside to cool.
Mash the potatoes thoroughly and add grated jaggery and cardamom powder.
Mix well and begin to cook on a low flame. Jaggery begins to melt. Add ghee and cook till the mixture thickens and begins to leave the sides. This took almost more than 7 to 8 mins for me. Keep stirring to prevent burning. Set this aside to cool fully. Once cool grease your palms and make balls of equal sizes and set aside. Don't worry if they look sticky.
Make 12 equal sized balls out of the dough. Keep them covered till you use them.
Flour the work surface or platform, roll a ball in dry flour. Roll it to a chapathi.
Fold it half way, and then fold it again to get a triangle shown in the pic below.
Sprinkle flour and roll it to make it as big as a puri, place one of the sweet balls and place one of the edges over the ball.
Bring the other two edges over the ball. You will be left with an opening. Bring it over the three edges and press. You get something like you see in the pic below.
Flip it to the other side. Sprinkle flour if needed. Gently roll it to a poli. Repeat to make at least 6.
Heat a tawa on a high flame, when it is hot, place the poli on the tawa.
When you see bubbles, drizzle some ghee or oil.
Flip sweet potato puran poli to the other side and fry both the sides till golden. Stack to keep them soft. If you want slight crust, serve them immediately.
Notes
to make sweet potato puran poli, I used half whole wheat flour and half plain flour. You can use only whole wheat flour instead of maida. Iam not too good in making poli (bobattulu). When I made these first time, the outer layer turned out to be too thick. So I went ahead with my mom's measurements of using maida to give elasticity to the dough and I was able to get these quite thin. We can even add chiroti sooji to get a light crust, Chiroti sooji or rava is a fine form of rava.