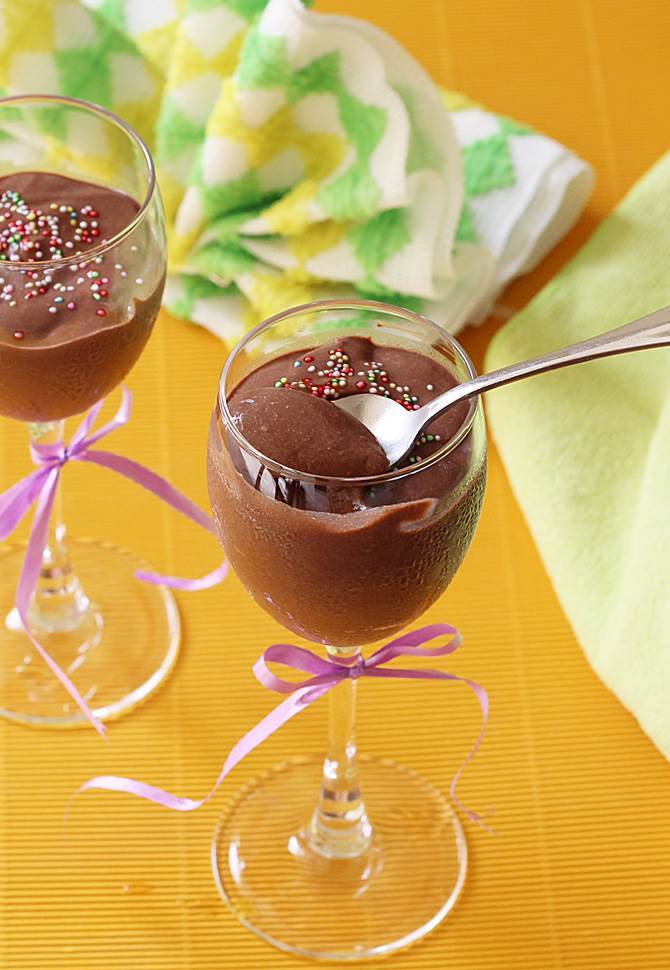 A mousse is generally prepared to a get an airy, fluffy, thick and smooth texture by using whipped cream and eggs or marshmallows. But it can very well be prepared without all these, but most times, we have to compromise on the airy texture.

Using Silken Tofu is a good idea to get that airy and fluffy texture, while making it healthy and yet delicious. Could there be a better and easy way to enjoy tofu? Absolutely chocolaty with good amount of protein. If you are health conscious to use sugar, you can use any other sweetener. I have tried with dark molasses (powder) and coconut palm sugar. Tofu chocolate mousse can very well be made using melting chocolate.

This makes a yummy and healthy chocolate treat for kids. I make this sometimes for the kids after school treat and we love it so much. I even make it in surplus and use the following days for the mid-morning treat.

Using coconut sugar adds great taste to the mousse. Choose one that has no debris and is clean.

Ingredients to make chocolate tofu mousse
210 grams silken tofu (washed and drained thoroughly)
3 tbsp of sugar (white or brown or even powdered molasses can be used, but reduce the quantity)
1 tsp vanilla extract
5 to 10 ml milk(optional use only if needed to bring it to the consistency, can use nut milk if you want to make it vegan)
2 tbsps cocoa powder




Method
1. Blend all the ingredients together well in a blender jar.
2. Transfer it to serving bowls or cups. Refrigerate to set for at least 3 to 4 hours.
3. Top tofu chocolate mousse with chocolate shaving or sprinkles

It can be made a day ahead and refrigerated. It also makes a great treat for kids' birthday parties and get together.