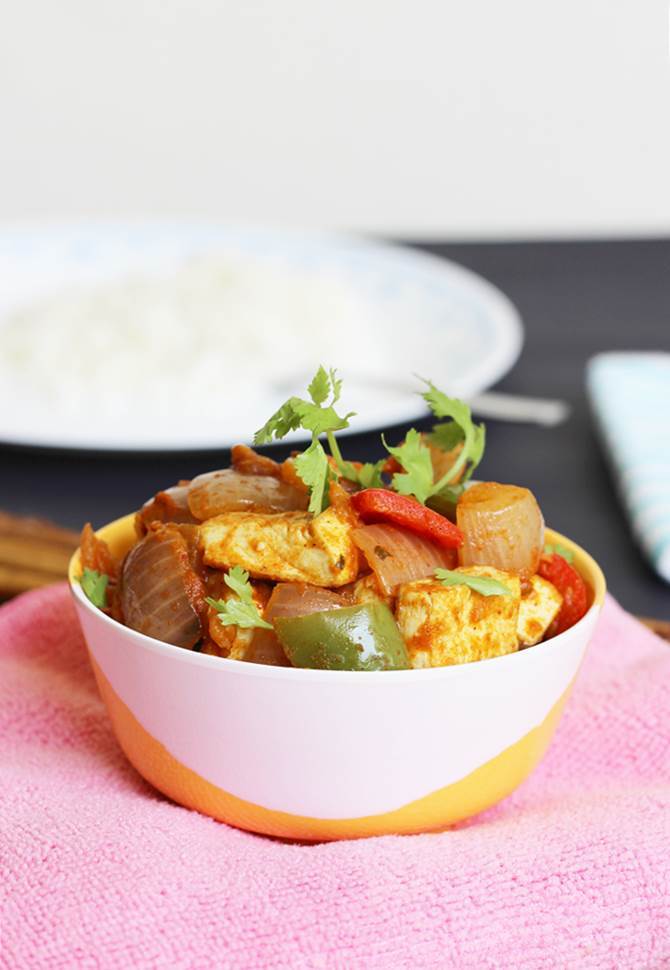 easy tofu stir fry recipe – Tofu is a good substitute to paneer for vegans but tastes different from paneer. My kids are a bit fussy to eat this soft protein, except in the form of stir fry.
 
This tofu stir fry tastes so delicious that I got hooked to it and began to make more often.
 
To make this easy tofu stir fry recipe , one can use any veggies of their choice. Most vegetables go well with this. I have used bell peppers, onions and tomatoes to make this tofu stir fry.
 
I have kept the recipe simple and have not used too many spices and spice powders. You can experiment with your favorite spice powders.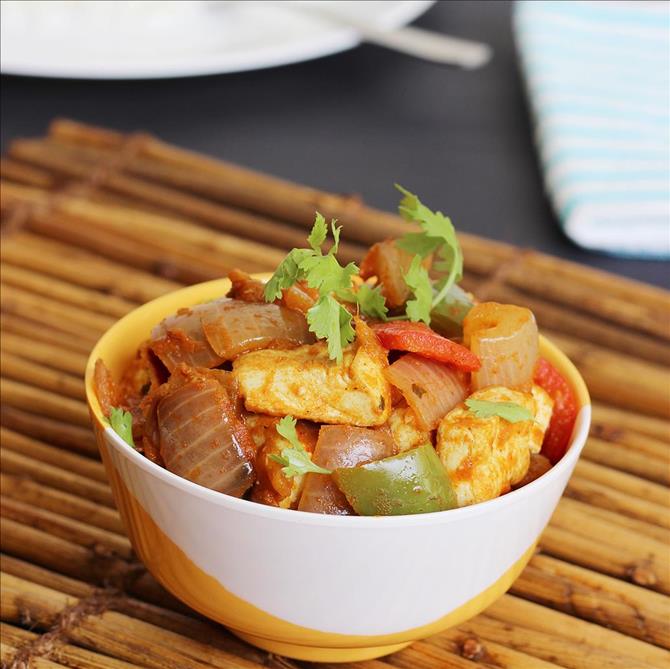 easy tofu stir fry recipe - tofu stir fry in Indian style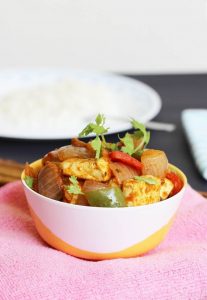 Ingredients (240 ml cup used)
1 ½ cups of firm tofu cubes
1 large tomato chopped finely
1 large onion cubed and layers separated
½ cup bell peppers chopped
1 sprig curry leaves
½ tsp cumin / jeera
½ tsp ginger chopped or grated
½ tsp red chili powder
1 tsp coriander powder or ½ tsp garam masala or any spice powder
¼ tsp cumin powder/ cumin powder (optional)
oil as needed
Coriander leaves for garnishing
How to make the recipe
Heat oil in a wide pan, fry tofu till slightly golden brown, set aside.
In the same pan, add little more oil, add cumin when it begins to splutter, add curry leaves and ginger, sauté.
Add tomatoes, salt, turmeric and fry till tomatoes turn fully mushy.
Add chili powder, cumin and coriander powder, sauté for a min.
Add onions, capsicum, mix well and fry on high for 2 minutes.
Cover the lid and cook capsicums till almost done. Do not overcook, as they lose the crunch.
Add tofu, chili powder, garam masala or spice powder powder. Mix well. Cover and cook for 2 mins.
Add finely chopped coriander leaves.
Serve tofu stir fry hot with roti, bread or rice.