Tomato bath recipe – This is an easy one pot rice dish from the udupi region of Karnataka and is usually served in the udupi restaurants. We get to see a variety of tomato bath anywhere prepared with any of the veggies like beetroot, potatoes, green peas, beans and cashews too. I do not know if this is an authentic udupi recipe, but it is one of the best tomato rice recipe i got hooked to which was handed over to me by our home cook in Bangalore.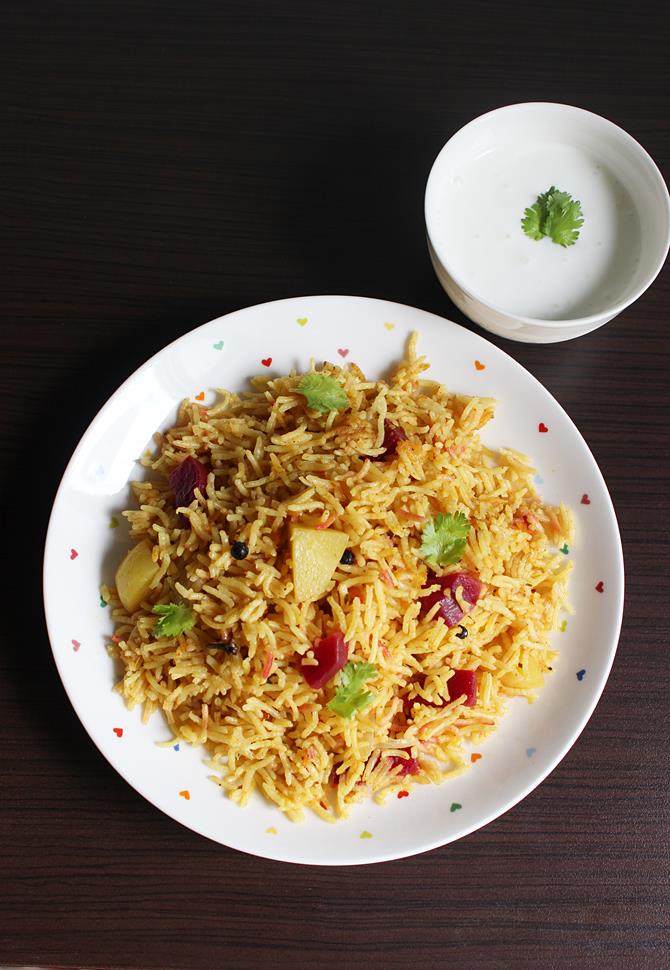 Tomato rice bath is one of the best options to serve in winters. It can be prepared in less than 30 minutes. It can be packed for your kids lunch box or even for adults along with few sliced carrots or cucumbers.
Tomato bath recipe I am sharing today is very tasty, flavorful, mildly spicy, nutritious and colorful with an addition of veggies. You can use any veggies like beans, carrot, potato, peas etc. I prefer to use beetroot as well, we love them as they lend a beautiful color. But you cannot smell the beetroot in the rice. This way the rice looks more appealing due to the beetroot color and the potatoes tastes slightly tangy.
You may also like this Tomato rice recipe made in South Indian style.
For more simple rice recipes, you can check this
Ghee rice recipe
Pulao recipe
Bisi bele bath
Vangi bath
Like vangi bath or bisi bele bath, this recipe does not need any fresh ground spice powder or any garam masala. Only dry spices or whole spices are used in tempering.
Tomato bath can also be served with simple yogurt raita like onion raita, mint raita or even with just plain yogurt.
Karnataka style Tomato bath recipe
Tomato bath recipe | How to make tomato rice bath recipe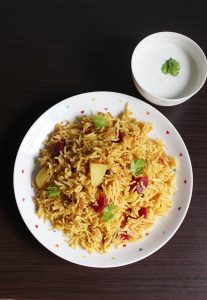 Fragrant long grain rice cooked in tomatoes, potatoes and beetroot. Perfect for winters.
Ingredients (240 ml cup used)
2 medium sized potatoes (cubed small)
few beans or ¼ beetroot (cubed small)
1 large onion (thin slices)
3 large ripe tomatoes
1 to 2 green chilies slit (optional)
fistful chopped coriander
1 tbsp. ginger garlic paste
¼ to ½ tsp. red chili powder
¼ to ½ tsp. pepper
¼ tsp. turmeric
3 tbsp. oil
Salt to taste
1.5 cups long grain rice (soaked for 30 mins)
2.5 cups water (adjust to suit your rice variety)
Dry spices
one bay leaf
1 star flower / chakri phool
4 green cardamoms
6 cloves
2 to 3 inch cinnamon
Few pepper corn (optional)
½ tsp. caraway seeds (shahi jeera)
How to make the recipe
Wash and soak rice for at least 20 to 30 minutes
Cube potatoes and add them to a bowl filled with water
Peel and Cube beetroot. set this aside, slice onions and chop tomatoes
Add oil to a pressure cooker or pot, dry spices and fry till they turn fragrant
Add onions and fry till transparent
Add ginger garlic paste and fry till the raw smell goes off
Add tomatoes, salt and turmeric and fry till they turn mushy
Add pepper powder and red chili powder and fry for 2 minutes
Add potatoes and beetroot, fry for another 2 minutes
Pour 2.5 cups water and bring it to a boil.
Drain off the water from the rice and add it to the boiling water.
Cook the rice till almost the water evaporates, simmer the flame, close the lid and cook till rice is fully done.
If using a pressure cooker, for basmathi rice- just cook for 5 minutes on a low flame and switch off. do not let the cooker whistle. for aged rice and non basmathi, let the cooker whistle once also add a bit more of water
Let the pressure goes off and fluff up tomato bath with a fork.
How to make tomato rice bath recipe
1. Heat a pot or pressure cooker with oil, add the seasoning spices, fry till they begin to sizzle.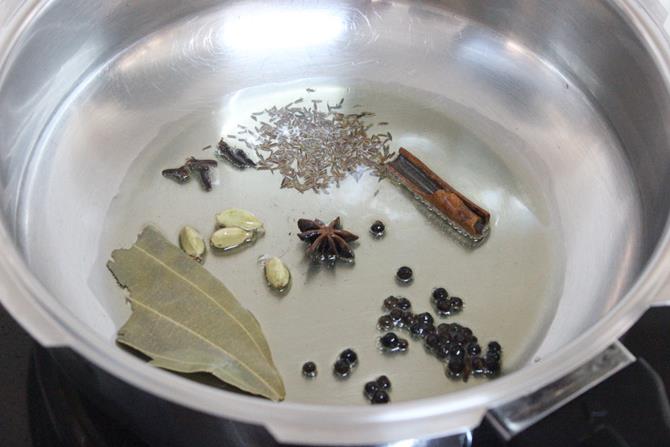 2. Add onions and fry till they turn translucent, next add ginger garlic paste, fry till the raw smell disappears.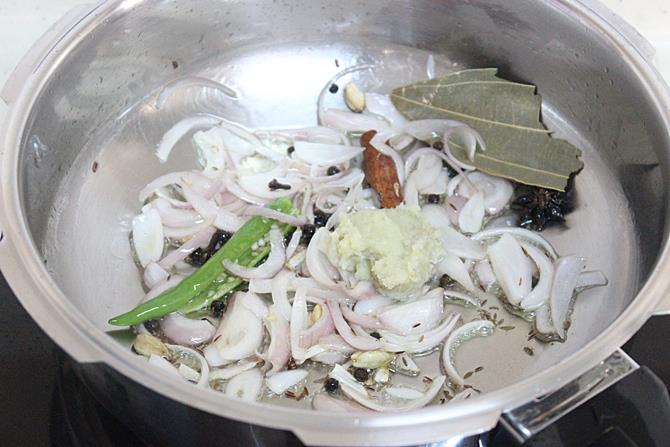 3. Add tomatoes, turmeric and salt. Fry till the tomatoes turn mushy.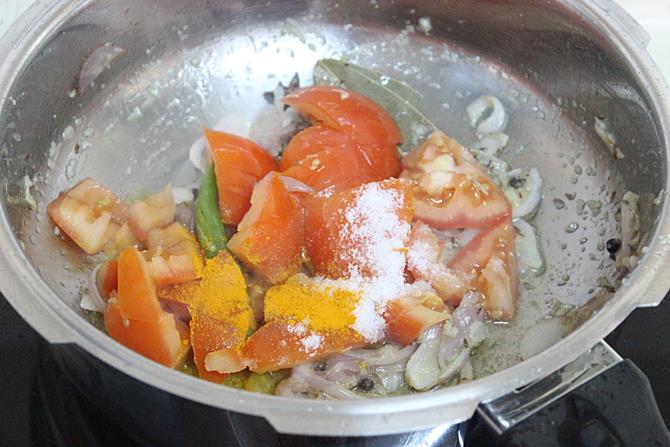 4.Add chili powder, pepper powder, saute for 2 to 3 mins.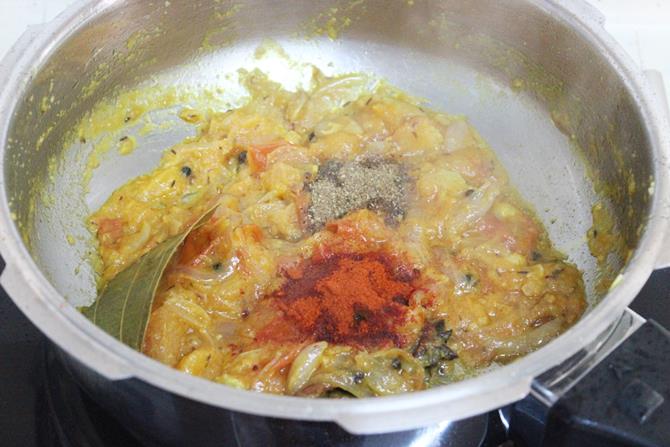 5. Add potatoes, beetroot or beans, fry for about 2 to 3 minutes. close the lid and cook for 2 mins.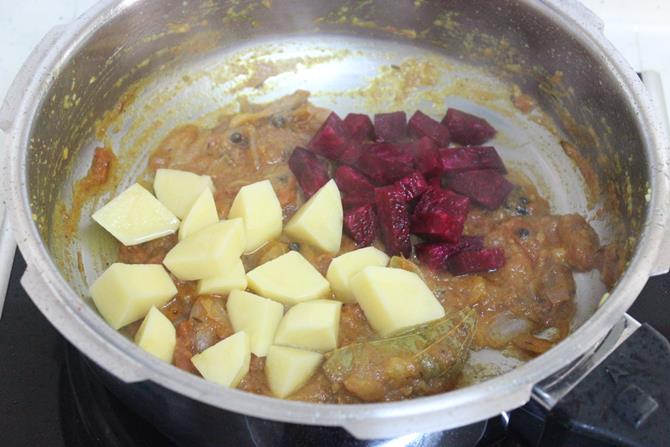 6. Pour water, add salt, coriander leaves, bring the water to boil.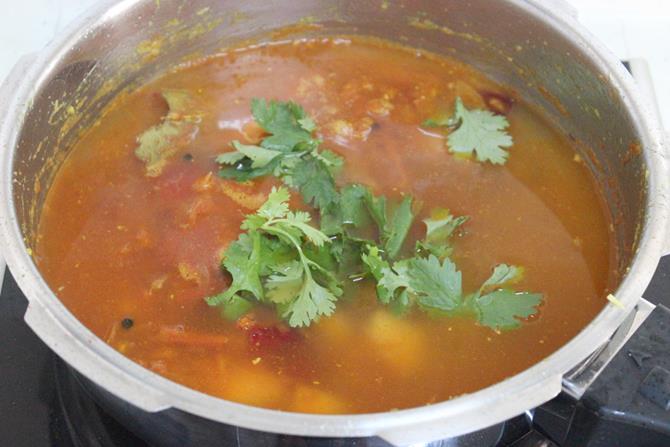 7. Add rice and cook till the water almost evaporates.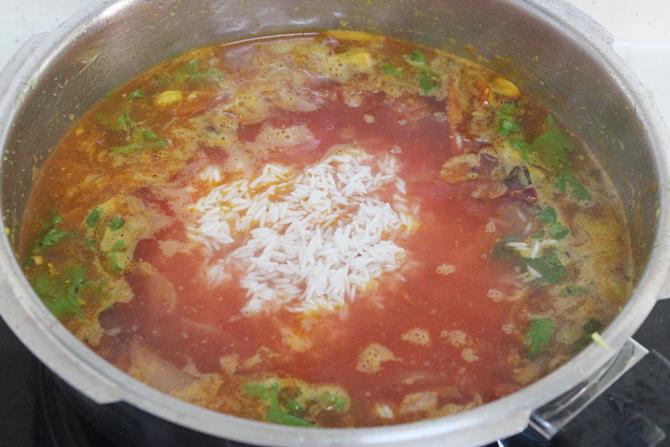 8.You can see bubbles and not much water must be left.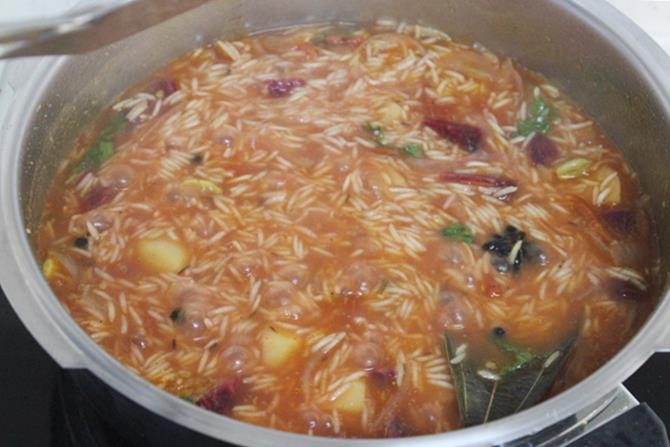 9.Close the lid and cook for few mins for the rice to cook fully.(not mushy). if you wish to use a pressure cooker, you can close the lid and cook on a very low flame for 5 mins and off the heat. do not let the cooker whistle if you are using basmathi rice. For other kinds of rice especially the aged and sona masuri, you can let it whistle once.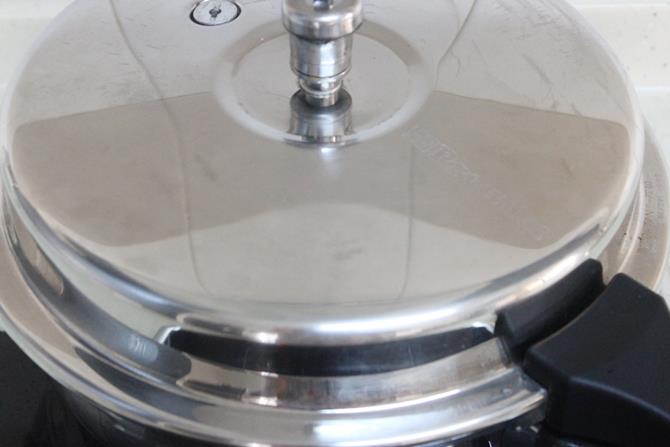 10. Open the lid and fluff up the rice.You get a nice color after you mix the rice.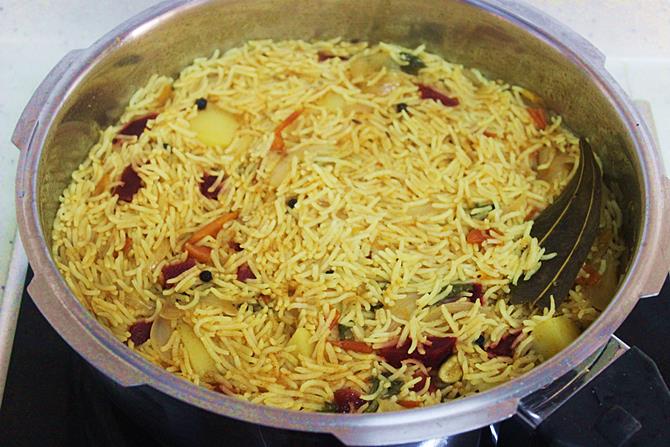 Tomato bath is ready. Serve hot with your favorite raita.