Tomato rasam recipe – Rasam is a daily affair at home for dinner on most weekdays. Rasam, a vegetable stir fry with rice and ghee makes a comforting meal and is easy to prepare as well. It is light on the stomach and aids in digestion and hydrates the tummy as well, hence I prefer to make it quite often.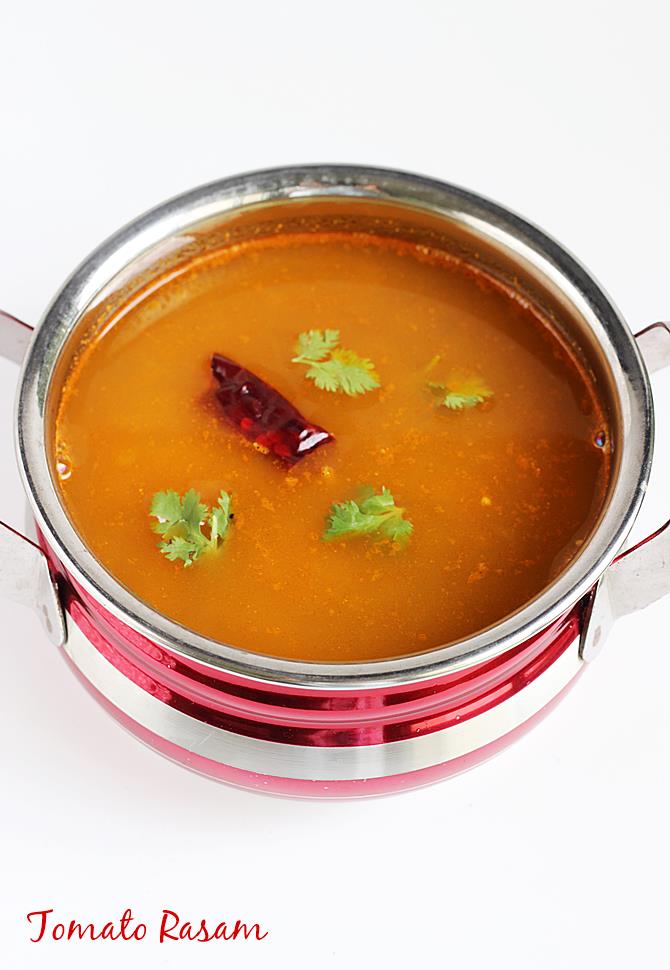 Though there are many varieties of rasam that are made at home, this one is regularly made since it is easy, a good amount of tomatoes are consumed. This south Indian style tomato rasam is named as tomato charu in my mother tongue telugu and is almost the same as tamil nadu style rasam.
To make this rasam, you can make instant powder that i shared in this post. Any readymade powder or homemade rasam powder can also be used. The color and taste of your charu depends on the kind of powder used. Some of the ingredients are optional and you can skip them.
This tomato charu recipe is simple, easy and you can also do your other cooking or kitchen chores while this is simmering. It can also be made in bulk and refrigerated for 2 days. You can also serve this to babies from 8 months, just skip the red chilies and use little pepper powder.
For more rasam recipes, Check
Rasam recipe without rasam powder
Tamarind rasam
Lemon rasam
Tomato rasam recipe or tomato charu recipe
Tomato rasam recipe | Tomato charu recipe | Rasam recipes
Tomato rasam recipe made in andhra home style with fresh ground powder and tomatoes.
Yield / Serves:
one liter
Ingredients (240 ml cup used)
2 cups chopped ripe & red tomatoes
3 cups water (can use more to make thin charu)
1 to 2 tsp. rasam powder(adjust to suit your taste)
1 to 1½ tbsp. oil or ghee/ clarified butter
1 sprig curry leaves
½ tsp. mustard
½ tsp. cumin
Pinch of fenugreek seeds / methi
Pinch of hing
1 broken red chili
⅛ tsp. turmeric/ haldi
optional
2 garlic cloves
Generous pinch of Pepper powder
Small piece of tamarind or ¾ tsp. tamarind paste
Instant rasam powder ingredients or use any ready made
1 to 3 broken red chili
1½ tbsp. chana dal(optional, use if you like slightly thick charu)
1½ tbsp. coriander seeds/ daniya
1 tsp cumin
½ to 1 tsp. pepper
How to make the recipe
Making rasam powder
Skip this step if you have ready powder. To make instant powder, dry roast chana dal till golden, add coriander seeds, red chili, pepper corn. Switch off the stove. Add cumin to the hot pan. Cool them and make a fine powder.Keep this aside.
Making tomato rasam
Heat a pot with oil, add cumin, mustard and fenugreek seeds. When they begin to splutter, add red chili and hing.
Add curry leaves and fry for a min.
Add finely chopped ripe tomatoes, salt and turmeric. Salt helps to cook tomatoes faster.
Fry the tomatoes for about 2 minutes. Cover and cook.
Tomatoes should turn mushy and soft.
Pour water and add the powder as needed. If you wish you can crush 2 garlic cloves and add it.
Bring it to a boil. Taste it and adjust salt. Wash little tamarind and add it to the pot. You can even add tamarind paste if you have. Check sourness as well now.
Allow it to boil well for about 3 to 5 minutes on a medium flame. Switch off the stove.
Add coriander leaves, stalks and pepper powder. Keep the pot covered.
Nutrition Information
Calories:
167
Fat:
2g
Carbohydrates:
33g
Protein:
8g
To make instant rasam powder
, Dry roast dal till golden, add coriander, pepper, red chili. When they begin to smell good off the stove and add cumin. Cool this and make a fine powder. The color of your rasam powder may vary based on the red chili quality or quantity.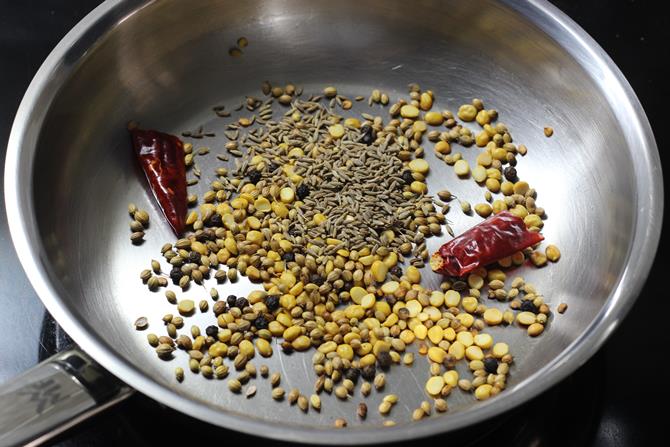 How to make tomato rasam recipe
1. Wash and chop tomatoes. You can also mash them for quick cooking. Set these aside. Add oil to a hot pot. When the oil turns hot enough, add cumin, mustard and fenugreek. When they crackle add hing and red chili.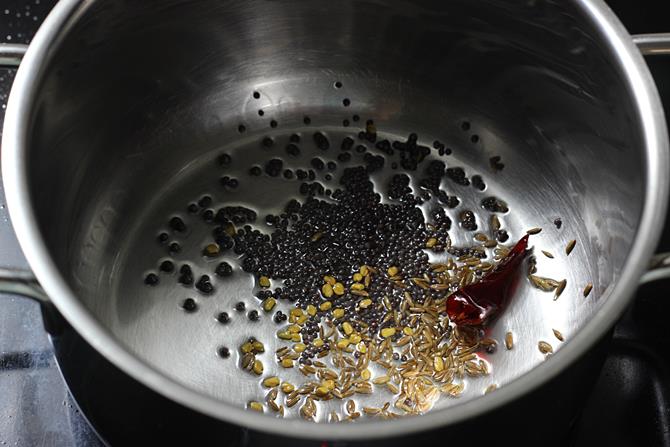 2. Add curry leaves and fry for a minute or two.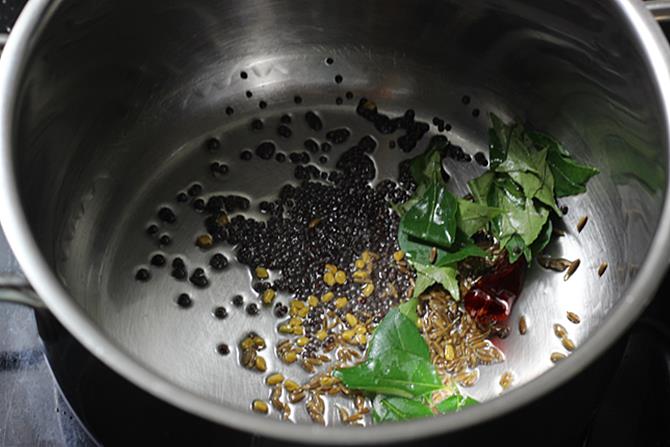 3. Add tomatoes, salt and turmeric. Fry for 2 to 3 minutes.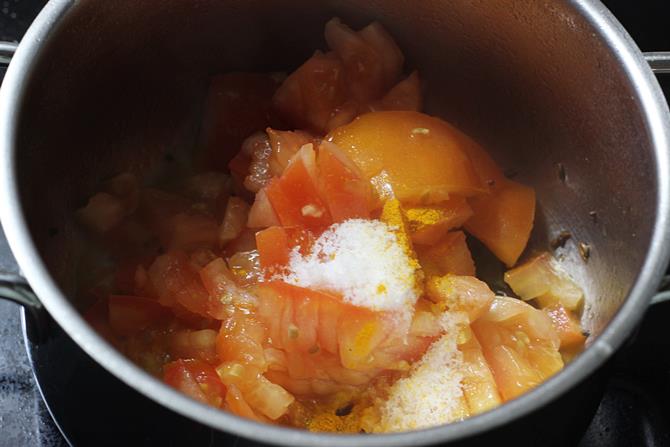 4. Cook covered.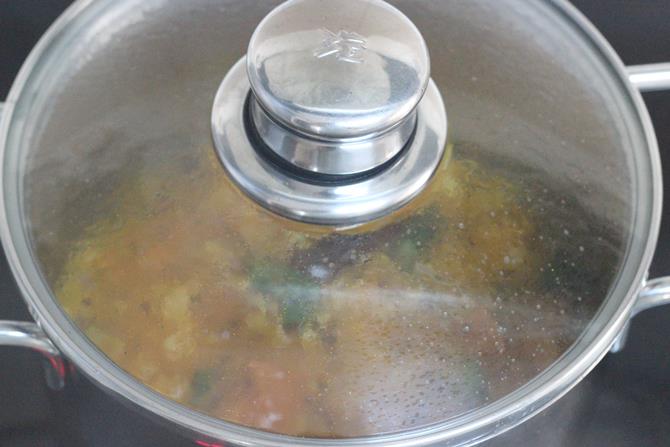 5. Cook covered until the tomatoes turn mushy.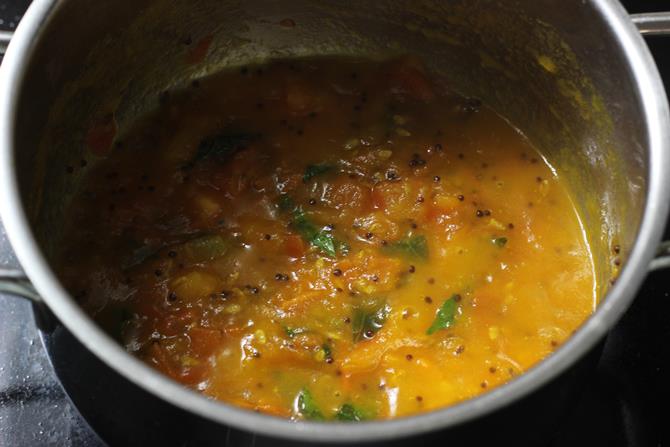 6. Pour water and add rasam powder. Adjust more or less as needed.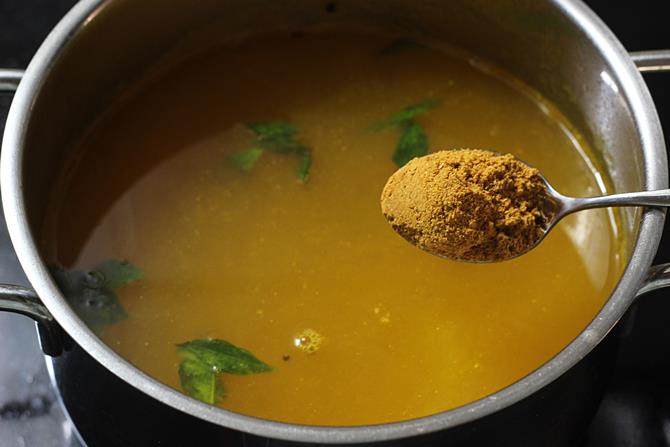 7. Allow it to boil. You can skip tamarind if your tomatoes are very sour. If using just rinse a small piece of it and add it directly. You can also add tamarind pulp as needed. I sometimes use a bit of jaggery, around 1 tsp grated. You can also use it to bring down the pungency of other ingredients used.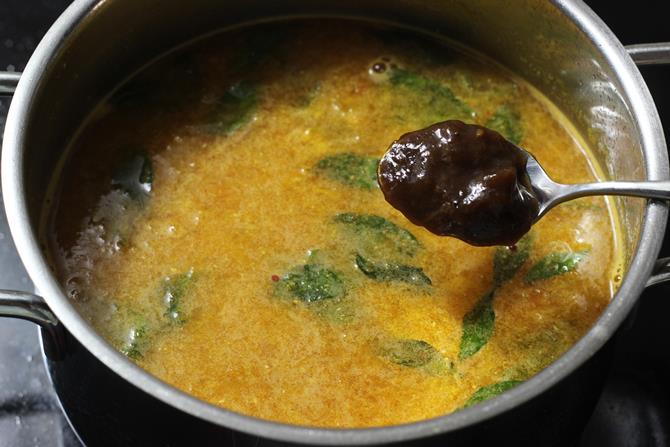 8. Allow to boil and simmer till the rasam slightly thickens by the powder. Add chopped coriander leaves and pepper powder. Off the stove.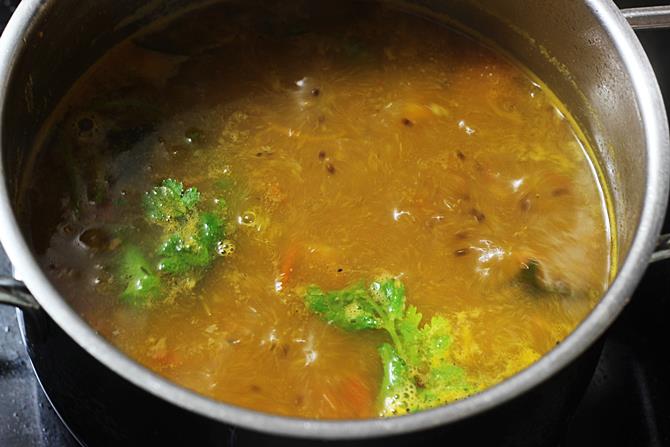 Serve tomato rasam with rice and a simple vegetable or curry.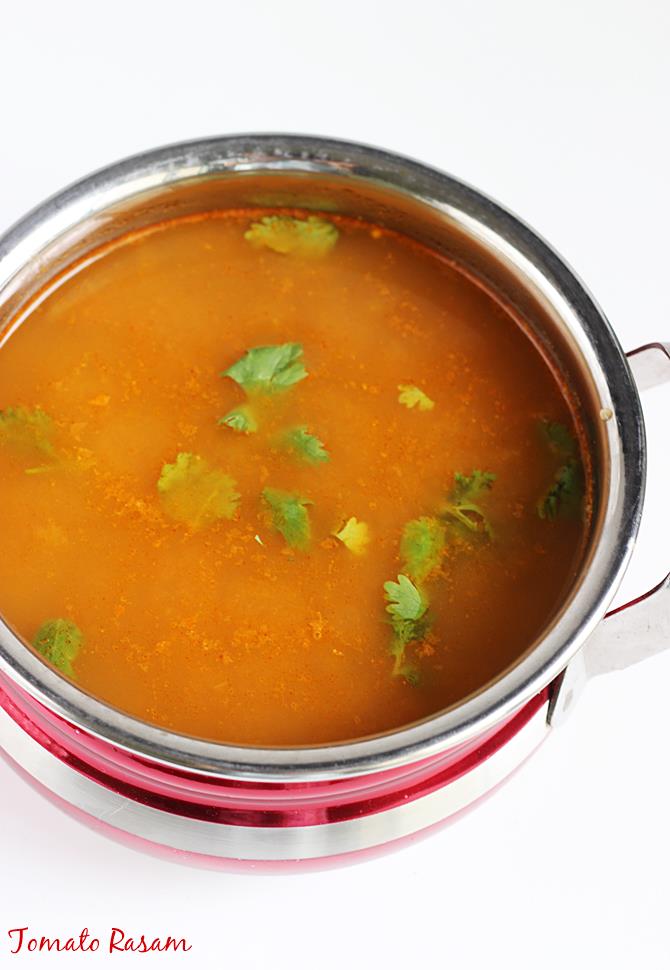 If you are looking for simple side dishes to go with the charu rice, check
sweet potato stir fry
yam fry
broccoli stir fry
ridge gourd stir fry
drumstick leaves stir fry
ladies finger fry