Rasam recipe – Easy, needs no rasam powder, no dal. A quick bachelor's recipe and it is suitable even for babies, if spices are adjusted. Rasam means "juice" in tamil and telugu. It can mean any juice, but in south Indian cuisine Rasam is a thin soup made with tamarind, tomatoes and other spices like mustard, cumin and pepper.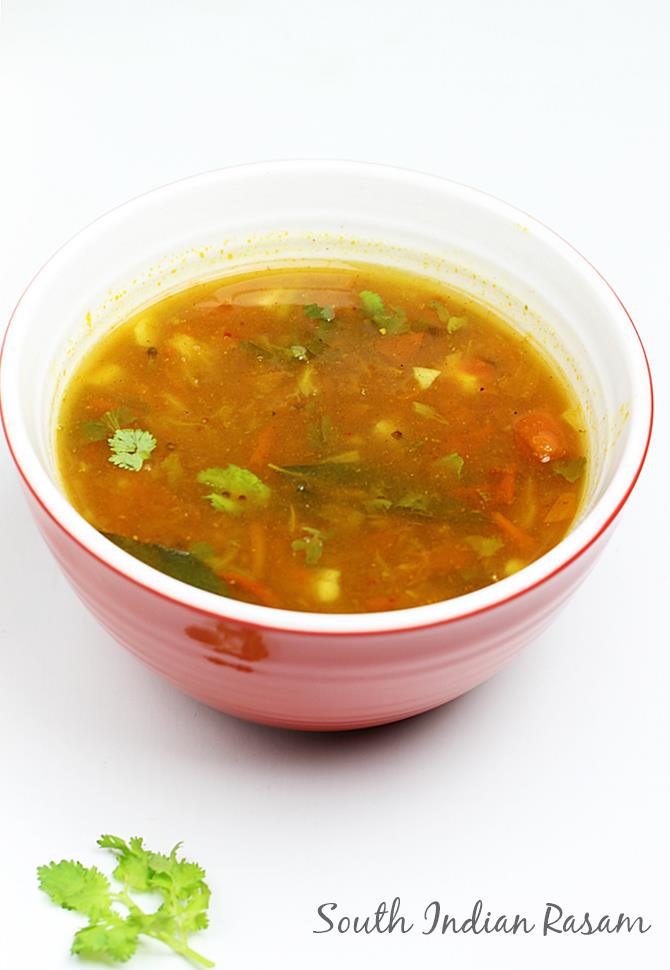 Also known as saaru in kannada and chaaru in telugu, it is a most basic and essential dish in an south Indian meal. It is commonly served with plain rice and a veg side dish. But it can also be had as a soup. I make this when I have no rasam powder in hand or in a hurry. It tastes almost like the one we get with a south Indian meal in any restaurant. Slightly tangy and flavorful from cumin, pepper powder and garlic.
It is good to have when one has cold or stomach problems. Stick on to the ingredients mentioned in the recipe and use red ripe tomatoes. It can be refrigerated and consumed within 2 days. It can be accompanied with rice and any simple vegetable stir fry like potato fry, sweet potato fry, yam fry, carrot fry.
There are so many ways a rasam can be made. For more varieties check
Tomato rasam
Tamarind rasam – without tomato
Lemon rasam
Find south Indian rasam recipe below
Rasam recipe without rasam powder | How to make rasam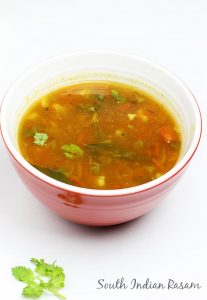 Rasam is a light Indian soup that is made with basic spices, tomatoes and herbs. It is served with rice but can also be enjoyed as a soup.
Ingredients (240 ml cup used)
1.5 to 2 cups of chopped tomatoes
Handful of coriander leaves chopped
Tamarind (optional, use as needed)
½ to 1 tsp jaggery or sugar (optional)
1 ½ tsp oil or ghee
1 sprig curry leaves
½ tsp mustard
½ tsp jeera/ cumin
1 red chili (broken)
3 to 4 cloves of garlic (optional)
⅛ tsp turmeric / haldi
1 tsp jaggery (optional)
Salt to taste
2.5 to 3 cups water
To roast and powder
¼ tsp fenugreek seeds (methi)
¼ to ½ tsp pepper corn
1½ tsp jeera/cumin
How to make the recipe
Dry roast cumin pepper methi and red chili. Cool and powder it.
How to make rasam
Saute mustard cumin red chili in hot oil until they begin to crackle.
Add garlic, curry leaves and hing.
Saute tomatoes with salt turmeric until mushy.
Add the ground powder and saute for 2 minutes.
Pour water, tamarind, jaggery and salt if needed.
Simmer for 5 minutes after it comes to a boil and thickens.
Add coriander leaves. Cover and switch off.
Serve rasam hot with rice.
Step by step photos on south Indian rasam recipe below
1. Dry roast 1.5 tsp cumin, ¼ tsp methi seeds, ¼ to ½ tsp pepper corn and one red chilli. If making for baby skip red chili and use less pepper. Cool and powder this, you can also coarsely crush it in a hand pestle. Set aside.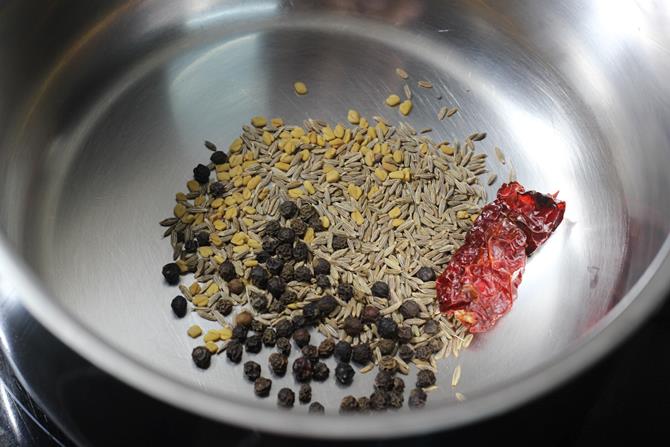 2. Add oil to a hot pot. Add red chili, cumin and mustard.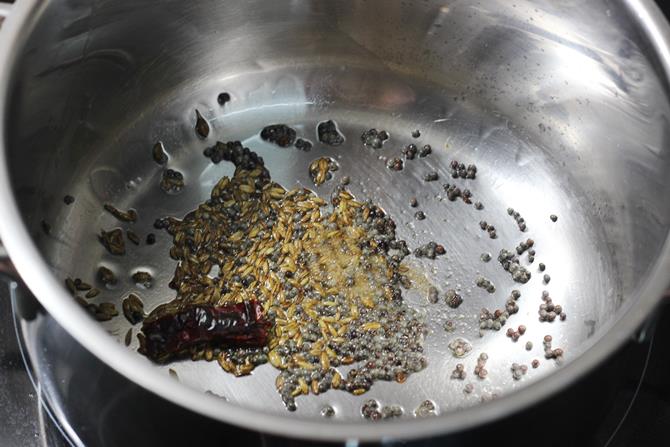 3. When they begin to splutter, add 3 to 4 crushed garlic, 1 sprig curry leaves and hing. Saute well until the leaves turn crisp.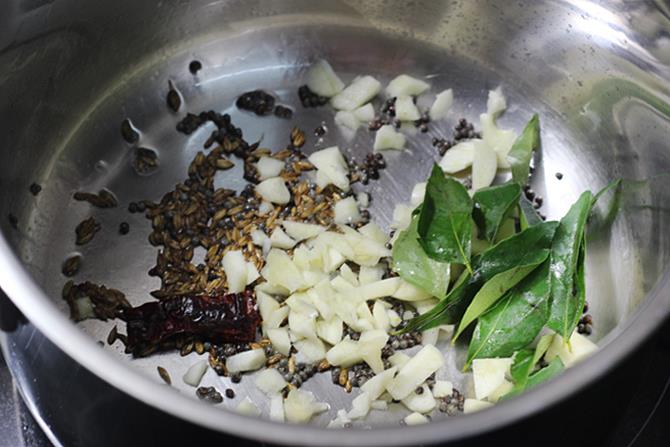 4. Add 1.5 cups chopped or mashed tomatoes, salt and turmeric.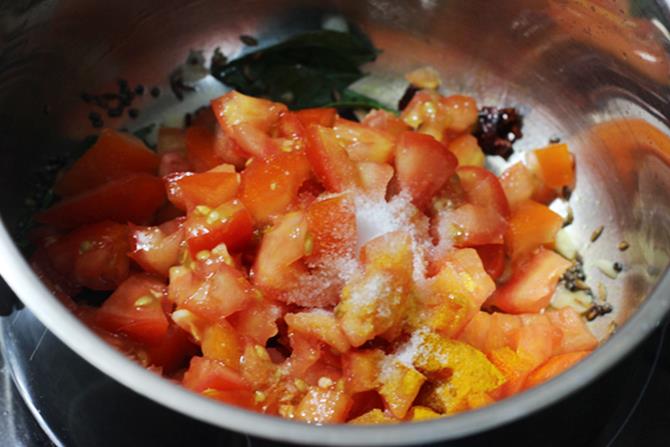 5. Cover and cook until the tomatoes turn mushy.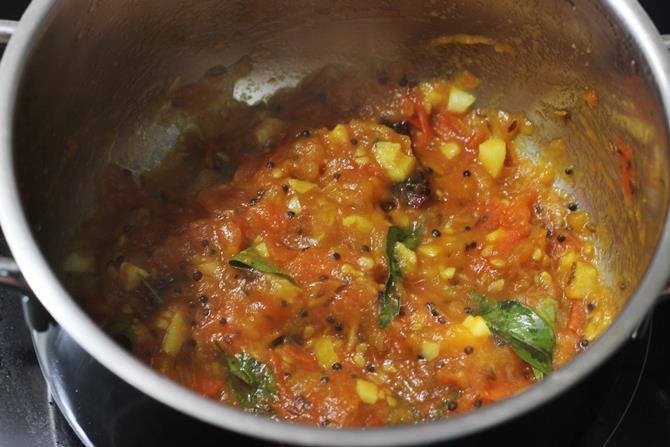 6. Add pepper, cumin methi powder. Mix and saute for 2 minutes.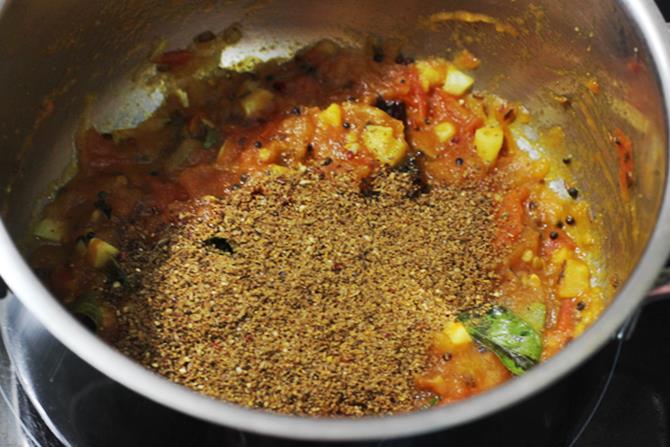 7. Add 2.5 to 3 cups water. Stir and check salt and sour. Add tamarind and little jaggery or sugar if needed and bring it to a boil. Allow to simmer for 5 minutes. Rasam that is done on a low flame tastes good.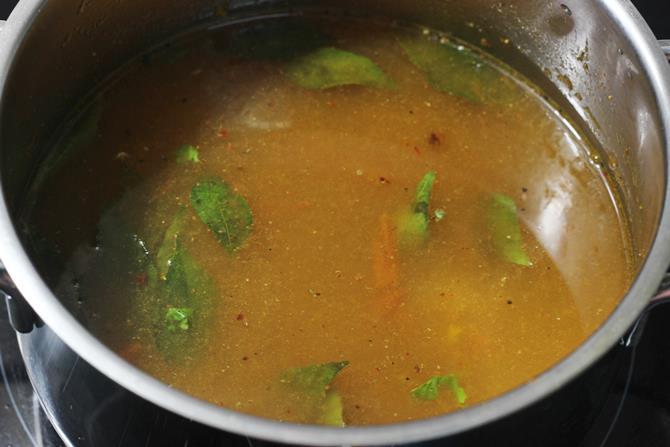 8. Add chopped coriander leaves with stalks. Cover and switch off.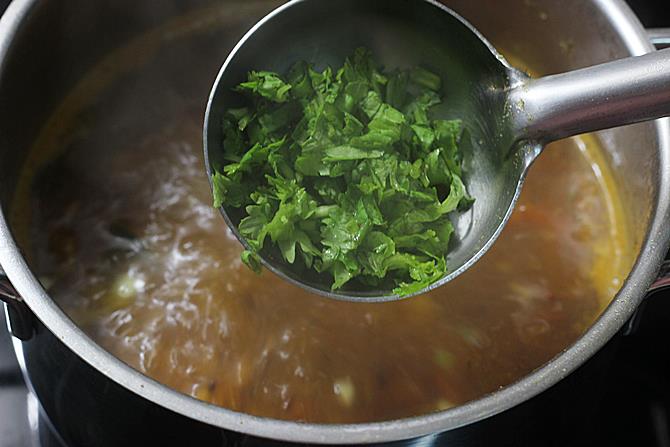 Serve rasam hot with rice and some papad, stir fry veggies.