Vangi bath recipe with homemade vangi bath powder. Vangi bath is a unique tasting brinjal rice recipe from karnataka cuisine. It is popular in South India like tawa pulao in mumbai. It is easy to make as easy as even bachelors can make it. It barely takes 10 to 15 mins if you have the white rice cooked already. Brinjals (egg plant) is cooked to soft and then seasoned with spice powder called as vangi bath powder.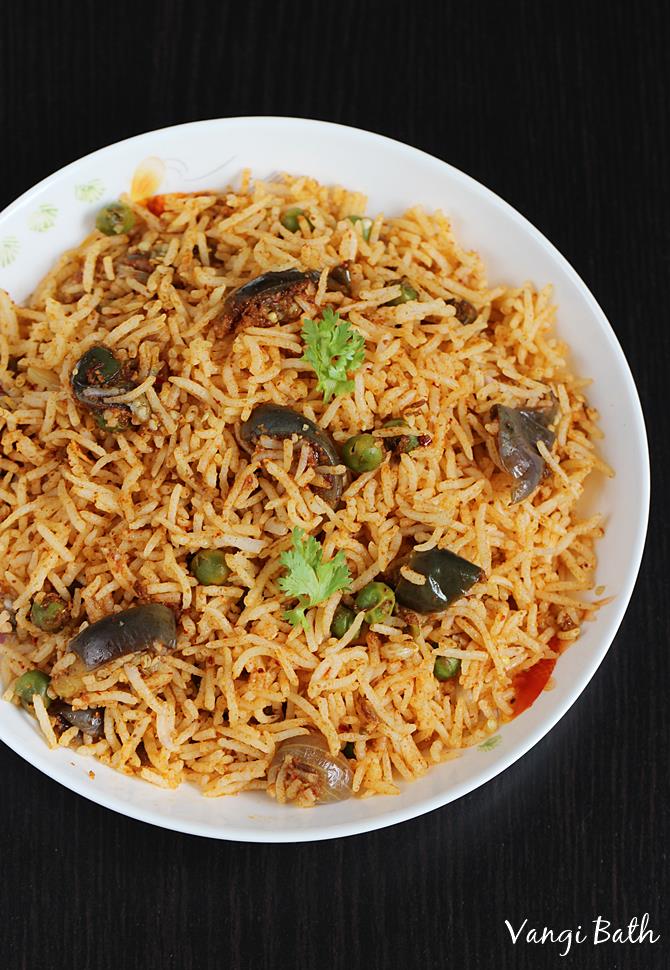 There are many brands selling ready powder, i have only tried using MTR which is well known for spice powders in the market. However my today's recipe is along with the homemade vangi bath powder which can be prepared ahead and refrigerated for few months.
 
There are so many variations to making vangee bath. This recipe comes from our Hassan based chef, who used to cook for us during our stay in Bangalore. I have tasted other versions too and can conclude that this is the best recipe, making you feel that the taste of eggplant is unique and great.
 
The powder tastes almost like the MTR powder. But MTR doesn't use channa dal, which I use since I feel it gives an extra flavor. I usually make this when I have few brinjals left and they are not enough to make any side dish.
 
You may also like these Rice recipes and Brinjal recipes.
 
karnataka style vangi bath recipe below
Vangi bath recipe | How to make vangi bath powder | Brinjal rice recipe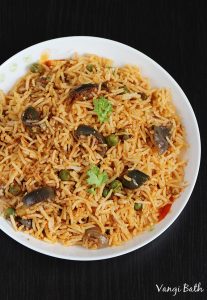 Ingredients (240 ml cup used)
2 cups of raw rice
Oil as needed
1 medium onion thinly sliced
1 green chili slit (optional)
200 to 250 grams brinjals
½ cup Green peas or cashews as needed
Lemon juice as needed
Salt to taste
1 tbsp Dry coconut (optional, adds flavor and taste)
Dry Spices for seasoning (or curry leaves, mustard, cumin, channa dal, urad dal)
1 bay leaf
3 green cardamoms
½ tsp cumin
make vangi bath powder or use MTR vangi bath powder
4 to 5 red chilies
2 tbsp. Coriander seeds
1 tbsp. channa dal / senaga pappu
½ tbsp. urad dal/ minapa pappu
1 tsp cumin
½ tsp methi seeds / menthulu
4 cloves
small cinnamon stick
How to make the recipe
Wash and cook rice aldente in the usual way. Do not make the rice mushy. Cool this completely.
Dry roast the ingredients one after the other for vangi bath. Cool and powder them. Keep this aside.
Add oil to a hot pan. Add dry spices and saute till they sizzle. Add cashews and fry until golden.
Fry green chilies and onions till they turn golden or transparent.
Add chopped brinjal, green peas and sprinkle salt, turmeric. Fry for 2 to 3 minutes.
Cook covered until the brinjals are soft cooked.
Time to add in the vangi bath powder and fry till it begins to smell good. You can sprinkle 1 to 2 tbsp. water to make the mixture moist. This is optional.
Switch off the heat, add rice and lemon juice.
Mix up everything well, adjust salt and lemon juice.Serve vangi bath hot or cold.
You may like similar rice bath recipes
Tomato bath
Bise bele bath
How to make vangi bath powder
1. Dry roast coriander seeds first and set aside. Fry the dals until half done, then add red chilies, cloves, cinnamon, and cumin. Switch off the stove.
2. Cool the ingredients and powder it. This powder can be used for 2 to 2.5 cups raw rice that serves 4 to 5 people. If you are making only 2 servings, you can scale down the ingredients for vangi bath powder.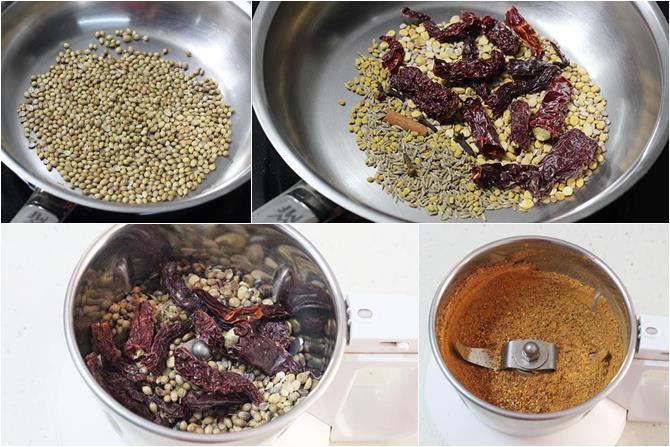 How to make brinjal rice or vangi bath recipe
1. Wash and cook rice al dente in the usual way. Cool completely. Wash and cut brinjals and add them to a bowl of salted water. Set this aside.
2. Heat oil in a wide heavy bottom pan. Add all the dry spices and sauté for a min. if using cashews add them now, fry for 2 to 3 mins.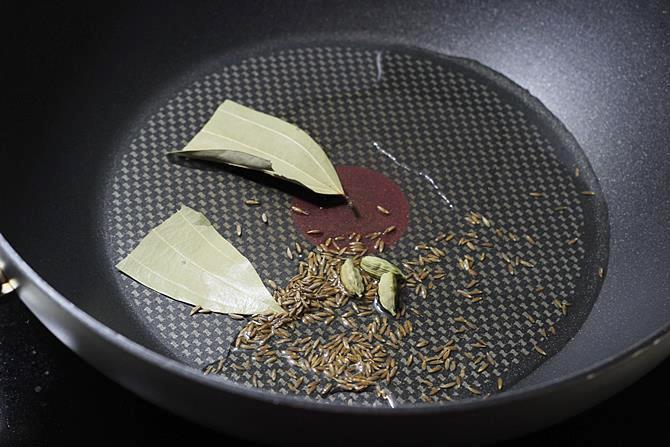 3. Add green chili, onions and fry till they turn translucent.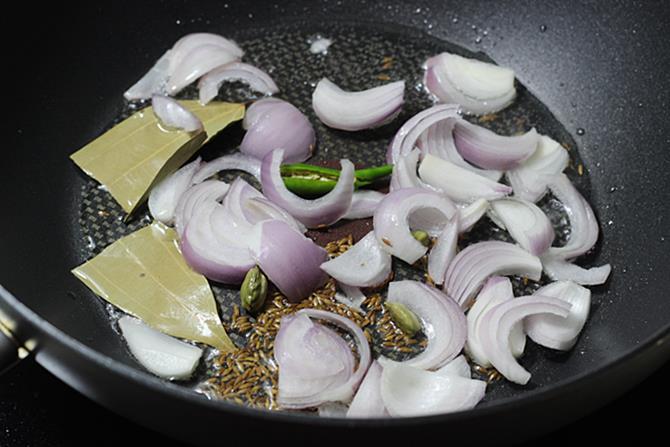 4. Add brinjal, green peas .sprinkle salt. fry for 2 to 3 mins.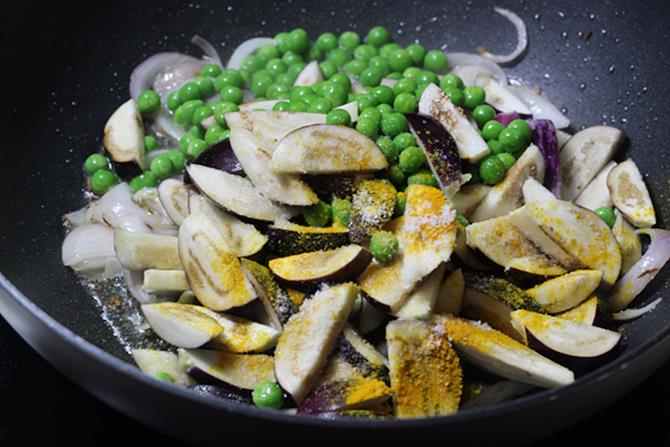 5. Cover and cook till the brinjals are done completely.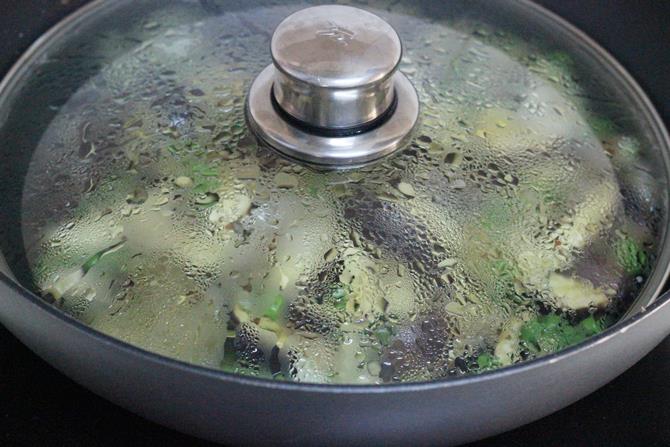 6.Add the spice powder.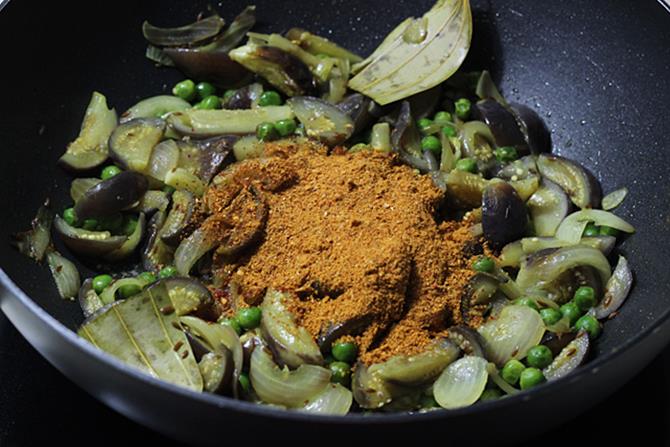 8. Mix well. Fry till you get a nice aroma.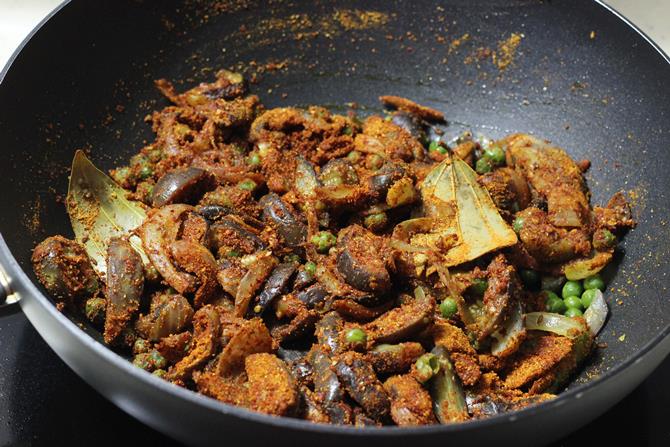 9. If you like slightly moist rice, you can sprinkle 2 tbsp. water and saute for 2 minutes. The mixture turns moist. This step is optional.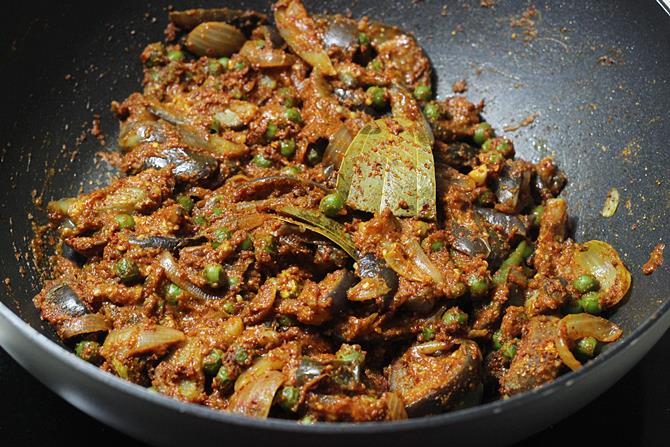 7. Add rice, lemon juice. I also prefer a bit of olive oil. Mix well. adjust salt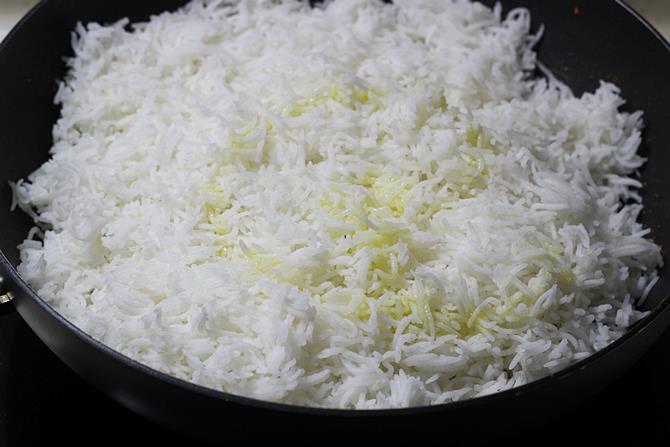 Garnish brinjal rice with coriander leaves.
Serve with papad and raita.