Hakka noodles recipe, learn how to make veg hakka noodles at home with step by step photos. It is a popular Indo Chinese style noodles served in restaurants and fast food centers across India. Often served with other popular Indo Chinese foods like dry chilli paneer, dry chilli mushroom, dry chilli chicken, chicken manchurian, chicken lollipop, fish manchurian, gobi manchurian.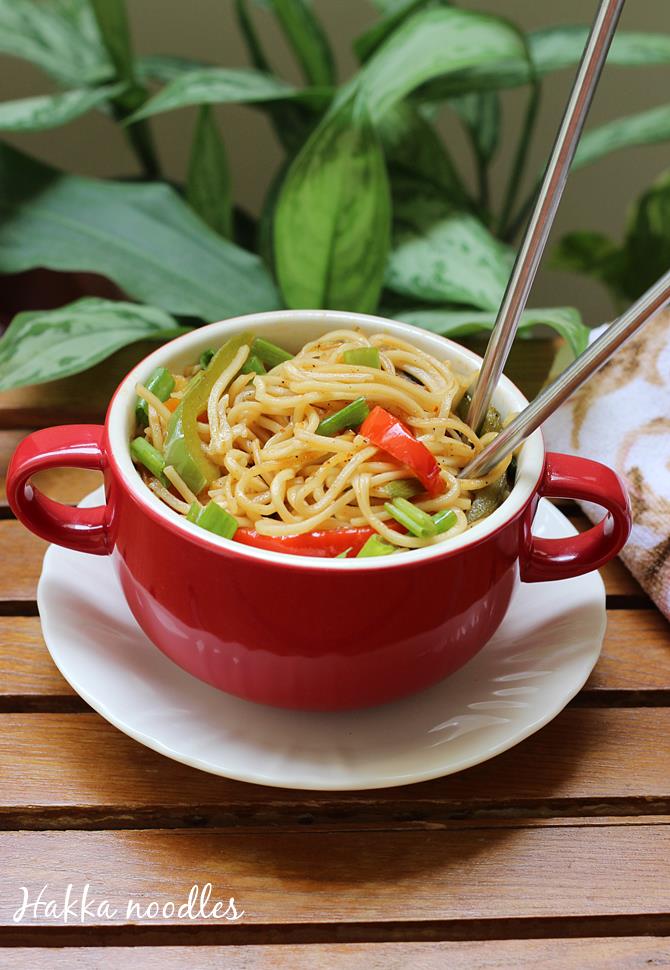 The unique and enticing smoky flavor of the hakka noodles comes from preparing them in a Chinese wok on the highest flame. Recreating this at home is not possible since most of us neither have the real chinese wok nor the stoves with large burners.
To give a good flavor to the veg hakka noodles, the entire sauteing of the noodles has to be done on a high flame. I also suggest using a good soya sauce and vinegar. If you have a cast iron wok, do use it. It lends a good smoky aroma.
To make a restaurant style hakka noodles, all the ingredients mentioned in the recipe are mandatory. I have not used celery and it is up to you if you have it you can use.
Hakka noodles is usually flavored with only soya sauce and vinegar. Most restaurants serve sauces in a separate bowl. However I have used little chilli sauce. For variations you can use tomato sauce, garlic sauce, and green chili sauce. The color of the noodles depends on the sauces you use. Since i used red chili sauce, mine has a deeper color.
Hakka noodles recipe shared here makes a single serving, you can double the recipe.
More noodles recipes on the blog
Veg noodles
Chilli garlic noodles
Egg noodles
Schezwan spicy noodles
Boiled egg noodles
Find veg hakka noodles recipe below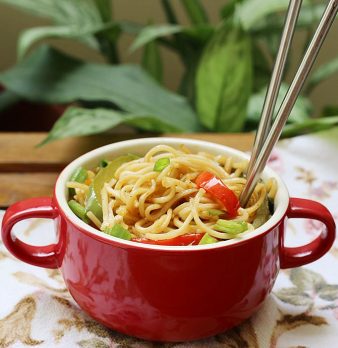 Hakka noodles recipe | How to make hakka noodles | Chinese noodles
Hakka noodles recipe made with mixed vegetables like cabbage, carrots and bell pepper. It is served with a bowl of soup or any chinese side dishes
Ingredients (240 ml cup used)
1

pack of noodles (individual pack enough for one)

2

tbsp

spring onions (white and green separated)

1

small carrot julienne or chopped small

2 to 3

beans chopped finely (optional)

2 to 4

tbsp.

finely shredded cabbage (optional)

1

tbsp.

mushrooms chopped (optional)

¼

cup

capsicum chopped or julienne

½ to ¾

tbsp.

soya sauce( use as needed)

1

tsp.

white vinegar

1

tsp.

to 1 tbsp chili sauce (or your favorite sauce)

1/8

tsp.

pepper powder

Salt to taste

¾

tbsp.

Olive oil + ¼ tbsp. (optional)

2

garlic chopped finely
How to make the recipe
Bring 3 to 4 cups of water to a boil, Add noodles and cook till al dente. Do not overcook they turn very soggy.

Drain off the excess water and rinse them under running water to remove excess starch. Leave them in a colander. I suggest applying little oil to your palm and them smear it to the noodles lightly. This helps to keep them non sticky.

While the noodles cook, chop all the veggies and garlic. Keep this aside

Add sauce and vinegar to a small bowl. This way you can better control the sauces. Keep this aside.

Put on the flame to high. Add oil to a hot wok. When the oil turns hot, add garlic and fry till you get a nice smell or just for a minute.

Add white parts of the spring onions and carrots. If using mushrooms and beans you can add them now. Fry till the carrots are lightly done.

Add capsicums and cabbage if using. Saute till the capsicums are half cooked. They should retain the crunch.

Pour the readily kept sauces and vinegar.

When the sauces begin to bubble, add the drained noodles, green spring onions, pepper powder.

Toss, Mix and saute in sauces and fry for about 2 minutes.

Serve hakka noodles hot.
Recipe Notes
You can adjust the quantity of sauces to suit your taste.
Nutrition Facts
Hakka noodles recipe | How to make hakka noodles | Chinese noodles
Amount Per Serving
Calories 150
Calories from Fat 18
% Daily Value*
Total Fat 2g 3%
Total Carbohydrates 30g 10%
* Percent Daily Values are based on a 2000 calorie diet.
How to make hakka noodles with step by step pictures
1. Bring water to a boil and cook noodles till aldente.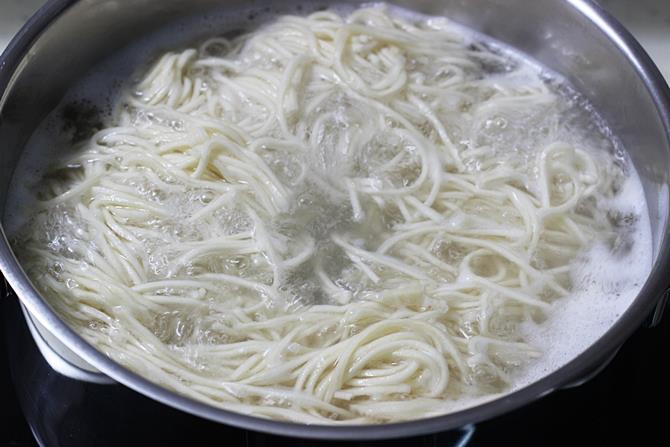 2. Drian them and rinse it under running water. This helps to remove starch and makes the noodles less sticky.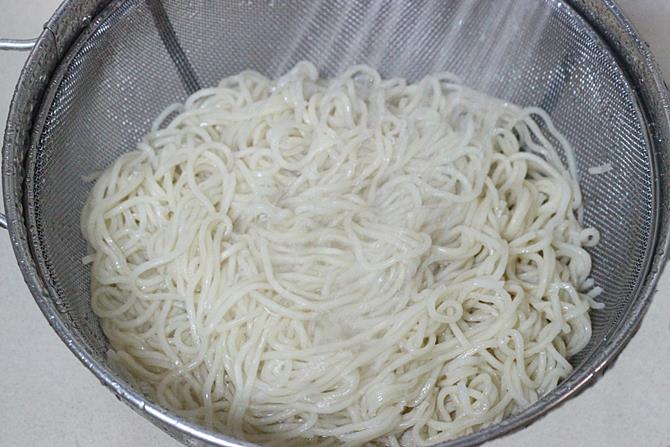 3. Drain off completely. Add very little oil and toss the noodles. This prevents them from turning sticky. Set aside.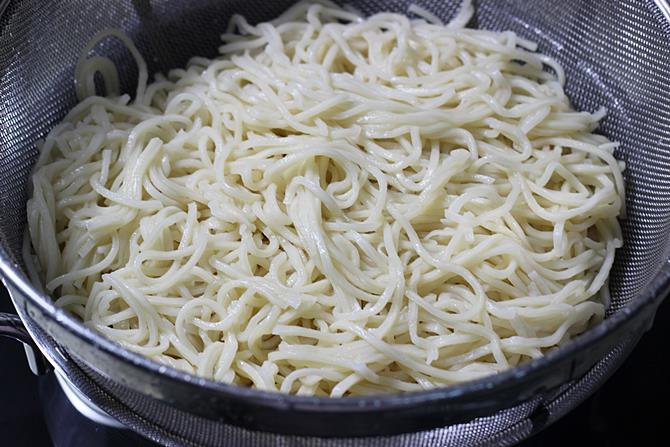 4. Prepare the sauces. Add vinegar, soya sauce, chili sauce and pepper to the bowl. Set this aside. This way you will not end up using more than needed. Do not compare the quantity you see in the bowl with recipe.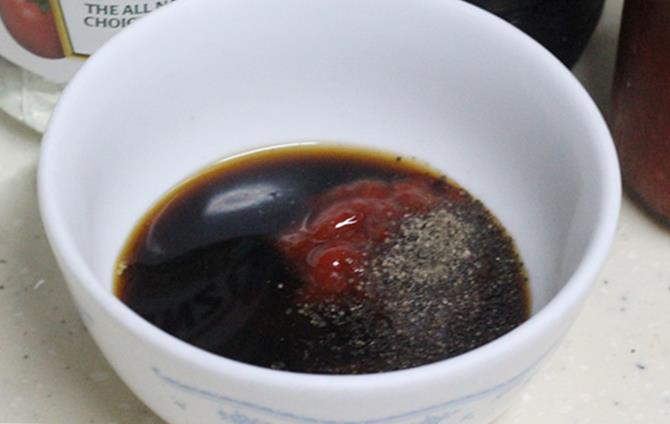 5. Add oil to the pan and heat it on a high flame. Add chopped garlic and fry till you smell the roasted garlic. Do not burn. Add chopped carrots and white parts of spring onion. Fry till the carrots are half cooked.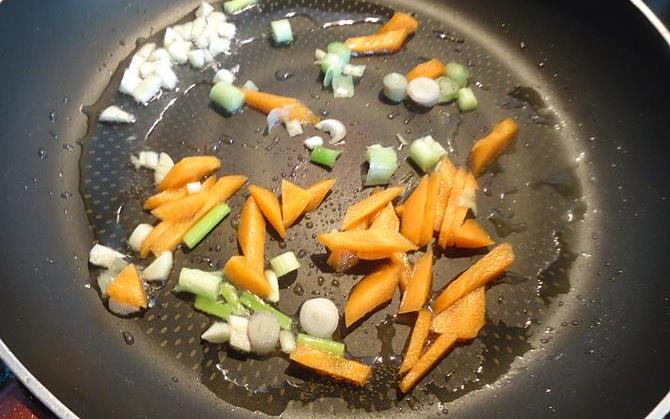 6. Add capsicums and fry till they are half cooked. They should remain crunchy. Add the sauces and allow to bubble.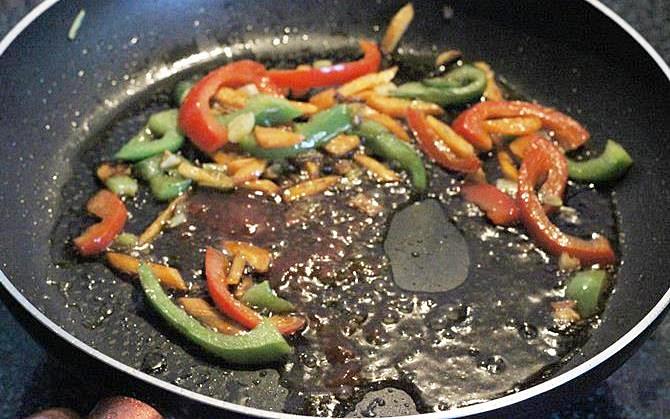 7. Add noodles, green spring onions and pepper if needed.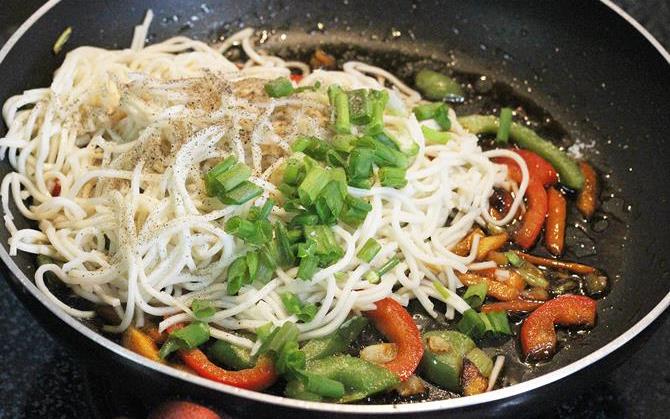 8. Toss well and fry for 2 to 3 minutes.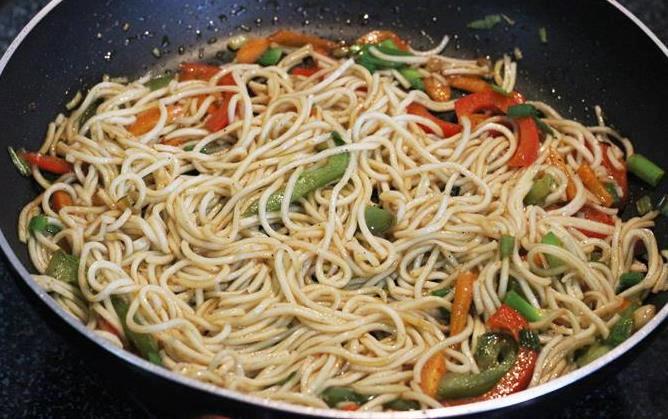 Serve hot with chilli chicken. Vegetarians can serve with chilli mushroom or chilli paneer.