Veg mayonnaise sandwich recipe – A quick veg sandwich recipe that can be made in minutes with just few ingredients. This can be served for breakfast or lunch or snack. To make mayo sandwich, mostly white bread is used since we do not eat white bread at home, I have made it using multi grain bread.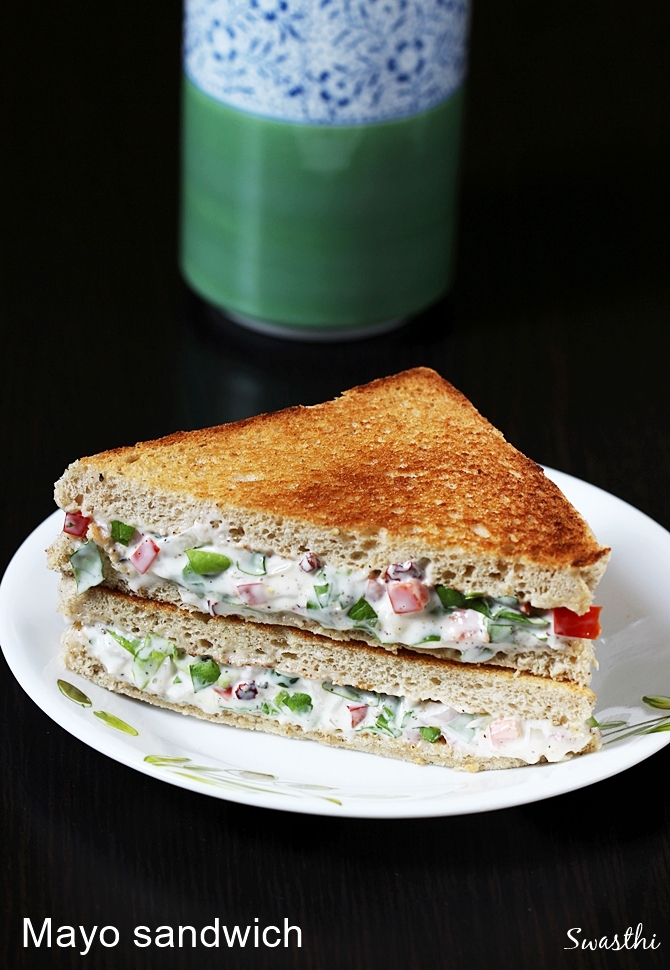 Mayo sandwich can be made without toasting the bread, just mix up the ingredients and spread on the bread. Cut them and serve. We prefer the toasted bread to make any sandwich, so I have toasted in on a tawa. However you can also toast these in a sandwich maker.
If you do not have mayonnaise then you can try this veg curd sandwich made similar to this veg mayo sandwich.
For more veg sandwich recipes, you can check
Veg cheese sandwich
Bombay veg sandwich
Aloo grilled sandwich
Simple vegetable sandwich
Veg mayonnaise sandwich
Veg mayonnaise sandwich recipe | How to make mayo sandwich recipe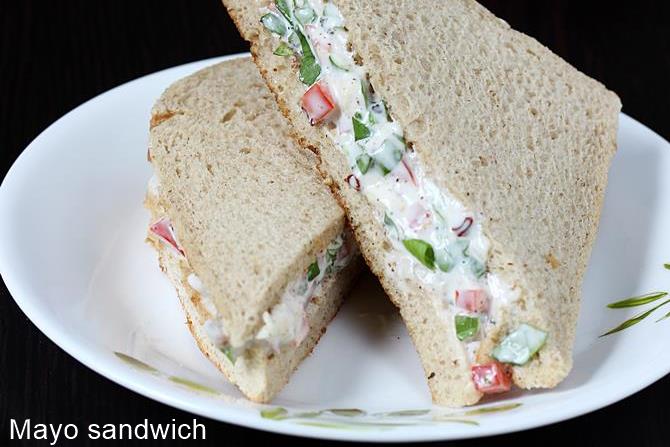 Veg mayonnaise sandwich made with mixed veggies and eggless mayo
Ingredients (240 ml cup used)
4 slices of bread
3 tbsp Mayonnaise (I used eggless mayo)
Lemon juice as needed
Pinch of salt (mayo is salted, so use if needed)
¼ tsp Pepper crushed
Red chili flakes as desired (optional)
1 Garlic clove minced
¼ tsp mustard seeds ground or any sauce you like
veggies of your choice(about half cup)
Onions or shallots 2 tbsp
Green chili 1 deseeded and chopped optional
Grated carrots 2 tbsp
Cabbage or lettuce or coriander leaves as needed
Capsicum ¼ cup
Boiled sweet corn 2 to 3 tbsp
How to make the recipe
Begin to make mayo veg sandwich by toasting the buttered bread on a griddle or toaster. You can also skip toasting if you like to save sometime. If you are not serving right away toasting them is a good idea, since it prevents the sandwich from turning too soggy.
Chop onions and mince garlic. Add them to a bowl. Squeeze in some lemon juice. Allow this to rest for a while until the veggies are ready. This makes the onions & garlic less pungent.
Prepare the veggies by chopping finely. I have used capsicum and butter lettuce here, you can substitute it with cabbage.
Add mayo, red chili flakes, salt, pepper and mustard powder.
Mix up everything well and spread on the bread.
Place another slice and cut to triangles or squares. Ready to serve.
How to make veg mayo sandwich recipe
1.  Add minced garlic, green chili and onions to a bowl. Squeeze in lemon juice and mix well. This removes the pungent smell from garlic and onions.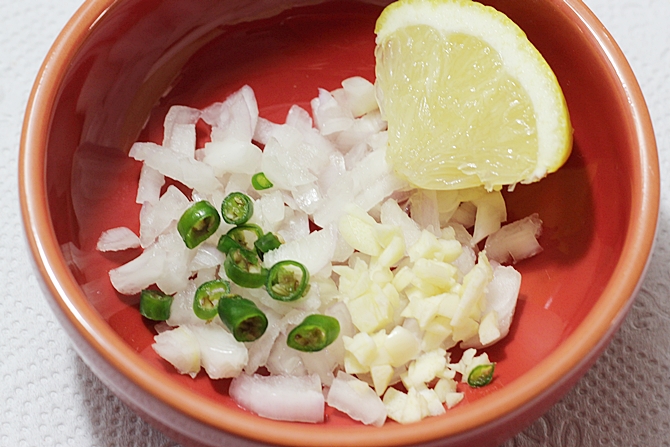 2. Meanwhile prepare the veggies and add them to the bowl. I have used butter lettuce and capscium here. You can also use shredded cabbage, carrots, boiled sweet corn etc.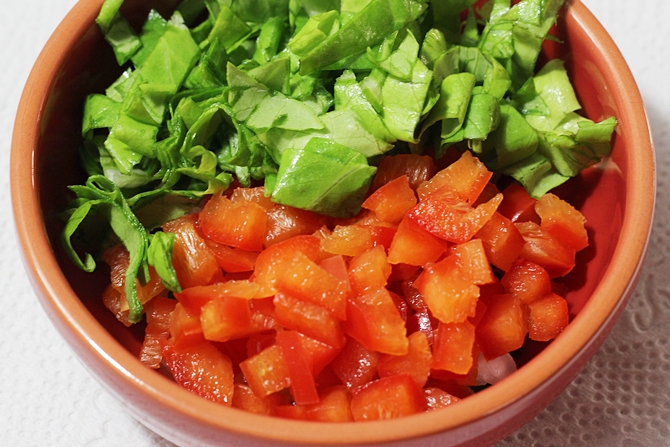 3. Add crushed pepper, chili flakes and mayo and mustard powder. If you do not have mustard you can skip it, but I feel it adds lot of aroma to the mix. Mix it up. The filling is ready.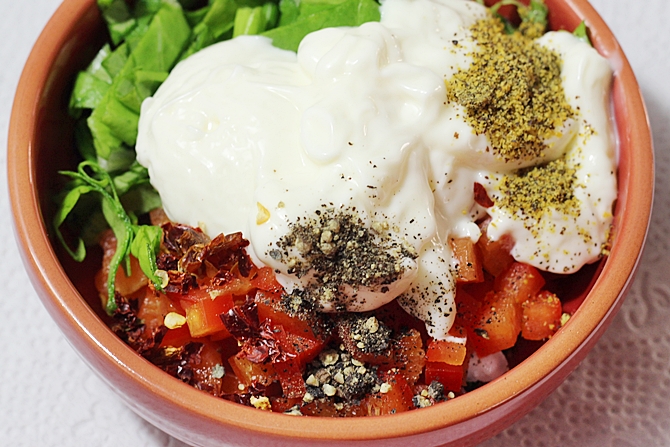 4. Butter the bread slices and toast on a tawa. You can also skip toasting. You can also just butter the bread, then fill the sandwich and toast in sandwich maker.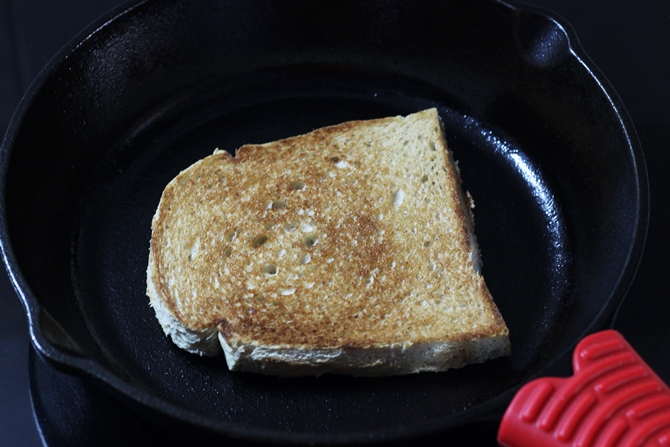 5. Spread the mixture on a slice of bread.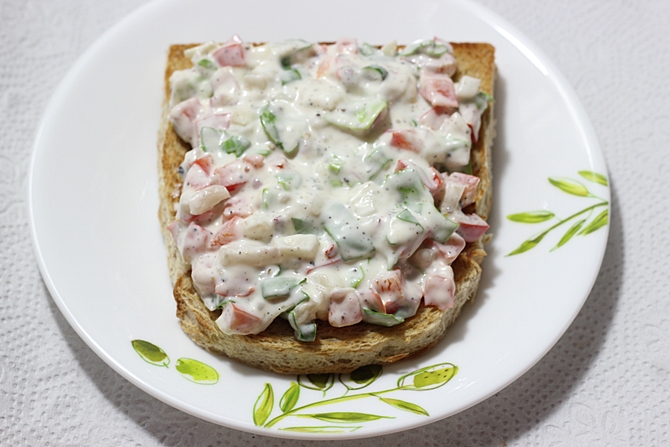 6. Cover with another slice.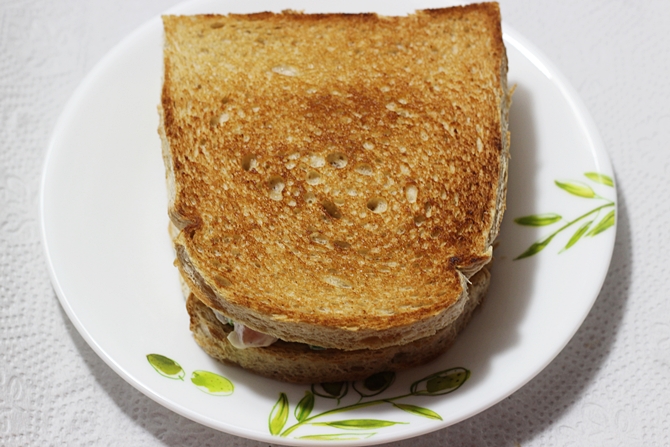 Cut veg mayo sandwich and serve.