Veg pulao recipe with coconut milk – Learn to make one of the best flavorful coconut milk pulao with mixed vegetables. A simple vegetable pulao makes a comforting meal and is easy to prepare on a busy day either for a lunch box or dinner. This simple rice goes good with any veg or non veg curry gravy. It is nutritious since a lot of vegetables go into making this.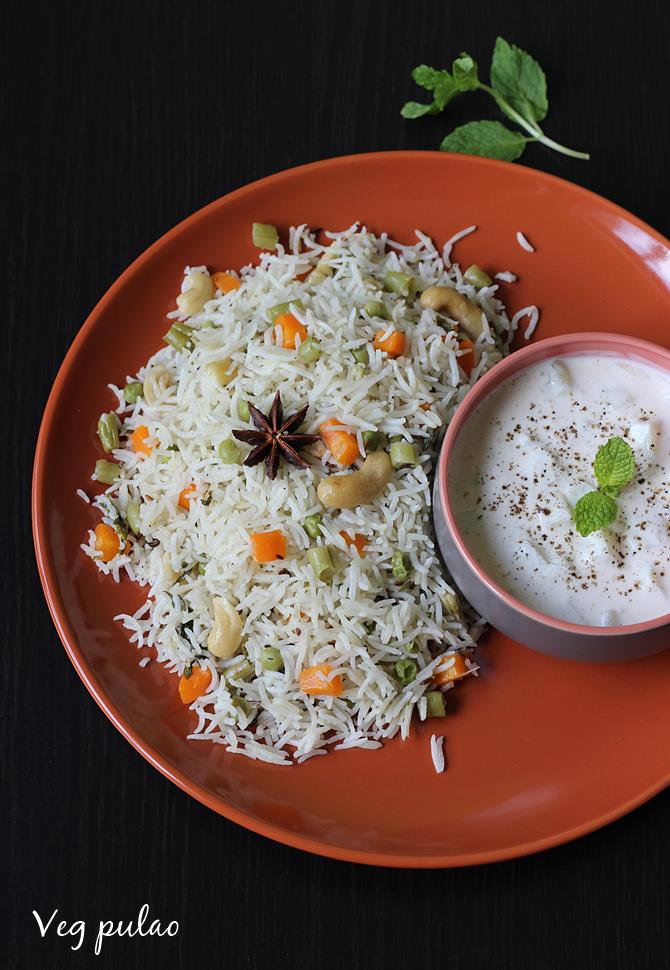 Using a moderate amount of spices in the seasoning makes the rice aromatic. For an increased intake of protein you can include soya chunks or nuggets also called as meal maker. I have used freshly chopped veggies, you can replace with frozen chopped veggies available in the frozen sections of supermarkets, they work well.
 
You can also check this complete collection of pulao recipes
 
to make veg pulao,you can use a pressure cooker, electric cooker or any other heavy bottom pot with a lid. It can be enjoyed without any accompaniment or can have with onion raita. A simple gravy like this capsicum salan, potato kurma, chicken kurma also go well.
 
Over the years I have made so many kinds of veg pulao but this one is so special, very flavorful and delicious. The addition of pudina, saunf and coconut milk is all that makes this vegetable pulao great tasting. If you do not have coconut milk you can just use water to cook, but coconut milk lends all the extra flavor and taste. To make pulao without coconut milk you can also check this simple pulao recipe.
 
This coconut milk pulao is a no onion, no garlic recipe and can be made even on festive days.
How to make veg pulao with coconut milk
1. You can skip this step if not using soya chunks. Soak soya chunks in hot water till they soften for about 10 minutes. Rinse in lot of cold water, squeeze off the excess water. You get foamy water when you squeeze. Repeat the rinse with cold water. Never proceed to cook soya chunks without following this step, as there is lot of dust and debris that gets on to these chunks when they are sun dried or dehydrated during the process of manufacturing.Make sure no water is left in the chunks. cut each chunk to 2 pieces if they are big, set aside.
 
2. Wash rice and soak for at least 20 minutes. Drain off and set aside.
 
3. Powder saunf and pepper. Set this aside. If you don't have a blender, just use a hand pestle and crush them, but to a fine or slightly coarse powder.
 
4. If you like to garnish the pulao with fried cashews, fry them till golden and set aside. I like to use it along with the veggies since they taste good when cooked in the spices.
 
5. Add ghee or oil to a hot pan and fry all the spices till they begin to sizzle.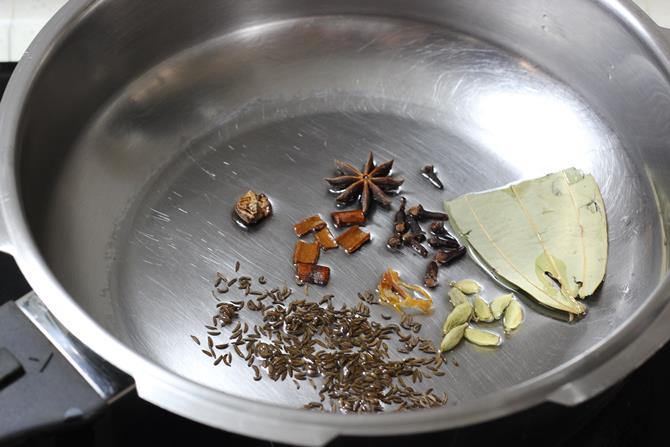 6. Add sliced onions and chili if using and fry until golden. I did not use onions, just to cut down the time.
7. Add ginger garlic paste, fry until the raw smell disappears. Do not burn.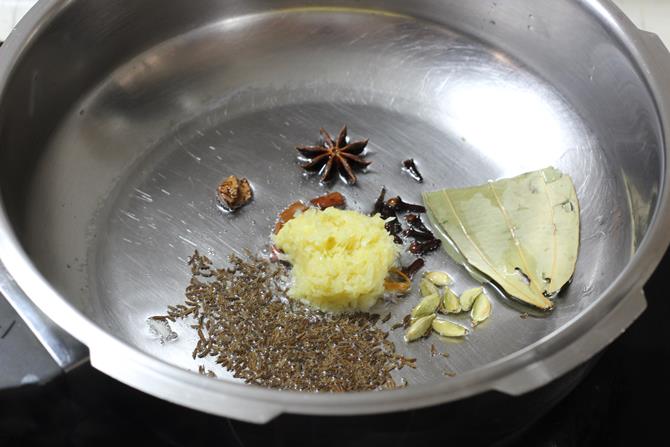 8. Add saunf and pepper powder. Saute quickly. Take care not to burn.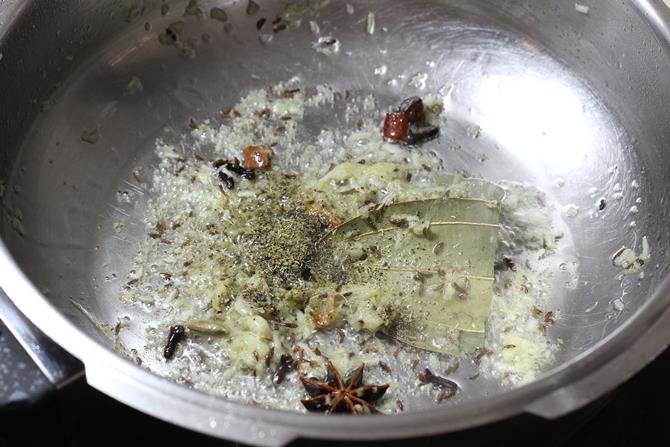 9. Add vegetables, I prefer to add cashews now. Fry them for 2 to 3 minutes. if using soya chunks add them now.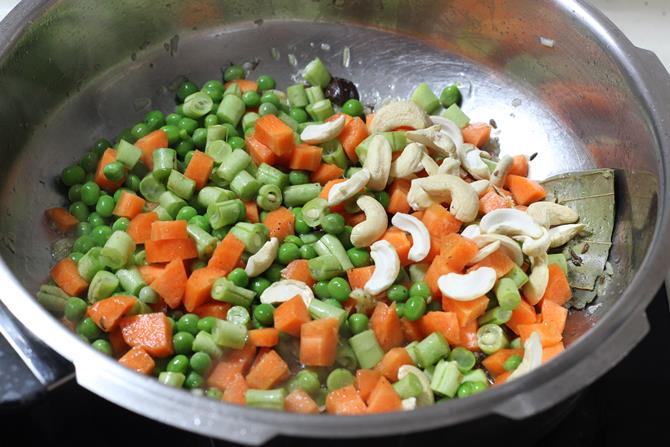 10. Add chopped mint leaves and fry for another two minutes.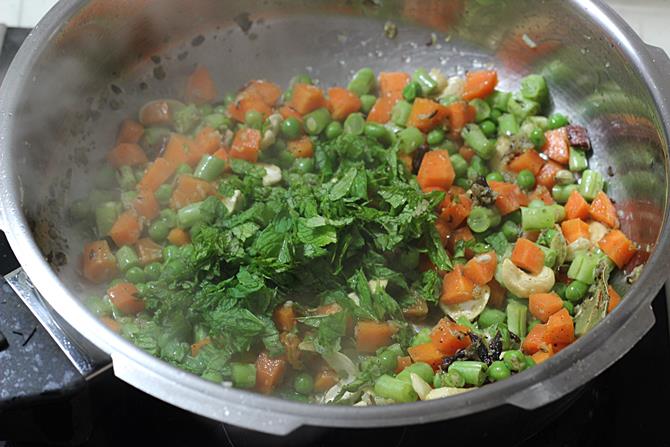 11. Pour coconut milk or water, add salt and taste the milk now. Adjust salt and spice if needed.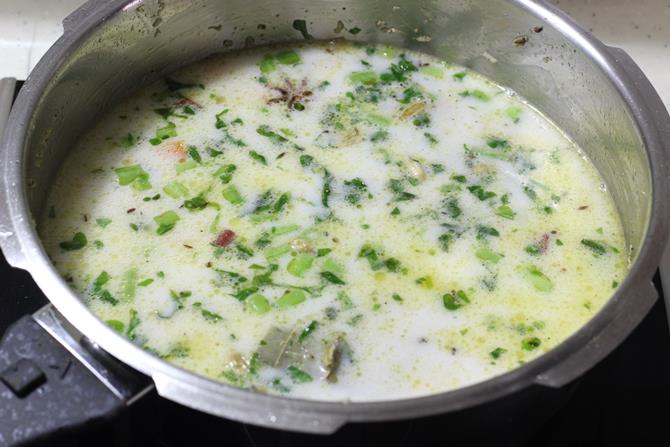 12. Drain the rice completely and add it to the pan.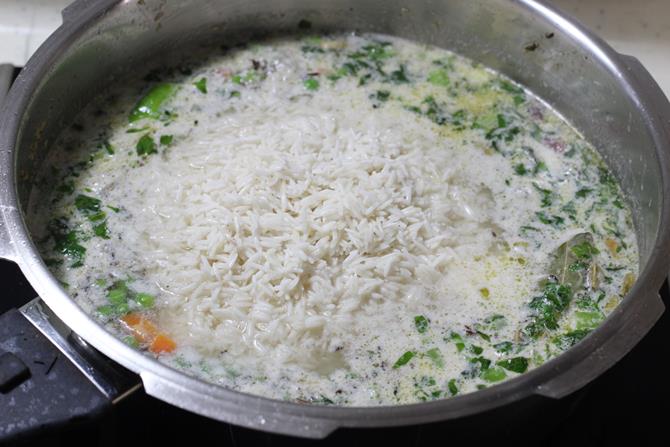 13. Cook till the coconut milk is almost absorbed. Refer the picture.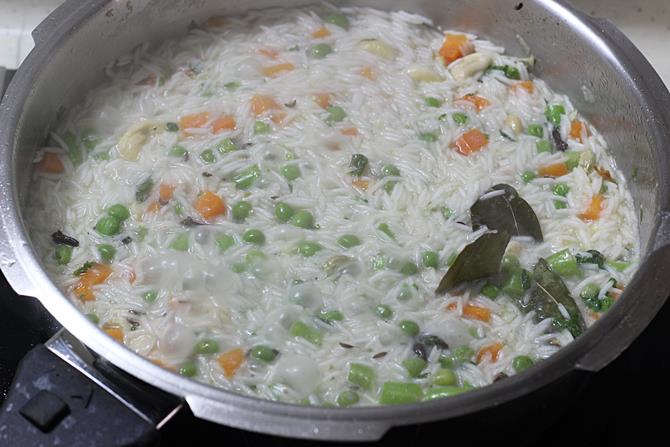 14. Lower the flame completely. Cover the pan either with a tight lid or with a pressure cooker lid.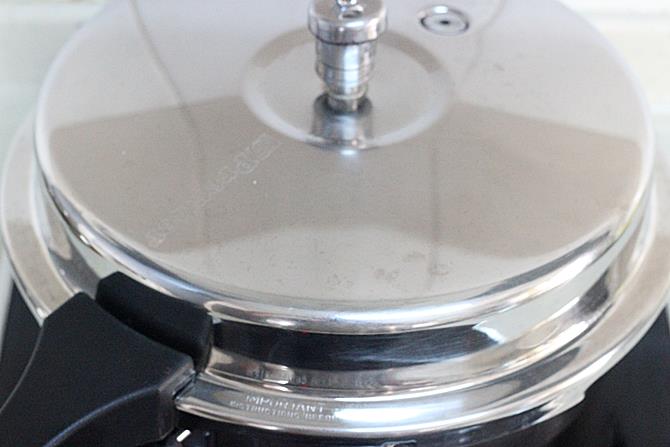 15. Cook until the rice is done. If needed sprinkle some water. If using a pressure cooker, cook for just 5 minutes. Switch off the stove, do not allow the cooker to whistle. Let the pressure come down. Fluff up the mixed veg pulao.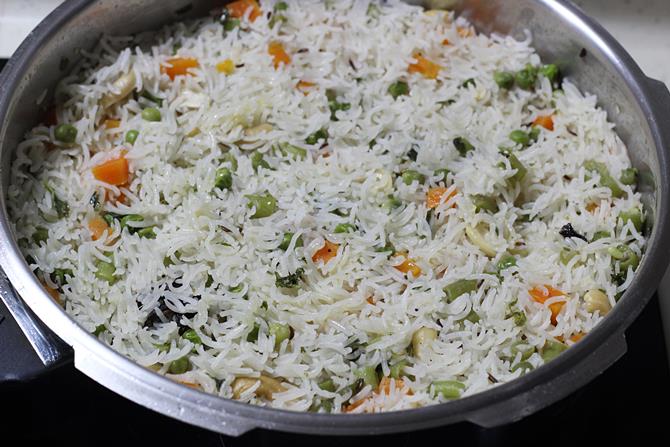 Garnish and serve with a raita.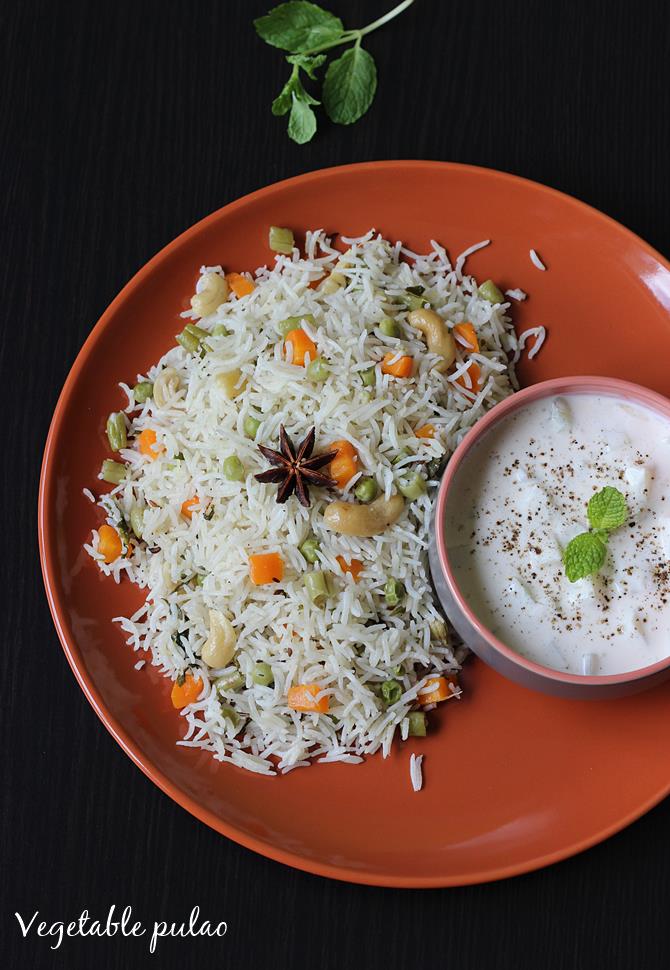 Vegetable coconut milk pulao recipe card below
Veg pulao or vegetable pulao recipe with coconut milk | Coconut milk pulao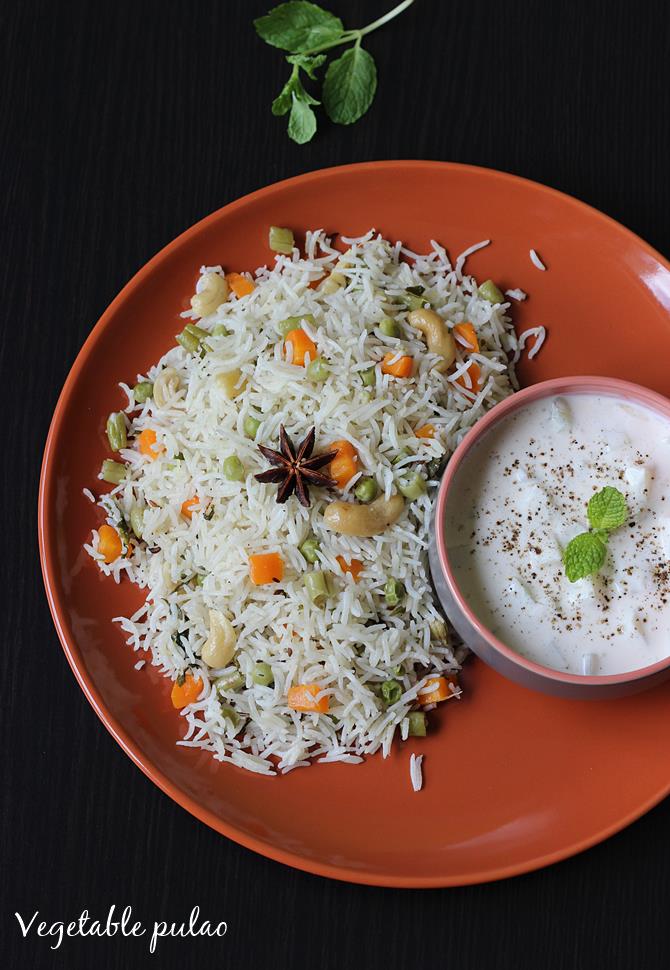 One of the most flavorful and delicious mixed veg pulao. It can be prepared using coconut milk or water. But coconut milk, mint and fennel seeds together yield one of the best vegetable pulao.
Ingredients (240 ml cup used)
2 tbsp. Oil or ghee (adjust as needed)
dry spices
1 large bay leaf or 2 small
1 large star anise / chakri phool
6 to 8 cloves / laung
2 inch cinnamon stick broken to pieces
Small piece of nutmeg
4 to 6 green cardamoms
¾ tsp. shahi jeera
1 large strand of mace
to powder (optional, but adds a lot of flavor)
¾ tsp saunf / fennel seeds
¼ tsp pepper corn
other ingredients
2 cups basmathi rice
1 small onion thinly sliced (optional)
1 ½ to 2 tsp ginger or ginger garlic paste
2 cups mixed vegetables (carrot, beans, peas, potato go well)
½ to ¾ cups soya chunks / meal maker (optional)
1 green chili (deseeded and slit)
8 to 10 cashew nuts (optional)
¼ cup mint leaves (chopped finely)
3 ½ cups coconut milk or water (half coconut milk half water can also be used)
Salt as needed
How to make the recipe
Wash rice at least twice and soak it for about 20 minutes. Drain to a colander and set aside.
Powder fennel seeds and pepper to a fine powder. Keep this aside as well.
Heat and pan, add oil and fry the dry spices until they begin to sizzle.
Add onions, chili and fry until golden. Fry ginger garlic paste until the raw smell leaves. Add fennel pepper powder and quickly stir. Be quick else it gets burnt faster.
Add all the chopped veggies and fry for 2 minutes. Add mint leaves and fry them as well.
Pour water or coconut milk and add salt. Bring it to a boil.
Completely drain off water from rice and add it to the pan.
Cook until the coconut is absorbed by the rice.
When there is very little water left, lower the flame and cover with a lid or pressure cooker lid.
If cooking in a pressure cooker
Just cook for 5 mins and switch off, do not let it whistle. Let the pressure go off.
If cooking In a pot,
Cook until the rice is done. If needed sprinkle water as needed. Keep the pot covered for some time.
Fluff up vegetable coconut milk pulao and serve.